KEY RESEARCH FINDINGS
The global medical loupes market is witnessing moderate growth will expand at a CAGR of 5.5% over 2019-2029
Major industry Medical loupes and dental operating microscope both are for magnification purpose in medical industry.
Mergers and acquisitions are also identified as key growth strategies adopted by manufacturers of medical loupes
Companies are setting high standards with high level of clarity and precision enable successful treatments and high quality care.
East Asia and South Asia would remain at the driver's seat in the medical loupes market, with dominant developed markets of the North America and Europe
KEY FACTOR SHAPING MEDICAL LOUPES MARKET
Merger and Acquisition
Mergers and acquisitions are among the key growth adopted by manufacturers of medical loupes. Carl Zeiss Meditec AG, a multinational medical technology company had acquired IanTECH, Inc. in 2018 to expand its portfolio in cataract surgery. Cataract surgery has been dependent on phaco technology for over 50 years. IanTECH's surgical technology was primarily designed to change the future of managing cataracts & this was reason behind its acquisition by Carl Zeiss Meditec AG.
Companies are engaging in mergers and acquisitions and joint ventures with local brands to expand their product portfolio. Manufacturers in emerging economies are focusing on reducing their cost of production and increasing profitability for the sustainable growth of their businesses.
Increasing Health Awareness
Increase in Health Awareness among people is expected to create growth opportunities for the medical loupes market. Increasing income level is creating a major demand for prevention and correction of health/vision problems which in result is creating demand for medical products such as medical loupes. On the other side, easy accessibility of international brands of the medical loupes is also an encouraging adoption among practitioners. People have increased their spending on health which has improved their standard and given opportunities for big brands and companies to enter this new potential market.
Innovation and New products
Innovation and New product launches to resonate with the growing demand from countries or regions such as USA, and Germany, China, India etc. In June 2019, SurgiTel, a U.S. based medical loupes manufacturer had launched two types of custom loupes: front-lens-mounted (FLM) loupes and through-the-lens (TTL) loupes. Custom FLM loupes users can re-customize the declination angle and adjust the field shape as they desire.
The global medical loupes market represents a fairly consolidated competition landscape, where majority of key players maintain their strategic focus on product innovation such as lightweight product manufacturing, increasing magnification power etc.
COVID-19 impact on demand for Medical Loupes Market
In the early weeks of the COVID-19 outbreak hitting the United Kingdom, dental practices continued to run as normal. Dental professionals all awaited for further guidance from governing bodies. The market has witnessed major growth because the medical loupes are among the highly required materials in the healthcare industry. The medical devices industry is witnessing incremental growth and healthcare companies are on the spree of adopting VDC (variable distance control) technology. This is able to provide surgeons and dentists with an enhanced depth of edge and field acuity.
After the COVID-19 the demand for the shaping medical loupes has increased. It's also expected to stay dominant through the course of the forecast period. Consistent with the report, the general shaping medical loupes market is majorly driven by increasing income level is creating a serious demand for prevention and correction of health/vision problems which in result create demand for medical products like medical loupes.
STRUCTURE ANALYSIS
Specializing in the design and manufacturing of surgical loupes, dental loupes, and hygiene loupes to provide superior visualization to healthcare clinicians across the globe.
With a dedication to quality craftsmanship, setting the standards for loupes by offering a high resolution across the widest and deepest viewing field. Every loupe is customized to the individual user.
Companies are making Ultra-light-weight body and frame for maximum comfort. Fully adjustable viewing angle, pupil distance and flip-up function.
REPORT SCOPE
Base year considered - 2019
Actual estimates/Historical data - 2015 - 2019
Forecast period - 2019 - 2029
Forecast units - Value (USD) 472 Mn
Segments covered - Product Type, End-User, Sales Channel and Region
Regions covered - North America, Latin America, Europe, East Asia, South Asia, Oceania and MEA
Key Players - Carl Zeiss Meditec AG, Accesia, Admetec Solution, DentLight, Epic Loupes, IanTECH Inc., Gavouz, Hogies, Keeler, Meridentoptergo, Oculus, Orascoptic, PeriOptix, Seiler, Bio-Art, Xenosys, Zumax Medical, SurgiTel, and others
Growth Driver -

Innovation and Customized Products
Increasing Health Awareness
Merger and Acquisition
Increasing rate of penetration into new and potential market

Report coverage - Revenue forecast, company share, competitive landscape, growth factors, and trends
Flip Up Medical Loupes Hold Dominance with 61% Share in 2019
Surgical remains as the key attributor to the global medical loupes market among all applications. Medical loupes have been mostly used into surgical applications where enhanced view and correct postures act as critical factors for success.
Flip up medical loupes hold a major share in the global market owing to its multiple features such as customization of angle of declination of flips, flexibility of flips through up & down, lower prices as compared to TTL, and manual adjustment facility of pupillary distance of flips. Moreover, TTL has a serious disadvantage of fixed optical barrier which does not provide flexibility while talking to the patient. These factors act as the major driver for high sales of flip up loupes across the globe.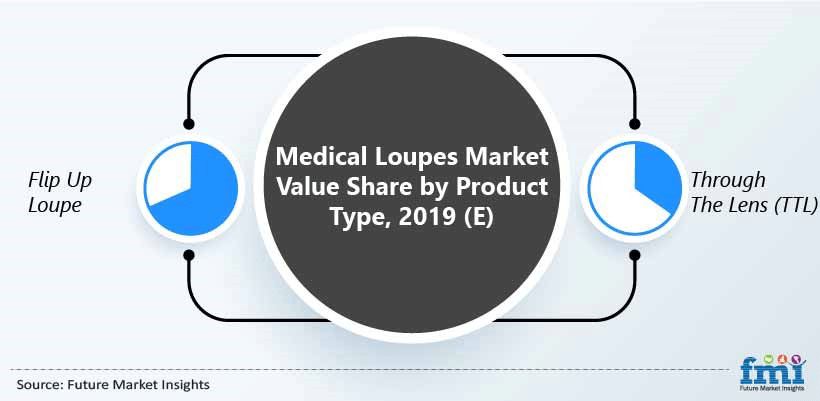 Technological Advancement of Medical Loupes to Spark Demand among Practitioners
Technology is the key factor which shapes the market. Technologically advanced products are continuously required in medical industry. Safe and high tech equipment can bring down the medical cost for the patients. Medical loupes are now far more advanced in terms of product weight, magnification power, larger viewing angle, high powered optics etc. Schultz Optical (USA), a manufacturer of medical loupes had introduced a dental surgical loupes which provides 25% larger viewing field than others, light weight and up to 5.5x magnification which makes the dental surgery much easy than earlier.
North America to Drive the Growth of Medical Loupes Market
North America is accounted as the leading region in the global medical loupes market in 2019 owing to high health consciousness among consumers, greater product knowledge the increasing number of hospitals in North America. As per The American Hospital Association, in 2018, there was around 12% increase in hospital numbers compared to 2017 and it reached to 6,210 in the same year. Moreover, major presence of top medical loupes players in U.S. also boost the medical loupes market.
How Growth will Unfold
Medical loupes have been recognized as one of the most important tool for practitioner, surgeons. Today, the number of surgeries are increasing at a rapid pace which requires safe & affordable technology and tools to perform. Increase in the number of minimally invasive surgeries is expected to boost the medical loupes market during the forecast period. Rise in body-shaping procedures have been seen as a new trend worldwide. Body shaping which includes non-invasive fat reduction as well as surgeries such as breast augmentations and liposuction.
Liposuction surgery had the highest growth (5%) in 2018 as compared to 2017 while breast augmentation had (4%) and nose reshaping had (2%) growth in 2018. In 2017, U.S. had the largest number of plastic surgeons globally with 6,800 surgeons while Brazil had the second largest number of plastic surgeons with 5,500. Growth in surgeries worldwide required practitioners as well as medical equipment such as medical loupes.
Moreover, growing usage of medical loupes surgical applications generates demand for less FOV with more magnification lenses which in result, creates demand for Galilean lenses among practitioners. In addition to it, viewing microscopic detail, high magnification level, minimal weight, and short barrel are more correct in Galilean lenses which again accelerates demand for the same lenses.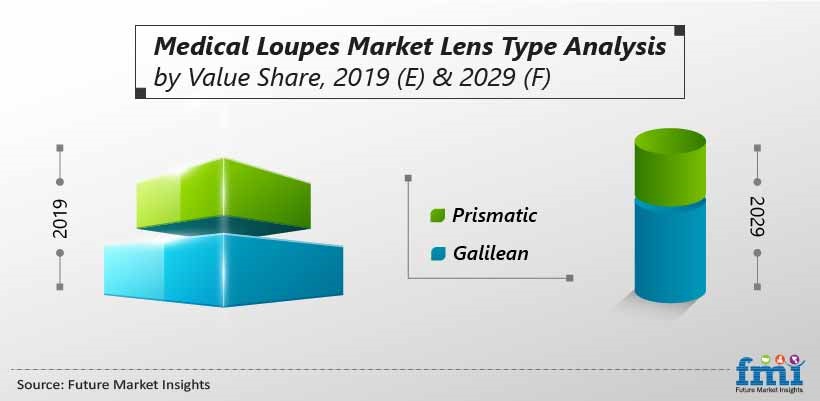 MEDICAL LOUPES MARKET TAXONOMY
The global medical loupes market is segmented in detail to cover every aspect of the market and present complete market intelligence to readers.
Product Type
Through The Lens (TTL)
Flip Up Loupe
Lens Type
Application
Sales Channel
Region
North America
Latin America
Europe
South Asia
East Asia
Oceania
Middle East & Africa
Need specific information?