Surgical Booms – A Credible Addition to Hybrid ORs
Rising popularity of integrated or hybrid operating rooms along with technological advancements in field of operating room equipment & surgery has been working as an advantage for surgical booms market. Considering the evolving needs of today's Operating Room (OR) and rapid penetration of robotic surgery, surgical boom manufacturers are focusing on developing flexible and hybrid-compatible versions of these products.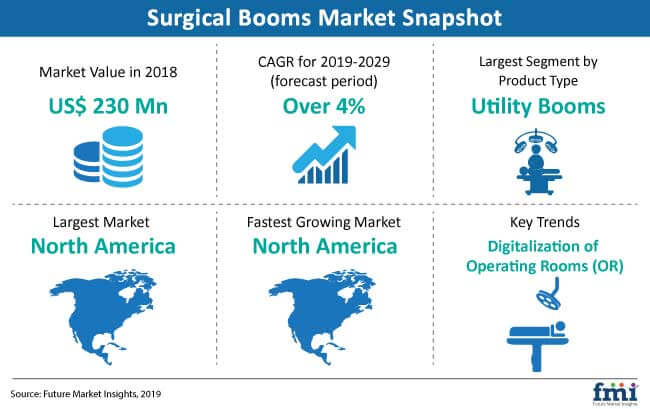 Surgical Booms Market – Key Research Findings
Global Surgical Booms market size in 2018 – over US$ 230 Mn.
The Surgical Booms market is anticipated to grow at a CAGR of over 4% over 2019-2029.
North America is expected to remain the largest regional markets for Surgical Booms
Rise in number of surgical procedures and increase in adoption of integrated ORs are the main driving factors for the growth of the surgical booms market in the region.
Leading companies are focusing on expanding geographical footprint through mergers and acquisitions and are strongly focused on sales through custom surgical booms. Custom surgical booms lead the surgical booms market globally.
Hospitals and ambulatory surgical centers offer lucrative market for the growth of surgical booms market.
Increasing number of ambulatory surgical centers and increasing number of integration of ORs in hospitals across the world are some of the factors that strongly support the growth of the surgical booms market through the forecast period.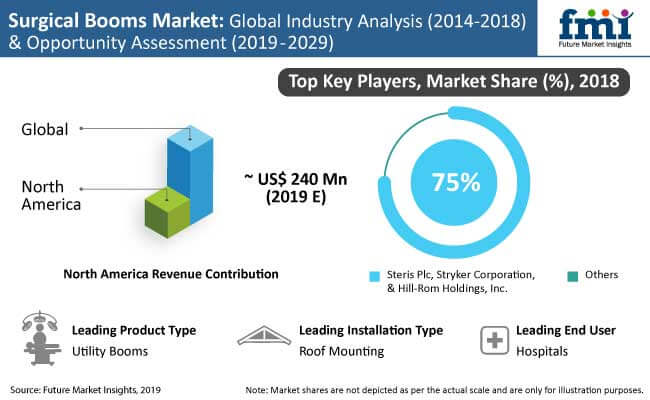 Top 3 Factors Shaping the Surgical Booms Market
Digitalisation of Operation Theatres/Operating Rooms (OR) is the Main Driving Force of Surgical Booms Market
Digitalisation has become a common practice in various businesses, which include healthcare. The growing adoption of Minimally Invasive Surgeries (MIS) in the recent years, as well as advancements in imaging technologies that meet these new requirements, has resulted in an increase in the number of hybrid operating rooms. Most high-tech systems in the OR are touch-controlled. However, there are advancements in touch-less or speech recognition technologies, which are also being explored.
Furthermore, opportunities for automation are high and growing in the recent times. The hospital environment has the potential to achieve a higher degree of automation. Surgical workflows, especially those that require several manual tasks, can gain significantly from automation. Unfortunately, advancements in technologies have resulted in an increase in the complexities associated with OR equipment. Surgical booms are used to organize the complex equipment required in the advanced ORs. Rise in the adoption of advanced digital OR systems provides significant growth opportunities for the surgical booms market.
Increase in the Number of Surgical Procedures to Boost Surgical Booms Market
Increase in ageing population, rise in the number of accidents, and increase in the number of hospital admissions are among factors driving the number of surgical procedures across the world. Furthermore, the availability of ASCs and the increasing number of ASCs are also among factors driving the number of surgical procedures, along with increased diagnosis rates, increased awareness, and advancements in surgical procedures such as robotic surgery and minimally invasive surgery.
The growing demand for surgical procedures is one of the major driving forces driving the development, expansion, and renovation of surgery providers such as hospitals, ambulatory surgical centres, integrated ORs, and others. Thus, increase in the demand for surgical procedures and advanced technology is boosting the demand for surgical booms in the global market.
Favorable Government Efforts & Investments Favor the Growth of Surgical Booms Market
Increase in the number of insurance providers that offer reimbursements for the costs incurred during surgical procedures is expected to increase the adoption of surgical interventions. This is expected to drive the demand for surgical booms. National and regional governments in the EU and Asia in particular are initiating modernisation projects and building new hospitals. Latin America also has some promising hybrid OR participants due to government efforts and investments for the modernisation of the healthcare systems in the region. Such government efforts are expected to favour the growth of the surgical booms market.
Surgical Booms Market Structure Analysis
The top five players operating in the surgical booms market contribute to over 80% of the market value

Some of the key players in the surgical booms market include Stryker Corporation, CV Medical LLC., Hill Rom Holdings Inc., Steris Plc, Getinge Group, Amico Group of Companies, Ondal Medical Systems GmbH, Pratibha Medinox, Palakkad Surgical Industries, and Skytron LLC.

Most players in the surgical booms market are focused on developing and enhancing their product offerings. However, majority of the revenue of these companies is driven by the custom surgical booms market.
Market Set to Grow 1.6X between 2019 and 2029
The global surgical booms market is expected to witness robust growth during the forecast period. Gains remain driven by high prevalence of chronic diseases, rise in the number of surgical procedures, and growing integration of ORs. With the emergence of minimally invasive surgeries (MIS) and adoption of advanced digital OR systems, manufacturers are forced to innovate their products that can accommodate changing devices and technologies.
East Asia to Represent Significant Growth Opportunities
North America remains a prominent market for surgical booms, backed by high adoption of advanced technology in the region, along with rising number of surgical procedures. However, significant growth opportunities are expected in East Asian countries including Japan and China. Increasing number of private players offering surgical booms and a large patient pool that drives surgical interventions in these regions will continue to boost the market growth.
The Broader Perspective
Healthcare consolidation improves the integration of services. The trend of consolidation through mergers and acquisitions was predominantly witnessed in 2017, and this momentum continued through 2018. It offered significant opportunities for the development of integrated OR as well as the renovation of traditional OR to incorporate these latest technology which can not only carry out surgery , but also can monitor patients with critical care patient monitoring products, and thus resulted in the adoption of surgical booms which can provide support to other equipment also in the operating room environment.
Custom booms remain the top-selling category with over 40% revenue
Anaesthesia booms are expected to witness relatively high adoption
Roof mounting remains the preferred installation type
Challenges withfloor mounting continue to limit adoption
Hospitals remain the prominent end user of surgical booms
Demand from ambulatory surgical centres to grow at significant rate
How Growth will Unfold
Custom booms continue to maintain the lead on the account of the flexibility of choice, where as anaesthesia booms used along with anaesthesia machines are gaining relatively high demand banking on better access to patients and a safer working environment.
Custom booms | Utility booms | Anaesthesia booms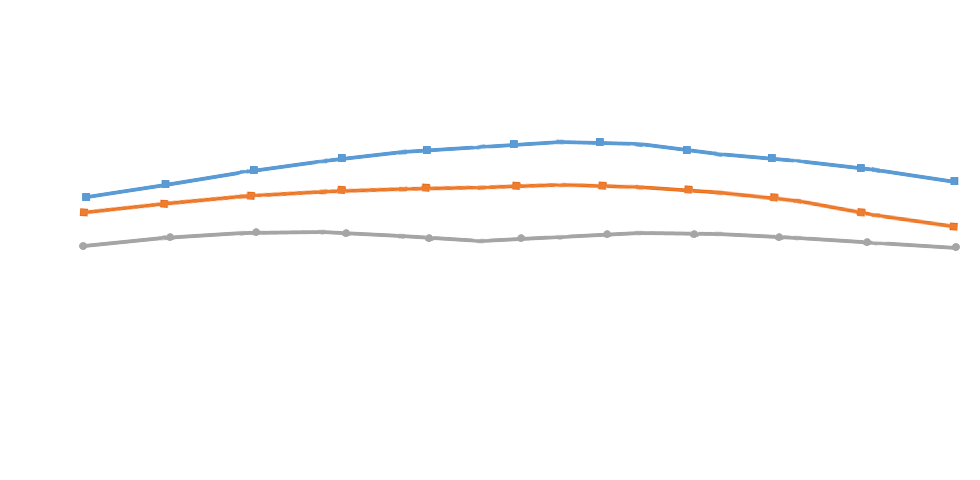 * This data is only a representation. Actual data may vary and will be available in report.
Click Here To Know How The Growth Will Unfold
Custom Market Research Services
FMI offers custom market research services that help clients to get information on their business scenario required where syndicated solutions are not enough.
Overview
Surgical Booms Market: Global Industry Analysis (2014-2018) and Opportunity Assessment (2019-2029)
A recent market study published by FMI "Surgical Booms Market: Global Industry Analysis (2014-2018) and Opportunity Assessment (2019-2029)" consists of a comprehensive assessment of the most important market dynamics. After conducting thorough research on the historic as well as current growth parameters of the surgical booms market, the growth prospects of the market are obtained with maximum precision. The report features the unique and salient factors that are likely to significantly impact the development of the surgical booms market during the forecast period.
Surgical Booms Market Taxonomy
The global surgical booms market is segmented in detail to cover every aspect of the market and present a complete market intelligence approach in front of the reader.
By Product
Equipment Booms
Utility Booms
Anesthesia Booms
Custom Booms
By End User
Hospitals
Ambulatory Surgical Centers
Specialty Clinics
Hybrid Operating Rooms
By Installation
Roof Mounting
Floor Mounting
Region
North America
Latin America
Europe
South Asia
East Asia
Oceania
Middle East & Africa
How the research was conducted?
Primary Research
C - Level Executives
Marketing Directors
Sales Heads
Portfolio Managers
Purchasing Managers
Medical Officers
Device Development Heads
Strategy Advisors
R&D Managers
Product Manufacturers
Distributors
Component Suppliers / OEMs
Hospital Purchasing Departments
Physicians / Nursing Managers
Industry Experts
Current Market Dynamics and Challenges
Market Characteristics
Market Performance and Growth Quadrants
Competition Structure and Market Structure
Strategic Growth Initiatives
Product Adoption, Installed Base, Replacement Cycles, Refurbishment
Regulatory Landscape
Near-term and Long-term Market Growth Prospects
Market Segment Splits and Authenticity
Opinions on Market Projections and Validity of Assumptions
Secondary Research
Industry Magazines
Factiva
Company Press Releases
Annual Reports and Investor Presentations
Peer-reviewed Journals
Government Websites and Publications
Trade Websites
Country-specific Regulatory Authorities
World Bank, WHO, IMF, OECD
Primary Interview Splits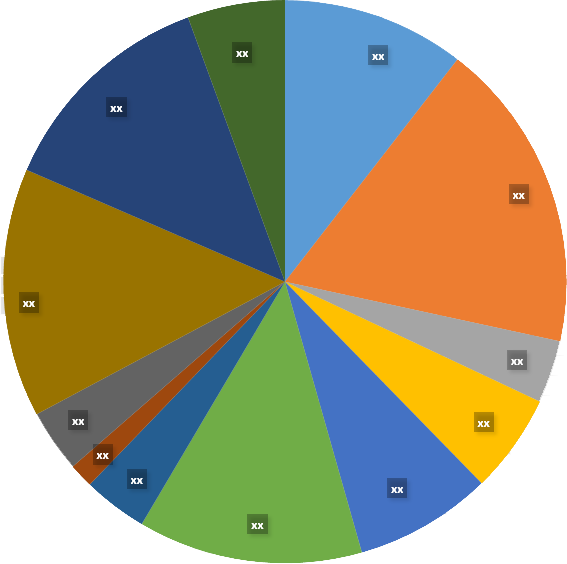 To Learn More About our Comprehensive Perspective on Surgical Booms Market,
Get in touch
COVID -19 : Impact Analysis
Request the coronavirus impact analysis across industries and markets
Request Covid -19 Impact
CASE STUDIES
See how our work makes an impact.
At FMI, we design strategies that are adaptive, impactful, and implementable.