KEY RESEARCH FINDINGS
The global barite market will register over US$ 2 Bn revenues in 2030
Increasing production of oil & gas would be the key factor propelling market growth
Barite powder continues to capture a greater revenue share over barite lumps
Grade SP 4.3 and above barite would generate greater returns to shareholders
Drilling mud would be the major application area for barite throughout the forecast period
Barite market in North America reflects highly lucrative prospects; Asia Pacific (APAC) is developing as a potential growth hub for market players
KEY FACTORS SHAPING BARITE MARKET
Sudden Fall in Drill Rig Count in North America
The U.S. has increased its oil & gas production significantly in the past few years due to advances in hydraulic fracturing and horizontal drilling. It has started exploiting its tight resources of shale gas to meet the rising demands for energy. This has led to excessive production of oil & gas in the Middle East, surpassing the demand for it and causing a decline in prices. As a result, the drill rig count in the U.S. and Canada has witnessed a sharp fall. For Instance, in the U.S., the drill rig count fell from 1683 to a minimal 714 in the recent year, leading to reduced consumption of barite for drilling mud.
Rise in Demand for Barite in Latin America
Mexico is a major producer of oil & gas in Latin America. The country possesses 1,500 million tons of oil, 11.4 trillion cubic feet of natural gas, and 545.2 trillion cubic feet of wet shale gas reserves. Mexico is expected to gain significant foreign investment from other countries for oil & gas production.
Increasing Demand from Paints and Rubber & Plastics Industries in Europe
In Europe, more than 25% of barite is consumed in applications such as paints & coatings (as a filler), rubber & plastics (as a filler), pharmaceuticals, and automotive. Paints & coatings and plastics & rubber sectors in the region are expanding, which offers significant growth opportunities to the barite market in the region.
Rising Captive Consumption of Barite in China
The energy demand in China is increasing at a significant rate, owing to rapid industrialization. This has forced the country to get the energy demand fulfilled from shale gas and natural gas. China has approximately 1115.2 trillion cubic feet of wet shale gas reserves, the maximum capacity in the world.
The country is planning to drill thousands of shale gas wells in the near future to reduce its energy dependency on coal as well as other countries. This would lead to high rise in captive consumption of high-grade barite i.e. Sp. Gr. 4.2 and Sp. Gr. 4.3 & above grade barite, as these grades most effectively help counteract high-pressure zones encountered while drilling.
Demand from Oil & Gas Drilling
Middle East & Africa is a leading producer of oil & gas in the world. The region consumes more than 83% of the total barite, in terms of volume, for drilling mud application. GCC is a leading consumer of barite in Middle East & Africa. Along with GCC, countries such as Nigeria, Angola, and Algeria are major consumers of barite in Africa.
Impact of COVID-19 Pandemic on Barite Market
The COVID-19 pandemic has affected a majority of countries in Europe, Asia, North America, and the Middle East. This pandemic is drastically hampering the global economy and has led to a shutdown of worldwide activities. The new or ongoing projects across oil & gas, underground projects value chain and supply & demand scenario are facing several challenges in terms of planning, project execution, and from the risk management aspect due to the pandemic.
Therefore, COVID-19 is negatively impacting the service industry, drilling projects, exploration projects, and in turn, the long term supply contracts of players offering barite.
BARITE MARKET STRUCTURE ANALYSIS
The global barite market is highly competitive due to the presence of a large number of players. The Andhra Pradesh Mineral Development Corporation Limited, Halliburton, Sojitz Corporation, Anglo Pacific Minerals, Baker Hughes Incorporated, China Shen Zhou Mining and Resources, Inc., and Schlumberger Limited are some of the industry leaders operating the global barite market.
The market participants in the barite market are maintaining strategic focus on technological developments, joint ventures, new product developments, and acquisition deals in order to strengthen their market positioning.
REPORT SCOPE
Base year considered - 2019
Actual estimates/Historical data - 2015 - 2019
Forecast period - 2020 - 2030
Forecast units - Value (USD) Mn
Segments covered - Form, Grade, Application, and Region
Regions covered - North America (US & Canada), Europe (UK, Germany, France, Spain, Italy, Russia, BENELUX and Rest of Europe), Latin America (Brazil, Mexico, and Rest of LA), East Asia (China, Japan and South Korea) South Asia & Pacific (India, Indonesia, Malaysia, Thailand, Australia and New Zealand and Rest of South Asia & Pacific), and MEA (GCC, South Africa, Turkey, Northern Africa and Rest of MEA)
Report coverage - Revenue forecast, company share, competitive landscape, growth factors, and trends
Barite Market Share by Grade
High specific gravity (SP) attribute is associated with superior quality. Grade SP 4.3 and above barite is broadly utilized in use cases including, computer monitors, automotive sound proofing material, and manufacturing of brake linings. By 2030, sales of high grade barite would account for around US$ 1 Bn in revenues. On the other hand, low grade barite (SP 3.9-4.2) is gaining traction in the oil & gas industry, as it is relatively cheaper as compared to grade SP 4.3 and above barite.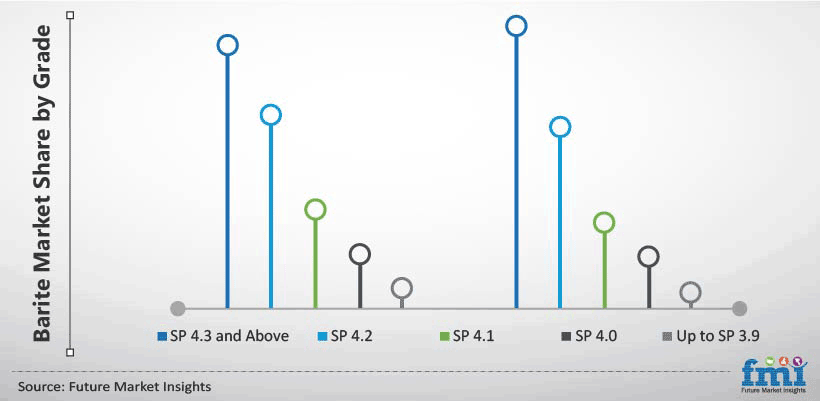 Regional Analysis of Barite Market
Upsurge in shale gas production in the US and growth in infrastructure projects that spur the paints & coatings industry are primarily fueling North American market. FMI finds that about 400,000 tons of industrial high grade barite is produced in the US, and Canada. Whereas, rapid pace of industrialization in East Asia is translating into substantial energy demand in the region. China houses a colossal capacity of wet shale gas and is looking to introduce further exploration projects. These activities are accelerating barite consumption by East Asian markets.
Barite Market Trends Defining Competition
Global barite market is highly fragmented, and the number of players is gradually increasing. This intense competition is influencing barite manufacturers to explore new revenue streams in several use cases. Case in point, barite is also utilized as a filler to be added during production process of industrial rubber. Its high-density aspect has made it commonplace in preparation of heavy concrete and cement that are further utilized in heavy construction machinery. Furthermore, barite is being used as a lining material in the automotive industry for containing radioactive constituents.
How Growth will Unfold
The non-magnetic nature of barite makes it a favored choice for hole-drilling operations. As such alternative materials including, celestite, iron powder and synthetic hematite, pose meagre impact on barite adoption in drilling mud industry. About 7 out of 10 barite manufacturers are heavily investing in the industry, owing to the ever-growing demand for energy, as well as oil & gas across continents. Moving on, market players are also unpacking growth potential in the pharmaceutical, and paint & coating industries.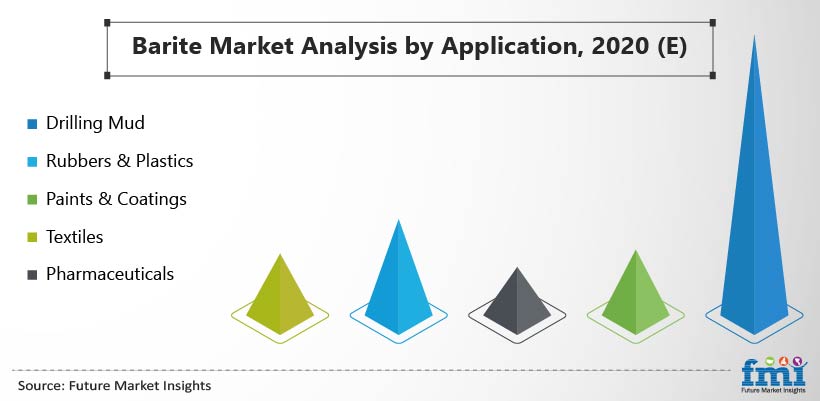 BARITE MARKET TAXONOMY
Form
Grade
Up to SP 3.9
SP 4.0
SP 4.1
SP 4.2
SP 4.3 and Above
Application
Drilling Mud
Pharmaceuticals
Rubbers & Plastics
Paints & Coatings
Textiles
Others
Region
North America
Latin America
Europe
East Asia
South Asia & Pacific
MEA
Need specific information?