Food & Beverage Packaging Industry Remains Immediate Customer
Consumption of silica sand for glass making is growing in the food & beverage sector, owing to rise in the preference for transparency as well as hygienic packaging of products. The food & beverage packaging industry will represent the best sales opportunities for market players, capturing over 40% of total market value. Although construction and automotive industries are also experiencing notable adoption rates, players in the silica sand market for glass making will capture maximum value from the food & beverage packaging sector.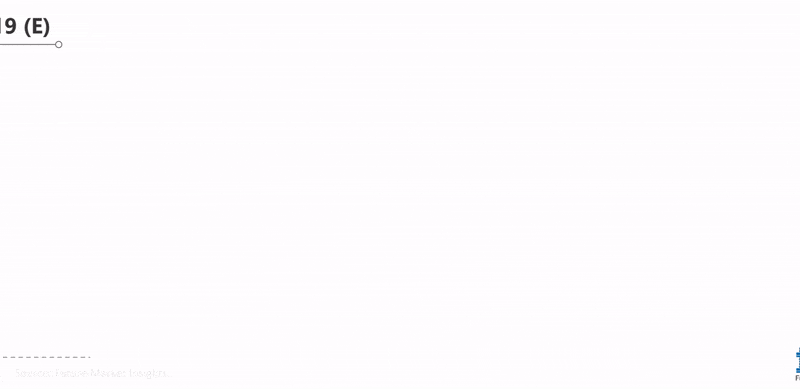 Manufacturers to Focus on Asian Markets for Significant Value Creation
With a well-established glass industry and high per-capita consumption of container glass in South Korea and China, East Asia would procure a significant chunk of total market revenue. To further expand their revenue pool, market players are also monitoring trends in industry-adjacent sectors - automotive and construction - and placing their bets accordingly. Opportunities will also emerge from South Asia, wherein, the silica sand market for glass making will hit the US$ 1 Bn mark towards 2029 end.
Construction Sector to Open New Prospects for Market Players
The construction sector, globally, is following an upward trajectory, attributable to upsurge in real estate construction, both, housing and retail development. Flat glass is an integral component in several construction applications, including, glazing, aesthetic appearance, and windows.
Additionally, mounting demand for enhanced aesthetics in commercial as well as residential complexes over the past few years is faring well for glass makers. Players in the silica sand market for glass making, thus, must focus on unlocking growth avenues in the construction sector to compete on a global level.
How Growth will Unfold
High purity grade will drive most growth in the silica sand market for glass making, registering a high annual growth rate over the forecast period. This growth is likely to materialize as expected, and manufacturers will be placed to capture greater returns from high purity silica sand - over 20X that of the ultra high purity grade. The report has also quantified the growth rate of ultra high purity silica sand, and reveals relatively smaller opportunities for value capture for market players.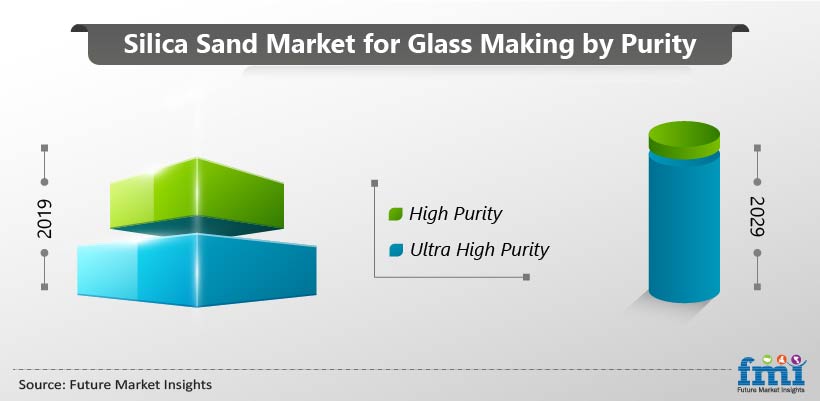 SILICA SAND MARKET FOR GLASS MAKING- KEY RESEARCH FINDINGS
The global silica sand market for glass making is poised to register a CAGR of 4.6% over the forecast period 2019-2029.
Sales of high purity silica sand for glass making will continue to grow at significant pace, while demand for ultra high purity is projected witness a gradual downfall.
Glass containers will remain key application area. On the other hand, silica sand for making flat glass is expected to observe a gradual rise in demand.
Silica sand for making glass products used in food & beverage industry continues to influence growth strategies, while market players are targeted towards capitalizing on rapidly expandingconstruction industry.
East Asia accounts for significant share in the global silica sand market for glass making.
KEY FACTORS INFLUENCING SILICA SAND MARKET FOR GLASS MAKING
Increasing Demand for Glass
Silica sand is an unavoidable part of glass manufacturing and is used a major raw material forvariousproducts. It is widely used in the production of fiberglass, bottles, and specialized and plain glass. In addition, expanding opportunities for silica sand manufacturers and suppliers in a wide range of industries will further contribute to the market growth.
Furthermore, sales of silica sand for glass making will rise on the back of increased adoption ofsolar control glassin automotive industry, building glasses, and lightweight glazing glass along with increasing usage of hybrid guide plate and advanced nanotechnology in flat glass.
Growing Preference for Hygienic Packaging
With rise in preference for hygienic packaging and transparency of products, there is an increasing demand for glass-based packaging in food & beverage industry. This, in turn, is likely to offer lucrative opportunities for market players operating in the silica sand market for glass making.
Manufacturers Eyeing Asian Market
East Asia accounts for major share of the global market, due to increasing application of glass in various end-use industries. The South Asia's market also offers greater opportunities for manufacturers and is expected to surpass US$ 1 Bn by 2029. Continued urbanization, especially in India, has been positively impacting the construction industry, which in turn is likely to influence the regional market growth.
SILICA SAND MARKET FOR GLASS MAKING STRUCTURE ANALYSIS
Silica sand market for glass making is significantly driven by handful of players due to exponential R&D capabilities.
The market players are focusing on collaboration, joint venture, partnerships and product development strategies.
Base Year - 2019
Forecast Period - 2019-2029
CAGR over 2019-2029 - 4.6%
Market value by 2029 - US$ 7.4 Bn
Segments Covered - Purity, Product, Application, Region
Growth Drivers -

High recyclability factor
Growing demand from automotive, construction, and food & beverage industries

Key Companies - U.S. Silica, Fairmount Santrols, Sibelco, Imerys Refractory Materials, and JLD Minerals
SILICA SAND MARKET FOR GLASS MAKING TAXONOMY
Application
Flat Glass
Fiber Glass
Glass Containers
Special & Technical
Tableware Glass
Others
End Use
Food & Beverage Packaging
Industrial
Pharmaceuticals
Scientific Instrument & Analytical Research
Construction
Automotive
Cookware & Utensils
Purity
High Purity
Ultra High Purity
Region
North America
Latin America
Europe
East Asia
South Asia
Oceania
Middle East & Africa (MEA)
Need specific information?