Sodium Silicate Market By Application (Silica Manufacturing, Detergents, Catalysts, Pulp & paper, Elastomers, Food & healthcare) & Region - Forecast to 2019 - 2029
Sodium Silicate Market - Analysis, Outlook, Growth, Trends, Forecasts
March 2020

REP-GB-11173

250 pages
Sodium Silicate Market Exhibits Persistent Growth
[250 Pages Report] The sodium silicate market was valued at US$ 5.6 Bn in 2018 owing to versatile end-uses and cost-efficiency. Detergents, adhesive, coating, deflocculates, catalyst, and chemicals are a few of many industrial applications of sodium silicate. The eco-friendly and non-toxic nature of sodium silicate positions it as a favorable alternative amidst increasingly stringent anti-pollution government policies.
Readily available raw materials such as silica sand, soda ash, and rice husk further propel manufacturing of sodium silicate. Supply and demand for the product exhibit cohesive growth trajectory during the forecast period (2019-2029).
Sustainable Manufacturing Trends Propel Sodium Silicate Market
Silica manufacturing from sodium silicate will lead sodium silicate market share on the back of multiplying demand for silica products such as quartz, and precipitated silica. Other application types considered for the sodium silicate market study are detergents, catalysts, pulp & paper, elastomers, food & healthcare, and others. Increments in disposable income of millennial consumers is increasing awareness and emphasis on cleanliness and hygiene.
Rising environmental concerns impel a manufacturing shift among paper and pulp manufacturers to adopt eco-friendly raw materials. Similarly, water treatment and soil stabilization applications employ sodium silicate as a cleaning agent and pH stabilizer. Collectively, these factors will bolster demand for sodium silicate during the forecast.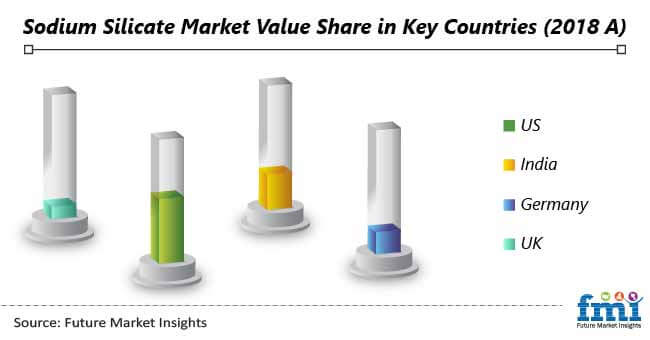 APAC in the Vanguard of Global Sales amid Infrastructure Development
Regionally, APAC accounts for more than half of the total sodium silicate market value. This can be attributed to value chain trends developing economies such as India, China, and Indonesia. For instance, infrastructure development is being undertaken by major APAC countries. Infrastructure development involves consumption of sodium silicate as an adhesive agent or binder that provides much-needed strength at reduced costs.
The Indian sodium silicate market is set to grow at a promising 6% CAGR during the forecast period. North America and Europe collectively account for more than 21% of the sodium silicate market share. The boom in real estate of developed countries such as the US, UK will provide much-needed capabilities to expand their footprint in these regions. The US exhibits a stellar 12% CAGR during the forecast period while Germany exhibits a positive growth rate through the end of 2029.
Innovative Applications Influence Competitive Landscape - Sodium Silicate Market
sodium silicate market players stand to gain from global expansion in developing markets and research & development of innovative applications in untapped industries such as welding, cement, agriculture, and food. Business strategies such as mergers & acquisitions, joint ventures, and expansion of production capacity are expected to be seen during the forecast period. Detailed profiles of leading players are included in this report covering their recent developments, key offerings, short-term and long-term strategies.
Prominent companies in the sodium silicate market include American Elements, J.M. Huber Corporation, MALPRO SILICA PRIVATE LIMITED, PPG Industries, Qingdao Dongyue Sodium Silicate Co Ltd, Zaclon, Shijiazhuang Shuanglian Chemical Industry, Tokuyama Corporation, BASF SE, Nippon Chemical Industrial, Evonik Industries AG, and IQE Group.
World's Most Profilic Intelligence Engine
Get Access To The World's Largest Market Research Database.
Sign Up Now
Sodium Silicate Market: Segmentation
The global sodium silicate market is segmented in detail to cover every aspect of the market and present a complete market intelligence approach to readers.
By Application
Silica Manufacturing
Detergents
Catalysts
Pulp & paper
Elastomers
Food & healthcare
Others (coating, agriculture, etc.)
By Region
North America
Latin America
Europe
MEA
Asia Pacific
Need specific information?
Our Clients