Specialty Silica Market - Key Research Findings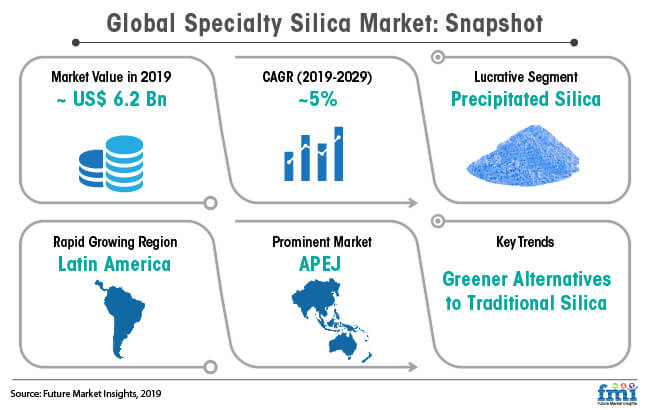 The global specialty silica market size is estimated to be ~US$ 6.2 Bn in 2019.
The specialty silica market is estimated to grow at a CAGR of ~5% over the forecast period of 2019-2029.
Precipitated silica is estimated to gain significant traction over the forecast period, due to increasing usage of the same for rubber applications e.g., in high performance tires and footwear.

Demand for non-rubber applications, such as for food additives and oral care products, is also expected to contribute to the overall demand for precipitated silica over the forecast period.

Application of specialty silica in rubber industry is estimated to hold more than half of the total market share over the forecast period.

In the rubber industry, specialty silica finds application in the manufacturing of tires, footwear, industrial conveyor belts, and others. Growing consumption of energy-efficient tires is likely to result in increased demand for specialty silica.

In terms of value share, APEJ is expected to be a prominent market, holding approx. half of the volume and value shares of the specialty silica
In terms of growth rate, Latin America is most likely to foresee high growth rate after APEJ, in the global specialty silica market.
Manufacturers are focused on developing value added and high performance grades of specialty silica that deliver superior physical characteristics to end-products, and are supplying these at competitive prices.
Leading players are strategically increasing their capacities worldwide, majorly in Asia Pacific, to serve the growing regional demand.
Key Factors Shaping the Global Specialty Silica Market
Increasing Demand for Specialty Silica as a Performance Additive

The introduction of advanced specialty silica grades such as highly dispersible silica (HDS) – developed by Solvay SA – has resulted in noticeably lower rolling resistance in tires, without loss of road grip in wet weather conditions. A 7.5% decrease in fuel consumption and up to 18 meters shorter braking distance is reported by using high performance HDS grade silica in automotive tires.

Various tire labelling regulations have been implemented across the globe, further fuelling the demand for specialty silica as a filler material. Countries such as Japan, South Korea, EU countries, etc., have already implemented various regulations in order to increase overall fuel economy of vehicles, leading to less carbon emitted per unit of fuel, per vehicle for same distance travelled.

Use of Specialty Silica for Chemical Mechanical Planarization (CMP)

Specialty silica, specifically colloidal silica and fumed silica, are used to create defect-free, flat, and highly smooth surface on silicon semiconductors, sapphire wafers, and optical lenses in consumer electronics. AEROSIL and AEROXIDE by Evonik Industries, CAB-O-SIL EL-90 by Cabot Corporation, LUDOX by W. R. Grace & Co.-Conn. etc., are major brands of specialty silica commercially sold to be utilized in the electronics industry.

Global Capacity Expansion in Specialty Silica Manufacturing Facilities

Specialty silica manufactures are strategically expanding their capacities in order to meet the increasing demand in the global market. Key capacity expansions have been announced in the Asia Pacific region. North America and Europe regions are also expected to witness good growth in their respective regional capacities.

Increasing demand for fumed silica and precipitated silica, majorly for application in rubber, (tire, footwear, industrial, etc.) oral care, and electronic industries are expected to motivate leading market players to increase their worldwide production capacities.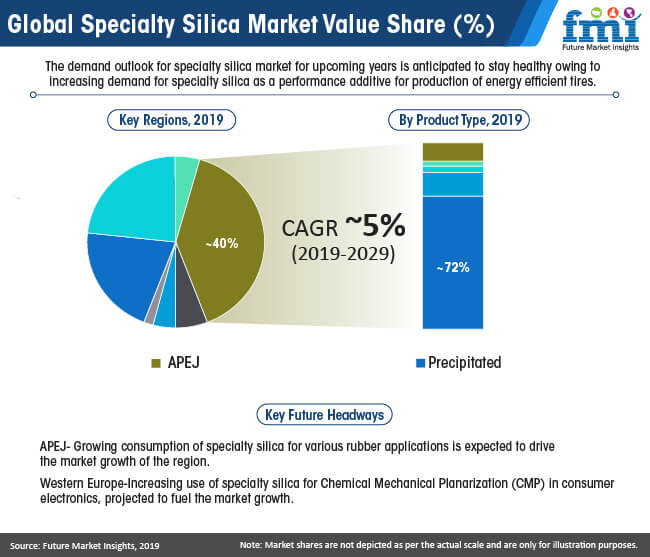 Specialty Silica Market Structure Analysis
Most of the manufacturers in the specialty silica market are strategically focusing on the APEJ market. Key market players in the specialty silica market, such as Solvay SA, Evonik AG, PPG Industries, Inc., and Madhu Silica Pvt. Ltd., among others are focusing on expanding their presence in regional markets to fulfill the growing demand for specialty silica across geographies.
In order to capitalize on the growing demand for HDS from the tire industry, all major companies across the globe are involved in developing and introducing new grades of highly dispersible silica.
Solvay SA, Evonik Industries AG, Huber Engineered Materials, PPG Industries, Inc., Madhu Silica Pvt. Ltd. (MSPL), Cabot Corporation, Akzo Nobel NV, Nalco Holding Company, Wacker Chemie AG, and Qingdao Makall Group Inc. are some of the key market participants in the global specialty silica
Key Segment
Product Type
Precipitated
Fumed
Fused
Silica Gel
Colloidal
Application
Rubber
Plastic
Ink & Coatings
Electrical & Electronics
Agricultural & Feed
Food & Beverages
Personal Care
Others
Region
North America
Latin America
Western Europe
Eastern Europe
APEJ
Japan
MEA
Need specific information?