Versatile Precipitated Silica to Reach US$ 5.9 Bn by 2029
Ascending demand from rubber, agrochemicals, and oral care will drive the global precipitated silica (SiO2) market to grow at an astounding growth rate of more than 9% between 2019 and 2029. This form of synthetic amorphous silicon dioxide is inert, non-toxic, and chemically balanced which allows manipulation of its properties to cater to a wide range of end-use industry verticals.
Surging automotive production will lead to an increase in demand for rubber tires which employ precipitated silica to enhance product performance. Similar demand trends can be traced back to adhesive & sealant products in lieu of the pivotal role that precipitated silica plays as a thickening agent and improving bond strength.
Cosmetics - The Next Mass-adoption Avenue
Cosmetics maintain a share-wide dominance with more than 21% of market share. Silica increases water resistance of creams and lotions. Hence, the increasing demand of cosmetic products from multiplying millennial consumers will propel the demand for precipitated silica. Market players are investigating applications of precipitated silica in electronics. The low electrical conductivity of precipitated silica positions electronics end-use industry as the most lucrative opportunity with a market share of more than 19%.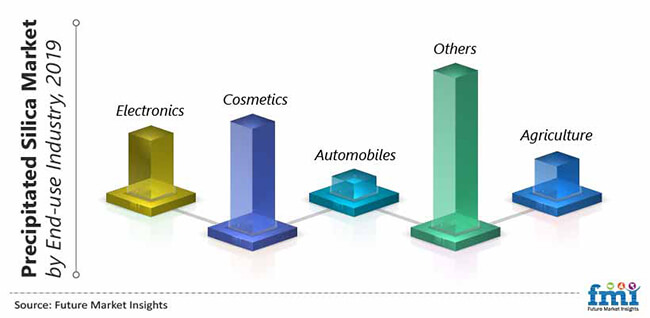 North America Bolster Growth Amidst Resurgent Infrastructure Development
North America and Latin America collectively account for more than 52% of the global precipitated silica market. Recovery of the construction industry in the US coupled with increasing automotive production in developing economies of Latin America drive growth in this region. Japan offers rewarding opportunities for precipitated silica manufacturers with a meteoric growth rate of more than 13% during the forecast period. Rising male-cosmetic trends and surging infrastructure development in Japan are a central factor for future growth in this region.
Green Tires to Create New Revenue Streams
Prevalence of green tires is expected to contribute significantly to the future demand of precipitated silica from automotive industry. SiO2 improves road grip while simultaneously decreases rolling friction, tires that employ SiO2 reduce fuel consumption which gives them the name 'green tires'. Increasing disposable income of millennial consumers is expected to thrust the demand from cosmetics end-use industry. Infrastructure projects in developing economies further the demand for paints, coatings, and rubber used in construction which will in turn increase the demand for precipitated silica.
Capacity Expansion Becomes a Top Priority
Competitive landscape of precipitated silica market is fragmented. Major players in the global precipitated silica market are Evonik Industries AG, PPG Industries Inc., W.R. Grace & Co., Tosoh Silica Corporation, Solvay SA, Huber Engineered Materials, and Oriental Silica Corporation. Manufacturer initiatives emphasize the importance of product innovation, capacity expansion, and strategic partnerships.
In Aug, 2019, Evonik Industries AG released a new precipitated silica variant specifically for whitening toothpastes, which was later patented by the organization. In Sept 2019, PPG Industries Inc. presented its product portfolio of PPG AGILON® performance silica at International Elastomer Conference along with a research paper on "Silica Development for Sidewall Compounds".
FREQUENTLY ASKED QUESTIONS ABOUT PRECIPITATED SILICA MARKET
What drives the precipitated silica market?
The market is driven by surging demand from end-use industry verticals such as rubber, agrochemicals, and personal & oral care. Precipitated Silica properties such as inert molecular behavior, non-toxicity, and chemical balance drive this mass-adoption.
Which factors put market players at risk?
Innovation in applications of carbon black puts market players at risk of losing growth opportunities. Low modulus of silica compounds at high elongations is another factor that puts manufacturers of precipitation silica at risk of substitution.
Which region will lead the global sales of precipitated silica?
North America is leading the global sales of precipitated silica. Recovering infrastructure development in major economies such as the US drives growth in this region. Japan offers the most lucrative opportunities for growth on the back of rising male-cosmetic demand and infrastructure development.
Which product segment is likely to witness highest growth?
Cosmetics product segment is expected to maintain its share-wide dominance and witness highest growth. Innovation in applications of precipitated silica for cosmetic products coupled with demand from increasing income-level consumers will lead growth in this segment.
Which segment based on end-use will record the highest growth?
Rubber will register the highest growth in end-use segregation of the precipitated silica market. Precipitated silica when used in producing rubber tires promotes road grip and reduces rolling friction. This is a leading cause for demand from this segment.
What is the key sustainability strategy adopted by market players?
Capacity expansion is a key strategy adopted by market players in precipitated silica market as organizations foresee a near-future increase in demand. Manufacturers are investing in product innovation and forging strategic partnerships to differentiate their products in the market.
Market Segmentation
The global Precipitated Silica market is segmented in detail to cover every aspect of the market and present complete market intelligence to readers.
By End - Use Industry
Automobiles
Cosmetics
Electronics
Agriculture
Others
By Application
Rubber
Personal Care
Fishing Boats
Food
Coating & Inks
Adhesives & Sealants
Others
Region
North America
Latin America
Europe
APEJ
Japan
Oceania
Middle East & Africa
Need specific information?