Iron Oxide Definition
Iron oxides are commonly available chemical compounds composed of iron (Fe) and oxides and are mainly used in the form of iron ores, pigments, catalysts, etc. Iron oxides are produced from both natural and synthetic resources. Natural iron oxides are mainly derived from (1) hematite (Fe2O3), a red iron oxide mineral, (2) limonites (FeOOH), which in colour vary from yellow to brown, such as ochers, siennas and umbers, and (3) magnetite (Fe3O4), a black iron oxide.
Synthetic iron oxides are largely produced by three production methods. The first is solid state transformations, including the thermal decomposition of iron salts or iron compounds; this method produces red, black or brown pigments. The second is the precipitation of iron salts usually accompanied by oxidation; this method may produce red, yellow, orange or black pigments. The third is the organic reduction process, also termed as the laux or aniline process, which produces black, red or yellow pigments. The iron oxides represented by the chemical formula Fe2O3 are mainly red-coloured and brown-coloured iron oxides.
Global Iron Oxide Market Dynamics
The growing construction industry output is expected to be one of the most significant drivers for the iron oxide market on a global scale. Iron oxide finds a profound rate of application in the construction industry such as in the colouring of various construction materials, including concrete blocks and bricks, ready-mixed concrete and roofing tiles. With the steady growth of the construction industry, stemming from increasing urban and civil infrastructure projects, the demand for iron oxides is expected to increase significantly. Additionally, the use of iron oxide for applications such as paints & coatings, plastics, ceramics and chemicals would necessitate its bulk consumption.
The market growth of iron oxide is additionally expected to be aided by new opportunities in applications such as water treatment and catalysts for chemical processing. This has drawn attention from market participants, who in turn are further venturing into product development towards such novel applications. For example, the iron oxide product line from Lanxess under the brand name, Bayoxide, can be used in applications such as water treatment and high-quality catalysts.
Global Iron Oxide Market Trends
The iron oxide market is witnessing consolidation, driven by the pursuit for sustainability among market participants, owing to the imposition of stringent regulations on the production of iron oxide, which are increasing the overhead costs for iron oxide manufacturers. This has prompted iron oxide manufacturers to consolidate production and business operations through acquisition of external enterprises having a sufficient infrastructure and resources.
Increasing application categories and development of value-added product grades are other prominent trends in the global iron oxide market. With respect to the lucrative growth opportunities offered via new applications, iron oxide manufactures have been consistently developing new grades of iron oxide, which have a diverse as well as specific set of applications thus enriching their product portfolio. To achieve this objective, leading iron oxide manufacturing companies have invested a significant amount in research and development activities over the past five years.
The global iron oxide market is expected to witness a price increase over the forecast period based on fluctuating historical market trends as well as volatile feedstock costs.
Growing Use of Primary Iron Oxides, i.e. red, yellow and black, is expected to drive the Growth of the Global Iron Oxide Market
Red iron oxide is expected to hold the maximum share in the overall iron oxide market throughout the forecast period, owing to its predominant use in construction and paint & coating industries as a pigment with emphasis on colouring concrete bricks and paving stones. The other prominent product types include yellow and black iron oxides, which are estimated to hold significant market value shares during the forecast period.
In terms of application, construction materials is a key segment for the iron oxide market as the compound finds use as a colouring agent in bricks, decorative concrete, tiles, terracotta and others. Iron oxide also finds widespread application as a primer and additive in paints and coatings for aesthetic purposes. Thus, the burgeoning paints and coatings market across automotive and architectural sectors is anticipated to drive the global iron oxide market. Although the mentioned applications govern the consumption of iron oxide significantly, other applications such as plastics and chemicals are also expected to drive the iron oxide market to some extent with current market developments in the initial stages of growth.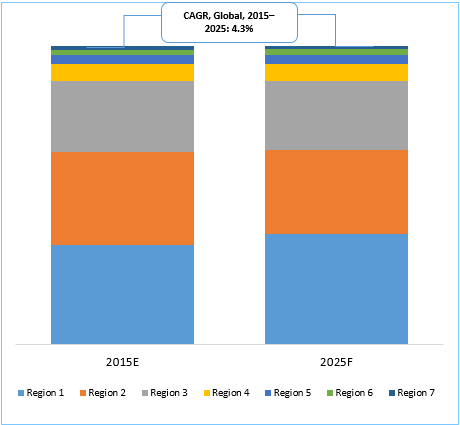 Developing economic regions are pegged to be major contributors to the growth of the global iron oxide market over the forecast period
Attributing to economic growth, rapid expansion in urbanization and increasing construction output, APEJ is expected to hold a major share in the global iron oxide market throughout the forecast period. Latin America, Middle East and Africa markets are also expected to witness significant growth, owing to the growth of the domestic economy and investments in infrastructural development, which in turn are driving the high consumption of iron oxide as a raw material. North America and Europe are expected to witness moderate growth rates in terms of the consumption of iron oxide during the forecast period.
Competitive Landscape Overview and Associated Market Participants in the Global Iron Oxide Market
Some of the market participants involved in the production and sales of iron oxide include Lanxess AG, Huntsman International LLC, Cathay Industries, Toda Kogyo Corporation, Alabama Pigments Company,LLC, Jiangsu Yuxing Industry and Trade Co., Ltd., Yaroslavsky Pigment Company, Tata Pigments Company, and Shenghua Group Deqing Huayuan. A high level of consolidation exists in the global iron oxide market and the top 3 players account for close to half of the total iron oxide production and sales. For example, Rockwood acquired Elementis in 2007, and Huntsman International LLC then acquired Rockwood Pigments in 2013 and announced a spin-off of its pigments division. These players are tier-1 chemical companies with global and regional presence that have undergone consolidations in their business operations across the globe to expand their production capacity and sales and distribution footprint. Apart from tier-1 iron oxide manufacturers, the other half of the global iron oxide market share is acquired by tier-2, tier-3 and numerous small-scale manufacturers whose sales is constricted to the domestic market. The trade flow of iron oxide is mainly governed via procurement and sales through bulk level distributors and suppliers in the value chain through the addition of trade margins towards end-user level sales. For tier-1 mining flotation chemical manufacturers, the sales channel is routed through a direct salesforce or through appointed distributors in the region.
Manufacturers of iron oxide are pursuing sustainability in their production processes, which is one of the key strategies being adopted in the market. For example, in December 2014, Huntsman International LLC downsized its workforce in the pigments and additives division by 900 positions so as to gross annual cost savings of over US$ 130 Mn.
Key Segment
Product Type
Red Iron Oxide
Yellow Iron Oxide
Black Iron Oxide
Orange Iron Oxide
Brown Iron Oxide
Green Iron Oxide
Other Blends
Region
North America
Western Europe
Eastern Europe
Asia Pacific Excluding Japan
Japan
Latin America
Middle East & Africa
Application
Construction
Paints & Coatings
Plastics
Chemicals
Paper & Pulp Manufacturing
Textile
Ceramics
Leather
Others (Fertilizers, Cosmetics, Rubber)
Need specific information?
Talk Show:
The Rise of Intelligent Packaging
Personalized, Connected and Sustainable
November 18, 2021
11:00-11:45 AM PST (USA & Canada)
This is a LIVE session