Mobile Phone Accessories - Taking the Smartphone Experience to All New Level
Advancements in technology and consumer demand for innovative products have played a key role in shaping the mobile phone and mobile phone accessories market. With preference for sleek, lightweight, and delicate mobile phones ascending on a pace, sales of innovative accessories including external battery packs, wireless headphones, and wireless chargers have been skyrocketing. The mobile accessories industry is on the brink of entering the future that exclusively demands technological innovation and product enhancement. Moreover, unique mobile phone accessories are likely to become more interesting than smartphones, as the US$ 78 Bn market is set to record 6.3% CAGR over the next decade.
Frequently Asked Questions About Mobile Phone Accessories Market
What are future prospects of the mobile phone accessories market?
There will be steady growth in the demand for mobile phone accessories over the next decade, with market value increasing from US$ 78 Bn in 2019 at a CAGR of over 6% to reach US$ 144 Bn in 2029.
How wireless technology and speech recognition software will create new value-adding business opportunities for market players?
Today, mobile phone accessories are designed not only to make phones smarter but also to turn them into smart devices. As 'convenience' factor continues to play a significant role, market players are turning to new technologies to set their products apart from the competition.
Which mobile phone accessories will have the largest sales growth in the next five years?
Low average unit cost of protective cases & covers suggests higher volume sales overvalue gains. Whereas, portable speakers and wireless chargers will continue to account for major value share.
What revenues can market stakeholders derive from online sales over the next decade?
In 2018, mobile phone accessories worth over US$ 13.7 Bn were sold through e-commerce platforms, and the number is set to maintain an average 7% annual increase during the forecast period (2019-2029).
Which region is expected to lead global sales of mobile phone accessories?
Asia Pacific excluding Japan (APEJ) remains at the forefront of the global mobile phone accessories market, with sales projected to grow at a CAGR of 8% during the predefined timeframe.
Which companies are investing significantly in the development of innovative products?
Investors continue to remain bullish in industry behemoths such as Apple Inc., Sony Corporation, and Samsung Electronics Co. and Ltd., bringing smart battery cases and wireless noise-cancelling headphone into the marketplace. It is pertinent to note that a large number of new players are also vying for a pie of this lucrative market.
Protective Cases & Covers Remain the Bestselling Category
Demand for protective mobile phone cases and covers continues to move on an upward trajectory, and are estimated to account for 1/4th of the total sales in 2019. Looking beyond the specifications of their smartphones, consumers are keeping a close eye on pairing them with unique mobile phone accessories that could potentially elevate the overall experience. The result is expected to lead to increasing demand for protective cases and covers.
In their efforts to gain a substantial market share, cell phone accessories manufacturers are relying on introducing innovative products, with prime focus on the convenience factor.  Owing to commendable progress in voice recognition technology and seamless integration of speech recognition software in smartphones, the demand for clip-on headphones, and wireless audio products is expected to witness noteworthy growth.
Manufacturers Eye Lucrative Opportunities in APEJ
The mobile phone accessories market is expected to thrive in Asia Pacific excluding Japan (APEJ), owing to high internet penetration, growing adoption of smartphones, and falling prices of smartphones. Fast-developing economies such as India and China are expected to lead the mobile accessories landscape in the region. Strong presence of multi-brand stores and swelling number of online retailers are further projected to propel the demand for mobile phone accessories in these countries. Indian market is expected to particularly remain influenced by government initiatives to reduce the potential dependency on foreign imports from Taiwan and China. This has provided local manufacturers with the much-needed push to establish a strong base in the current marketplace.
Next-gen Wireless Charging - Moving Away from Power Cables
In the current technological era, as consumers seek convenient and fast-paced mobile charging solutions, manufacturers are concentrating their efforts towards improving the functionalities and the overall performance of the current wireless charging alternatives. The previous iterations of wireless charging were compatible with a very limited range of devices – a major roadblock that played a key role in denting the adoption of wireless chargers in the past. However, emerging technologies in conjunction with research activities have significantly boosted the prospects of cable-free charging. Moreover, as consumers gradually move away from power cables, a number of wireless mobile phone accessories are expected to garner significant momentum in near future.
Protective cases and covers to see high demand
Sales of headsets to gather pace
Folding cartons highly preferred
Adoption of clear view boxes to increase
Retail outlets to account for significant sales
Sales through electronic stores on rise
How Growth will Unfold
Demand for smartphone accessories continues to gain a boost from large-scale adoption of mobile phones in developing economies, such as India, China, and Indonesia along with integration of next-gen technologies. In addition to solidifying their presence in the market with diverse portfolio, manufacturers are focusing on effective mobile phone accessories packaging and omni-channel retail strategy. In the U.S. and EU5, franchise outlets continue to contribute major share to manufacturers' bottom lines. Whereas, sales through retail or multi-brand outlets in developing countries in Asia Pacific and Middle East & Africa are witnessing a quantum leap. The impact of proliferating e-commerce industry is also noticeable in the mobile phone accessories market, compelling manufacturers to leverage new channels to attract a large number of consumers worldwide.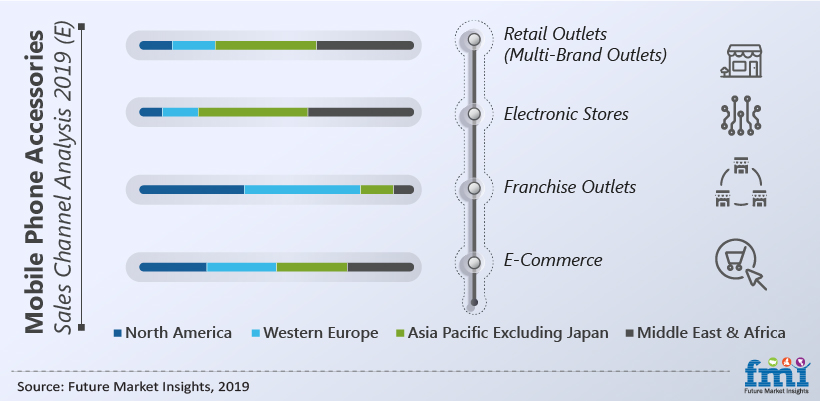 * This data is only a representation. Actual data may vary and will be available in report.
Click Here To Know How The Growth Will Unfold
Custom Market Research Services
FMI offers custom market research services that help clients to get information on their business scenario required where syndicated solutions are not enough.
Overview
Mobile Phone Accessories Market Analysis 2019 - 2029
Future Market Insights, in its recent study, outlines the growth trails of the mobile phone accessories market for the forecast period (2019-2029). The groundbreaking study offers in-depth insights and unbiased analysis that can arm mobile accessories manufacturers with the necessary information to make critical decisions with confidence. As wireless and disruptive technologies gain prominence in the smartphone landscape, analysts at FMI conducted thorough research on evolving trends and their impact on market growth. The study offers historical analysis of the mobile phone accessories market along with forecast statistics in terms of value and volume.
Mobile Phone Accessories Market Taxonomy
The global mobile phone accessories market is segmented in detail to cover every aspect of the market and present complete market intelligence to readers.
Product
Power Banks
Batteries
Chargers
Protective Cases & Covers
Headsets
Portable Speakers
Memory Cards
Data Cables
Mount & Stands
Selfie Sticks
Others (Stylus Pen
Packaging
Folding Cartons
Clear View Boxes
Pouches & Bags
Clamshells
Blister Packs
Trays
Sales Category
Brands
3rd Parties
White Labels/No Name Brands
Region
North America
Latin America
Western Europe
Eastern Europe
Asia Pacific Excluding Japan
Japan
Middle-East and Africa
How the research was conducted?
Primary Research
Primary research interviews with key opinion leaders and other participants were conducted for data collection and validation of the below information:
Key Segments in the Mobile Phone Accessories Market
Market Share Analysis
Average Selling Price (US$) and Market Growth
Comparative Analysis of Several Mobile Phone Accessories Present in the Market
Market Size
Key Trends & Developments
Competition & Key Vendor Strategies
Secondary Research
Industry Journals
Consumer Electronics Industry Journals
Import-Export Database
Annual Reports/SEC filings/Investor Presentations
Primary Interview Splits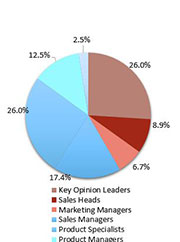 To Learn More About our Comprehensive Perspective on Mobile Phone Accessories Market,
Get in touch
COVID -19 : Impact Analysis
Request the coronavirus impact analysis across industries and markets
Request Covid -19 Impact
CASE STUDIES
See how our work makes an impact.
At FMI, we design strategies that are adaptive, impactful, and implementable.