Mobile Payment Transaction Market By Technology (SMS Mobile Payment Transactions, WAP/ WEB, USSD, NFC), Purpose (Merchandise Purchase, Money Transfer, Bill Payment, Ticketing) & Region - Forecast to 2014 - 2020
Mobile Payment Transaction Market - Analysis, Outlook, Growth, Trends, Forecasts
February 2015

REP-GB-262

110 pages
Introduction
Mobile payments are defined as any payment transactions whether in store or remote executed on the mobile phone. In the recent years, increased penetration of smartphones across the globe, comfort in using the applications and busy lifestyle is increasing the usage of mobile payment systems. Owing to its essential nature in today's fast and busy lifestyle, mobile payments are gaining speed across the globe.
The changing attitude of consumers and urge for faster transaction is creating positive impact on the mobile payments market. Declining profits from traditional sources of income is also driving the financial institutions to look out for alternative income options.
Telecom providers are also trapped by declining margins from voice segments due to competitive call rates, both these entities play a major role in the value chain mobile payment system market, and all these factors have pushed mobile payments market globally.
Increasing e commerce industry is one of the key factor behind the growth of mobile payments. Hence, amongst all application areas merchandise purchase is anticipated to contribute a significant share followed by ticketing.
Globally, considering the number of users, mobile payment transactions market is anticipated to grow at a CAGR of 23.2% through 2020. Eastern Europe is estimated to hold a small portion of user base however is set to witness a high growth rate of 29.1% through the forecast period. In 2014. APAC held maximum number of mobile payment system users in 2014, and is estimated to continue the same trend growing a CAGR of 22% through 2020.
Mobile payments market was valued at US$ 392 billion in 2014, and is expected to reach US $ 2849 billion by 2020. Growing at a CAGR of 39.2% over the forecast period. The growth of mobile payment market is mainly attributed to the growing ubiquity of mobile phones and their increasing features replacing the physical wallet. Additionally consumers are increasingly getting comfortable with using their smartphones for applications other than voice.
Technology wise WAP/WEB is anticipated to hold more than 40% of the total market share followed by SMS. However, NFC communication is set to grow with a high growth rate of approximately 46% through 2020.
Key players of this market include GoogleWallet, Visa, MasterCard, PayPal, and Braintree to name a few. Easy user interface and ease of operations is expanding the number of mobile payment users across the globe.
FMI forecasts, consumers are reluctant to shift their payment method from traditional to m payment unless they have understood the advantage. Consumers need to be made aware about the benefits of m payments. Creating new customers is as important as persuading the current customers to become loyal. The gap between level of consumer awareness and consumer acceptance needs to be bridged.
Figure 1: Global Mobile Payment Value Share, By Technology, 2014 & 2020 (%)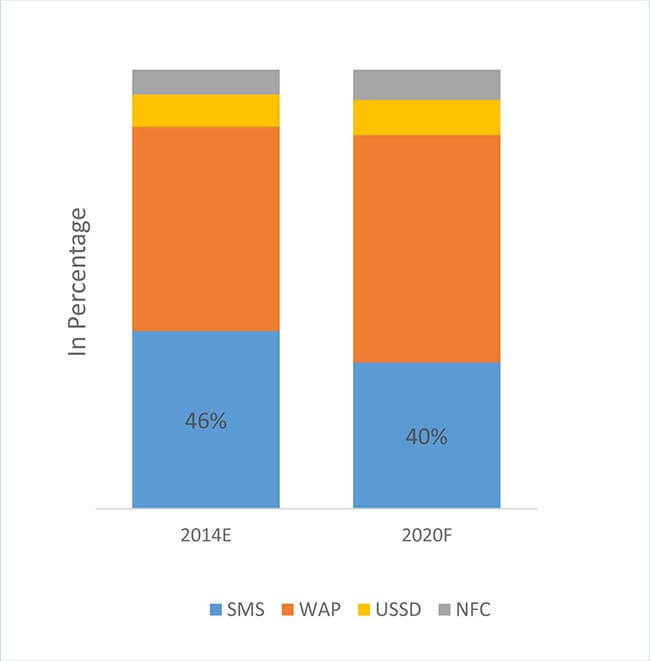 World's Most Profilic Intelligence Engine
Get Access To The World's Largest Market Research Database.
Sign Up Now
Key Segments
By Technology
SMS Mobile Payment Transactions
WAP/ WEB
USSD
NFC
By Purpose
Merchandise Purchase
Money Transfer
Bill Payment
Ticketing
Other Purpose
Region
North America
Latin America
Europe
East Asia
South Asia Pacific
Middle East & Africa
Need specific information?
Our Clients