Blockchain Technology Market By Solution (Applications, Middleware, Blockchain Platforms), Use Case (Supply Chain Management, Digital Identity, Payments and Money, Trading, Commerce and Exchange, Smart Contracts, Decentralized Finance), Enterprise Size (Large Enterprises, SMEs) & Region - Forecast to 2020 - 2030
Blockchain Technology Market - Analysis, Outlook, Growth, Trends, Forecasts
June 2020

REP-GB-2413

200 pages
Blockchain Technology Market Outlook & Key Findings
Creative adaption of blockchain widens scope in retail, oil and gas, and transport and logistics
Close 60% of Luxury brands deploy blockchain technology to prevent counterfeiting
Blockchain technology adoption doubled in transportation and logistics during COVID-19 period
Global blockchain technology market likely to grow at over 50% in 2020
Blockchain Technology Transforms from Transactions to Transparency
Blockchain technology has evolved from a public ledger to maintain transactions to currency for trade at global level in the past decade.
Blockchain's usage has evolved and is used where transactional records are accumulated, stored, and shared across all the network participants that cannot be tampered with. Thus, its immutable nature has won it tremendous popularity in wide range of sectors that are constantly seeking operational efficiency.
Since its debut, blockchain technology made the biggest disruption of the decade in the banking industry with "Bitcoin", making the term synonymous with the sector.
Today, Bitcoin remains its most popular application that has generated the biggest ripple effect in sectors such as oil and gas, retail, and transportation and logistics.
"Append Only" Lures Luxury Brands to Adopt Blockchain to Combat Counterfeiters and Fraudsters
The unique feature of "append only" has made blockchain immutable and tamper-proof, making it a safe choice to record transactions. The retail industry, especially brands engaging in trade of luxury goods, are expected to integrate this technology to evolve to an efficient business model.
Blockchain technology has presented luxury brands with unique solution to tackle counterfeiters and entry to fraudulent products in the market. For instance, IBM's TrustChain will rightly indicate the provenance of jewellery from mine to store, ensuring supply chain remains fraud-free. The ability to track a piece of jewellery with a unique special code will present the history of the product, right from country of origin to the seller and the reseller.
The trust mechanism at play, promising authenticity of jewel, is expected to be the USP of this technology. Elimination of paper work promises to make the system of procurement and sale more efficient every step of the way.
Transportation and Logistics Improve Businesses Amid Pandemic with Blockchain Technology
Blockchain has revolutionized operations for the oil and gas sector with complete transparency in recording transactions and tracking assets. Coordination of documents, shared distribution ledger, and smart contracts and customs approvals has added a time and cost efficiency to the sector.
SkyCell, a Swiss smart container manufacturer, has been ahead of game with adoption of blockchain technology.
During the COVID-19 pandemic, SkyCell has been at the forefront of transporting shipments of pneumococcal vaccines to Germany in its containers equipped with IoT sensors. Condition of the contents in the containers is controlled via sensors and the information is secured on cloud-based, blockchain-encrypted technology.
Deployment of blockchain during vulnerable times to ensure temperature-sensitive vaccines remain safe for saving lives has been a huge leap for the service providers.
Creative usages of blockchain and quick decision to deploy them during a crisis is expected to make transportation and logistics services exceptionally efficient.
How Does Blockchain Ensure Success for Complex Sectors?
Blockchain platforms depend on established cryptographic processes and techniques to enable each participant in a network to interact (that is, store, share, exchange and access data), without any pre-existing dependence or trust between the involved parties.
There is no central authority in a blockchain system.
Interactions with blockchain technology are known to all the involved participants and demand verification by the network before data is added. This accommodates trustworthy collaboration among the network participants, while recording an unyielding and inflexible audit trail of all the interactions.
Oil and Gas Sector Resolves Key Challenges with Adoption of Blockchain Technology
The disruptive force of blockchain technology can also be felt in the oil and gas sector where high-value contents are handled. Creative uses of this technology have dedicatedly worked towards resolving key challenges such as transparency, cost and time, supply chain, and payments.
Complexities of oil and gas industry are vast and thus demand a thorough solution that can streamline operations, shedding adequate light on each part.
Digitization of crude oil transactions, from buyer and seller's point of view and recording it using blockchain has created utmost transparency.
According to Future Market Insight analyst, blockchain has the potential to reshape industries. With complete transparency, the system has been designed to build trust in transactions, making exchange value higher than before.
Its immutable nature has especially won it a special place in the banking and finance industry.
Healthcare Sector to Embrace Innovation in Management with Blockchain Technology
Blockchain technology has the ability to offer a transparent, decentralized and incorruptible log of patient data. This ability boosts the adoption of blockchain technology for data security in the healthcare industry.
Along with transparency, blockchain technology also offers privacy by concealing the identities of individuals with secure and complex codes that protect the sensitive medical data.
Why Blockchain will Remain Important for Banks and Financial Institutions?
Demand, procurement, and lifecycle analysis based on various use cases of blockchain technology suggests that supply chain management related applications across BFSI.
Blockchain technology providers are recording considerable procurement from the demand side for supply chain management applications. Vendors are striving to target customers requiring decentralized finance in order to open up an additional stream of income.
A decentralized offering, especially in the banking sector, can reduce the chances of fraud by eliminating intermediaries. Blockchain effectively removes vulnerability to cyber attacks, breach, and theft, making it a safer choice.
How does Blockchain Increase Security?
Blockchain technology is a shared and immutable record of extensive peer-to-peer transactions built from interlinked transactional blocks and stored in a digital locker or a digital ledger. It presents opportunities for streamlined trade financing, enabling participants to track assets, and exchange data easily in real-time.
The ability of blockchain to offer a singular source of truth offers data transparency and massive simplification of operations between multiple parties.
Blockchain technology can also facilitate initiation of trade consortia that technology developers and other technology integrators can easily join.
This technology enables faster, more secure, and accurate reporting by efficiently automating compliance that draws undisputable standard data sources. Automated claims created on blockchain-based smart contracts facilitate a singular version of truth for claims data, while increasing trust between involved parties, and creating an effective claims processing mode.
Banking end users use blockchain to develop digi-lockers that record and archive sensitive documents, and allow all involved parties to securely collaborate on contractual documents by building and maintaining smart contracts in digital lockers.
National governments in North America and Europe are sanctioning extra funds for accommodating blockchain technology based trading, commerce, and exchange applications.
With businesses and consumers of starting to increasingly rely on Bitcoin transactions, the payments and money use case of blockchain technology will also witness increasing demand during the forecast period.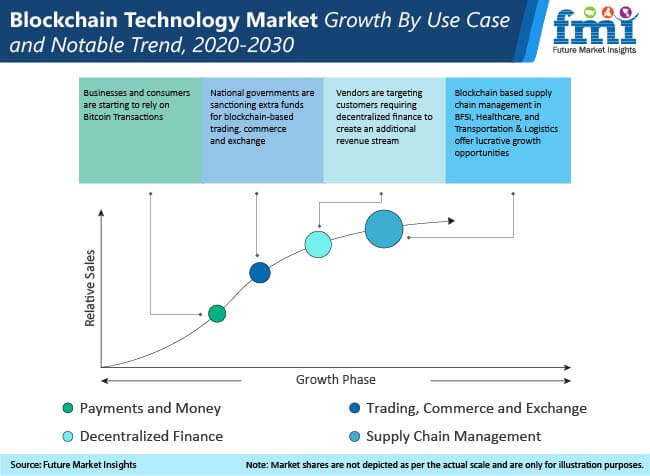 Blockchain Technology: Regional Market Analysis
The U.S. hosts almost all the leading companies operating in the global blockchain technology market. High focus on technology innovation and heavy procurement of blockchain technology in BFSI, healthcare, and transportation and logistics industries has enabled the country to record the highest market value over the past years.
With this trend North America is expected to holds more than 45% share of the global blockchain technology market during the forecast period.
High demand in BFSI, retail and e-commerce, government and transportation and logistics industries in countries like Germany, Italy, France, U.K., Spain and Switzerland will enable the European blockchain technology market record the fastest growth rate during the forecast period.
The U.K. accounts for leading market share of the overall blockchain technology market in Europe, and is anticipated to continue offering the most lucrative opportunities for revenue generation throughout the forecast period.
Challengers Challenging Champions in Blockchain Technology Market
With blockchain technology still under development, blockchain start-ups are strategizing to form long-term relationships with technology integrators to ensure consistent revenue generation on the long run.
Global blockkchain market is characterized by presence of both i.e. established technology provider companies, and new entrants trying to create a space for themselves in this competitive market.
Companies like CONSENSYS are collaborating with other technology developers to provide comprehensive solutions, and services for decentralized applications. These companies are accelerating the procurement of Enterprise Ethereum and enabling governments and businesses use blockchain effectively.
Other blockchain technology providers, such as Cegeka, are focusing on innovating their existing blockchain technology solutions in order to maximize business impact. These players are striving to develop scalable blockchain technology solutions that include highly desirable structures and capabilities at competitive rates.
The blockchain technology market has a handful of well-established companies. Some of these market leaders include,
IBM
Amazon Web Services, Inc.
Microsoft
SAP
Intel
Oracle
Bitfury Group Limited
Cegeka
Earthport PLC
Guardtime
The following promising players are estimated to lead the innovation of blockchain technology over the coming years:
CONSENSYS
PixelPlex
LimeChain
Accubits Technologies
SoluLab
*The list is not exhaustive, and only for representational purposes. Full competitive intelligence with competition deep dive available in the report
Blockchain Technology: The Way Forward
Businesses that accept crypto are driven by numerous motivations. Some businesses want to appeal to the younger and technologically advanced consumers by appearing tech-savvy, while other businesses wish to take advantage of the promises of blockchain technology, while being bullish on crypto technology themselves.
The ability of blockchain technology to accommodate transmission of both information and value can help develop more multi-functional and sophisticated forms of digital payments over the next few years.
World's Most Profilic Intelligence Engine
Get Access To The World's Largest Market Research Database.
Sign Up Now
Blockchain Technology Market: Segmentation
The global blockchain technology market is segmented in detail to cover every aspect of the market and present a complete market intelligence approach to readers.
Solution
Applications
Middleware
Blockchain Platforms
Use Case
Supply Chain Management
Digital Identity
Payments and Money
Trading, Commerce and Exchange
Smart Contracts
Decentralized Finance
Others (Voting, Property Records etc.)
Enterprise Size
Industry
BFSI
Healthcare
Retail and e-commerce
Hospitality and Travel
Government
Media and Entertainment
Transportation and Logistics
Others (Food and Beverage, Real Estate etc.)
Region
North America
Latin America
Europe
South Asia and Pacific
East Asia
Middle East and Africa
Need specific information?
Our Clients