This Nanotechnology For Food Packaging market study offers a comprehensive analysis of the business models, key strategies, and respective market shares of some of the most prominent players in this landscape. Along with an in-depth commentary on the key influencing factors, market statistics in terms of revenues, segment-wise data, region-wise data, and country-wise data are offered in the full study. This study is one of the most comprehensive documentation that captures all the facets of the evolving Nanotechnology For Food Packaging market.
Introduction:
The last decade has observed an exponential growth in packaging and food sector in both developed and developing countries. Food is an edible substance which we usually get from animal or plant and contains necessary nutrients including proteins, carbohydrates, minerals, fats, and vitamins to assist life, energy, and growth. Food is a perishable commodity and hence contamination and degradation of food can occur at any stage of the food chain. It can be chemical, physical or biological. The presence of infectious organisms in food can result in food poisoning, which can be fatal, particularly for children, pregnant women, and elderly persons. Hence, it is highly crucial that the food must be protected at all levels by using good quality of packaging material, which is safe, cost-effective and non-toxic.
Nanotechnology: A Boon to the Food Packaging Industry
The concept of nanotechnology was first introduced by Richard Feynman in 1959, and the term was later coined by Norio Taniguchi in 1974. Nanotechnology comprises of fabrication, characterization, and manipulation of molecules of nano-range (1-100 nm). This technology deals with nano-systems and nanomaterials. Nanomaterials are defined as materials with some dimension on the nanoscale, and these are classified into three categories – nanofibers, nanoparticles, and nano-plates. Nanotechnology has multiple application areas such as packaging, nano-electronics, biomedical, security sensors, paints, textile, cosmetics, medical and healthcare, paper, construction, explosives & weapons and lubricants among others. Active packaging is designed to stop the growth of microbes once the packaging is opened by the customer and rewrapped with an active portion of the package. In the food industry, nanotechnology can be used to detect the presence of bacteria and microbes in packaging or to increase barrier properties.
Identify Key Market Forces and their Long-Term Forecast
Sneak Peek into Key Forecast Factors and thier Impact
COVID -19 : Impact Analysis
Request the coronavirus impact analysis across industries and markets
Request Covid -19 Impact
Nanotechnology Applications in Food Industry:
As nanotechnology is the science of tiny particles that have a great impact on food packaging industry. There are various nanomaterials available in the market including titanium nitride nanoparticle, silver nanoparticle and nano-zinc oxide, nano-clay and nano-titanium dioxide are presented as functional additives for the food packaging industry. Nanotechnology driven food packaging market has been divided as follows:
Active packaging:
The use of nanomaterials is beneficial to interact directly with food to provide better protection to the product. Some nanomaterials such as nano-silver, nano-titanium dioxide, nano-copper oxide, carbon nanotubes and nano-magnesium oxide can provide antimicrobial properties.
Improved packaging:
To improve humidity resistance of packaging, temperature, and gas barrier, nanoparticles are combined with polymer chain as well as, temperature, humidity resistance of packaging. The United States Food and Drug Administration has approved the use of nano-composite in contact with food.
Smart/Intelligent packaging:
This is designed for sensing microbial or biochemical changes in the food. It can detect the development of pathogens in the food. Some smart packaging has been developed to use as a tracing device for food safety. Currently, British Airways, MonoPrix supermarket, and Nestle are using chemical sensors, which can quickly detect color change.
Benefits:
Nano-sensors which are used in food packaging industries include electronic noses, nano-particles based sensors, nano-cantilevers, array biosensors, nano-test strips and nanoparticle in solution. Packaging with nano-sensors is helpful to identify internal and external conditions of food, and containers throughout the supply chain. Also, in plastic packaging, nano-sensors can detect gases in food when it spoils and as a result packaging changes the color to alert the consumer.
Films, which are packed with silicate nano-particles can lessen the flow of oxygen into the pack and leaking of moisture out of the pack. As a result, it protects the package from spoilage. Packaging waste associated with processed food can be reduced by nanotechnology and hence assist the preservation of fresh food.
Nanotechnology is used to produce smart packaging for extending the shelf life of a product and the product can be transported further. The antimicrobials and nano-sensors are developed in smart packaging to detect spoilage of food and release nano antimicrobials to extend shelf life. It helps supermarkets and hypermarkets to keep food fresh for longer period.
Research Methodology:
The sources which have been used to validate the estimated market size include annual reports of key market players, industry journals & magazines, research papers, and other relevant data available in the public domain.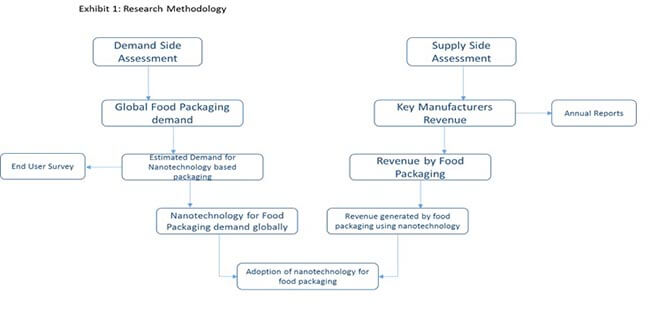 Market Players:
Players operating in global nanotechnology for food packaging market are:
Valentis Nanotech
DuPont USA
Nanocor, (AMCOL International)
Inmat
Bayer AG
Ecosysthetix
Mitsubishi Gas Chemical Company, Inc.
Honeywell International Inc.
AdvanSix
Dong Yang Chemical Co., Ltd.
The research report presents a comprehensive assessment of the market and contains thoughtful insights, facts, historical data, and statistically supported and industry-validated market data. It also contains projections using a suitable set of assumptions and methodologies. The research report provides analysis and information according to market segments such as geographies, application, and industry.
The report covers exhaust analysis on:
Market Segments
Market Dynamics
Market Size
Supply & Demand
Current Trends/Issues/Challenges
Competition & Companies involved
Technology
Value Chain
Regional analysis includes:
North America (U.S., Canada)
Latin America (Mexico. Brazil)
Western Europe (Germany, Italy, France, U.K, Spain)
Eastern Europe (Poland, Russia)
Asia Pacific (China, India, ASEAN, Australia & New Zealand)
Japan
Middle East and Africa (GCC Countries, S. Africa, Northern Africa)
The report is a compilation of first-hand information, qualitative and quantitative assessment by industry analysts, inputs from industry experts and industry participants across the value chain. The report provides in-depth analysis of parent market trends, macro-economic indicators and governing factors along with market attractiveness as per segments. The report also maps the qualitative impact of various market factors on market segments and geographies.
Unique Requirements? Customize this Report
Customize by Region, Country, Application, Product, & other segments
Integrate our Insights with your Existing Data
Determine the scope of the study to suit your requirements
Gain Insights on Key Nanotechnology For Food Packaging Market Impacting Forces
Know the Winning Strategies of Market Leaders
Get Deep-Dive Analysis on Each Segment
Identify the Sources that will Drive Top-Line Revenue
Segmentation:
The nanotechnology for food packaging market has been segmented as follows:
On the basis of packaging type, the nanotechnology for food packaging market has been segmented as:
Active
Improved
Smart/Intelligent
On the basis of material type used, the nanotechnology for food packaging market has been segmented as:
Titanium Nitride Nanoparticle
Silver Nanoparticle
Nano-Zinc Oxide
Others
Report Highlights:
Detailed overview of parent market
Changing market dynamics in the industry
In-depth market segmentation
Historical, current, and projected market size in terms of volume and value
Recent industry trends and developments
Competitive landscape
Strategies of key players and products offered
Potential and niche segments, geographical regions exhibiting promising growth
A neutral perspective on market performance
Must-have information for market players to sustain and enhance their market footprint
Frequently Asked Questions
---
Why choose FMI?
With a global presence and a trusted partner to several Fortune 500 firms, FMI covers 1 billion+ data points to build a diversified portfolio for market benchmarking
Market Reports researched and peer reviewed by industry experts from across the globe
We follow a multi-dimensional method of analysis monitoring a three-layer data validation process
In addition to demand-side market assessment, our data triangulation methodology involves supply-side research
Primary research includes mandatory field interviews with stakeholders involved
Customizing reports according to client specification is also our forte
What will you discover from Nanotechnology For Food Packaging Market report?
The current and future market size, covering each aspect and nuanced trends across key national and geographic markets
An overview of the market report, providing an imperative visual of the varied market subdivisions and overall forecast statistics in terms of value and volume
Extensive database and key dynamics elevating the market with varied verticals associated
Underlying Nanotechnology For Food Packaging Market forces that are compelling consumers or businesses to purchase the product
How novel technologies and consumer-centric innovations will create new value-adding opportunities for companies active in the Nanotechnology For Food Packaging Market
What will be environment and regulatory impacts on the market over the next decade
Which framework has been used to develop the Nanotechnology For Food Packaging Market report?
Investment Feasibility Matrix - It shows returns on investment, level of competition, success rate of investment, and potential risks associated with the market. The analysis shows that the competition is high in the established market, while the returns for short-term investment are also taken into consideration
Relative Maturity Mapping – The relative maturity is measured according to three growth phases (growth, maturity, decline)
Relative PLC (Product Life Cycle) – Analysis of the emergence of prominent players and competitive test prices which are driving factors behind every market. (expected market behavior, observed market behavior, expected market performance, observed market performance)