Manufacturers to Shift Away from Plastics
Influenced by their excellent barrier aspects, market players continue to prefer plastics such as polyurethane (PU) and polypropylene (PP) for manufacturing mobile cases and covers. Although plastics are abundant and cheap, their excessive adoption is adversely affecting the ecosystem, and, as such, is leading to strict regulations against their usage. In order to secure revenue to compete on a global landscape, market players are turning to alternatives such as leather and silicone, which are expected to witness adoption upsurge in the near term.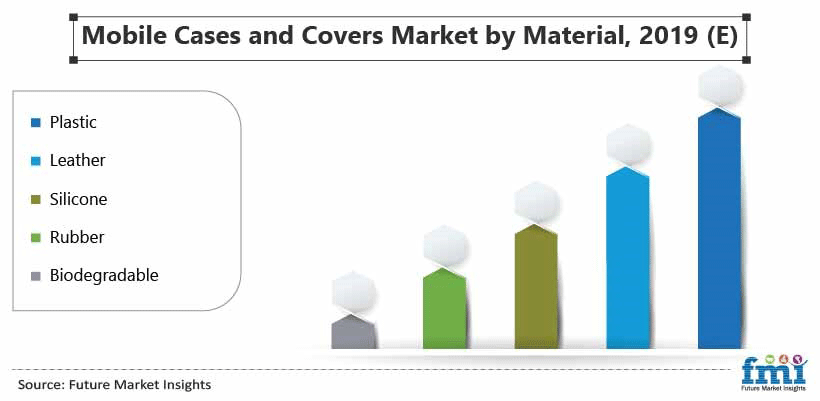 North America and Europe - Hub of Investment Opportunities
North America and Europe have been the early manufacturers of smartphones, with companies such as Apple leading the way. Moreover, the smartphone industry in both these regions has been showing positive trends in the recent past. Manufacturers are thus citing revenue-growth prospects in North America and Europe, which collectively hold around half of the value of the mobile cases and covers market. Looking ahead, market players are wagering their resources on East Asia, owing to cheap availability of raw materials and top-line growth of native smartphone brands - Samsung and Asus.
Biodegradable Materials to Redefine Growth Curve
Amidst the existing concerns of plastic waste generation, manufacturers are substantially shifting toward biodegradable substrates such as fabric, bamboo, cork, wood, post-consumer recycled plastics, and vegan leather. These next-generation mobile cases and covers are entirely compostable and eco-friendly, as well as offer barrier properties akin to conventional materials.
Containing no phthalates, bisphenol A (BPA), cadmium, and lead, these mobile cases and covers comply with child safety standards in the US, Europe, and Australia. This material shift towards eco-friendly substrates will have a profound impact on the mobile cases and covers market in the coming years.
How Growth will Unfold
Both, mobile covers and cases will see nearly identical growth rates throughout the projection period. However, the former, including, flip and back covers, are likely to remain preferable for providing maximum protection from drops, bumps, and shocks. By 2029, the sales of mobile covers would attain a valuation of around US$ 20 Bn. Market players are developing lightweight mobile covers with enhanced aesthetics and additional protection features such as 360-degree defense to continue their success story.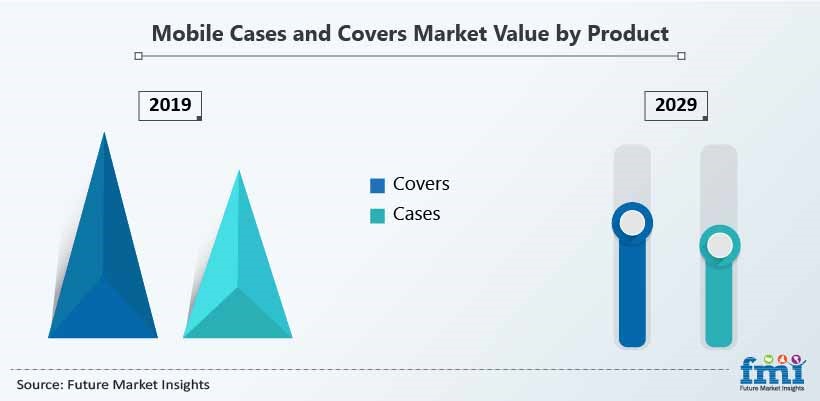 FREQUENTLY ASKED QUESTIONS ABOUT MOBILE CASES AND COVERS MARKET
Why are mobile cases and covers gaining traction among users?
Optimum protection for smartphones, and a wide variety of shapes, sizes, and prints that further enhance the aesthetic look of smartphones are significantly boosting the growth of the mobile cases and covers market.
What are the recent developments and trends in the mobile cases and covers market?
Off late, mobile cases and covers are being manufactured with biodegradable materials, which have low carbon impact on the environment. Using advanced technologies, key players are focused on manufacturing magnetic phone cases, 360-degree defence cases, nano-suction phone cases, and sporty covers.
Which region holds significant growth opportunities for players in the mobile cases and covers market space?
North America is expected to hold maximum share in the global mobile cases and covers market during the forecast period. With a large number of local and unorganized key players, the mobile cases and covers market in Europe is expected to grow 1.6X of its current market value by 2029. With significant availability of cost-effective raw materials, the mobile cases and covers market in China is set to thrive through 2029.
What is the degree of competition in the mobile cases and covers market?
The mobile cases and covers market is a fragmented landscape. A large numbers of small local and unorganized players are present in the market. Besides, new players are expected to enter the market for significant revenue generation in the next three years.
Who are the leading players in the mobile cases and covers market?
Leading players in the mobile cases and covers market include Amzer, Inc., Belkin International, Inc., Case-Mate Inc., CG Mobile Case SAS, Incipio Technologies Inc., Motiba Silicone Private Limited, Northbaze Group AB (KRUSELL), Otter Products, LLC, Pelican Products Inc., SAMSUNG ELECTRONICS CO. Ltd Sony Corporation, Rearth, Inc. (Ringke), and pOcpac UK.
MOBILE CASES AND COVERS MARKET TAXONOMY
The global mobile cases and covers market is segmented in detail to cover every aspect of the market and present complete market intelligence to readers.
Product
Cases

Wallets
Pouches
Hard Cases

Covers
Material
Plastic

Polypropylene
Polyethylene
PVC
Polyurethane
Others

Leather
Silicone
Rubber
Biodegradable

Wood
Fabric
Bioplastic
Paper & Paperboard
Print Type
Region
North America
Latin America
Europe
South Asia
East Asia
Oceania
Middle East & Africa
Need specific information?
Talk Show:
The Rise of Intelligent Packaging
Personalized, Connected and Sustainable
November 18, 2021
11:00-11:45 AM PST (USA & Canada)
This is a LIVE session