Introduction
Cleaning tight corners and hard-to-reach spaces in homes, floors, pools, and other residential spaces is often difficult without an efficient cleaning tool. Residential robotic vacuum cleaners, popularly known as robovacs, are widely used for effectively cleaning residential surfaces.
Robovacs are equipped with intelligent sensors and several advanced features that enable room mapping, laser vision, and self-charging. Growing urban settlements and busier lifestyles of people across urban areas are predominantly driving the global market for residential robotic vacuum cleaner.
The global residential robotic vacuum cleaner market is expected to grow impressively over the next five years. During the forecast period 2016-2021, FMI indicates that the market may see exponential growth, taking a leap from US$ 1,491.0 Mn expected in 2016, to US$ 2,475.0 Mn by the end of 2021. Throughout the forecast period, the market for residential robotic vacuum cleaner is anticipated to expand at a healthy CAGR of 12%.
Changing Lifestyle and Growing Inclination toward Automated Cleaning Fuels Market
Increased emphasis on the quality of indoor air, improving lifestyle in developing regions, busier daily schedules, and lack of time for household chores are identified to be the key factors that will continue to create the demand for residential robotic vacuum cleaners. In addition, rising disposable earning in dual-income households is strongly supporting the sales of vacuum cleaners across the globe.
A few more key drivers sustaining sales in global market include compact size, light weight, portability, and time-efficiency of residential robotic vacuum cleaners that facilitate cleaning and mopping on a daily basis.
Burgeoning Concerns about Health and Indoor Air Pollution Propel Sales
Increasing priority to health and hygiene, coupled with a growing tendency to lead a sustainable lifestyle, induce the need for efficient, automated home cleaning solutions. This will remain another major driver to the residential vacuum cleaner market. Moreover, rising prevalence of asthma raises the demand for vacuum cleaners with HEPA filters, ultimately contributing to the market growth. Rising preference for indoor air pollution management among the population of developing countries has been fuelling the growth of the market since the past few years.
Key Market Trends Continue to Push Market Growth
Superior performance and enhanced functionality of robotic vacuum cleaners will remain the key factors augmenting the adoption of vacuum cleaners in households. A growing trend of bag-less vacuum cleaners is also identified to accelerate market growth. In addition, rising adoption of automated cleaners in emerging economies is a remarkable trend that has been positively impacting the market since the past few years.
New Product Launches Set to Sway the Market
The market has been witnessing a few innovations, such as vacuum cleaners with UV sterilisation, spinning brushes, security cameras, and so on. Such advancements are expected to push the market further. Discovery of a novel technology stair-climbing robotic vacuum cleaners is likely to present lucrative opportunities in near future. However, strict regulatory measures regarding energy-efficiency and higher costs of robotic vacuum cleaners will continue to pose a challenge to market growth in the long run.
In-house Robot Continues to Dominate Outdoor Robot
Based on robot type, the global residential robotic vacuum cleaners market is segmented into in-house robot and outdoor robot segments. In-house robot segment is likely to dominate with nearly 75% market share by 2021 end, attributed to the convenience of charging manually as well as automatically. However, adoption of outdoor vacuum cleaners is expected to rise over the next few years. This segment will exhibit a robust CAGR of 20.1% over the assessed period.
Europe Remains the Largest Market, Middle East and Africa Emerges Faster
On the basis of regional analysis, the market for residential robotic vacuum cleaner in Europe has been registering the highest revenue share over the years. This region will continue to dominate over the forecast period as well, accounting for nearly 44% share by 2021 end. Asia Pacific is likely to expand at a significant CAGR of 13.4%, whereas MEA is projected for the fastest CAGR over 2016-2021.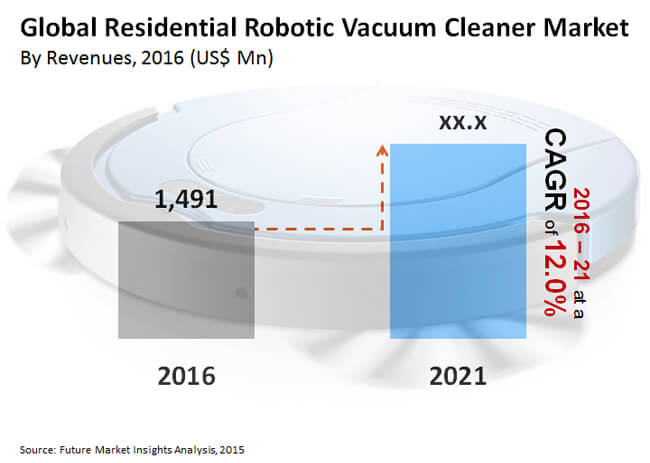 Product Innovation Is on the Paramount for Key Players
Some of the most prominent players in the global residential robotic vacuum cleaners, include Yujin Robot, Co., Ltd., Neato Robotics, Inc., Ecovacs Robotics, Inc., Robot Corporation, Samsung Electronics Co., Ltd., Dyson Inc., Hayward Industries, Inc., Philips Electronics N.V, Milagrow Business & Knowledge Solutions (Pvt.) Limited, and Pentair plc. Recently in 2015, iRobot Corporation introduced a robotic vacuum cleaner (Roomba 980) with in-built adaptive navigation, visual localisation, and connected app control. It is designed for enhanced efficiency on carpets. A majority of leading companies are increasingly concentrating on R&D of unconventional products in order to gain a competitive edge.
Market Segmentation
The global residential robotic vacuum cleaner market is segmented on the basis of robot type, into:
In-house robot
Outdoor robot
On the basis of mode of charging, into:
Manual charging
Auto battery charging
By region, into:
North America
Latin America
Europe
Asia Pacific (APAC)
Middle East & Africa (MEA)
Need specific information?
Talk Show:
The Rise of Intelligent Packaging
Personalized, Connected and Sustainable
November 18, 2021
11:00-11:45 AM PST (USA & Canada)
This is a LIVE session