KEY FACTORS SHAPING ROBOTIC CATHETERIZATION SYSTEMS MARKET
Remote Access Capabilities
[190 Pages Report] Increasing demand from developed regions has concentrated the market in one place. The U.S. is the significant large market and accounts for a high number of robotic catheterization procedures. Corindus Vascular Robotics Inc., a subsidiary of Siemens AG, has operations only in the U.S. The company generated US$ 8 Mn in 2018, with sales solely in the country. Additionally, the company holds monopoly in PCI robotic catheterization systems.
The key players in the robotic catheterization systems market offer their portfolios in developed regions, mainly attributable to growing awareness about percutaneous coronary intervention, robotic catheterization procedures, and coronary artery diseases (CADs). The market is still largely in its infancy, with a relatively small installed base. However, growing adoption of robotic catheterization system by surgeons and potential leverage to operator in reducing the radiation exposure are favoring demand from end users.
Corindus Vascular Robotics Inc. has installed base of 52 systems globally and around 90% of the system are in the U.S. alone. Additionally, the company is installing new 16 devices per year on an average. The development of remote operated robotic catheterization system CorPath from Corindus offers higher advantage to teleoperator and experimental adoption of robotic systems together are expected to generate high revenue sales for the robotic catheterization systems market during the forecast period.
Frequent Product Innovations
The key players in the market are focusing on developing their product portfolio and expand their reach and footprint in developed markets to strengthen their position in the robotic catheterization systems market. Key players are focusing on novel and innovative robotic catheterization solutions with features such as remote operated, self-guiding, automatic robotic catheterization systems, supplementary products, and others, to differentiate themselves in the market and generate maximum revenue.
Manufacturers in North America and Europe are focusing on strategic tie-ups to leverage the experimental adoption of robotic catheterization systems. Such as participation of mayo clinic with Corindus Vascular Robotics to explore preclinical studies involving stenting procedure. This strategic reliance has primarily contributed to the growth of the robotic catheterization systems market.
Reduced Radiation Exposure
Primary factors for the growth of the robotic catheterization systems market are the attainment of higher degree of precession in surgical interventions and catheterization. Robotic catheterization systems are used for Teleoperation, and have future prospects in increasing number of remote surgeries. Robotic catheterization systems are portable and can be transferred within hospital rooms.
Manufacturers have designed their robotic devices as open source architecture platform, which enable connecting with emerging and existing technologies. The main reason for integrating remote catheterization procedure is to limit the radiation exposure to surgical operator/technician and support staff.
For a surgical operator, performing some procedures while seated position and within lower-radiation level could possibly increase his/her productivity without jeopardising personal health. While catheter-based endovascular procedures are fetching much of attention in modern medicine techniques, robot-assisted catheterization procedures are not as prevalent because they demand new skills for operation. There is a steep learning curve associated with such procedures due to their complexity that can be time consuming and challenging for the surgeon.
A clinical study sponsored by Corindus Vascular Robotics Inc. published results on radiation level study with robotic catheterization and normal cardiac intervention procedures. The robotic catheterization system shows reduction of ionizing radiation exposure by 95%. This factor is facilitating the user adoption and impelling growth of the robotic catheterization systems market.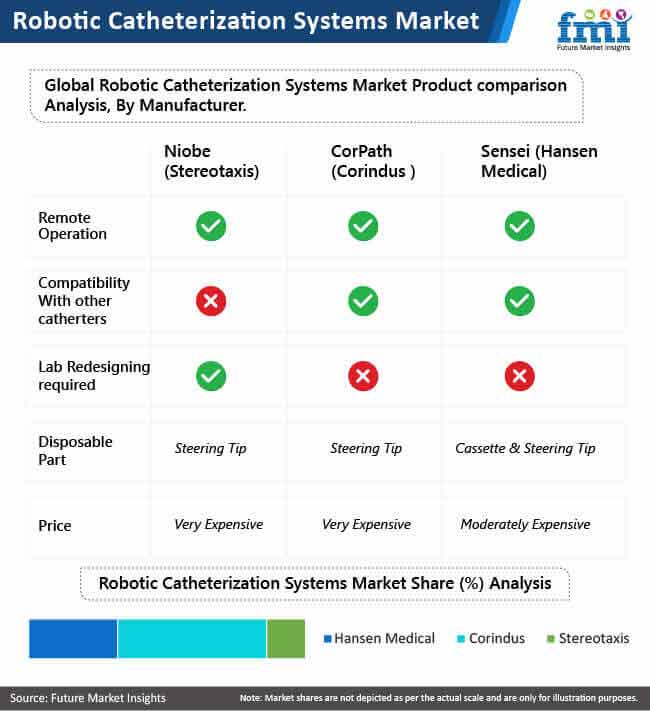 ROBOTIC CATHETERIZATION SYSTEMS MARKET STRUCTURE ANALYSIS
The global robotic catheterization systems market is a highly consolidated, with Hansen Medical, Inc. (Johnson & Johnson), and Corindus Vascular Robotics Inc. (Siemens AG) being among the prominent players
Companies are focusing on collaborations with players in developed markets to gain market share and develop technologically advanced products.
With increasing incidence of PAD and CAD, the scope of robotic-assist devices especially while working with radiation fields is renewing interest in robotic catheterization systems market.
Manufacturers of robotic catheterization systems are focusing on implementing horizontal integration strategies for their product lines and additionally working on distribution and lead time as obtaining robotic catheterization systems from manufacturers currently registers a lead time of 1-2 months. Key players are providing custom services to end users of robotic catheterization systems. All these factors are significantly boosting the robotic catheterization systems market growth.
Nonhospital-Provider Services for Outpatient Surgeries
Out-of-Hospital cardiac arrest (OHCA) lands among the list of leading causes of mortality and abnormality globally, accounting for 10% of overall mortality in developing countries. Survival in case of sudden cardiac arrest generally relies on prompt supervision of medical professionals. Owing to shorter visits, and reduced surgery duration, ambulatory surgical centers (ASCs) and catheterization laboratories are garnering significant prominence for performing outpatient surgeries.
FMI opines that nonhospital-provider services, including cath labs and ASCs will encroach a major portion of robotic catheterization systems market through 2029. Furthermore, hospitals, particularly in Europe, are extending their hands to establish and run their cath labs in line with the shift towards operational expenditure.
North America Maintains its Supremacy
North America preserves its preeminence in robotic catheterization systems market. However, gradual approvals to robotics for healthcare applications stood as a major roadblock facing North American market. Since cardiovascular disorders (CVDs) remain leading cause of mortality in the U.S. and around half of the elderly continue to complain of some kind of CVD, Centers for Medicare and Medicaid Services (CMS) are providing reimbursements for peripheral access procedures, such as inserting port or a catheter into a large central artery that is within the purview of heart.
Incidents of congestive heart failure increased by 5-10%, while that of acute myocardial infarction surged by 15-20% in 2017. Market in North America thus witnessed a sudden spike in revenues post 2017, as FDA approvals gathered momentum.
High Upfront Costs and Potential Complications – Key Pain Points to Address
Although robotic catheterization systems carry benefits of minimal post-surgery effects and decreased recovery time, they are subject to high initial investments. In North America, Europe and Oceania, average price of electromechanical robotic catheterization systems is greater than US$ 600,000, exclusive of ancillary equipment costs. Inadequacy of skilled operators echo the need for additional training, which further adds to operational expenses.
Applicability of robotic catheterization systems thus remains limited to large-scale healthcare settings. Robotic catheterization systems are associated with major complications, including infection at the insertion site of the robotic catheterization systems guiding wire and catheter, contamination of the burr catheter and seeding of the catheter. Such potential risks are impeding the penetration of robotic catheterization systems in peripheral vascular intervention by patients. Further, clinical studies demonstrating efficacy of robotic catheterization systems is inept.
How Growth will Unfold
With the advent of robotics in the repository of interventionists, robot-assisted percutaneous coronary intervention (PCI) has become predominant in treating coronary artery disease (CAD) which leads to heart failure. As surgical robotics is projected to mushroom at a healthy rate over the course of near future, robotic catheterization systems will witness a solid hike in sales for PCI. Moreover, adoption in cardiac electrophysiology procedures (CEPs) will remain steady throughout the period of projection.
ROBOTIC CATHETERIZATION SYSTEMS MARKET TAXONOMY
The global robotic catheterization systems market is segmented in detail to cover every aspect of the market and present a complete market intelligence approach to the reader.
Product
Electromechanical Robotic Catheterization Systems
Magnetic-Guided Robotic Catheterization Systems
Application
Percutaneous Coronary Intervention
Cardiac Electrophysiology Procedures
End User
Hospitals
Ambulatory Surgical Centers
Catheterization Laboratories
Region
North America
Europe
Latin America
South Asia
East Asia
Oceania
Middle East And Africa
Need specific information?
Talk Show:
The Rise of Intelligent Packaging
Personalized, Connected and Sustainable
November 18, 2021
11:00-11:45 AM PST (USA & Canada)
This is a LIVE session