Manufacturers Stay Glued to Residential Sector
The residential sector leads in the deployment of robotic lawn mowers, and would generate nearly 60% of total returns to shareholders. Increased expenditure on activities - landscaping, backyard beautification and cookouts, and garden parties, along with the need to save time on lawn maintenance activities, are driving the adoption of robotic lawn mowers in this end use sector. The commercial sector, in the recent past, has been staunchly inclining towards automation in order to achieve operational efficiency. Robotic lawn mower market players are tapping into this opportunity to uncover new revenue lines.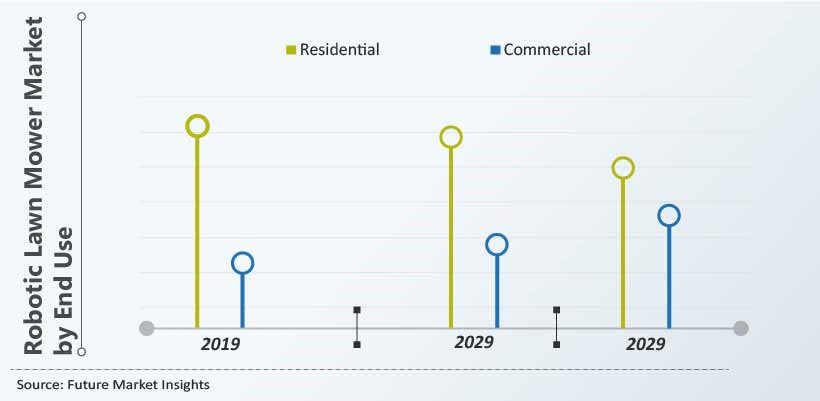 North America and Europe to Shape Global Revenues
North America and Europe will continue to engage stakeholders in the robotic lawn mower market over the projection period. These regions have been a testing ground for robotic technology over the past few decades, and procure nearly ¾ of total market revenue, collectively. FMI's study further reveals that, the market in the U.S. represents the most worthwhile value-capture prospects. While these developed regions are showing substantial growth opportunity, market players are also turning to South East Asia & Pacific for sustained market foothold.
GPS-enabled Robotic Lawn Mowers - Potential Investment Opportunity
Market incumbents are developing robotic lawn mowers equipped with GPS technology, which allows the mowers to operate within virtual boundaries. These GPS-enabled robotic lawn mowers come with enhanced flexibility and applicability in green spaces, as virtual boundaries can be adjusted to cater to the ever-evolving needs of commercial and residential areas. GPS technology overcomes the challenges of existing robotic lawn mowers, such as working on hard surfaces, and scarifying and aerating the lawn.
How Growth will Unfold
Offline sales channels have been favored for players in the robotic lawn mower market. Towards the end of the forecast period, manufacturers would reap over US$ 1 Bn via offline sales channels. As customers are becoming more demanding and discerning, shareholders are stepping into the e-Commerce ecosystem to deliver a seamless purchasing experience.
Despite contributing meagerly to market value, proliferation of the electronics retail industry will attract meaningful investments. Market players are creating online channels from scratch, or are partnering with e-retail giants such as Amazon and Alibaba to boost their margin growth.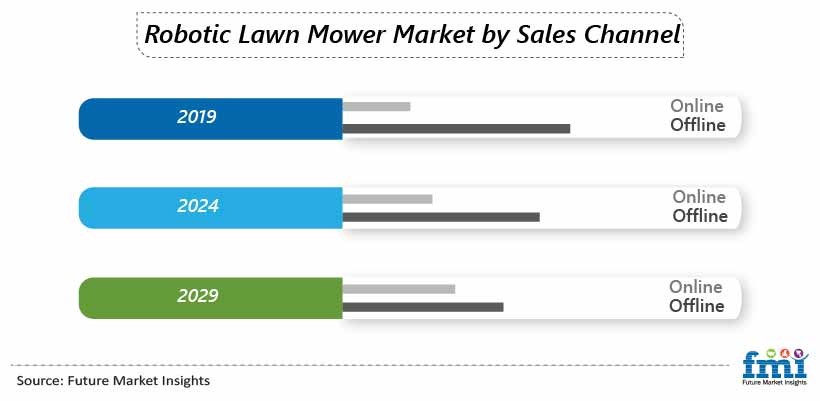 ROBOTIC LAWN MOWER MARKET TAXONOMY
The global robotic lawn mower market is segmented in detail to cover every aspect of the market and present complete market intelligence to the reader.
Working Area
Small Area (up to 0.4 acre)
Medium Area (0.4-0.8 acre)
Large Area (above 0.8 acre)
End Use
Sales Channel
Region
North America
Latin America and the Middle East & Africa (LAMEA)
Europe
South East Asia & Pacific
Need specific information?