Robotic Gripper Market - Key Research Findings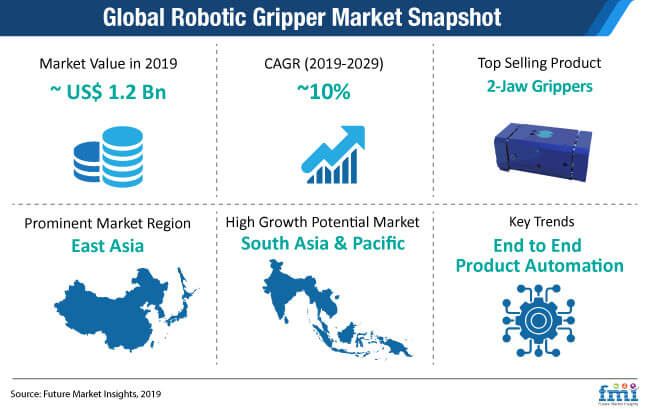 The global robotic gripper market size in 2019 is estimated to reach US 1.2 Bn.
The robotic gripper market is anticipated to grow at a CAGR of ~ 10% during the forecast period of 2019-2029.
The 2-Jaw grippers segment of robotic gripper is expected to remain as the most preferred product in the robotic gripper market.

The growth of this particular segment can be primarily attributed to economical cost and wide adoption for precision manufacturing and assembly.

East Asia is stipulated to account for more than half of the revenue shares in the robotic gripper industry by the end of 2029.

The East Asia market is estimated to continue to be the opportunistic market for robotic gripper manufacturers and distributors, owing to increasing production and demand for robots in factory automation.

The automotive & transportation segment is projected to continue as the prominent end-use industry in creating significant growth opportunities for the robotic gripper market players.

Over the recent past, automated manufacturing has witnessed significant growth in the automotive industry. The increased demand for high precision work and accuracy offered by robotic grippers is expected to propel the demand for the product.
Noteworthy application potential of robotic grippers such as assembly/disassembly, material handling, inspection, and testing are creating an upswing in the robotic gripper market.
Key Factors Shaping the Robotic Gripper Market
End Users Demand for Safety, Agility, and Efficacy to Develop Robotic Grippers
End users of robotics technology are continuously focusing to increase productivity, reduce operational costs, and maintain quality. Manufacturers of robotics technology are regularly engaged in research & development activities to fulfill the demand from end users. Among the divergent needs, agility, safety, and efficacy of the robotics technology are significant requirements generated from end users' side.
Robotic gripper manufacturers are focusing on development of grippers by integration of IoT (Internet of Things). Also, application-specific advances are being incorporated. For instance, the development of soft grippers for food production and processing industry, wherein, delicate yet flexible handling of a variety of food products, can be carried out with the same gripper.
Attractive Industrial Robotics Landscape Presents Big Gains for Robotic Gripper Manufacturers
The industrial robotics industry is witnessing ongoing rapid automation across industrial operations. The penetration of automation is further supported by decreasing costs of robotic technology over the past few decades. Robotics play a vital role in emerging markets as an important factor for business profitability.
Among strong competition in the market, where overall operational efficiency and production output plays a crucial role, automation is helping businesses to maintain the competitive position in the market. As essential robotic constituent, robotic grippers have experienced significant developments in design, owing to which businesses are able to achieve increased efficiency and productivity, thereby helping in rising the overall business ROI.
Automotive Industry Propelling the Demand for Robotic Grippers
The advent of robotics has transformed the automotive industry landscape significantly by enabling automakers to accommodate the behemoth demand for automobiles. In particular, robotic process automation (RPA) has significantly aided in improving the back office operations. Robotic end of arm tools have improved the mass production of automobiles that requires management of repetitive operations without errors.
Leading automobile manufacturers are actively deploying collaborative robots or cobots, and reporting higher operational yields with significantly reduced losses in errors or other technical failures. Robotic gripper manufacturers have introduced the automotive industry specific grippers that perform tasks that are otherwise ergonomically challenging for workers.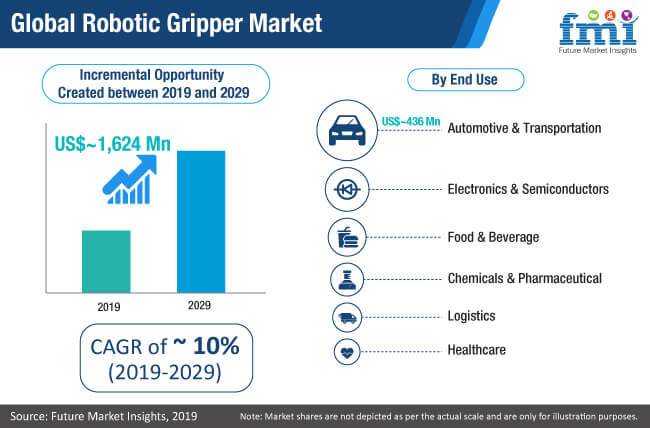 Robotic Gripper Market Structure Analysis
The global robotic gripper market is a moderately competitive market. Approximately 35% - 40% share of the market is held by tier-1 players.
Expansion of the business through mergers, acquisitions, collaborations, and alliances are the strategies followed by key players in the robotic gripper market. Key market players focus on strategies such as adoption of new technologies to develop innovative products, and further enlargement of sales and distribution channels.
Noteworthy investments in the research and development for novel and sturdy products is projected to boost the growth prospects of the robotic gripper market.

Major players in the robotic gripper market are Kuka AG, Yaskawa Electric Corporation, ABB Group, Grabit Inc, Schmalz, Festo, Applied Robotics Inc., Piab AB, Soft Robotics, Inc., OnRobot A/S, Bastian Solutions, Inc., Brenton LLC., and COVAL Vacuum Technology Inc.

Global and local market players are benefiting from a significant marketing network of distributors. Local and international offices deliver sales and aftersales services to their customers to retain their customer base across tier-1 and tier-2 cities.
Robotic Gripper Market - Strong Focus on Industrial Automation to Boost Growth
Since the initial concept of gripper were introduced in 1969 at Stanford University, it has taken giant strides in terms of evolution and become a critical component of industrial robots used today. At present, the automation trend has engulfed a wide range of industrial domains worldwide, as manufacturers are keen on enhancing efficiency, production, and reducing overall costs simultaneously.
Thus, smart technologies including Artificial Intelligence (AI) and Internet of Things (IoT) are gradually entering the fray and playing an imperative role in transforming the modern-day industrial ecosystem. Hence, owing to rapid progress in AI and gripping technologies, the demand for adaptive robotic grippers has surged at a commendable pace in recent years.
Manufacturers operating in the robotic gripper landscape have significantly increased their focus on developing innovative and cutting-edge grippers to fulfil the growing demand, especially from the automotive and the electronic & semiconductor industry. In addition, the onset of Industry 4.0 is expected to create lucrative opportunities for robot gripper manufactures in the coming years.
The Dawn of 'Smart Technologies' - An Impetus to the Evolution of Robotic Grippers
In the course of the last decade, several key industrial sectors including the automotive, electronics, and food & beverage among others have increased their focus on industrial robotics and automation in their efforts to enhance productivity, streamline operations, and maximize their output. Thus, the demand for industrial robots, warehouse robotics and robotic component including grippers witnessed a significant growth in recent years.
In addition, the advent of 'smart technologies' including, artificial intelligence, IoT, and others in conjunction with progress in mobility and gripping technologies has paved the path for smart adaptive robotic grippers in the last few years.
Further, the integration of smart IoT enabled sensors in robotic components has played a crucial role in the assessment and maintenance of robotic grippers. Moreover, smart technologies have enabled manufacturers to design and develop innovative and customized grippers for different applications.
Owing to the rapid progress in technology, robotic grippers have also evolved and become more adapt to the changing industrial requirements. At present, there is high emphasis on designing flexible and smart grippers by deploying various sensors primarily aimed to enhance the functionalities of the gripper. Robotic grippers are used to perform a range of applications in an industrial environment including, material handling, warehouse management, packaging, logistics, and more.
Although two-finger grippers were largely used to carry out less complex tasks, multiple gripping technologies are expected to takeover in the next coming years. More recently, robot grippers with flexible fingers have garnered high popularity from different industries, as they are highly efficient in grasping objects of varying shapes and sizes.
Another important innovation that is likely to change the dynamics of how robotic grippers are manufactured in the future is the use of 3D printing technology. Although the use of 3D printers to develop customized and easy-to-maintain grippers is at a nascent stage, the adoption of 3D printed robotic grippers is likely to increase in the future.
East Asia - High Degree of Factory Automation and Focus on Building 'Smart Factories' Tipped To Boost Demand
In the last decade, East Asia has remained at the forefront as far as the advancement in factory automation is concerned. Several nations in East Asia, including, China, Japan, and South Korea have consistently demonstrated their capabilities of developing next-generation robotic grippers with advanced features.
In addition, the booming automotive sector along with the thriving electronic industry in the region has complemented the demand for robotic grippers in recent years. Moreover, the focus on Industry 4.0 programs is another major factor that is expected to boost the demand for advanced and adaptive robotic grippers in the years ahead.
Strong Focus on Product Innovation to Optimize Functionality and Flexibility
Manufacturers operating in the robotic gripper market have identified the need for product innovation to establish a firm foothold in the market. To that end, stakeholders are regularly investing resources to develop cost-effective and efficient grippers that are versatile with their functionalities. In addition, more recently, there was a significant demand for manual dexterity in robotic grippers to perform a range of e-commerce applications.
Further, robotic grippers have emerged as one of the most important components of an industrial robot. The ability to pick and place objects of different shapes and sizes with high degree of efficiency will play an important role in the emerging fourth revolution of industries.
Thus, several manufacturers operating in the current market landscape are introducing new products to consolidate their presence in the market. For instance, Empire Robotics, developed VERSABALL, a highly flexible robot gripper aimed to solve the current automation challenges present within different industrial domains.
How Growth Will Unfold
Leading players operating in the robotic grippers market including SCHUNK GmBh & Co. KG, Soft Robotics, Inc., Applied Robotics, and ABB Limited among others have identified the dire need to introduce advanced and highly innovative robotic grippers that are suitable to perform tasks in the factories of the future.
As the quest towards factory automation and building 'smart factories' has shifted gears in recent years, the demand for robotic grippers is expected to grow at a strong pace in the foreseeable future. In addition, manufacturers are expected to make use of different types of grippers to ensure a more reliable pick-and-place operation in the smart manufacturing space.
Key Segment
By Product Type
2-Jaw Grippers
Angular & 3-Jaw Grippers
O-Ring Grippers
Niddle Grippers
Vacuum Cups
Magnetic Grippers
Special Purpose Grippers
Others (Electrostatic, Bellow, Toggle)
By Application
Material Handling
General Assembly
Inspection & Others
By End Use
Automotive & Transportation
Electronics & Semiconductors
Food & Beverages
Chemicals & Pharmaceutical
Logistics
Healthcare
Others
By Region
Americas
EMEA
South Asia & Pacific
East Asia
Need specific information?