Collaborative Robots Market By Application (Welding, Material Handling, Quality Testing/Inspection, General Assembly, Painting/Spraying), Payload Capacity (Up to 5kg, 5-10kg, Above 10kg) & Region – Forecast 2019 - 2029
Collaborative Robots Market - Analysis, Outlook, Growth, Trends, Forecasts
September 2019

REP-GB-8641

255 pages
Collaborative Robots Market - Key Research Findings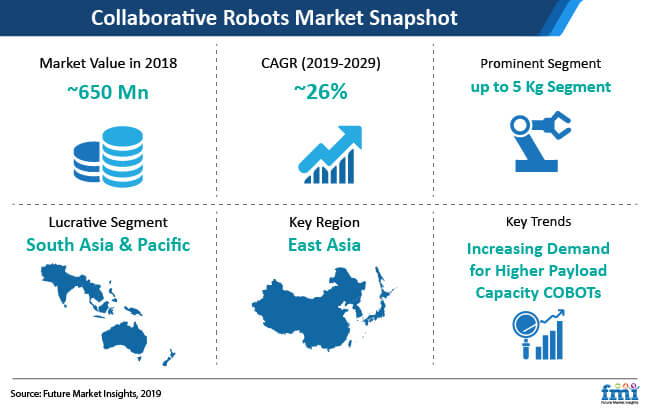 The global collaborative robots market size in 2018 was valued at ~US 650
The collaborative robots market is anticipated to grow at a CAGR of ~26% during the forecast period of 2019-2029.
The payload capacity up to 5kg segment of collaborative robots is expected to remain as the most preferred product type segment in the collaborative robots market.

The growth of this particular segment can be primarily attributed to the global growth of the collaborative robots market.

East Asia is likely to account for more than half of the revenue shares in the collaborative robots industry by the end of 2029.

East Asia will continue to be a significant market for collaborative robots manufacturers and distributors, owing to the increasing production and demand for collaborative robots in the automated industry.

The electronic and semiconductor segment is likely to continue as the prominent end-use industry, which creates significant growth opportunities for collaborative robots market players.

The electronic industry has witnessed significant growth over the recent past. The increased demand for high precision work, accuracy, and easy programing offered by built-in sensitivity of collaborative robots, is expected to propel the demand for collaborative robots.
Noteworthy application potential of collaborative robots such as assembly/disassembly, material handling, inspection and testing, stamping, etching and dispensing, are creating an upswing in the collaborative robots market.
Collaborative Robots Market - Key Factors
Automotive Industry is Propelling the Demand for Collaborative Robots

Automotive industry is adopting automation at a very fast rate. Implementation of collaborative robots for tedious as well as dangerous jobs to obtain high quality work is being done by OEMs.

Boosting the pace of production and reduction in labor costs, along with the minimum floor space requirement, are the significant factors leading automotive manufacturers towards the adoption of the collaborative robot technology. The automotive industry, being one of the influential industries, is expected to set the path for the collaborative robots market in the near future.

Inclination of End-use industries towards Collaborative Robots Boosting the Market Growth

Aerospace and electronics industry, where high precision automation is required, are inclined towards collaborative robots. Advantages such as flexibility and speed, coupled with the reduction of ergonomic issues are benefitting these industries on a large scale. Healthcare, food and agriculture, plastic, and pharmaceutical, are among other industries implementing collaborative robots over traditional robots.

Continually Increasing Applications of Collaborative Robots Boosting the Market Growth

Replacement of repetitive manual tasks with collaborative robots, which provide better finish and precision work, and offer a wide horizon of applications has set trend in the market. Major collaborative robot applications include material handling, assembly/disassembly, welding, painting/spraying, and inspection/testing.

Countries with Industrial Robot Dominance Facing a Paradigm Shift towards Collaborative Robots

China, South Korea, and Japan are the significant countries contributing to the growth of the collaborative robots market in the East Asia region. Vietnam, Thailand, and India are prominent countries for the market in the South Asia and Pacific region. Whereas, Europe, Middle East and Africa, Germany, Sweden, France, and Italy, are driving the front wheel of the market. Canada and the U.S are witnessing an upsurge in the collaborative market in the Americas region.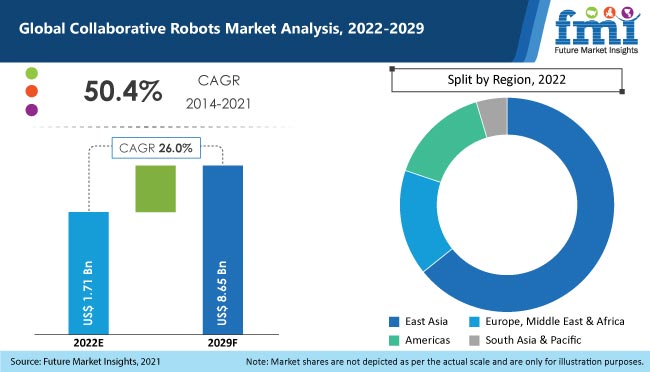 Collaborative Robots Market Structure Analysis
The global collaborative robots market is a moderately competitive market. Approximately ~40% share of the market is held by tier-1 players.
Expansion of the business through mergers, acquisitions, collaborations, and alliances are the strategies followed by key players in the collaborative robots market. Key market players focus on strategies such as adoption of new technologies to develop innovative products, and further enlargement of sales and distribution channels.
Noteworthy investments in the research and development for novel and sturdy products is projected to boost the growth prospects of the collaborative robots market.

Major players in the collaborative robots market are Universal Robots A/S, AUBO Robotics, Fanuc Corporation, Stäubli International AG, Robert Bosch GmbH, KUKA AG, Precise Automation, Inc., Denso Wave Incorporated, ABB Group, Yaskawa Electric Corporation, and K2 Kinetics.

Global and local market players are benefiting from a significant marketing network of distributors. Local and international offices deliver sales and aftersales services to their customers to retain their customers' base across tier 1 and tier 2 cities.
Collaborative Robots Market: Preparing a Future for Human-to-Robot Interaction
As the 'fourth industrial revolution' sets to take the entire supply chain by storm, companies are making rapid strides to increase productivity and improve resource utilization through integration of highly advanced technologies, without neglecting the human workforce. A range of manufacturing technologies that fuse physical and digital worlds with breakthroughs in Artificial Intelligence (AI), Internet of Things (IoT), industrial robotics, and 3D printing are seen as the main drivers of Industry 4.0.
Additionally, in the ongoing industrial transformation journey, robots are moving from behind fixed and caged locations to work stations alongside human workers. Conventional industrial robots that move with great force have for long been used in several work operations until recently, following the rise of collaborative robots or 'cobots'.
Today, robotics have become an unstoppable phenomenon. Equipped with powerful onboard computers, multiple advanced sensors, and reliable EOATs, collaborative robots are gaining strong momentum for their versatility, user-friendliness, affordability, and small footprint – much beyond the innate Industry 4.0 compatibility.
Moreover, a number of technologies are taking collaborative robots to new heights, which may come with extensive interactive features to enable recognition of voice commands and more seamless collaboration with human workforce, or be intelligent enough to move away from programmed instructions.
Collaborative Robots Market - Wave of Automation and Shrinking Labors Pools to Create Sales Opportunities
The rapid revolution of industries is bringing a paradigm shift in businesses, economy, and society. Tremendous changes in the automotive industry, in line with growing desire for enhanced driving experience, improved in-car ambience, and reduced carbon emissions, have promoted the adoption of new technologies to not only accelerate the production pace but also to enable the manufacturing of precise products.
Benefiting from a strong desire for advanced automation technologies, collaborative robots have been witnessing a spike in popularity in the automotive industry. The manufacturing industry in particular, is turning to such robotic technology to compete in response to shrinking labor pools as labor costs increase and baby boomers age.
As e-commerce industry continues to move on an upward swing, the demand for warehouse workers are inevitably exceeding the labor supply, creating an increasing need for automation. The digital transformation of warehouses is thus likely to present tremendous market opportunities for collaborative robots manufacturers. IoT and robotics, including cobots, are further ready to play a significant role in the health care settings.
In an attempt to improve patient-centricity in hospitals and create a better workforce conditions, the healthcare industry is highly likely to move into cobot space, given the enhanced mobility and lightweight nature.
East Asia to Outdo European Countries that Pioneered the Robotic Technology
East Asia is leading the explosion of collaborative robots market, as countries such as Japan and China are experiencing an intense transition to new era of automation, endeavoring to break their reliance on foreign technology. With a rapid increase in demand and the emergence of numerous startups, China is likely to lay the foundations of a collaborative robots-oriented investment model.
While the Chinese market is on a right path to get closure to its maturity, the collaborative robots are ready to shape the future of manufacturing in India. Additionally, European countries, the pioneers in robotic technologies, continue to offer greater opportunities, due to strong presence of frontrunners of the market and sheer scale of robot dominance across industries.
Collaborative Robots Market - Democratizing Automation in Small and Midsized Manufacturing Space
The future of collaborative robots will ride on their applicability in large industries as well as SMEs. Cobots are beginning to play a major role in small and mid-sized businesses that might not have been able to leverage high-end industrial robots to start automating their processes. New possibilities have also been put in front of entrepreneurs and relatively small businesses, aiming to automatize their production processes, material handling, and storage.
Unlike the robots of the past, collaborative robots are state-of-the-art tools in the hands of manufacturers to produce quickly and cost-effectively, while addressing most pressing problems.
In the new era of disruptive innovations that will make factories smarter than ever, manufacturers are joining the race with massive investments and robust R&D activities that will radically change the collaborative robots of the future.
Although these robots will considerably improve worker's productivity, factories will require much fewer and more skilled workers to operate, creating a significant technological gap and unskilled labors losing their reliance on massive job creation provided by the manufacturing sector. In addition, the elimination of safety fences in robotic operations will create a need for strict safety regulations.
Collaborative Robots Market- How Growth Will Unfold
The greater awareness at SMEs and the wider adoption by major OEMs have compelled mainstream traditional industrial robots vendors to market their own collaborative robots. To maintain their strong hold in the Collaborative Robots Market, leading stakeholders are focusing on broadening the scope of collaborative robots by introducing a wider range of products.
As the new reality of humans working alongside robots becomes the standard of enhanced performance and improved productivity, the future of collaborative robots looks promising. With a wealth of technological innovation on the horizon, these robots are likely to advance as deep leaning techniques and advanced vision systems which can be integrated into extensive range of applications.
World's Most Profilic Intelligence Engine
Get Access To The World's Largest Market Research Database.
Sign Up Now
Collaborative Robots Market Key Segment
By Payload Capacity
Up to 5kg
5-10kg
Above 10kg
By Application
Welding
Material Handling
Quality Testing/Inspection
General Assembly
Painting/Spraying
Others (Surgery, Cleaners, Institutional)
By End Use
Automotive & Transportation
Electronics & Semiconductors
Food & Beverage
Chemical & Pharmaceutical
Logistics
Healthcare
Others (Plastic, Metal & Machinery, Furniture & Equipment
By Region
Americas
EMEA
South Asia & Pacific
East Asia
Need specific information?
Our Clients