An introduction to the impact modifier market
Impact modifiers are a group of additives which are used to enhance the strength of polymer compounds which are subject to weather forces. They are available as resins and have a rubbery nature. The elasticity helps impact modifiers to absorb the energy of the impact and make polymer compounds more durable in which they incorporated. The impact modifiers market is segmented into product type, applications and end use. On the basis of product type, the impact modifiers market is segmented into ABS impact modifier, EPDM impact modifier, MBS impact modifier, ASA impact modifier, AIM impact modifier and CPE impact modifier.
On the basis of application, the impact modifier market is segmented into PVC, Nylon, PBT and engineering plastic. In terms of volume, ABS impact modifier constitutes a much larger share in the impact modifier market than the rest segments. Increasing demand for high performance plastics is a major factor driving demand for impact modifiers worldwide.
While this is expected to further exert significant pressure on an already strained public transport infrastructure globally, increasing demand is expected to contribute significantly to growth of the global impact modifiers market over the forecast period, attributed primarily to increasing willingness of urban consumers to spend on premium quality vehicles and accessories such as safety add-ons, and exterior and interior products, which are incorporated with impact modifiers.
In Asia Pacific region, specifically China and India, a significantly large customer base presents manufacturers of impact modifiers with a significant potential. In addition, the number of nuclear families in urban areas in various countries in APAC is increasing, which is a factor fueling demand for automobiles, which is an indirect factor directly impacting the growth of the impact modifiers market. In both the countries, presence of a large working age population, particularly the younger generation, is driving demand for cars (Average age at which cars are purchased in India was 39 in 2000, 36 in 2005, 33 in 2010 and 30 in 2015).
The demand for individual vehicles is increasing in both these countries. Moreover, rising per capita and disposable incomes along with China's and India's changing demographic distribution are positively affecting the growth of the automobile segment which indirectly demands the utilization of impact modifiers.
In terms of value, the global impact modifier market is expected to represent an incremental opportunity of US$ 171.6 Mn by 2018 end over 2017. By product type, the MBS impact modifier segment is expected to register a CAGR of 6.0 % in the impact modifier market. The Middle East & Africa region is expected to register relatively sluggish growth in the impact modifier market.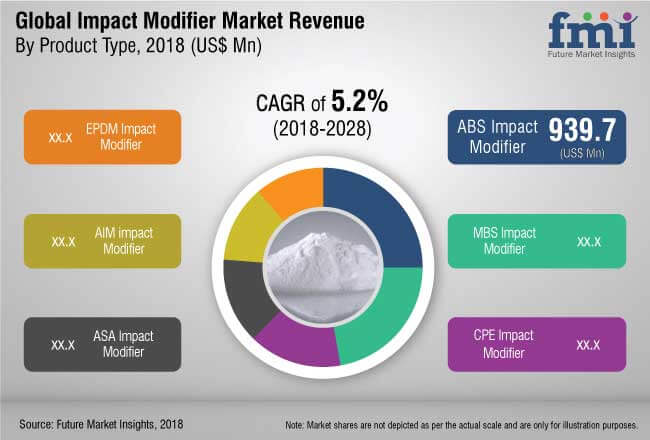 Infrastructure development presents lucrative opportunities for impact modifier manufacturers
The IT sector has been witnessing substantial growth in the recent past, especially in developed and developing economies. This is resulting in increasing office space owing to infrastructure development, which is driving demand for office equipment and products incorporated with impact modifiers such as computers, storage batteries, communication equipment, and switchgear and switchboard apparatus. This development is voluminously driving the growth of the impact modifiers market.
The number of malls globally have doubled over past 5 years (2010-15) with electronic megastores such as Croma, Next, Reliance Digital etc. in India, Virgin Megastore, Saturn, Euronics in Europe, Best Buy, Suning in China, CDW Corporation, Apple Computer retail stores, Staples in the U.S. This has proved to be the perfect platform for companies to showcase their impact modifiers product range and create a wider consumer base in impact modifier market.
Engineering plastics costs higher than commodity plastics due to the addition of impact modifiers and various other processing and enhanced properties.
High cost of impact modifiers employed while manufacturing or processing of engineering plastics impacts final cost of engineering plastics available in market. For example, in the case of ABS impact modifier, benzene is the key ingredient in the manufacture of styrene, whose price fluctuation will directly affect ABS impact modifier cost in the impact modifier market.
As impact modifiers are part of plastic processing, manufacturers from developing countries in Asia such as India and Thailand do not have the processing capacity when compared to those in Europe. This is due to limited availability of latest technologies and machinery with high processing speeds, which are very essential in the impact modifiers market. This is one of the key reasons for manufacturing cost being on the higher side in the impact modifier market.
China is expected to become a key market for impact modifiers
On the basis of region, the market in China is anticipated to dominate the global impact modifiers market in 2018. China is expected to gain significant market share in revenue terms by 2028 end. The China market for impact modifiers is expected to expand at a CAGR of 7.0% between 2018 and 2028.
Key Segments Covered
Global Impact Modifier Market – By Product Type
ABS Impact Modifier
EPDM Impact Modifier
MBS Impact Modifier
ASA Impact Modifier
AIM impact Modifier
CPE Impact Modifier
Global Impact Modifier Market – By Application
PVC
Nylon
PBT
Engineering Plastic
Global Impact Modifier Market – By End Use
Packaging
Construction
Consumer Goods
Automotive
Global Impact Modifier Market – By Region
North America
Latin America
Western Europe
Eastern Europe
China
Japan
South-east Asia & rest of Asia Pacific
Middle East & Africa
Need specific information?
Talk Show:
The Rise of Intelligent Packaging
Personalized, Connected and Sustainable
November 18, 2021
11:00-11:45 AM PST (USA & Canada)
This is a LIVE session