Introduction
Organic friction modifier (OFM) additives are being increasingly used in lubrication of aviation, automobile, energy/ power, rail and industrial components. OFM additives can make a huge difference to the tribological characteristics of the lubricant. Thus, organic friction modifiers are emerging as essential additives in the lubrication of mechanical components and particularly of automobile engines where performance enhancements are persistently sough-after. In recent years, demand for OFM additives has increased to a significant extent owing to their benefits and superior functionality.
A recent report published by Future Market Insights (FMI) projects that the global organic friction modifier additives market will expand at a CAGR little under 5% during 2017 to 2022, to surpass a valuation of US$ 500 Mn. However, greater availability of similar and cost-effective alternatives such as detergent additives, oiliness agents, dispersant additives, corrosion and oxidation inhibitor anti-wear agents among others is expected to hamper the global sales of OFM additives. Besides, fluctuations in oil prices couple with uncertainties regarding upcoming polices in the oil and gas industry continue to pose a threat to the market.
Realising the opportunity, manufacturers are emphasising on capacity expansion and further enhancement of product efficacy. In addition, companies that are operating in the global organic friction modifier additives market are likely to concentrate on collaborations, partnerships, and M&A activities in order to gain competitive advantage. Market players are likely improve their sales and distribution network by entering into strategic partnerships and joint ventures. At the same time, many of the companies have stepped up efforts towards innovation.
Dow Chemical Company Limited, BASF SE, Multisol Ltd, Eastman Chemical Co., Cargill, Inc., Chemtura Corporation (LANXESS Solutions US, Inc.), International Lubricants Inc.,Celanese Corporation, Croda International Plc, and Afton Chemicals Corporation are among the top companies in the world that manufacture OFM additives.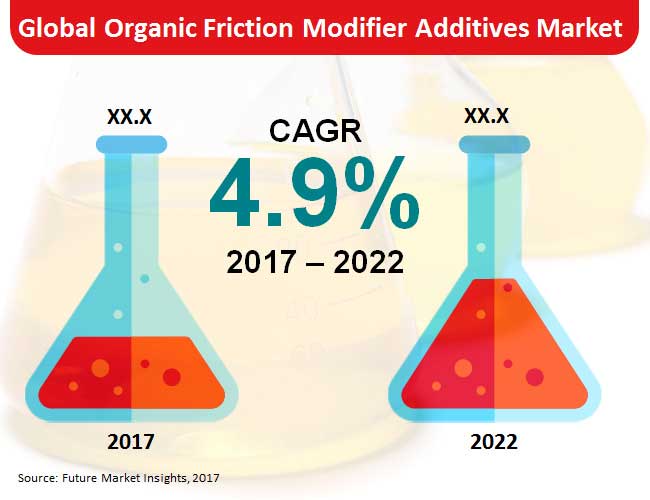 Global Organic Friction Modifier Additives Market: Key Segment Analysis
On the basis of additive type, the global organic friction modifier additives market is segmented into polymers, esters & amides, fatty acids and others. Among these, the polymers segment is expected to hold the top position throughout the forecast period. By 2017-end, this segment is expected to command for more than one-fourth share of the global market in terms of revenue. Towards the end of 2022, this segment is estimated to reach a valuation in excess of US$ 170 Mn, reflecting a steady CAGR.
On the basis of end use, the automobile lubricants segment is expected to retain its dominant position over 2022. The segment currently represents for the largest percentage of revenue share of the global market. During the assessment period, this segment is expected to surge at a CAGR of 4.8% to surpass a market valuation of US$ 220 Mn. Meanwhile, the industrial lubricants segment is expected to hold the second spot in 2017 and beyond.
Among regions, Asia-Pacific excluding Japan (APEJ) will continue to lead the global organic friction modifier additives market through 2022. In terms of revenue, the region currently represent a significant share of the global market and this trend is expected to continue over the next couple of years. Between 2017 and 2022, the region's market is projected to soar at an above-average CAGR, and surpass a valuation of US$ 150 Mn. Demand for OFM additives has also escalated in the region owing to robust industrialization in emerging countries such as China and India.
Also, factors such as higher spending power and proliferation of the OFM additives manufacturing facilities is likely to influence the growth of the market in APEJ. The organic friction modifier additives market in North America is also expected to stay highly lucrative over the forecast period, exhibiting an impressive growth. This is primarily owing to a strong presence of well-establish market players in the region.
Key Segments Covered
Additive Type
Polymers
Fatty Acids
Esters & Amides
Others
End User
Automobile Lubricants
Industrial Lubricants
Aviation Lubricants
Energy/ Power Generation Lubricants
Rail Lubricants
Need specific information?