Polyvinyl Chloride Market By Type (Rigid, Flexible), End Use (Construction, Electrical Cables, Transportation), Application (Pipes & Fittings, Films & Sheets) & Region - Forecast to 2019 - 2029
Polyvinyl Chloride Market - Analysis, Outlook, Growth, Trends, Forecasts
March 2020

REP-GB-152

300 pages
Resurgence of PVC Alternatives to Rejuvenate Polyvinyl Chloride Market Growth
[300 pages Report] Global polyvinyl chloride (PVC) market growth is primarily complemented by elevated demand in packaging, automotive and construction industries. The polyvinyl chloride (PVC) market is set for positive growth at approximately 4.2% CAGR over the course of projection period (2019-2029). The key end-use segment catalysing the growth of PVC market is pipe & fittings segment.
PVC is being extensively utilized in industrial, commercial and household sectors. Accelerating infrastructure projects in developing countries are substantial growth contributors of polyvinyl chloride (PVC) market. However, the industry is receiving headwinds from mounting environmental concerns in view of toxic fumes emitted during PVC production. Leading manufacturers are thus focused on enhancing the sustainability aspect of their business by developing eco-friendly alternatives.
Pipes & Fittings Segment Captures Majority Share in Polyvinyl Chloride (PVC) Market
On account of high endurance, durability and cost-competitive attributes of PVC pipes, the demand continues to surge in pipes & fittings end-use segment. Modern infrastructure activities necessitate the use of polyvinyl chloride in a wide array of piping applications such as transportation of drinking water, waste products drainage and water drainage from roof or ground.
PVC pipes will continue to gain stronghold in industrial piping systems through 2029. PVC pipes have long been utilized for transporting hazardous chemicals owing to their high corrosion resistance. PVC is highly preferred by manufactures in view of facile maintenance, economic factors and safety considerations. These features would propel the PVC market in foreseeable future.
Demand for Sustainable PVC Substitutes on Rise
The environmental concerns regarding PVC usage have long been emphasized. Each stage of PVC lifecycle, right from production to disposal is considered highly perilous for environment. PVC has been declared as a human carcinogen by The United States Environmental Protection Agency (EPA). Manufacturers are thus keen on accelerating the production of PVC alternatives.
Development of PVC substitutes will present lucrative growth opportunities for leading global producers. Some manufacturers have launched high-density polyethylene (HDPE), which is a form of extremely durable plastic. This variant is known to be less disruptive in terms of its environmental impact. Owing to its recyclability, HDPE can significantly reduce landfill waste, thereby fuelling its adoption.
Asia Pacific Continues to Propel Polyvinyl Chloride (PVC) Market Growth
Asia Pacific occupies leading revenue share in global polyvinyl chloride (PVC) market. India and China are predominant regional markets on account of expediting construction undertakings. Furthermore, rapid urbanization, rising population and net worth income is attributed for substantial regional market share.
On the other hand, United States will witness double-digit growth during the forecast period. Manufacturing, construction and automotive industries remain major stimulants of domestic PVC market growth. Leading PVC producers must capitalize on heightened demand in crucial markets by launching new sustainable products through 2029.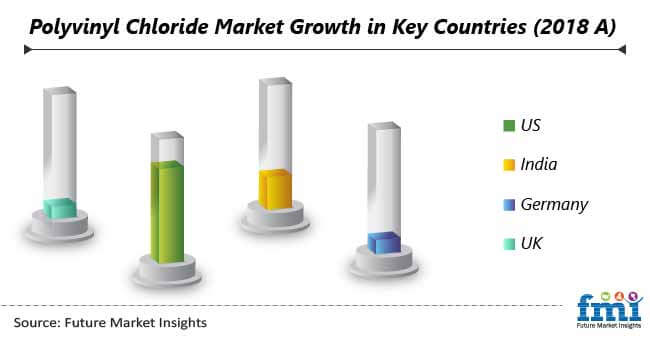 Prominent Companies to Bank on Innovation and Expansion through 2029
Key players in global polyvinyl chloride market include, Formosa Plastics Corporation, Chinyang Chemical Co. Ltd., BASF SE, Arkema S.A., Ineos Chlorvinyls Ltd., Saudi Plastic Products Company Ltd., Occidental Petroleum Corporation, Premier Polyfilm Ltd., and The Chemical Company. Established players are projected to scale up expansion and R&D activities through 2029.
For instance, Shintech Inc. is constructing a new PVC plant in Plaquemine, Louisiana (US). This project which commenced in 2018 will significantly boost the production capacity of the company. Innovation will be centred on creating sustainable alternatives for PVC. In addition, key producers must undertake joint ventures to solidify their position in global market.
World's Most Profilic Intelligence Engine
Get Access To The World's Largest Market Research Database.
Sign Up Now
Polyvinyl Chloride (PVC) Market Segmentation
The global polyvinyl chloride market is segmented in detail to cover every aspect of the market and present a complete market intelligence approach to readers.
By Type
By End Use
Construction
Electrical Cables
Transportation
Packaging
By Application
Pipes & Fittings
Films & Sheets
Cables
Pastes
Profiles
By Region
North America
Latin America
Europe
MEA
Asia Pacific
Need specific information?
Our Clients