Lupin Protein Market Outlook & Key Findings
Future Market Insights (FMI) forecasts the global lupin protein market to rise at a CAGR of 5.4% between 2020 and 2030
US and Europe among most lucrative markets as more consumers adopt vegan or flexitarian dietary patterns
Organic lupin protein demand growing, but conventional still accounts for higher market share
Targeting ingredients for special use in diverse food applications remains a major product strategy for manufacturers and service providers
Rising Focus on Plant-based Products & Ingredients
Consumers around the world have become increasingly conscious about their health and wellness.
Their mindful approach towards health and fitness is giving tailwinds to the adoption of vegan, vegetarian, and flexitarian diet. This shift in preference is often spurred by one of the three factors - personal health, animal welfare, and environmental concerns.
These concerns are elevated by social media posts insinuating potential side effects of animal-based protein.
Besides these factors, companies are investing in an array of marketing campaigns to spread the word on health benefits of plant-based diets. Their efforts are reflected in higher adoption of vegan and vegetarian lifestyle across the world.
For instance, there's been a 600% increase in people identifying themselves as vegans in the U.S in the last three years, which is indicative of exponentially rising trend of veganism.
Conscious food habits of consumers are compelling manufacturers to offer plant-based ingredients. This inevitably creates lucrative growth prospects for lupin protein suppliers to capitalize on.
Demand for Clean Label Ingredients Augurs Well for the Market
Awareness regarding consumption is presently moving to the idea of deep-rooted transparency. The latest technologies have provided consumers better accessibility to smart labels, through which, they can track the journey of the products and check them on the basis of their individual qualities.
Modern consumers are seeking improved transparency regarding ingredients used, going beyond free-from status, ingredients, and nutritional levels.
They are more interested in understanding the background of the products; from where and how ingredients used were sourced, right till the end product.
On the flip side, there aren't any strict regulations and guidelines laid down by governments regarding clean labelling. Some of the companies have started using clean labelling as a catchword for promotional and marketing activities.
However, better awareness among consumers is compelling manufacturers to adopt cleaner practices and ensure better transparency about ingredients used to curb the risk of alienating the trust of consumers.
This trend is expected to augur well for the lupin protein suppliers, providing them lucrative scope of luring consumers.
Rising Demand for Gluten-free Food will Boost Lupin Protein Consumption
Popularity of lupin-derived flour is expected to grow manifold, especially since it is considered a healthier substitute for their grain-based flour.
Avoiding gluten has become a widespread practice in the U.S, especially with over 100 million Americans consuming gluten-free products, most of whom do not have celiac disease.
Interestingly, this trend has strengthened the United States' footprint in the global market for gluten-free food. The U.S. currently accounts for the leading share in the market.
Rising population of 'gluten-avoiders' and awareness regarding the many benefits of gluten-free food products are fuelling the demand for vegan or plant-ingredients such as lupin protein.
While still at a nascent stage compared to grain-based alternatives, products containing lupin protein are wiftly covering shelf-spaces across retail aisles.
Brand Awareness a Key Focus Area for Lupin Protein Companies
Strong branding, marketing, and promotional strategies by companies are anticipated to boost the lupin protein market over the forecast period.
Some of them are adopting innovative strategies for branding their products. For instance, they are targeting a certain group of consumers before determining strategies to adopt for effective branding and promotion.
Some of the companies are going digital to reach a wider base of consumers. They are using various social media platforms to create awareness about their brands.
Other companies such as Barentz B.V. are taking part in various food exhibitions as a part of their promotional activity to showcase various applications of the ingredient.
Focus on R&D Poised to Surge
Investing in research and development (R&D) activities and new product development initiatives will help in developing ideas and technologies needed to formulate a range of highly functional lupin protein products.
Market players are also expected to invest in R&D initiatives to ensure better efficacy of the existing product line. Through this they intend to establish a stronghold in the global market.
The development of new varieties of lupin, so-called "sweet lupin? with low alkaloid (bitter substances) and high protein content has resulted in a renewed interest in utilization of lupin as source of proteins in human and animal nutrition.
Concerns about Potential Side-effects Limiting Wider Adoption
As with most food allergens, people can develop an allergy to lupin over time. For people who have an existing legume allergy, eating lupin could cause an allergic reaction on first exposure. Studies show that people who are allergic to peanuts, in particular, appear to have a greater chance of being allergic to lupin.
Although, lupin is a food staple for many Europeans, who may be more aware of its allergenic properties and are accustomed to seeing it listed as a food ingredient—it is relatively new to the U.S. market.
Many consumers in the US may not have heard of this legume, which can be found in the form of lupin beans at Italian and other ethnic specialty stores. Information pertaining to the possible side effects of lupin continues to be deterrent to wider adoption.
In June 2017, the Canadian Food Inspection Agency (CFIA) warned consumers about lupine (also called lupin), as both the beans and the flour made from the legumes are known to cause reactions in about 20 percent of individuals who have an allergy to peanuts. Such advisory can restrict the market across certain regions to an extent.
Top Lupin Protein Brands in the Market
As the competitive landscape shifts in tandem with changing consumer desires, companies are updating their production systems to meet new needs.
The market players are already struggling to keep pace with consumption needs amid natural and economic pressures. To battle scarcity, react to climate changes, and meet the consumption needs of a growing urban population, market players are introducing various technological advancements in their production systems.
In order to create a niche amid competitive environment, it is imperative for companies to anticipate changing consumer needs and promptly respond to the same.
FMI profiles some of the leading companies in the market. These include:
Americas
Aminola BV
A. Constantino & C. S.p.A
Europe
Prolupin Gmbh
FRANK Food Products
Lup'Ingredients
Asia Pacific
Coorow Seeds
Barentz B.V.
Lupin Protein Market: Region Wise Analysis
Europe lupin protein market remains one of the most lucrative globally. Yellow, white, and narrow-leafed lupins are native to the region and have emerged as a potential alternative to rid Europe of its soya bean woes.
Europe's heavy reliance on soya bean imports often result in issues pertaining to trade agreements and unsatisfactory quality standard. The market is gradually shifting focus towards lupin considering their elevated protein content and potential health benefits.
Europe is currently exhibiting high demand for sustainable production. Producers in the region have therefore adopted advanced breeding techniques to provide novel varieties of lupin. These processes are optimized to derive safe and high quality lupin protein ingredient. Producers are adopting various integrated strategies to establish lupin as an alternative crop with high protein content, also capable of ensuring various environmental benefits.
In Europe, the market will gain from notable developments in the food and beverage industry. Stricter monitoring of unfair trade practices (UTPs) implemented by the European Commission (EC) will bring the market under stringent scrutiny.
Pricing is a crucial variable in the market that clearly controls the uptake and demand of lupin protein.
It is also interesting to note that price per ton of target products around the globe differs at a significant ratio, yet reflects similar pattern of variance.
In the global lupin protein market, the derived weighted average selling prices of is near 6000/MT for protein isolates, near 5000/MT for protein isolates, near 7000/MT for flour and above 7000/MT for other product types.
Graph below presents a perspective of price variance across regions and key segment categories.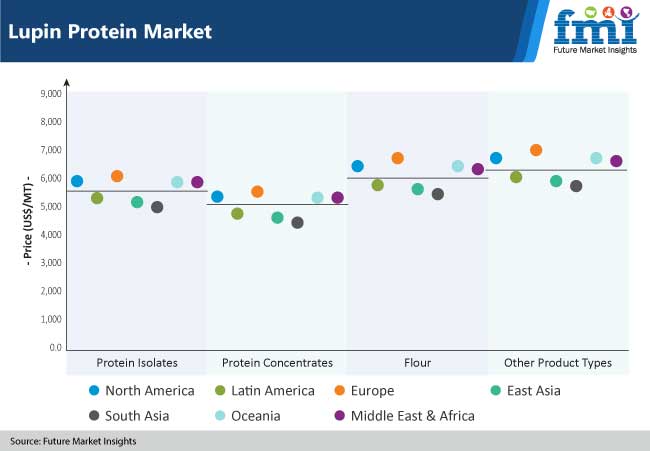 Lupin Protein: The Way Forward
Marketing and branding plays crucial role in attracting and retaining customers to a profit in the lupin market. Manufacturers are therefore constantly updating their production techniques and working towards strengthening their marketing strategies to gain competitive edge.
There is also ample focus towards developing a strong supply chain network, linking the processing units and retail points.
Several companies are leveraging their social media presence to build a strong brand identity.
For instance, they are reaching out to fitness influencers and promoting the benefits of healthy eating across social media platforms such as Instagram and Facebook to reach a widespread community of audiences.
Their efforts are expected to reap positive results, educating consumers about various health benefits and quality of lupin. Generally speaking, the demand for organic ingredients is skyrocketing around the world. This will bode well for the overall lupin market in the near future.
As this is key takeaways sections, brevity remains an important factor. Also, try to include the key highlights so that they don't look like drivers or trends Changed to include keyword. You have mentioned many keywords in main keyword, but have not used them in the preview
Key Segment
Nature
End- Use
Food Processing
Meat Alternatives
Bakery Products
Confectionery
Snacks & Cereals
Meat-Based Products
Others
Animal Feed
Livestock
Cattle
Swine
Poultry
Pet Food
Aqua feed
Nutraceuticals
Sports Nutrition
Infant Nutrition
Product Type
Protein Isolates
Protein Concentrates
Flour
Other Product Type
Process Type
Protein Isolates
Protein Concentrates
Flour
Other Product Type
Process Type
Dry Processing
Wet Processing
Global
North America
Latin America
Europe
East Asia
South Asia
Oceania
MEA
Need specific information?