Magnesium Hydroxide Market Overview & Key Highlights
The global magnesium hydroxide market will register revenue worth around US$ 1.5 Bn in 2030
Stricter fire safety guidelines and regulations due to growth in fire accidents at workplaces would be the driving factor for market growth
Magnesium hydroxide is rapidly replacing caustic soda in wastewater treatment facilities
Ban on usage of halogenated flame retardants is auguring well for magnesium hydroxide market
APAC would maintain its primacy, owing to presence of chemical manufacturing hubs
Magnesium Hydroxide Market - A Vital Component in Industrial Workplaces
Magnesium hydroxide is witnessing strong demand from several end-use sectors for preventing fire casualties and accidents. Several countries are shifting towards fossil fuel-based power plants, as such, translating into greater demand for magnesium hydroxide for desulphurization application. Going forward, the inorganic compound is a vital component in antacids and laxatives.
Generally produced as a chewable tablet, liquid suspension, and capsules as liquid syrups in various flavors, magnesium hydroxide is also used as antiperspirant underarm deodorant. By 2030, the global magnesium market revenue will reach nearly US$ 1.5 Bn, following a healthy growth curve.
Toxic Halogenated Flame Retardants Paving the Way for Magnesium Hydroxide Market
Alerted by the subsequent rise in fire casualties in workplaces, governments, worldwide, have imposed stringent fire safety regulations. Several industries are leveraging magnesium hydroxide as a flame retardant, owing to its low price attribute. In addition, the compound offers superior properties over conventional aluminum trihydrate (ATH) such as greater thermal stability at higher temperature, and controlled dispersion. Usage of flame retardants has been growing due to flourishing end-use industries such as plastics industry, and paints & coatings industry across the globe.
This, in turn, is raising concerns regarding the effects of these additives on human health. Brominated flame retardant chemicals are banned in Europe, Asia, and the North America due to their neurodevelopmental toxicity, and thyroid effects. Although adoption of magnesium hydroxide in flame retardant applications contributes meagerly to global market value, benefits of low corrosiveness and toxicity will boost the usage of magnesium hydroxide as an alternative additive.
Eliminating Sludge and Slurry in Wastewater Plants
Owing to its self-buffering nature, magnesium hydroxide is considered ideal for alkalinity adjustments in water and wastewater treatment equipment. Moreover, the chemical is innately safe in handling. Scaling issues are commonplace in various wastewater treatment plants across the globe. Increasing focus on maintaining high water quality standards is accenting to rise in investments in wastewater treatment processes in several industries, including chemical, power plants, and municipal waste treatment centers, in the immediate future.
Caustic soda has conventionally been used in wastewater treatment processes as a neutralizing agent, yet it has been subjected to price volatility, resulting in economic uncertainty for end-use industries. Magnesium hydroxide, coupled with the economic advantages, provide technical superiority over its alternatives. Usage of magnesium hydroxide in wastewater treatment plants account for about a quarter of total market value. FMI finds that the trend will increase at a robust pace over the decade ahead.
Continued Preference as a Cost-efficient Alternative in Bleaching Applications
Caustic soda has been the standard component as a cellulose protector and alkali in mechanical bleaching process and as a bleaching agent in the pulp and paper industry. That said, industrials are turning to magnesium hydroxide, given its greater alkalinity and cost effectiveness in pulp and paper bleaching.
Although the pulp and paper industry is witnessing slight decline in the developed markets due to replacement of paper by digital media, the industry is growing in developing markets, driven by the booming packaging sector in these regions. This factor will work in favor of magnesium hydroxide manufacturers. Various leading players are entering into collaborations and expansions to manufacture magnesium hydroxide as per the specific needs of the pulp and paper industry.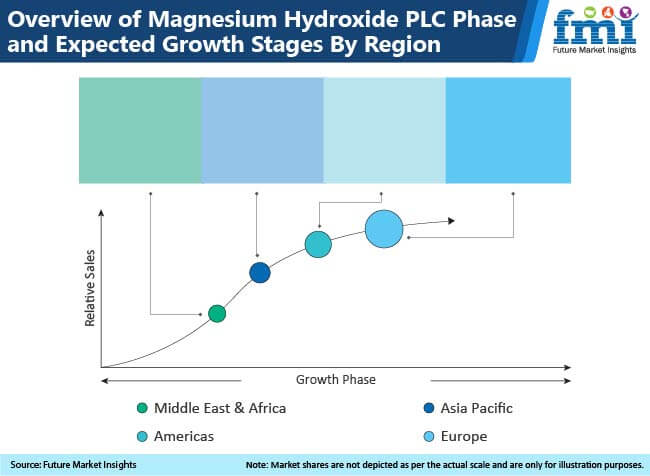 Asia Pacific Remains the Epicenter of Investment Prospects
Asia Pacific (APAC) continues to offer the opportunities of growth and profitability for magnesium hydroxide manufacturers over the decade ahead. China primarily represents the regional market, as it is leading consumer of magnesia and magnesite. Moreover, the demand for magnesium hydroxide in Japan is surging, owing to rise in the number of fossil fuel power plants in the country.
This study reveals that APAC captures about 2/5th of overall market value. The market is also making material progress in North America and Europe. However, both the regional markets have reached saturation, as such, market players are turning their sights to developing regions for further revenue growth.
Leading Manufacturers of Magnesium Hydroxide
The global magnesium hydroxide market is moderately fragmented with involvement of several local and regional market players. Leading magnesium hydroxide manufacturers capture over 30% of overall market revenue. In view of the rising competition in the market landscape, market incumbents are investing in R&D activities, new product launches, and capacity expansions. Some of the players in magnesium hydroxide market include,
North America
Martin Marietta Materials Inc.
Premier Magnesia, LLC
Huber Engineered Materials
Europe
Nedmag Industries Mining & Manufacturing B.V.
Nabaltec AG
Lehmann & Voss & Co KG
East Asia
Xinyang Mineral Group
Kyowa Chemical Industry Co. Ltd.
Tateho Chemical Industries Co. Ltd.
Ube Industries Ltd.
Konoshima Chemicals Co. Ltd.
Drawing the Way for Magnesium Hydroxide Market Amidst COVID-19 Crisis
The coronavirus (COVID-19) pandemic is adversely affecting industries all over the world, and the magnesium hydroxide market is no exception. Citing exponential rise in confirmed cases of COVID-19, governments in several countries have enacted nationwide lockdowns and social distancing regulations in an effort to break the trajectory of the coronavirus.
As a consequence, market players are shutting down their production units totally or partially in the short term due to scarcity of raw material and manufacturing workforce. However, the global magnesium hydroxide market is slated for fast recovery post the containment of the crisis, as various end-use industries will gradually get back on the track. The market, in particular, will see demand growth in flame retardant applications in various chemicals and materials.
Magnesium Hydroxide Market: Taxonomy
The global magnesium hydroxide market is classified in detail to cover every single aspect of the market and deliver complete market intelligence to the reader.
Grade
Food/Pharma
Industrial/Technical
Application
Environmental

Flue-gas Desulphurisation
Wastewater Treatment

Pharmaceuticals
Chemicals & Others
Flame Retardants
Region
North America
Latin America
Europe
South Asia
East Asia
Oceania
Middle East and Africa
Need specific information?
Talk Show:
The Rise of Intelligent Packaging
Personalized, Connected and Sustainable
November 18, 2021
11:00-11:45 AM PST (USA & Canada)
This is a LIVE session