Introduction
The report covers comprehensive information about market trends, volume (metric tonnes) and value (US$ Mn) projections, market dynamics, competition, and recent developments in the global magnesium metal market for the study period 2016 to 2026.
The global magnesium metal market is expected to reach a little over US$ 6,271.5 Mn by the end of forecast period, registering a CAGR of 7.1% for the period between 2016 and 2026. Advancements in automobile manufacturing, increasing adoption in aviation capacity, and expansion of crude steel production are some of the factors expected to lay the robust foundation for the growth of the global magnesium metal market.
Magnesium Metal – Definition
Magnesium metal, a silvery white metal, is one of the lightest metals available for structural applications. Magnesium metal is around 33% lighter than aluminium and nearly 67% lighter than steel. Moreover, magnesium metal is one of the most abundant elements in the world, and can be obtained from various mineral sources - also from sea water or brines. Magnesium metal finds a variety of applications across a diverse set of industries. Some of the prominent application areas for magnesium metal include the production of aluminium alloys, where magnesium metal effects improved physical properties and processability of these alloys.
Another prominent application area for magnesium metal is die-casting. Comparable physical attributes coupled with a relatively lower density of magnesium metal helps the manufacture of components that are lighter, yet adhering to exacting standards. The relatively higher affinity of magnesium metal towards sulphur renders it ideal for use in iron and steel desulphurization applications. Moreover, magnesium metal is also used as a reductant in the production of metals such as titanium, uranium, hafnium, and zirconium, among others.
Increasing Emphasis on Automotive Light-weighting to Boost Demand for Magnesium Metal
Growing automotive sales and a corresponding increase in automotive /vehicle parc are expected to result in a significant increase in environmental greenhouse gas emissions. According to EPA, the transportation sector accounted for around 26% of overall greenhouse gas emissions in 2014 in the U.S. Thus, in order to tackle the menace of increasing environmental pollution emanating from the transportation sector, the development of greener technologies and vehicles that are all the more fuel-efficient has emerged as a top priority for automotive industry think tanks and related R&D activities.
Magnesium metal is one of the most versatile metals on earth. It is around 65% lighter than steel and 33% lighter than aluminium. Moreover, the use of magnesium metal for automotive components results in parts that are not only lighter in weight but also relatively more dimensionally stable. Besides, several intricate and thin-walled components can be manufactured with relatively more ease vis-à-vis some of the conventional materials.
Use of Magnesium in Aircraft Applications to Fuel Global Market Revenue Growth
The use of magnesium metal and magnesium metal alloys in aircraft and aerospace applications is expected to witness a steady growth over the forecast period. Over the years, aircraft manufacturers across the globe have focussed on developing lighter and more fuel-efficient aircraft in order to adhere to stringent emission norms and regulations imposed by various regulatory bodies and associations. Magnesium metal is one of the lightest metals on Earth. Moreover, magnesium metal is relatively more dimensionally stable, resistant to elevated temperatures, and relatively easier to process. In order to effect weight saving without compromising structural strength and effectiveness, magnesium metal has found application in the aerospace and aircraft industry.
Several engines and other related components made of magnesium metal and magnesium alloys are a part of present-day aircraft. For instance, components made from magnesium metal and alloys, thereof, are a part of some of The Boeing Company's aircraft (Boeing 636, 646, etc.). However, the use of magnesium metal and magnesium metal alloys for cabin and aircraft interior parts was restricted by regulatory bodies and organizations such as SAE (Society of Automotive Engineers), which develop the necessary standards.
Regional Analysis and Outlook of the Magnesium Metal Market - Developing Economic Regions in APEJ Expected to Lead to the Growth of the Global Magnesium Metal Market During the Forecast Period
The Asia Pacific excluding Japan market is expected to exhibit a relatively higher CAGR than other regions over the forecast period, owing to the significant level of investments in the automobile industry, and crude steel production, thus incurring a high need for magnesium metal. Latin America and MEA are also expected to register high growth rates in the magnesium metal market over the forecast period, owing to the growth of aviation industries in the region. The rest of the world is expected to witness decent growth levels in the magnesium metal market during the forecast period.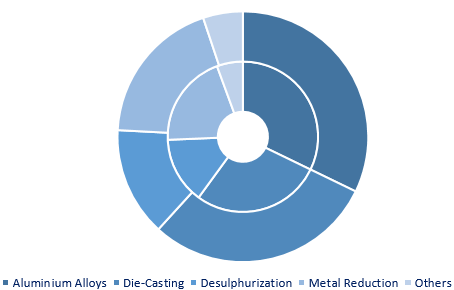 Competitive Landscape Overview and Associated Market Participants in the Global Magnesium Metal Market - Market Footprint Expansion and Optimization of Operations Followed by the Manufacturers of Magnesium Metal for Sustained Business Development and Grow
The magnesium metal market is a highly competitive market, consisting of tier-1 global scale manufacturers and a greater proportion of small-scale magnesium metal manufacturers catering to domestic demand. However, large industrial operations seek products from reputed magnesium metal manufacturers for demand procurement. Key strategies employed by tier-1 magnesium metal manufacturers include the provision effective sales and services, strategic tie-ups with regional distributors/manufacturers to foray expansion in untapped markets, and undergoing restructuring business operations to optimize the use of resources.
In February 2014, the magnesium metal manufacturing company US Magnesium LLC announced plans to increase its existing primary magnesium production capacity (63,500 metric tonnes per year) by around 20%, taking the capacity to 66,500 metric tonnes per annum by 2015 end. Moreover, the company announced that it had completed an engineering study intended to examine the possibility of ramping up production capacity to around 90,000 metric tonnes per annum.
In June 2013, POSCO announced plans to set up a magnesium plant among other investments, including a ferroalloy plant in Kyrgyzstan.
The company has announced a three phase magnesium metal production expansion plan:

2016 end – 20,000 metric tonnes
2018 end – 100,000 metric tonnes
Key Players
Some of the market participants identified in the magnesium metal market are US Magnesium LLC., Dead Sea Magnesium Ltd, POSCO, RIMA Group, Solikamsk Magnesium Works OAO, Wenxi YinGuang Magnesium Industry (Group) Co., Ltd., Shanxi Wenxi Hongfu Magnesium Co., Ltd., Shanxi Wenxi Zhenxin Magnesium Co., Ltd., and Taiyuan Tongxiang Magnesium Co., Ltd.
Key Questions Answered in the Magnesium Metal Market Report
How has the magnesium metal market evolved in the past four years?
What shape is the magnesium metal market expected to take in terms of volume and value during the study period?
What are some of the prevailing market dynamics in the magnesium metal market?
What are the competition developments and trends in the magnesium metal market?
What are some of the underlying macro-economic and industry factors impacting the growth of the magnesium metal market?
What are the important key challenges, opportunities, and improvement factors for magnesium metal market players?
What are the important market positioning and key strategies of key manufacturers as per the magnesium metal market taxonomy?
How is the competition structured at present, and how has it evolved in the magnesium metal market over the past few years?
Magnesium Metal Market: Segmentation
Application
Region
Die-casting
Aluminium Alloys
Metal Reduction
Desulphurization
Others
Region
North America
Latin America
Western Europe
Eastern Europe
Asia Pacific Excl. Japan
Middle East and Africa
Japan
Need specific information?