Global Non-Destructive Testing Inspection Services Key Takeaways
Global Non-destructive testing (NDT) inspection services market to register a CAGR of over 6% between 2020 and 2030
Automation to remain the vital undercurrent in the global market as manufacturing sector seeks fast-paced delivery
Growing contribution of nuclear power to pave way for NDT Inspection Services market
Ultrasonic testing expected to hold lion's share with its impeccable ability to identify defects
COVID-19 leading to growing hospital admissions and increasing pressure on diagnostics to make NDT Inspection Services crucial to testing of medical devices
Priority of Passengers and Freight Safety to Up Demand for NDT Inspection Services
Contribution of non-destructive testing (NDT) services has been stupendous across various industries, providing valuable insights to bring more stability and reliability to operations. Future Market Insights believes that the scope for NDT Inspection Services will grow exponentially as transportation services across developing and developed nations are continuously undergoing repair and maintenance, which demand detection of flaws at highest levels of accuracy.
NDT Inspection Services are projected to play a pivotal role in the rail transportation services as they can define the areas of improvement and correction, ensuring safety large number of people in one go. Identifying defects and failures to prevent calamities is projected to up the demand for NDT Inspection Services especially in developing economies where train derailments are a frequent occurrence.
European data indicates that railway accident fatalities stood at 885 in 2018 while seriously injured were 750 persons. The U.S. Department of Transportation states that approximately 5,000 train-car crashes occur each year at railroad crossings, causing about 10% deaths. These glaring statistics point out that flaws such as malfunctioning signals, defective tracks, and mechanical failures.
In the light of these unfortunate statistics, governments are expected to make significant investments in keeping the length and breadth of railroads across countries safe mode of transport with NDT Inspection Services. Furthermore, increasing number of smart railway projects are also expected to boost the market.
Use of traditional and advanced NDT Inspection Services that include ultrasonic testing, liquid penetrant inspection, radiographic testing, electromagnetic acoustic transducer, and Eddy current testing are expected to boost the market in the next ten years.
NDT inspection services market is relatively stable and largely characterized with regular but periodic demand cycles, as well as balanced competition. Exhibit below explains other key attributes of the global NDT Inspection Services market.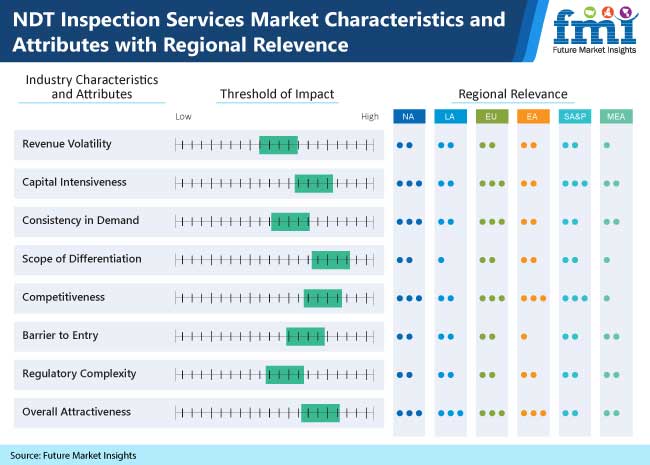 Air Travel Backed by Tourism to Demand Safety Checks from Cradle to Grave
NDT Inspection Services offer the accurate way of detecting flaws in materials, ensuring design, production, and maintenance of an aircraft is never compromised. Building safe aircrafts is the most critical aspect of the aviation industry. Thus, NDT Inspection Services are used from cradle to grave across this vertical to ensure aircraft structures and engines function at their very best throughout their lifecycle.
The demand for NDT Inspection Services is projected to spike in the coming years as the aviation industry is expected to invest in design and development of lightweight and flexible materials to achieve fuel efficiency in the long term.
The growing need to constantly upgrade the safety standards of the fastest mode of travel has fueled the demand for NDT Inspection Services for inspecting in-service aircrafts as well. From upping the standard of economic efficiency to building a strong, reliable fleet, the role of NDT inspection services is incredibly vital.
Both civil and military aviation are expected to make sizeable investments in NDT Inspection Services in the coming years as air travel increases with flourishing tourism. Furthermore, increasing need to keep aircraft up to date with safety standards amidst growing political instability is also projected to bode well for this market during the forecast years.
Understanding Reserving Engineering Through Historic Artefacts Creates Room for NDT Inspection Services
The valuable aspect of not destroying the object under inspection has won NDT inspection service providers a guaranteed clientele in the art sphere. Highly valuable art pieces that are one of kind and centuries old demand a different approach at inspecting their authenticity, age, and damages for restoration purposes. X-ray, liquid penetrant, magnetic particle and ground penetrating radar are the NDT methods used for scrutinizing antiques and museum pieces.
Increasing interest in understanding the ancient architectural, sculpting, and preservation techniques has created a massive demand for NDT inspection services. Antiquity can be understood without disturbing the original piece of art to use a tested method of construction or painting in the modern world. This unique ability of NDT inspection services to allow the curators a look into the unknown realm is expected to boost its demand across the art world. Reserve engineering and preserving are the two cornerstones of flourishing NDT inspection services in this industry.
Growing Network of Pipe for Transportation of Oil and Gas Demands Early Detection of Fault Lines
The demand for NDT Inspection Services across oil and gas sector is expected to serve an important purpose to bring in safety and reliability to operations. Stringent government regulations to ensure worker safety is the primary reason for the high uptake of NDT Inspection Services in this sector.
Sprawling network of pipes transporting oil and gas across distances are always at a risk of debilitating accidents, threating human life and the environment. This has brought inspection of equipment under spotlight. NDT ensures inspection without disturbing the actual structure highlighting the weaknesses in welding and other flaws that remain hidden to the naked eye.
End users are thus expected to invest in corrosion under insulation technology to identify leaks that can be utterly dangerous. Usage of computer and digital radiography and positive material identification to ensure reduced downtime and efficient services.
Real-time technology and connectivity have also made big difference in delivery of results. Incorporation of drone technology for inspection has made detection of leaks safer with unmanned vehicles, which is expected to drive the growth of this market.
Maintaining Integrity of Medical Devices Makes Role of NDT Inspection Services Critical to Healthcare Sector
Ensuring integrity of medical devices is critical part of healthcare solutions. NDT inspection services are deployed by medical devices manufacturers to understand the fault lines to prevent product recalls and to ensure patient safety. Increasing surgeries that require prosthesis have contributed significantly to the demand for NDT testing to understand compatibility with human body, yield stress, ductility, fatigue strength, and wear resistance in the long run.
NDT inspection is also important from diagnostics point of view. The lab testing equipment has to operate at accurate levels at all times to deliver exact results and diagnosis. The uncontrollable nature of the COVID-19 pandemic is projected to create a high demand for NDT inspection services in production of labs and diagnostic equipment. Increasing number of admissions and exceptional pressure on the healthcare system is expected to generate a demand for reliable instruments, which, to a large extent, will be determined can be via NDT inspection.
Asia Pacific Leaps Forth with Opportunities as India and China Remain Manufacturing Hubs
Global NDT inspection services market is expected to surge at a considerable rate during the forecast period. Asia Pacific is expected to offer incredible opportunities to the market as India and China are on the cusp of major developments across all sectors. The booming medical tourism in India is expected to fuel the demand for reliable medical instruments, which will require NDT inspection prior to commercialization.
Increasing investments in railroads, especially in India is expected to draw mammoth investments in NDT inspection services. Furthermore, the growing automotive industry in China is expected to see a surge in adoption on these services as delivering standard quality of products is essential. However, with investors pulling out of China's manufacturing business, it remains to be see how things will unfold for this part of the NDT inspection services market.
The NDT inspection services market is anticipated to have ample of opportunities in the Middle East and North America as well. Growing investments in oil and gas exploration activities that demands complex but reliable equipment will lead to a high adoption of these services. In the coming years, radiographic testing equipment is expected to see an upward trend in these regions as detection of faults in machinery and pipe networks will gain prominence.
Global NDT Inspection Services Market: Competitive Analysis
Fischer Technologies Inc.
General Electric
Nikon Metrology NV
Yxlon International GmbH
Sonatest Ltd
Eddyfi Technologies
Zetec Inc.
Bureau Veritas
Duemme SpA
Element Material Technology Holding
Geecy Apave Pvt. Ltd.
Olympus Corp
Mistras Group
Ashtead Technology Ltd.
British Engineering Services Limited
Industrial Radiographic Inspection Co.
National Technical Systems, Inc. (NTS).
Global NDT Inspection Services: Way Forward
Future Market Insights predicts that the demand for NDT inspection services will soar against the backdrop of adoption of automation across verticals. Increasing automation will require NDT Inspection Services for flaw detection to prevent manufacturing disorders and product recalls. The need to comply with safety standards and to ensure worker safety are expected to drive this market the near future.
Increasing investments in nuclear energy are also anticipated to fuel market growth as they require complex machinery. With nuclear energy contributing a significant amount to the national energy mixtures, it is only likely to create a pressing need for NDT inspection services, which will prove critical in building a safe environment with timely diagnostics.
Key Segment
Offering Type
Non-destructive Testing Services
Non-destructive Testing Equipment
Test Method
Visual Testing
Magnetic Particle Testing
Liquid Penetrant Testing
Eddy Current Testing
Ultrasonic Testing
Radiograhic Testing
Industry Vertical
Oil & Gas
Manufacturing
Aerospace and Defense
Construction
Automotive
Power Generation
Others
Region
North America
Latin America
Europe
East Asia
South Asia and Pacific
Middle East and Africa
Need specific information?
Talk Show:
The Rise of Intelligent Packaging
Personalized, Connected and Sustainable
November 18, 2021
11:00-11:45 AM PST (USA & Canada)
This is a LIVE session