About the Report
The oil & gas industry has witnessed substantial growth in the recent decades. This growth is expected to persist over the coming years owing to increasing investments for oil & gas exploration activities across the globe. Oil & gas seals are necessary components having varied applications including drilling, processing refining and transportation, etc. Subsequently, the growth in oil & gas industry creates opportunities for these seals.
In its new study, ESOMAR-certified market research and consulting firm Future Market Insights (FMI) offers insights about key factors driving demand for oil & gas seals. The report tracks the global sales of oil & gas seals in 20+ high-growth markets, along with analyzing the impact COVID-19 has had on oil & gas seals.
Historical and Future Outlook on Oil and Gas Seals
According to FMI's analysis, oil & gas seals sales have grown at 2.1% CAGR between 2016 and 2020. Compliance with challenges like extreme temperatures, high pressures, and exposure to aggressive fluids has always been the prime concern for oil & gas companies. Choosing a suitable sealing compound for equipment used in the oilfield service environment is critical for safety, reliability, and minimal downtime.
As the Oil & Gas industry pushes its equipment to ever greater limits for exploring new avenues of obtaining oil, the need for more robust, high-performance seals is expected to surge during the coming years. Leading manufacturers are focused on developing technologically advanced seals specifically for high pressures and high temperatures, as well as rapid gas decompression, such as Trelleborg's XploR S-Seal and XploR FS-Seal.
The COVID-19 pandemic has negatively impacted the oil & gas seals market, witnessing a significant plunge in 2020. With a number of end users affected in regions like North America, Europe and Asia-Pacific, the supply and shortage in demand are expected to result in a significant drop in Y-O-Y growth, yet FMI expects global oil & gas seals market to grow at 3.3% CAGR through 2031.
Expanding Oil & Gas Industry to Provide Stimulus
Globally, the oil & gas industry has demonstrated immense potential, attributed to increased reliance on fossil fuels for numerous economic activities. This trend is expected to remain prevalent across the 2021-2031 forecast period. Consequently, a number of upstream, mid-stream and downstream exploration projects have been and will be undertaking in the future.
According to the U.S Energy Information Administration, global crude oil production is expected to aggrandize, with OPEC likely to average 27.2 million barrels per day in 2021, an increase from 25.6 million barrels per day in 2020. On January 5, 2021, OPEC and partner countries announced they would maintain a production increase of 500 thousand barrels per day. The agreement also calls for production increases from Russia and Kazakhstan by February and March.
The agency further projects the consumption of petroleum and other liquids to rise by 5.6 million barrels per day in 2021 and by 3.3 million barrels per day in 2022. Attributed to all these trends, the number of exploration projects will surge, generating high demand for oil & gas seals to aid in proper extraction processes.
Will Oil & Gas Seals Demand be Impacted by Tech Innovation?
Digital transformation is expected to play an instrumental role in augmenting growth of the oil & gas industry. A combination of disruptive technologies such as robotics, AI, IoT and other advanced technologies is expected to render the virtual landscape worth a multi-trillion-dollar industry. Hence, prominent oil & gas giants are likely to effectively leverage the same across their supply chains to streamline exploration processes.
Upstream exploration projects are likely to exhibit key growth potential, according to IT giant Infosys. The company advocates that exploration companies must capitalize on geological data analytical capabilities by incorporating machine learning approaches. For instance, blockchain technology can set standards of collaboration among stakeholders and service providers. The technology is likely to help reduce cost by eliminating transaction fees and also enhance data security.
Furthermore, robots may be deployed to co-ordinate and execute operations in oil wells or fields along with drones and other autonomous vehicles. Robots themselves may be able to operate drilling equipment for which the demand for seals shall remain high, pivoting growth in a positive direction in the future.
What is the Regulatory Impact on Global Oil and Gas Seals Sales?
A key number of regulatory bodies have prescribed different norms for designing, installation and usage of oil & gas seals. Materials used for manufacturing seals for the oil & gas industry must be compliant with industry standards made by the International Organization for Standardization (ISO), Norsk Sokkels Konkurranseposisjon (NORSOK), NACE (National Association Corrosion Engineers) and American Petroleum Institute (API), etc.
Country-wise Insights
How Lucrative is the U.S. Oil and Gas Seals Market?
According to Future Market Insights (FMI), the U.S oil & gas seals market was valued at US$ 152.6 Mn as of 2020. A drastic downswing was experienced due to declining output levels resulting from ceasing oil & gas exploration projects, anticipated to last until 2022. However, long-term prospects are expected to remain heightened as demand-supply shocks reconcile.
The U.S Energy Information Administration estimates that the United States is amongst the world's largest crude oil producers, with nearly 70% of the output yielded across five major states: Texas (41.4%), Dakota (11.6%), New Mexico (7.4%), Oklahoma (4.7%) and Colorado (4.2%). As of 2019, 15% of the global oil output was registered by the United States alone. Likewise, the country is the world's largest natural gas producer, generating 951 billion cubic meters as of 2019.
Advances in horizontal drilling and hydraulic fracturing have unlocked these previously inaccessible resources transforming the U.S. onshore market, with the share of horizontal drilling rigs active in the U.S. Attributing to these factors the U.S. remains one of the largest markets for oil & gas seals in the world, which invariably makes it a lucrative pocket for oil & gas seals manufacturers.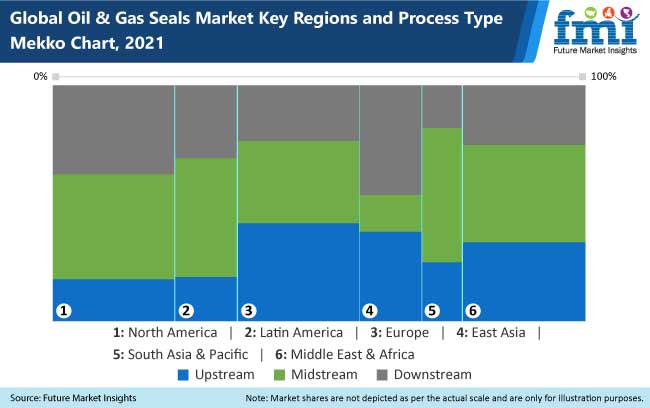 Prominent manufacturers such as BAL SEAL Engineering and Seal Master Corporation have a significant presence across the U.S landscape. The former manufacturers the Bal Spring canted oil springs that surpass API 622, API 641 and ISO 1548 Standards and achieve near-zero emissions. The latter provided fabric reinforced inflatable seals comprising of elastomers which regulate the introduction of engineered force, as well as seals manufactured from rubber.
What is the Outlook on German Oil & Gas Seals Market?
According to BP Statistical Review of World Energy, as of 2019, Germany was the largest energy consumer across Europe and the 7th largest consumer in the world. However, majority of these requirements are fulfilled by imports rather than domestic production. Petroleum and other liquids constitute the primary energy sources, accounting for 35% of total consumption, amounting to 2.4 million barrels per day.
With respect to natural gas, Germany consumed 8.6 billion cubic feet per day in 2019, representing a quarter of the total primary energy consumption. While these figures appear to point towards a strong growth trajectory, expansion prospects for oil and gas seals are expected to remain moderate, with government initiatives actively encouraging a transition towards green energy sources.
Initiatives such as the Renewable Energy Sources Act 2000, the Heat-Power Cogeneration Act 2002 and the Integrated Energy and Climate Programme have made significant strides in reducing the adverse impact of fossil fuels consumption. In 2013, over 146 million tons of CO­2 equivalent emissions were offset due to these initiatives. This is expected to continue in the future, thus rendering penetration of oil & gas seals manufacturers moderate. FMI projects the German market to register an annual growth of over 1% through 2021.
U.K. to Emerge as a Significant Sweet Spot for Oil & Gas Seals Manufacturers
The U.K oil & gas seals market is poised to yield a revenue share exceeding 9% through 2021, according to FMI. A valuation of US$ 21.4 Mn is projected for the region for the current year. Accounting for over 75% of total primary energy needs, the UK oil and gas exploration industry is poised to reach new heights in forthcoming years.
According to Oil & Gas UK, oil and gas provide 97% of transport fuel as well for electricity generation. Furthermore, they are important feedstocks for petrochemical industries producing pharmaceuticals, cosmetics, plastics and domestic appliances. Also, over £ 200 billion have been invested in developing new resources since the past 40 years.
Over the years, numerous cutting-edge exploration technologies have peppered the U.K oil & gas exploration landscape. The region is widely considered a leader in subsea operations and deep underwater experience. Owing to these broad trends, sales of oil & gas seals across the market are expected to widen, generating significant revenue pools through 2031.
The Future of Russia Oil & Gas Seals Market
Perhaps no market is as opportunistic as Russia, which is likely to generate US$ 139.2 Mn in revenue by 2021-end. A value CAGR of nearly 3% is anticipated for the upcoming forecast period. A temporary downswing was experienced amid the pandemic crisis, with initial projections about the oil and gas landscape to prolong until the next half-a-decade. Fortunately, recovery has been better than expected.
The Russian market is highly opportunistic, given the fact that it possesses the world's largest petroleum industry, comprising of the world's largest numbers of natural gas reserves. As of 2019, it produced nearly 700 billion cubic meters of natural gas, representing an increase of 10 billion cubic meters since 2018. Moreover, it produces 12% of the world's oil.
Owing to the presence of immense reserves, numerous oil & gas companies have undertaken exploration projects in recent years. Prominent companies include Rosneft, Gazprom, Lukoil, Surguneftegas, and Tatneft who have initiated various on-shore and off-shore exploration projects. Owing to these trends, oil and gas seal manufacturers are finding significant ground across the country. TREM Engineering is the dominant seal provider, manufacturing mechanical seals for pumps for API applications.
Opportunities Abound across China
China is the world's most populous country, comprising 1.4 billion people as of 2019. It is also the world's fastest growing economy, rendering it to be the largest energy producer and consumer across the world. As per the Energy Information Administration's projections, out of the total primary energy consumption mix, approximately 30% of consumption resulted from petroleum and natural gas.
While China was the 5th largest producer of petroleum and other liquids in 2019, majority of its production comes from legacy fields which require expensive enhanced oil recovery techniques to sustain production. Hence, companies are investigating advanced drilling techniques to enhance productivity, which also includes extensive deployment of oil & gas seals, providing traction to the market.
A proliferating automotive market is amongst the key drivers of the Chinese fossil fuels market. Despite the penetration of hybrid and electric vehicles, the popularity of petrol and diesel driven cars is not expected to wane soon, thereby keeping the demand for hydrocarbons afloat in forthcoming years. New-energy vehicles made up 5% of China's new auto sales in 2020.
India to Witness Burgeoning Oil & Gas Seals Sales
The oil & gas industry in India is among the eight core industries, playing a pivotal role influencing decision making for other important sectors of the economy, concludes the India Brand Equity Foundation (IBEF). It is expected to be the largest non-OECD petroleum consumption growth engine, with oil refining capacities accounting for 249.9 million metric tons, rendering it the 2nd largest refiner in Asia.
Over the years, key investments by prominent players in oil and gas exploration have multiplied manifold. In November 2020, for instance, JBM, a regional commercial vehicle and auto parts manufacturer inked a MoU with the Ministry of Petroleum and Natural Gas (MoPNG), Government of India, for the development of Compressed Biogas projects.
Likewise, in October 2020, Torrent Gas Ltd. announced its plan to spend Rs. 8,000 crores (US$ 1.1 billion) spanning over the next five years to expand its urban gas operations with the objective of establishing 500 CNG dispensing pumps by 2023. Such important developments are encouraging proliferation of key oil & gas seal manufacturers across the country.
Max Spare Limited is the most prominent oil & gas seals manufacturers across the Indian landscape. The company specializes in rubber elastomers, thermoplastics and thermoplastic elastomers based oil & gas seals. The company has developed high quality thermoplastic elastomers and provides high compatible polyurethane grade seals with superior abrasion and extrusion resistance.
Category-wise Insights
What's the Market Share of Plastic/Polymers Oil and Gas Seals?
The plastic/polymers segment will continue accounting for more than one third of the global share among material types through the forecast period. According to FMI, the segment is expected to hold nearly 37% of the market, in terms of material type, by the end of 2031. This is due to its product characteristics that make them compatible for all types of applications.
Why are Mechanical Oil & Gas Seals Preferred?
By product type, mechanical seals are expected to account for the highest value, reaching nearly US$ 38 Mn by 2021 end. The segment is poised to yield nearly 17% of the total market revenue. Heightened adoption is largely due to reduced daily maintenance, no damage to pump sleeves or shafts, ensuring a corrosion free atmosphere and preventing dirt accumulation in the extraction machine.
Simultaneously, dry gas seals are expected to gather momentum, reaching almost US$ 35 Mn by the end of the current year. Dry gas seals are non-contacting mechanical seals, which eliminates the problem of seal wear. A typical lifespan of a dry gas seal is as long as 15 years, making them highly durable. Furthermore, they help reduce maintenance and operating costs along with decreased emission levels.
Why Distribution Applications Hold Higher Market Share?
Accounting for over 25% of the overall share through the forecast period, distribution applications drives continue to account for bulk of demand for oil & gas seals. Growth in the segment is primarily due to the rapid development of refining & distillation units along with deployment of transportation pipelines & carrier vessels.
Upstream Exploration Projects to Gain Spotlight
In terms of process, the upstream segment is likely to remain a key revenue engine, expected to generate over 2/5th revenue share throughout the forecast period. Increasing number of upstream oil and gas exploration projects is expected to steer market growth in a positive direction.
Some of the leading upstream projects include the Alaska LNG Liquefaction Plant (US$ 43 billion), Rovuma LNG Project (US$ 33 billion), Al Zour Refinery (US$ 16 billion), South Pars Phases 13-14 (US$ 13 billion), Scarborough Gas Project & Pluto LNG Expansion (US$ 11 billion), Dangote Refinery and Polypropylene Plant (US$ 11 billion) Nord Stream 2 Gas Pipeline (US$ 10.8 billion), Cameron LNG Liquefaction Plant (US$ 10.2 billion), Surat Gas Project (US$ 7.15 billion) and the Trans Adriatic Pipeline (US$ 5.5 billion).
Competitive Landscape
The oil & gas seals market is a highly competitive market dominated by global players offering cost-competitive products. Some of the players are focusing to carve a niche for specific demography. The market is highly consolidated, with key players holding over 75% of the revenue.
It is characterized by large supplier base and strong B2B networks. The market has robust partnerships throughout the value chain. There is ample focus on innovations. Companies operating in the oil & gas seals market are aiming at strategic collaborations with end users and regional distributors to address the requirements of an expanding customer base. Suppliers of oil & gas seals adopt acquisition and regional expansion strategies to establish a foothold.
Brand consciousness and aggressive marketing makes it challenging for new entrants in the oil & gas seals market. Through these developments, companies are aiming at competitive advantage. Furthermore, advent of online sales channel is also expected to create positive growth prospects for the growth in demand for oil & gas seals.
Some of the leading companies operating in the market are:
Parker Hannifin Corporation
EnPro Industries
Flowserve Corporation
Dätwyler Holding Inc.
Freudenberg Group
John Crane
Trelleborg AB
EagleBurgmann
Sinoseal Holding Co., Ltd.
AESSEAL
Hallite Seals
James Walker
NAK Sealing Technologies Corporation
*The list is not exhaustive, and only for representational purposes. Full competitive intelligence with SWOT analysis available in the report.
Scope of the Report
Attribute

Details

Forecast Period

2021-2031

Historical Data Available for

2016-2020

Market Analysis

USD Million for value and Units for Volume

Key Regions Covered

North America, Latin America, Europe, East Asia, South Asia & Pacific, Middle East & Africa

Key Countries Covered

US, Canada, Germany, U.K., France, Italy, Spain, Russia, China, Japan, South Korea, India, Thailand, Malaysia, Vietnam, Indonesia, Australia, New Zealand, GCC Countries, Turkey, Northern Africa, South Africa

Key Segments Covered

Product Type, Material Type, Application, Process Type, and Region

Key Companies Profiled

Parker Hannifin Corporation
EnPro Industries
Flowserve Corporation
Dätwyler Holding Inc.
Freudenberg Group
John Crane
Trelleborg AB
EagleBurgmann
Sinoseal Holding Co., Ltd.
AESSEAL
Hallite Seals
James Walker
NAK Sealing Technologies Corporation

Report Coverage

Market Forecast, brand share analysis, competition intelligence, DROT analysis, Market Dynamics and Challenges, Strategic Growth Initiatives

Customization & Pricing
Key Questions Answered in the Report
Q1. Which is the most lucrative market for oil & gas seals?
GCC currently leads the global market for oil & gas seals. Sales in GCC will be over 16% of total demand throughout the forecast period.
Q2. Which are the top-selling oil & gas seals?
T-Seals & S-Seals are highly sought-after for many applications. The demand for T-Seals & S-Seals is expected to remain high in the near future, especially due to its proliferated usage across different application in drilling, refining and distribution.
Q3. Which industry accounts for highest demand for oil & gas seals?
Oil & gas seals are widely used in distribution applications. Their usage in Refining & Distillation Units, and Transportation Pipelines & Carrier Vessels is rising day-by-day.
Q4. Which are some of the leading oil & gas seals manufacturers?
Some of the leading companies manufacturing oil & gas seals are Parker Hannifin Corporation, EnPro Industries, Dätwyler Holding Inc., Freudenberg Group, Trelleborg AB, etc.
Q5. Which material is widely used by oil and gas seals manufacturers?
The seals made from plastic/polymers or elastomers are driving sales of oil & gas seals because they are comparatively economical and durable.
Key Segments
Product Type
Mechanical Seals
Hydraulic Seals
O-Rings
T-Seals & S-Seals
Metal Bellow Seals
Lip Seals
Dry Gas Seals
V-Ring Packing
Spring Seals
Custom Seals
Application
Well Drilling
Well Completion
Well Production & Service
Distribution

Refining & Distillation Units
Transportation Pipelines & Carrier Vessels
Material Type
Stainless Steel
Graphite/Carbon
Elastomers
Plastic/Polymers
Process Type
Upstream
Midstream
Downstream
Region
North America
Latin America
Europe
East Asia
South Asia & Pacific
Middle East and Africa (MEA)
Need specific information?
Talk Show:
The Rise of Intelligent Packaging
Personalized, Connected and Sustainable
November 18, 2021
11:00-11:45 AM PST (USA & Canada)
This is a LIVE session