Oil & Gas Valves – Adoption Surges in Line with Pipeline Projects
The oil & gas sector is in a period of massive transformations. The number of pipeline projects in OECD countries is on the rise. Valve manufacturers are increasingly vying to tap opportunities entailed by these projects – developing unique techniques, identifying potential risks, and benchmarking competitors' offerings – to be ready for the imminent rise in adoption.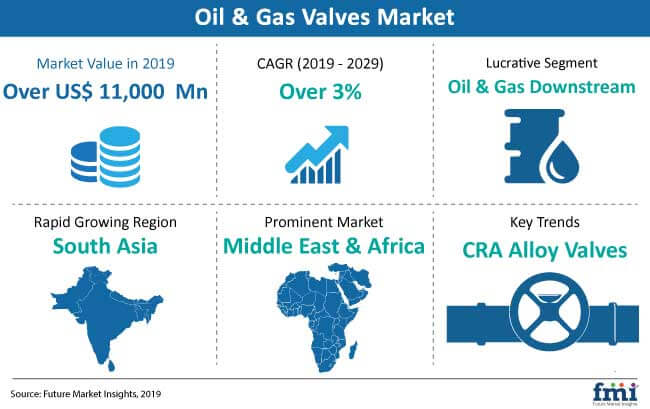 Oil & Gas Valves Market - Key Research Findings
Global Oil & Gas Valves market size in 2018 – nearly US$ 11 Bn.
The Oil & Gas Valves market is anticipated to grow at a CAGR of approximately 3% over 2019-2029.
North America and Middle East & Africa are expected to remain the largest regional markets for Oil & Gas Valves
Middle East & Africa and North America are the prominent regions in the Oil & Gas Valves market due to the extensive oil & gas projects in the region. South Asia is expected to register robust growth in terms of CAGR over the forecast period.
Leading Industrial valves companies are focusing on expanding production facilities and establishing long-term service contracts with major E&P companies to stay competitive among their peers in the oil & gas valves market
In May 2016, Weir Group Plc. inaugurated its new valves and pumps manufacturing and assembly plant in Malaysia, close to Malaysia's capital Kuala Lumpur.
The Downstream segment, in terms of application, is projected to dominate the oil & gas valves market over the forecast period
With a large number of pipeline projects underway across North America, Europe and Asia and with many refineries up for refurbishment and maintenance in the coming years, the downstream segment is projected to lead the demand for oil & gas valves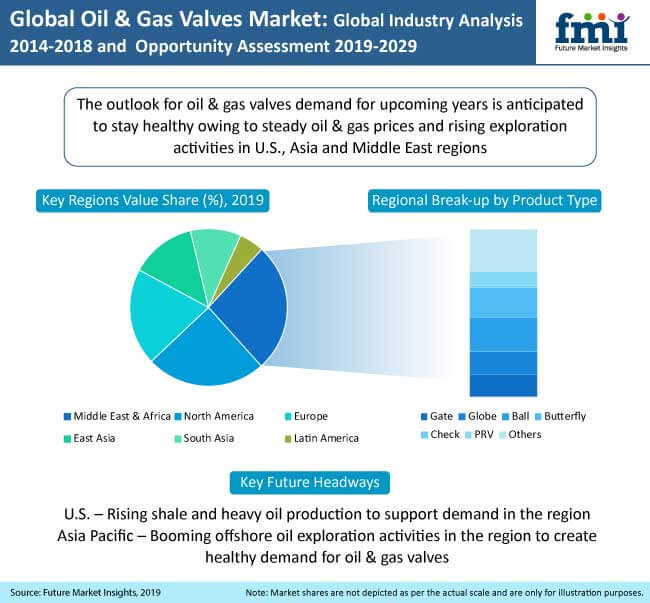 Top 3 Factors Shaping the Global Oil & gas Valves Market
Recovering Oil & Gas Prices to Pave the Way for New Oil & Gas Projects
With efforts being made by major oil producing countries to counter the declining oil & gas prices, the oil & gas industry has witnessed a new breath of life in recent years. OPEC and non-OPEC countries came to an agreement in 2016 to cut down crude oil production levels to counter the supply-demand gap, which had a positive impact on oil prices.
Growing Onshore Pipeline Projects
Major E&P companies are expanding their portfolios by building new processing plants, pipelines, and production facilities. Pipelines play a major role in the transportation of oil & gas products from one facility to another, hence pipeline safety is of utmost concern for the companies, selection of apt oil and gas valves ensures better safety in such installation activities. Major intra-country and inter-country pipeline projects are under development to meet the growing demand for oil & gas across North America, Asia, and Europe.
Emergence of CRA Alloy Valves
Offshore oil & gas exploration has seen a rapid increase in activity in the last century and is set to witness even higher activity in the coming years. Offshore is known for harshest of the environments and requires special materials to withstand high pressure and temperature, sour gas, CO2, and corrosion. This has created demand for Corrosion Resistant Alloys (CRA) for pipelines, valves, umbilical and other offshore production and is fast gaining momentum due to its capability to counter subsea corrosive conditions. Hence, the use of nickel alloy and stainless steel alloys as CRA materials for valves is one of the prominent trends in the oil & gas industry today.
Oil & Gas Valves Market Structure Analysis
The global oil & gas valves market represents a significantly fragmented market; wherein, tier-1 companies hold a revenue share of around 30-35%.
Most of the players in the oil & gas valves market are strategically focusing on the South Asia and East Asia regions.
Market participants are diversifying and strengthening their production and distribution bases around the globe in order to gain traction in the global oil & gas valves market.
Schlumberger Limited, PARKER HANNIFIN CORP, Weir Group Plc., Metso Corporation and BHGE (BAKER HUGHES, a GE Company), Emerson Electric Co., and CIRCOR International Inc. are expected to hold around less than 20% of the global oil & gas valves market share.
Key comapnies are striving to enhance their footprints by acquiring small local players in specific regional markets. The oil & gas valves market is dominated by key organized players who are focused on advancements towards consolidation with acquisitions of small- and medium-sized local players and other strategic mergers.

In November 2018, Baker Hughes, a GE company, inaugurated a new steam test facility in Naples, Italy. This was done to focus on the scope and capacity of the plant, which includes a full range of consolidated safety valves and masoneilan control valves.

In June 2018, General Electric secured an important contract from Chevron Australia to provide subsea production equipment.

Small-sized players in the oil & gas valves market are focused on developing newer, low-cost solutions in order to compete in domestic markets.
Market Set to Grow 1.4x between 2019 and 2029
Valve sales, ensued from aftermarket valve replacements and combined cycle gas turbine facilities, have witnessed a steady rise. Oil & gas valves manufacturers have directed their efforts to uptake the opportunities paved by rising onshore exploration and shale gas production activities.
Developing Markets – Goldmine of Opportunities for Stakeholders
Emerging economies present potential opportunities for stakeholders in the oil & gas valves industry. Rising number of Greenfield projects and brownfield activities, to meet growing demand for gasoline, has further paved lucrative avenues for oil & gas valve manufacturers in the region. A key trend, adding to the opportune potential of developing markets for the market stakeholders, is surging number of contracts between oil companies and equipment manufacturers.
The Broader Perspective
Leading oil & gas valve manufacturers are developing enhanced solutions to lower the pressure from end-users. The rapid rise in globalisation of clients has prompted leading stakeholders to enter into strategic partnerships with well-established suppliers, for keeping pace with demand.
Ball valves will continue to account for leading value share, creating an opportunity over US$ 2.3 Bn in 2019
Sales ofGate valves will record a relatively faster pace
Downstream applications will account for over two-third market shares
Opportunities inmidstream applications also remain lucrative, with revenues in 2019 estimated close to US$ 2.2 Bn
How Growth will Unfold
Oil & gas manufacturers are on their mark to uptake opportunities in downstream operations. Adoption remains steady in upstream operations, while demand for oil & gas valves in midstream applications will grow relatively faster.
Upstream | Midstream | Downstream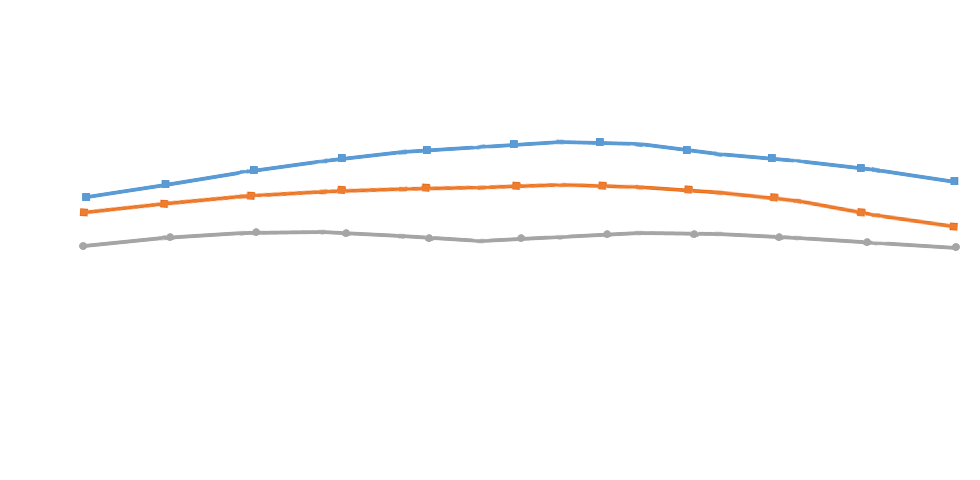 * This data is only a representation. Actual data may vary and will be available in report.
Click Here To Know How The Growth Will Unfold
Custom Market Research Services
FMI offers custom market research services that help clients to get information on their business scenario required where syndicated solutions are not enough.
Overview
Oil & Gas Valves Market: Global Industry Analysis 2014-2018 & Opportunity Assessment 2019-2029
A recent report published by FMI, titled, 'Oil & Gas Valves Market: Global Industry Analysis 2014-2018 & Opportunity Assessment 2019-2029', offers a detailed assessment of various factors and market dynamics affecting the growth of the oil & gas valves market. After a comprehensive research on the historic and current growth trends of the oil & gas valves market, the growth projections of the market are achieved with highest precision.
Oil and Gas Valves Market Taxonomy
The global oil & gas valves market is segmented in detail to cover every aspect of the market, and present a complete market intelligence approach in front of the reader.
By Product Type
Gates
Globes
Balls
Butterflies
Checks
PRVs
Others
By Size
0.25 to 8 inches
8 to 20 inches
Above 20 inches
By Application
Upstream
Midstream
Downstream
Region
North America
Latin America
Europe
South Asia
East Asia
Middle East & Africa
How the research was conducted?
Primary Research
Primary research interview with key opinion leaders and other participants were conducted for data collection and validation of the below information:
Oil & Gas Valves Leaders

Sales Head
R&D Head
Procurement Head

Channel Partners
Oil & gas Valves solution providers
Regional Oil & gas Valves Distributors
Average Selling Price (US$) of Oil & gas Valves and Market Growth
Key Developments
Key Oil & gas Valves Market Trends and Opportunities
Regional wise Dynamics
Market Share Information
Key Brands
Competition & Key Vendor Strategies
Secondary Research
Published Financial Data: quarterly financial statements, 10-K & 10-Q filings, annual reports, Factiva, Morning Star etc., along with company websites and other published financial sources including local newspapers, magazines to determine company wise earnings
Corporate Communication: Corporate press release specification sheet, price list, catalogs, and financial disclosures provided sales, products and product related information
Published Trade Data: Publication from trade organizations, associations, and governments, along with ITC trade database and regional / local paid databases
Other Data Sources: Article from target industry experts, and industry stakeholders, press information and data released by exhibitions conducted by associations etc.
Primary Interview Splits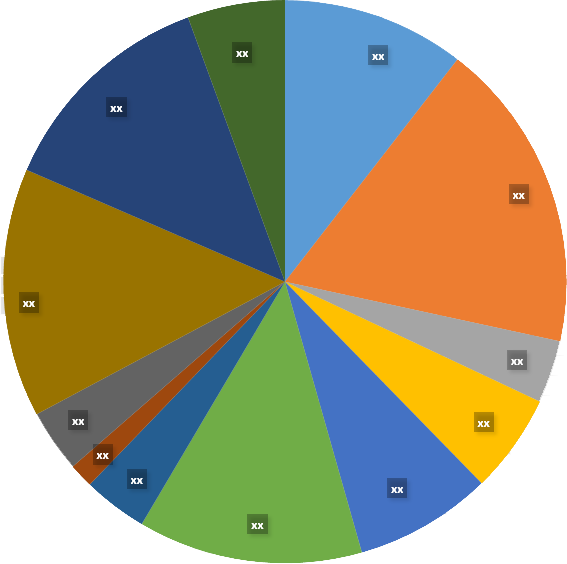 To Learn More About our Comprehensive Perspective on Oil and Gas Valves Market,
Get in touch
COVID -19 : Impact Analysis
Request the coronavirus impact analysis across industries and markets
Request Covid -19 Impact
CASE STUDIES
See how our work makes an impact.
At FMI, we design strategies that are adaptive, impactful, and implementable.