Online Grocery Market By Product Type (Packed Foods, Fresh Produce), Delivery Type (Home Delivery, Click & Collect), Purchaser Type (One Time, Purchase Subscription) & Region - Forecast to 2020 - 2030
Online Grocery Market - Analysis, Outlook, Growth, Trends, Forecasts
June 2020

REP-GB-11715

300 pages
Online Grocery Market Outlook & Key Findings
Future Market Insights (FMI) forecasts the global online grocery market to grow at an impressive 23% CAGR between 2020 and 2030
Almost 90% (by volume) of online grocery orders are received are from smartphone apps, remaining is web-based portals
Online grocery start-ups are received investments of over US$ 100 Mn from leading firms around the globe in the last three quarters
More consumers are likely to shop for packed food online. FMI forecasts packed food to account for over 50% of the global online grocery market among product types
Formerly Niche Online Grocery Marekt Gains Momentum amidst COVID-19 Outbreak
The unprecedented outbreak of COVID-19 has catapulted online grocery – a lucrative but formerly niche market – to the forefront. Novel coronavirus-related lockdown has ushered in plenty of changes in consumer behavior, most of which are not expected to last. However, spending shift brought about by the pandemic is likely to stick along.
Many shoppers have tried online grocery for the first time in the past several months. Experts have a good reason to believe that consumers are unlikely to give up on this novel practice anytime soon.
Consumers transitioning from brick and mortar stores to omnichannel is compelling grocers to rethink their business strategy. Powerful trends including evolving consumer attitudes and technological developments are expected to disrupt grocery businesses from coast to coast in the forthcoming years.
Until recently, leading grocers had weathered repeated threats from new formats and competitors. Online grocery is however a new wave, deriving strength from its economic viability.
It is a dynamic trend, which is here to stay. Some of the retail behemoths such as Target Corp., Walmart Inc., and Costco Wholesale Corp., have not only realized this, but adopted online grocery to strengthen and survive, while creating more competition for traditional grocery chains.
With stay at home orders sweeping across countries, an increasing number of consumers are choosing "Leave at my door delivery" options. Most shoppers who eschewed online grocery because they prefer examining the fresh food, have swiftly transitioned realizing the ramifications of flouting social distancing orders.
Many brick-and-mortar stores have adopted innovative models of operation to mitigate challenges in fulfillment of last-mile delivery. With technological innovations emerging as a powerful trend, the online grocery market will continue to gain momentum
This will be a key factor driving ecommerce penetration in brick and mortar stores that have remained insulated from digital change until very recently.
Economics for Online Grocery Market Expected to Improve with Grocers Investing in Automation
Picking up orders and last mile delivery are the two pillars of ecommerce adding operating costs to already narrow margin business. It is therefore expected from large grocers to turn to automation and other technological improvements.
While automation can help these grocers gain a playing field, it should be equated with adequate demand density to justify the huge upfront investment.
Automation of picking is already underway with leading grocers investing in picking center robotics. Ocado for instance have partnered with Kroger and Sobeys to automate grocery fulfillment centers in the U.S. and Canada, respectively.
The advent of check-out free concepts and voice ordering will usher a new dawn of online grocery. These technologies are aimed at ensuring better convenience to consumers. FMI believes they are primed to transform grocery shopping in the near future.
Online Grocery Boom Reveals Consumers Inclination towards Expediency
Online grocery is no longer a trend, but an alternative path to success for the retail sector. Particularly in the consumer electronics space, online grocery has boomed due to its unparalleled expediency.
Ordering products from the comfort of home or from mobile devices while on the go is just one of the many benefits of the e-commerce space. Online grocery is a massive, quickly developing retail sector that requires brands and retailers to use an advanced set of skills and competencies to succeed.
Nowadays, consumers are looking for an online shopping that provides them fast, easy, and effortless experience. Online grocery is a hand-in-glove fit for their evolving preferences.
Citing these factors, FMI envisages the global online grocery market to surpass US$ 280 bn by the end of 2020.
Once Lagging Online Grocery to Witness Accelerated Growth as Retailers Struggle to Cope with Surging Demand
Grocery retailers are ramping up their operations to accommodate the burgeoning phrase of grocery cycle. They are adopting unique strategies to stay relevant in the online grocery market, at the same time cater to the changing consumer needs.
With consumers flocking to buy groceries online, some of the leading names in the retail business are eyeing for expansion. For instance, Amazon's acquisition of Whole Foods was intended to expand the former's brick-and-mortar presence as well as product portfolio.
Behemoths such as Walmart are leveraging partnerships with third-party delivery providers such as Skipcart, Point Pickup, AxleHire, and Roadie to help them with delivery in metropolitan areas.
In 2019, Walmart Inc. entered into a strategic partnership with Google Assistant to allow customers to place grocery orders via the voice command feature. Customers can use commands such as "Hey Google, talk to Walmart" in their voice assistants to add items to their Walmart grocery and enjoy a friction-free experience.
Walmart also has started offering "click and collect" services to help consumers save time instead of standing in long queues in the store. Established retailers are therefore upgrading their capabilities to succeed and gain in this new wave of competition.
Online grocers may account for a smaller share in the market at present, but their growth is steady. There is a credible sign for the accelerated pace of growth in the near future with major players such as Walmart and AmazonFresh ready to invest.
If they do not wish to get bludgeoned under the swiftly transitioning retail space, regional and smaller stores need to join the bandwagon to gain first-mover advantage.
Offering unique services and better convenience such as in-store pickup and same-day delivery can help smaller retailers stay relevant. These stores might even want to partner with established brands to offer cutting-edge services to consumers.
Despite Accelerated Growth, Online Grocers May Face Some Inherent Challenges
Despite witnessing growth at an accelerated pace, the online grocery market is reeling under a few inherent challenges.
As with any other business at its starting phase, some grocers are likely to reel under higher operating costs. Dissatisfaction among customers, managing perishable groceries and low-profit margins are some of the factors that may cause operating losses.
To cope up with operating losses and maximize profit, e-retailers need to incorporate smart management strategies and working systems. This would help them satisfy their online shoppers.
Then there are issues pertaining to storage and delivery. Relying solely on delivery executives or third-party service providers may aggravate this concern.
In order to mitigate this challenge, companies such as Kroger, Walmart, and Amazon are training their delivery executives to offer improved consumer satisfaction.
Besides this, big retailers lacking interest in penetrating smaller towns is a key challenge for the market. Behemoths such as Amazon, Walmart, The Kroger Co., among others are reluctant to introduce online grocery in smaller towns.
Their tendency to focus on big cities has rendered the online grocery market highly competitive. FMI believes that in order to gain competitive advantage, e-retailers must come up with robust business models targeting small towns.
Demand for Friction Free Shopping Pushes Growth of Online Grocery Market in Asia
The U.S. and a few countries within Europe are likely to be the most lucrative pockets in the online grocery market. North America is forecast to lead the global market, accounting for nearly one-fourth of the global market.
FMI forecasts the U.S. market for online grocery to expand at a CAGR of ~19.3% between 2020 and 2030. Be it as it may, India and China are considered high potential markets for online grocery.
The rapid growth of digitization in India and China will support the expansion of the online grocery market in Asia. Coronavirus lockdown has resulted in a significant jump in online grocery sales in the region. This trend will continue, especially due to various government initiatives aimed at digitally empowering the country.
While brick and mortar supermarkets and grocery stores will continue to have a place in heart, the rising demand for friction free shopping will give online grocery a powerful push in high potential markets.
The global online grocery market is characterized by high revenue volatility and competitiveness. As depicted in the chart below, the market witnesses high degree of competition in North America and Europe. Incidentally grocers of both regions are eyeing for first-mover advantage.
Meanwhile, companies operating in East and South Asia are likely to witness a lesser degree of competition. Both these regions also offer lucrative prospects for the entry of new players.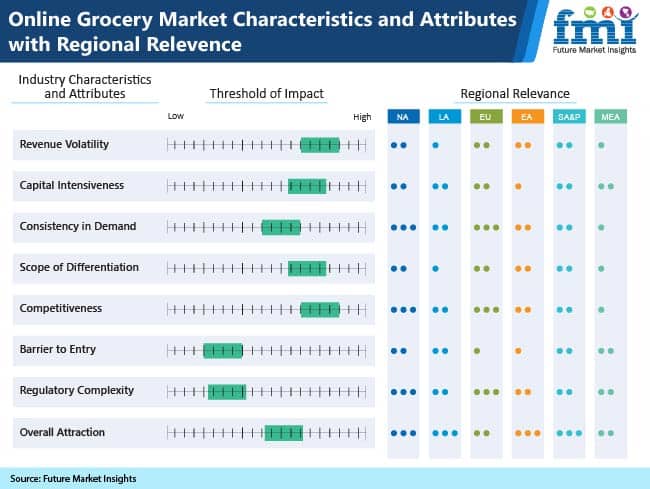 Online Grocery Market Top Players
The online grocery market primarily depends upon the availability of supplies, the cost of the delivery, reliability of the delivery of the products, among other factors. Companies operating in the market are therefore driven by changing consumer needs and preferences.
FMI profiles some of the leading companies operating across key regional segments. These include:
Americas
Amazon.com Inc.
Walmart Inc.
The Kroger Co.
Peapod LLC
Fresh Direct LLC
Publix Super Markets Inc.
Target Corporation
Best Buy Co. Inc.
Instacart
Costco Wholesale Corporation
Safeway Inc.
Europe
Carrefour S.A.
Edeka Group
Tesco PLC
Aldi
Asia Pacific
Alibaba Group
JD.Com
Honestbee
Grofers India Pvt. Ltd.
Avenue Supermarts Ltd.
*The list is not exhaustive, and only for representational purposes. Full competitive intelligence with SWOT analysis available in the report.
Online Grocery Market: Way Forward
FMI is optimistic about the future prospects of the online grocery market. Time has come for grocers, irrespective of their size, to step back and re-evaluate their business strategies.
The online grocery market witnessed accelerated growth at the start of 2020 due to the unprecedented outbreak of the novel coronavirus. The legacy opened doors of online grocery to a large section of consumers who may not have shopped for groceries online before.
In the U.K. and U.S. as with many other countries, grocers are finding it increasingly difficult to keep up with the massive surge in online grocery shopping.
As such, retailers are compelled to either redeploy or hire staffs. Instances of strategic collaborations to are plenty as well. FMI expects retailers to focus on increasing their capacity by hiring more staffs and investing in their mode of delivery.
Last year Walmart partnered with various grocery delivery service providers across the U.S. to push home delivery in more than 100 cities. One of Walmart's partner is Point Pickup who offers same day recurring deliveries.
It has also collaborated with same day shipping firm AxleHire and Roadie to help it connect senders to drivers going in the required directions.
Experts believe that Walmart undertook these aggressive expansion strategies in response to Amazon.com Inc's purchase of Whole Foods in 2017.
In Europe Carrefour and Tesco are moving forward with a partnership that would place them at a better position to compete with Amazon.
It is evident that digital transformation is integrally reshaping how businesses are done and conducted in the grocery industry. As market place gets invaded by new competitors, established companies will focus on partnerships and disruptive innovations to remain nimble amid evolving consumer preferences.
World's Most Profilic Intelligence Engine
Get Access To The World's Largest Market Research Database.
Sign Up Now
Market Segmentation
The global online grocery market is segmented in detail to cover every aspect of the market and present complete market intelligence to readers.
Product Type
Packed Foods

Snacks

Chips & Crisps
Salty Snacks
Dried Fruits
Mixed Nuts
Popcorn

Baked Products

Cookies
Cakes & Pastries
Breads & Rolls
Frozen Desserts
Confectioneries

Breakfast & Cereal

Cereal & Breakfast Bars
Granola & Muesli
Energy Boosting Breakfast
Others (Syrups, Pancakes, etc.)

Ready to Eat Foods

Instant Noodles
Pasta
Sandwiches
Smoked Fish

Ready to Drink Beverages

Aseptic Juice
Iced Tea
Flavored Milk
Soft Drinks
Energy Drinks
Instant Coffee
Canned Sodas
Non-Alcoholic Drinks

Dairy Products

Milk
Yogurt
Cheese
Butter
Others

Staples & Cooking Essentials

Salt & Spices
Sauces
Coffee/ Tea Powder
Pickles
Oils/ Vinegar
Honey/ Jam

Fresh Produce

Fruits & Vegetables
Meat & Seafood
Purchaser Type
One Time Purchase
Subscription
Delivery Type
Home Delivery

Company Owner Stores
Third-Party Stores

Click & Collect
End User
Region
North America
Latin America
Europe
East Asia
South Asia
Oceania
MEA
Need specific information?
Our Clients