PARP Inhibitors Market by Drug (Olaparib, Niraparib, Rucaparib, Talazoparib) Indication (Ovarian Cancer, Breast Cancer, Prostate Cancer, Pancreatic Cancer), Distribution Channel (Hospital Pharmacies, Retail Pharmacies, Online Pharmacies) & Region - Forecast to 2019 - 2026
PARP Inhibitors Market - Analysis, Outlook, Growth, Trends, Forecasts
February 2020

REP-GB-3197

179 pages
Olaparib Drugs Continue to Capture Leading Market Share
By capturing over ¾ of overall revenue value, Olaparib would remain the preferable drug in the PARP inhibitors market. Moreover, Olaparib has received regulatory approval in a majority of regions. Influenced by the rising cancer patient pool, governments all over the world are giving a green signal to novel anti-cancer drugs such as Niraparib and Talazoparib. Although these new drugs are still yet to receive government consent in some developing regions, their rapid uptake is driving huge attention of market players.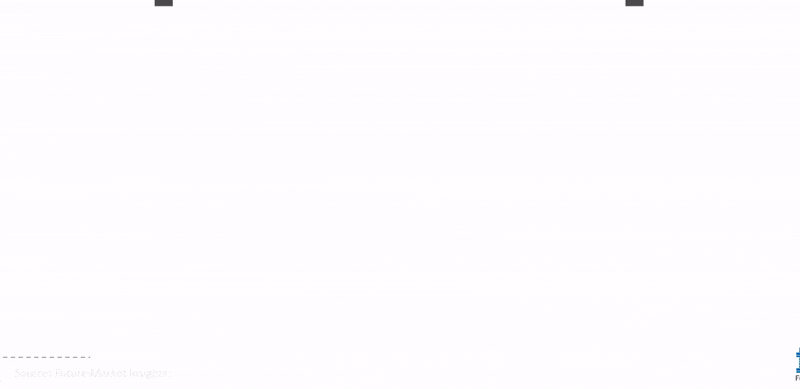 Developed Regions Lead; Developing Regions to Close In
North America and Europe would remain center stage, collectively accounting for a voluminous share of the PARP inhibitors market stack. Strong presence of technology natives as well as conducive reimbursement policies are critical in underpinning market growth in these developed regions.
In a bid to address the ever-increasing patient pool, governments in East and South Asia are upping per capita healthcare expenditure. This is influencing stakeholders to view these developing regions for value-creation opportunities.
Expanding Network of Collaborators for Early Identification
Market players must build collaborations with research & academic institutes, digital start-ups, as well as governmental and non-governmental organizations to provide umpteen patient experience and centralize access to physical and virtual care. For instance, Public Health England has launched the 'Be Clear on Cancer' campaign that aims at improving early cancer diagnostics by raising public awareness. Moreover, collaborative efforts such as Cancer MoonShot 2020 are providing researchers with the necessary testing material to develop innovative approaches for treating various oncological disorders.
How Growth will Unfold
Around half of the revenue of the PARP inhibitors market would be realized by retail pharmacies, with the number likely to increase at a dexterous pace through 2026. Market players would achieve net earnings worth over US$ 4 Bn via retail pharmacies by the end of forecast period.
They are also targeting hospital pharmacies to maximize their profits in the global landscape. This study further emphasizes the avenues of growth and profitability from online pharmacies in the PARP inhibitors market.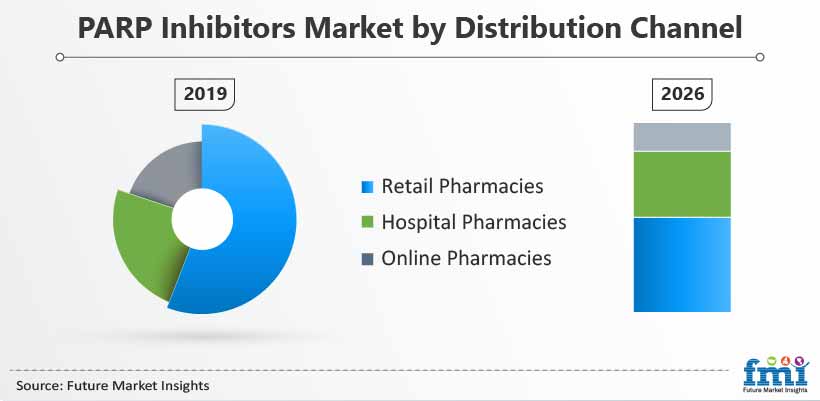 FREQUENTLY ASKED QUESTIONS ABOUT PARP INHIBITORS MARKET
What are the key factors contributing to the growth of the PARP inhibitors market?
Increasing prevalence of advanced stage ovarian cancer, breast cancer, and prostate cancer, and increasing regional product approvals of PARP inhibitors are some of the key factors boosting the growth of the PARP inhibitors market.
How does cost associated with PARP inhibitors affect market growth in emerging economies?
PARP inhibitors have showed significant efficacy in the treatment of cancers as compared to other available traditional platinum chemotherapy. Higher cost associated with PARP inhibitors is expected to hamper their adoption among cancer patients in emerging economies, where reimbursement is not as effective as in developed countries.
What are the leading trends assisting the growth of the PARP inhibitors market?
Launch of new PARP inhibitors through collaborative efforts among key market players in order to expand their regional product offerings, evaluation of various PARP inhibitors for treatment of various cancers, and acquisitions & mergers among clinical phase pharmaceutical and big pharmaceutical companies are some of the key trends shaping the market landscape.
Which type of PARP inhibitor has remarkable growth potential during the forecast period?
Olaparib is expected to be the highest revenue generating product in the PARP inhibitors market, followed by Niraparib. With significant uptake of Olaparib in advanced first-line settings, it is expected to be the bestseller during the forecast period.
Which region is expected to offer significant growth opportunities for the PARP inhibitors market?
North America is estimated to remain the most profitable region in the global PARP inhibitors market during the forecast period, followed by Europe. East Asia is also expected to increase the uptake of PARP inhibitors with various recent and nearing product launches in countries such as China and Japan.
How is the competition scenario in the PARP inhibitors market?
The PARP inhibitors market is expected to be a consolidated market, with major players such as AstraZeneca, GlaxoSmithKline, and Merck Co. & Inc. generating a large chunk of revenue. Through various collaborative efforts with regional players, these big players are expected to enhance their regional presence in the global PARP inhibitors market.
World's Most Profilic Intelligence Engine
Get Access To The World's Largest Market Research Database.
Sign Up Now
PARP INHIBITORS MARKET TAXONOMY
The global PARP inhibitors market is segmented in detail to cover every aspect of the market and present a complete market intelligence approach to the reader.
Drug
Olaparib
Niraparib
Rucaparib
Talazoparib
Indication
Ovarian Cancer
Breast Cancer
Prostate Cancer
Pancreatic Cancer
Distribution Channel
Hospital Pharmacies
Retail Pharmacies
Online Pharmacies
Region
North America
Europe
Latin America
South Asia
East Asia
Oceania
Middle East And Africa
Need specific information?
Our Clients