Market Players to Capitalize on Automotive and Healthcare Sectors
Consumer electronics manufacturers are developing electronic gadgets equipped with better functionality and features in order to deliver best-in-class customer convenience. Driven by this theme, PCB design software service providers continue to secure substantial margins from the consumer electronics industry.
Considering the evolving workforce expectations and increased automation in automotive and healthcare sectors, market players are also making advances in these end-use verticals. As these two trends echo across automotive and healthcare industries, market players are looking to re-evaluate their approaches to better serve their customers and grow.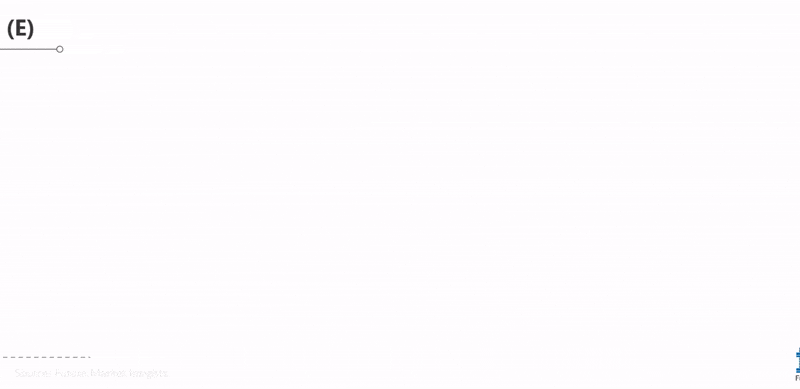 North America in Vanguard, APEJ to Close in
Being the heart of tech-driven innovations, North America would account for a larger proportion of the global PCB design software market value, with the U.S. representing the most meaningful prospects. However, the emergence of industries such as consumer electronics, automotive, medical, and military in countries such as China, and India is influencing players in the PCB design software market to develop comprehensive strategies for consolidation in Asia Pacific excluding Japan (APEJ).
Moreover, players in APEJ are complementing their services with features such as 3D design and visualization, data management platforms, and high-speed design capabilities, which help simplify the process of PCB design software.
Pursuing New Revenue Streams in Defense & Military Sector
Unmanned aerial vehicles (UAVs) are making inroads in the defense & military sector for the constant monitoring of machines and vehicles in order to keep up with changing regulations. With innovations on the brink, UAVs are coming with next-generation technologies. As such, vendors in the PCB design software market space are leveraging this opportunity by providing features that are compatible with these next-gen technologies for defense applications.
How Growth will Unfold
On-premise PCB design software have been the traditional service among end users, and would capture a voluminous chunk of overall market revenues. However, increasing digital transmission of data is scaling up the risk of digital intrusion. Industrial end users are looking for increasing degree of security in PCB design software, and thus, are shifting towards cloud-based variants. Market players should perceive this growing popularity of cloud-based PCB design software more readily to ensure outsized profits.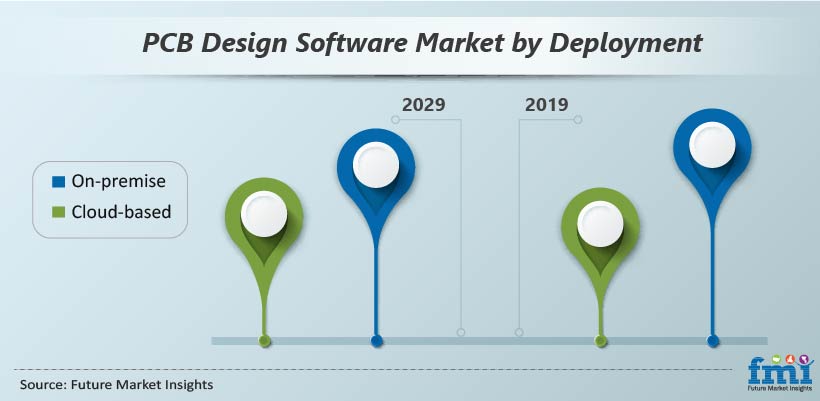 FREQUENTLY ASKED QUESTIONS ABOUT PCB DESIGN SOFTWARE MARKET
How is the market for PCB design software expected to shape up in the next decade?
The development of new flexible technologies (e.g. wearable electronics, flexible displays) has increased the complexity for designing circuits, and has opened new avenues for players in the PCB design software market.
What are the major challenges for players in the PCB design software market?
Many PCB design software are available online for free, and offer a variety of features. Moreover, in China, the use of pirated software is relatively common, which results in companies being forced to offer their software at lower prices.
Which industry will account for the highest sales in the next five years?
The consumer electronics industry is expected to account for a majority of the share in the PCB design software market. Consumers demand slimmer and faster electronic devices, and industries seek improved functionality, creating profitable opportunities for players in the PCB design software market.
Which region is expected to lead the global PCB design software market?
According to FMI, Asia Pacific excluding Japan is anticipated to remain at the forefront, offering high growth opportunities for players in the PCB design software market. Players in this region are including features such as 3D design and visualization, integration and import tools, data management, and high-speed design capabilities, which help make the process of PCB design software easier.
Which technology will offer the most lucrative growth opportunities for market players?
Schematic capture software is majorly used in most end-use industries, due to its hierarchical schematics and design reuse that exists in one cohesive, easy-to-navigate user interface, ensuring simplicity while working.
Which trend will drive the growth of the PCB design software market in the foreseeable future?
Machines and vehicles deployed for defense & military applications are frequently reviewed in order to keep them updated as per changing regulations. Recent trends in military applications include introduction of UAVs built with next-generation technologies. The monitoring of these UAVs is carried out using computers. Therefore, PCB design software vendors are introducing features that support next-generation technologies for such defense applications.
PCB DESIGN SOFTWARE MARKET TAXONOMY
The global PCB design software market is segmented in detail to cover every aspect of the market, and present a complete market intelligence approach to readers.
Component
Software

PCB Layout
Schematic Capture

Services

Designing Services
Support & Maintenance
Deployment
Application
IT & Computing
Consumer Electronics
Telecommunications
Healthcare
Automotive
Defence & Military
Others
Region
North America
Latin America
Western Europe
Eastern Europe
Asia Pacific Excluding Japan
Japan
Middle East & Africa
Need specific information?