Introduction
Drug designing tools are computer modeling techniques that provide insights into experimental findings. These tools use computational chemistry to discover, enhance, or study drugs and related biologically active molecules.
Drug designing can be done in two ways, namely, structure-based drug design or ligand-based drug design. Ligand-based depends on the understanding of other molecules that bind to the biological target of interest, while structure-based relies on the knowledge of the 3D structure of the biological target obtained through various methods.
Revenue generated by the global drug designing tools market is estimated to exhibit a CAGR of 11.23%, and is expected to reach a market value of more than US$ 5 Bn by 2028. On the basis of solution, the multi databases segment is estimated to hold the largest share in 2028.
However, the predictive analytics segment is expected to exhibit the highest CAGR. On the basis of application, the docking segment held approximately 22.3% of the market share in 2017. On the basis of end user, the contract research organizations segment is expected to exhibit a CAGR of 11.99% during the forecast period.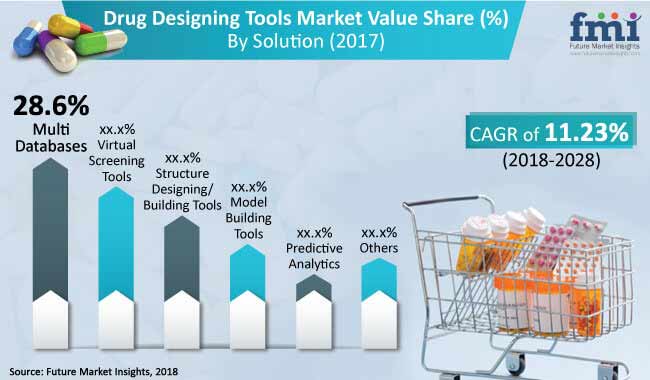 The predictive analytics segment in the global drug designing tools market is expected to witness the highest growth, owing to the increasing adoption of intelligent enterprise technologies for drug designing.
Some popular vendors contributing towards the drug designing tools market are Agilent Technologies, Schrödinger LLC, Biovia Corporation, BioSolveIT GmbH, COSMOlogic GmbH & Co., ChemAxon, Albany Molecular Research Inc., Novo Informatics Pvt. Ltd., OpenEye Scientific Software Inc., and XtalPi Inc.
In February 2018, BioSolveIT launched the REAL Space Navigator, which is the largest space of available compounds. The company collaborated with Enamine, a chemical research organization, to provide an ultra-fast search engine with 650 million compounds in the first version.
In December 2017, ChemAxon collaborated with ChemPass to provide an integrated solution. ChemAxon's software components will be integrated with the artificial intelligence design technology platform of ChemPass. This will help ChemAxon's customers generate new ideas and develop novel leads.
In July 2017, XtalPi Inc. entered into a partnership with AMRI SSCI, LLC, a division of Albany Molecular Research, Inc., to determine solid forms of small molecules and design experimental conditions based on computational results.
Key Segments Covered
By Solution
Multi Databases
Virtual Screening Tools
Structure Designing/ Building Tools
Predictive Analytics
Model Building Tools
Others
By Application
Chemical Screening
Molecular Modeling/ Homology modeling
Target Prediction
Binding Site Prediction
Docking
Energy Minimization
Others
By End User
Pharmaceutical Companies
Biotechnology Companies
Academic and Research Institutes
Contract Research Organizations
Others
Key Regions Covered:
North America
Latin America

Mexico
Brazil
Rest of Latin America

SEA & Other of APAC

India
ASEAN
Australia & New Zealand
Rest of APAC

China
Japan
Western Europe

Germany
France
U.K.
Spain
Italy
Nordic
Benelux
Rest of Western Europe

Eastern Europe

Russia
Poland
Rest of Eastern Europe

Middle East & Africa

North Africa
South Africa
GCC
Rest of Africa
Need specific information?