An Incisive, In-depth Analysis on the Physical Security Equipment Market
This study offers a comprehensive, 360 degree analysis on the Physical Security Equipment market, bringing to fore insights that can help stakeholders identify the opportunities as well as challenges. It tracks the global Physical Security Equipment market across key regions, and offers in-depth commentary and accurate quantitative insights. The study also includes incisive competitive landscape analysis, and provides key recommendations to market players on winning imperatives and successful strategies.
Physical security equipment are used for protection of sensitive sites and buildings against any damage or physical attack. Physical security equipment help in several aspects of building protection such as network infrastructure, entrance control, intruder detection, access control, and video surveillance of a site.
Rising Threats related to Terrorism & Espionage will drive the Market Growth
Physical security equipment have become imperative for various institutions across the globe owing to the surge in threats associated with physical attacks and damage. Different organizations from various end-use sectors such as BFSI, healthcare, education, manufacturing, government, residential, retail, utilities & energy, commercial and transportation seek adoption of physical security equipment for ensuring safety of their personnel and property. There has been a rise in threats related to terrorism around the world, which in turn has led several governments and organizations to invest in advanced and latest security solutions to ensure safety of their physical sites and the people who work there. In addition, the rise in espionage and thefts, especially in commercial buildings and banking sector, have further fuelled the demand for physical security equipment.
The global physical security equipment market is fragmented in nature, with several small- and large-scale vendors competing to gain larger share of the market. The physical security equipment providers are focusing on offering highly-efficient and innovative security solutions, along with customized security services to sustain their market presence. They are also offering integrated security systems for ensuring optimum security solutions. Moreover, major players in the market have started adopting strategies such as M&A, acquiring niche companies for increasing their product portfolio.
Global Physical Security Equipment Market to Register a Double-digit CAGR through 2022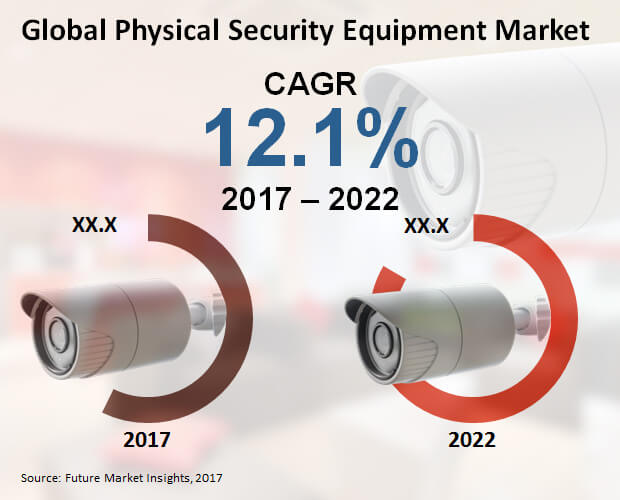 The global market for physical security equipment has been projected to register at a double-digit CAGR over the forecast period (2017-2022), by a latest study of Future Market Insights (FMI). FMI's report estimates the global physical security equipment market to account for over US$ 60,000 Mn revenues by 2022-end.
Emergence of thermal cameras is a major trend being observed in the market. As thermal cameras utilise infrared radiation for capturing images, and are heat & water resistant, they are ideal for monitoring large-scale/unique outdoor environments. Governments across the globe are providing funds to various institutions and critical infrastructures for buying efficient surveillance equipment. In addition, organisations that need sophisticated security systems for ensuring safety of their data, are adopting data analytics and cloud-based data storages.
Government Vertical Segment to Dominate the Market
On the basis of vertical, government segment is expected to dominate the global physical security equipment market, with revenues estimated to account for nearly US$ 10,000 Mn revenues by 2022-end. Increasing requirement for protection from system hackers have led the governments to increase spending on securing their critical information assets. Between BFSI and Retail segments, the former is projected to exhibit a higher CAGR, whereas the latter will bring in comparatively larger revenues by 2022-end.
Based on security equipment, consumer video surveillance is expected to be the fastest-growing segment, and will account for a relatively larger revenue share of the market by 2022-end. Following consumer video surveillance, thermal cameras are anticipated to become the second-most lucrative physical security equipment over the forecast period.
In terms of revenues, the global market for physical security equipment will be dominated by North America. The market growth in this region will be mainly driven by adoption of surveillance systems in industrial, government, and banking sectors. Maintenance and support activities related to existing security systems will further augment growth of the market in North America.
Company Profiles
Key players profiled by FMI's report include Johnson Controls International Plc, Hanwha Techwin Co., Ltd., Axis AB, Hangzhou Hikvision Digital Technology Co., Ltd., Zhejiang Dahua Technology Co., Ltd., Schneider Electric SE, United Technologies Corporation, Bosch Security Systems, Inc., Siemens AG, The Chamberlain Group, Inc., Valeo SA, and Montaplast GmbH.
Future Market Insights (FMI) has offered strategic insights about the global physical security equipment market in its report titled "Physical Security Equipment Market: Global Industry Analysis (2012-2016) & Opportunity Assessment (2017-2022)". The report offers an in-depth analysis of the market, including estimations on market size for the forecast period 2017 to 2022. The market size estimations delivered in the report are deduced by analysing historical data gathered from multiple aspects of physical security equipment market. The analysts from FMI have investigated the market's nature comprehensively, and studied the distinguished market strategies adopted by companies operating in the market. In a bid to interpret factors related to changing landscape of physical security equipment market, the report offers a detailed study on latest market trends, macro-economic drivers, challenges, and potential growth opportunities.
Structure of Report
In its first chapter, the report renders an executive summary of the market based on key research findings, especially on product and regional segments. The executive summary provides a 360-degree observation of the global physical security equipment market followed by a brief market introduction, and definition of the product - physical security equipment. In this section, the report has also illustrated an overview of market value forecast in terms of compound annual growth rates and Y-o-Y growth rates.
In the succeeding chapters of the report, raw material sourcing strategies, pricing analysis, cost structure, supply chain breakdown, and market dynamics have been incorporated, along with an intensity map providing presence of leading market participants across all regional segments. The report also offers a detailed segmentation analysis of the global physical security equipment market on the basis of vertical, security equipment, and region. The report includes distinctive chapters that offer regional analysis of the market, providing country-specific analysis & forecast, and cross-sectional data.
Market Taxonomy
| | | |
| --- | --- | --- |
| Region | Security Equipment | Vertical |
| | | |
| | | |
| | | |
| | | |
| | Consumer Video Surveillance | |
| | | |
| | | |
| | | |
| | | |
| | | |
Competitive Landscape
The concluding chapter of the report offers a competitive landscape of the global physical security equipment market. Global leading manufacturers of physical security equipment have been profiled in this chapter, shedding light on their current market standings and latest developments. The report also provides information about how these market players are adopting multiple strategies & approaches for increasing their overall profit margins, and boosting their presence in the market. This chapter is imperative for readers, as it comprises all essential information concerning market players, and to study their growth prospects across the regional segments included in the report
Research Methodology
Analysts from Future Market Insights (FMI) use tested and proven research methodologies to compile their market studies. They have adopted an extensive research through secondary and primary sources to offer analytical forecast on the global physical security equipment market. In order to estimate the size of the market, FMI's analysts have procured quantitative data by contacting the designated company representatives directly, and have obtained figures from the authoritative databases. To cater the universal understanding of the global market for physical security equipment, the gathered data has been quantified into the US currency standards, with valued of regional markets being converted by using current exchange rates. Measures adopted for translating figures into growth prospects include revenue share ratios, absolute dollar opportunities, annual growth rates, CAGRs, and base points (BPS) index. The wide scope of this report enables market players to make long-term business plans by making use of the offered research findings. Predominant players as well as new market entrants can benefit from this report by assessing the analytical forecast to make better decisions and perceive future market directions.
COVID -19 : Impact Analysis
Request the coronavirus impact analysis across industries and markets
Request Covid -19 Impact
Akshay Godge
Client Partner - Global Business Development
CASE STUDIES
See how our work makes an impact.
At FMI, we design strategies that are adaptive, impactful, and implementable.