PINE-DERIVED CHEMICALS MARKET - KEY RESEARCH FINDINGS
The global pine-derived chemicals market will expand at a CAGR of 4.3% over 2020-2030.
The surfactant group holds a large share of the global demand for pine-derived chemicals.
Printing inks remain the preferred application; rubber to gain traction.
Key manufacturers are likely to invest in pine-derived chemicals to discover novel application areas
North America is the leading region in the global pine-derived chemicals market.
KEY FACTORS SHAPING PINE-DERIVED CHEMICALS MARKET
Increasing Demand from Chemical Industry
Pine-derived chemicals are used for the production of paints, adhesives, inks, flavors in soft drinks, and food, perfumes, fragrances in soaps and household cleaners, vitamins, food additives, and other applications. Apart from these applications, chemical derived from pine is also used in the automobile industry for the production of tires. Due to these wider applications, the demand for pine-derived chemicals are surging in the chemical industry and is anticipated to increase in the coming years.
RISK OF COVID-19 INFECTION NEGATIVELY AFFECTS DEMAND
The workforce involved in food & beverage production is evaluated to run the risk of facilitating the outbreak of COVID-19, which can be transmitted during various coordination activities. There is also a possible risk that the virus will spread across mediums of drug products, raising food safety issues as exchange occurs between geographies and various stages of the supply chain, resulting in a shortage of labor.
Because of its frequent exposure to various stakeholders in the sector, interaction with potentially infected public, and communication with people affected by coronavirus, the workforce at the corporate level is also at a high risk of being affected. Food & beverage industry is one of the sectors negatively as a result of the outbreak.
In addition, travel bans implemented by many countries are also restraining operations in the industry, impacting the availability of raw materials and workforce. The absence of workforce will theoretically affect business plans and industrial food and beverage development. This in turn will hamper the growth of pine derived chemicals market.
Tall Oil Fatty Acids has Wider Applications
Pine chemicals are sourced from renewable trees of pine, and are established section of the chemical industry across the globe. Pine chemicals are deposited from pine stumps or logs, and living trees or are prepared from bi-products of the kraft pulping method. Tall oil is produced by the treatment of black liquor skimming along with acid. It is basically a blend of oleic acid, rosin acids, as well as other unsaturated fatty acids.
Approximately, 90% of the tall oil manufactured is fractionated or distilled to the advancement of rosin, fatty acid, and tall-oil pitch. The latter comprises estolides, rosin anhydrides, distilled tall-oil heads, and miscellaneous hydrocarbons.
The remaining unfinished tall oil is once more refined with acid/mordant or sold as tall oil in crude form. The refined forms such as salts, adducts, and esters, rosin is preferably used in a range of applications in various industries. The major applications include paper sizing, printing inks, adhesives, coatings, rubber, and chemical intermediates.
PINE-DERIVED CHEMICALS MARKET: STRUCTURE ANALYSIS
The key manufacturers operating in the global pine derived chemicals market are Florachem, Eastman Chemical Company, Wuzhou Sun Shine Forestry and Chemicals Co. Ltd., Harima Chemicals Group, Inc., Guilin Songquan Forest Chemical, Arakawa Chemical Industries, Ltd., Foreverest Resources Ltd., Kraton Corporation, Ingevity Corporation, and ForchemOyj.
Large-sized companies dominate the global pine-derived chemicals market. The presence of many players of significant scale renders the market highly competitive.
Base year considered - 2020
Historical period - 2015 – 2019
Forecast period - 2020 – 2030
Market Value in 2020 - US$ 5.0 Bn
Segments covered - Product Type, Application and Region
Regions covered - North America, Latin America, Europe, East Asia, South Asia, Oceania and MEA
Key Players - Florachem, Eastman Chemical Company, Wuzhou Sun Shine Forestry and Chemicals Co. Ltd., Harima Chemicals Group, Inc., Guilin Songquan Forest Chemical, Arakawa Chemical Industries, Ltd., Foreverest Resources Ltd., Kraton Corporation, Ingevity Corporation, and ForchemOyj.
Growth Drivers

Increasing Demand from Automobile Industry Propelling the Growth
Environment Friendly Chemicals Gaining Traction
Increasing Applications in Personal Care Industry Boosting the demand for Pine-Derived Chemicals
Biofuel Production is Driving the Market
Tall Oil Rosin Segment will Drive the Market
Among products available in the market, the demand for tall oil rosin (TOR) is considerably high. It is also projected to expand at a rapid pace over the forecast tenure. TORs are unmodified to provide a financially competent and adaptable starting stage for a few end-use applications and specific customer procedures.
Rosin acid present in tall oil is used in the polymerization and compounding of rubber, for imparting water resistance to paper, as well as in adhesives and in inks. It is the key ingredient of rosin, which musicians use to strengthen the grip of bows used for string instruments. Due to diverse applications of the tall oil rosin segment, its demand is driving the market.
Pine-derived chemicals find usage in various industries such as printing inks, adhesives and sealants, rubber, paint and coatings and others. The rising application across these industries will pave the way for the growth of the market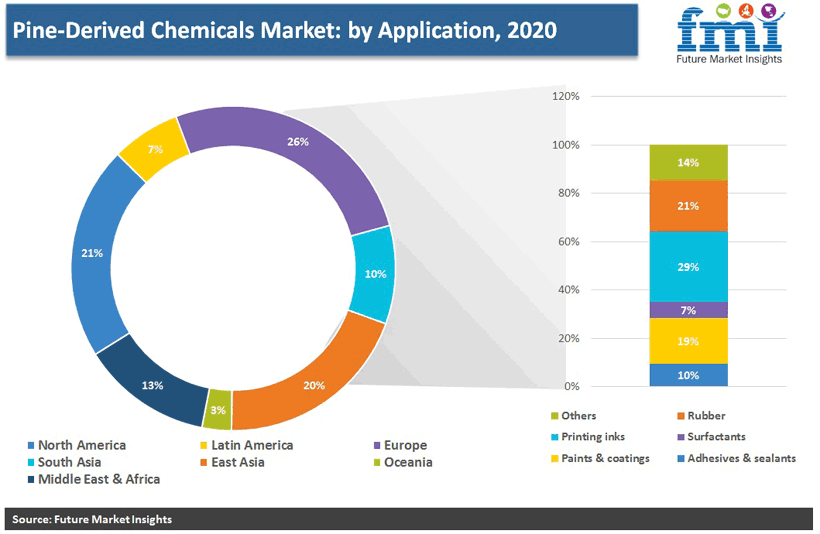 North America Holds the Largest Share in the Market
Due to the presence of several leading players, North America emerged dominant in the global market for pine-derived chemicals. Asia-Pacific is projected to be the fastest-growing region due to a steady increase in demand for pine-derived chemicals. The region also has the suitable climate for the pine cultivation.
Operational benefits of pine-derived chemicals along with the rising industrialization and its wide spectrum of applications are factors driving demand for pine-derived chemicals. The factors driving the market in North America are the abundance of pine trees in the region and the increasing demand from the U.S.. Asia Pacific also will exhibit high demand for pine-derived chemicals. Steps taken by government to use environmentally friendly goods to reduce carbon footprints will aid the expansion of the market in the region.
Increasing the Demand for Pine-Derived Chemicals is Driving Growth
Pine-derived chemicals are renewable, and are therefore environmentally friendly. The use of such chemicals results in low carbon dioxide emissions compared to other chemicals, resulting in the rising demand for chemicals extracted from pines. The use of natural gas and crude oil related products that contribute to emissions can adversely impact the atmosphere.
Furthermore, carbon dioxide emissions and carbon footprints is increasing due to the rising fossil fuel consumption. The rising need to curb carbon emission is leading to the use more eco-friendly pine-derived chemicals, thereby stimulating the growth of the market.
The factor that restricts market growth, however, is that pine trees only grow in certain areas, thereby restricting their availability.
How Growth will Unfold
Chemicals from pine trees occur naturally, and are thus environmentally friendly. Their use leads to lower emissions of carbon dioxide as opposed to those from conventional sources. The widespread use of crude oil and natural gas products in the recent past has contributed to increased emissions and environmental issues. Consequently, there is a growing need to reduce fossil fuel consumption to minimize carbon footprints and carbon dioxide emissions.
Thus, over the forecast period, demand for these eco-friendly pine related chemicals is expected to witness steady growth. Pine trees, the source of these pine-derived chemicals, do not occur widely throughout the globe, but are concentrated in regions of North America, Latin America and some European & Asian nations.
As such, the restricted availability is expected to present a challenge to the growth of the global chemical pine derived market over the forecast period. This could also impact the overall operations of companies operating in the market.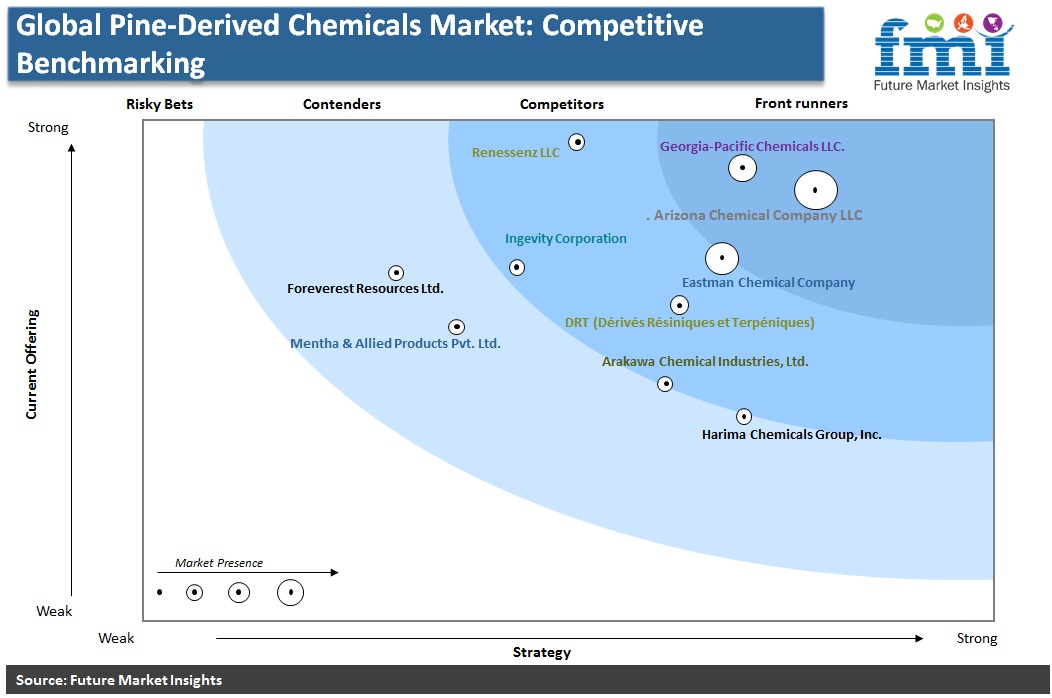 PINE-DERIVED CHEMICALS MARKET TAXONOMY
The global Pine- Derived Chemicals Market is segmented in detail to cover every aspect of the market and present complete market intelligence to readers
Source
Living trees
Dead pine stumps & logs
By-Products of sulphate
Application
Adhesives & sealants
Paints & Coatings
Surfactants
Printing inks
Others
Type
Tall oil fatty acid
Tall oil rosin
Gum turpentine
Gum rosin
Pitch
Process
Region
North America
Latin America
Europe
Asia
Oceania
Need specific information?