Polypropylene Market By Product Type (Homopolymer, Copolymer), Application (BOPP Film, Raffia/Thermoforming, Fibres & Filaments, Spun Bond Non-woven, Melt Blown Non-woven, Injection Molding, Blow Molding, Cast & Water Quenched Film) & Region - Forecast to 2020-2030
Polypropylene Market - Analysis, Outlook, Growth, Trends, Forecasts
June 2020

REP-GB-449

250 pages
Polypropylene Market Outlook & Key Findings
The polypropylene market is anticipated to grow at a CAGR of 3.3% through 2030
Growing focus on energy efficiency and reduced carbon emissions will fuel demand for cleaner alternatives, such as polypropylene with at least 50% recycled material
Polypropylene having 45% - 65% ethylene content, also called impact copolymers, will witness growing adoption in the manufacture of pipe applications, houseware, packaging, and film
Copolymerization of polypropylene will pave way for highly intricate and robust engineering applications
East Asia (China, South Korea, and Japan) alone accounted for 42% of global demand for polypropylene in 2019. FMI's estimates suggest that demand for polypropylene Market surged by 60%-65% in China in first quarter of 2020, almost double of the country's average demand
Polypropylene Market Size and Analysis
Global polypropylene demand reached 76 million metric tons in 2019, on the back of stable demand from end-use industries.
The packaging industry along with electrical & equipment manufacturing will remain the key end-users accounting for 30% and 13% of polypropylene consumption respectively.
Being a thermoplastic material, polypropylene has been an exhaustive subject for research. One of its key attributes has been its ability to be heated to its melting point, cooled, and re-heated without degradation in terms of quality. This allows polypropylene to be used in a number of injection molding applications and thereafter recycled.
Polypropylene's Properties Make it a Key Standout Material
Polypropylene's unique properties make it a stand-out material in industrial, automotive, packaging and household applications
Polypropylene is highly suitable for manufacturing of living hinges (lids of shampoo and ketchup bottles). Its ability to remain unbreakable in a 360-degree range of motion makes it efficacious in non-load bearing applications
Polypropylene's chemical resistance makes it the plastic of choice for disinfectant containers, acidic liquids, and first-aid products
Polypropylene can be re-formed into plastic pellets for other products. Approximately 90%-95% of car batteries in the US alone are recycled to extract polypropylene
'Sustainability' and 'Efficiency' to Remain the Buzzwords in Polypropylene Market
The broader push for sustainable materials is having a palpable influence on the polypropylene Market industry.
For instance, sustainable plastic trays, once thought of as a niche for the carbon-conscious demographic, are becoming more mainstream. 25% of the polypropylene used in these trays is now being replaced with wood fiber in an attempt to make these products stronger and lighter at significantly lower production costs.
Research in developing countries such as India has led to the development of indigenous, low-cost propylene swabs that are used for testing COVID-19 patients.
The swab used is a combination of a specialty polymer along with a rod made from polypropylene. These swabs, when commercially available, are estimated to cost one-third of the relatively expensive swabs used in Germany and Italy.
Low-cost, transparent polypropylene bottles are also being used in solar water disinfection technology. The polypropylene bottles were, as per recent research, found to emit stable levels of UV transmission even after the longest aging period of 9 months. Thus polypropylene for solar water disinfection technology is an excellent methodology for disinfection at a low cost of US$ 3 per unit.
Strong Demand for Polypropylene in China and India Make East Asia a Lucrative Polypropylene Market for Stakeholders
Led by strong demand in China and India, East Asia continues to account for a sizable pie of the global polypropylene market.
Demand for downstream derivatives of polypropylene has already ramped up in countries such as China in the first quarter of 2020. With the onset of the pandemic in China, the demand for face masks in the region witnessed a spurt in the first quarter of this year. Polypropylene is being used in the manufacture of breathable membranes and non-woven fabrics which are currently being used in masks.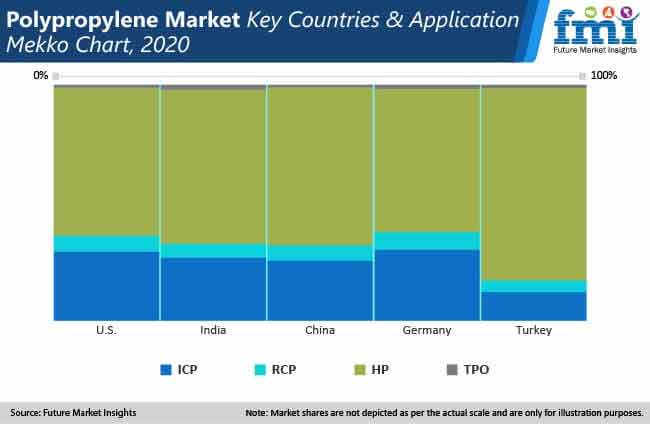 Outside of East Asia, Europe remains a key polypropylene market for participants in the polypropylene value chain. Approximately 70-75% of key manufacturers in Europe are using propane as a feedstock in propylene. Propylene is obtained from crude oil in the manufacturing of polypropylene.
The oil prices have been in disarray in the prevailing pandemic and this is likely to create mayhem in the European market in terms of supply, production and demand. Polypropylene demand is highest in the UK on account of the introduction of new grades of resin which offer better clarity.
US polypropylene demand was pegged at nearly 7 million metric tonnes in 2018. With amped-up competition between Tyson Foods, Nestle, and PepsiCo, polypropylene demand from the packaging, and food & beverage sector is likely to create significant opportunities for polypropylene market players throughout the forecast period.
Polypropylene Market Pricing Analysis – Trading Picks Pace, Fears Surrounding Pricing Recede
With the severity of the pandemic lessening in many regions, market sentiment for polypropylene continues to improve. Consumers are showing lesser pessimism and more optimism as costs of polypropylene feedstock are set to return to baseline levels.
Demand for polypropylene exports has resumed and polypropylene processors have ramped up production especially in countries such as US.
Contract prices for polypropylene decreased heavily in the early part of the year settling at $0.02/lb. Since early May, the prices have remained steady with resumption in orders from buyers and sellers.
Polypropylene Market Manufacturers: How Innovations in 3D Printing and Circularity are Building Resilience
Lyondell Basel, Sinopec, Petrochina, Braskem and Borealis are the top 5 players in the polypropylene market, controlling nearly a quarter of the global production capacity. Further, the top 10 players account for nearly 30% share of the market by revenue.
Other players include BASF SE, Exxon Mobil Corporation, Lotte Chemical, LG Chem, Petro China Company Limited, Formosa Plastics Corporation, Japan Polypropylene Corporation, and Braskem. BASF and technology heavyweight HP are collaborating on a new polypropylene additive manufacturing material that will extensively be used in HP's printers.
The new polypropylene is high on its reusability scale thus allowing manufacturers in the consumer, medical and manufacturing space to enhance their cost-efficiency and volumes. The collected debris powder can be 100% recycled.
Market players such as Borealis and Neste have announced their aim to establish a strategic co-operation to accelerate circularity and bio economy in plastics. This factor will enable Borealis to produce renewable polypropylene using Neste's renewable propane.
Borealis' propane dehydrogenation (PDH) and PP plant set-up in Kallo will enable the company to offer bio-based propylene and consequently bio-based-PP. Along with this, Borealis continues to apply a mass balance approach in its production at Kallo and Beringen to take a major step forward to provide both, renewable propylene and renewable polypropylene to its customers.
Impact of COVID-19 on Polypropylene Market
A slump in the demand for polypropylene has been observed due to a drastic slowdown witnessed in the construction and automotive sector where polypropylene is in high demand. Manufacturers in the polypropylene market landscape are seeing overflowing inventories thus leading to a pronounced gap in supply and demand.
Globally, plummeting oil prices have resulted in skewed market dynamics for propylene which is a key feedstock used in the manufacturing of polypropylene. Thus many oil companies owning major refineries are finding themselves at the helm of revoking key investments in the supply of propylene which will indirectly impact the polypropylene market.
Future Market Insights estimates that the polypropylene market will witness a BPS drop of 200-225 points in the year 2020 owing to the COVID-19 crisis. The month of June will see some level of rebound with easing of lockdowns and other mobility restrictions. However, overall demand will only ramp up by early 2021
On a Positive Note - Polypropylene Market
There has certainly been a silver lining in the cloud amid the COVID-19 crisis. A substantial chunk of polypropylene production is now being diverted to the production of PPE and non-woven surgical masks. Hence demand for polypropylene has almost doubled with the material being used in face-shields, gloves, overalls, gowns, shoes and goggles.
Polypropylene fibers are being extensively used in N95 respiratory masks as a critical filter element. Towards this, the homo polymer (HP) grade of polypropylene has been found to be extremely efficacious in the non-woven applications of polypropylene
Base year considered - 2019
Actual estimates/Historical data - 2015 - 2019
Forecast period - 2020 - 2030
Forecast CAGR - 3.3%
Segments covered - Product Grade, Application, Region
Regions covered - North America, Latin America, Europe, East Asia, MEA, Oceania
Growth Driving -

Growing focus on energy efficiency
Long-term focus towards sustainability
Upbeat sales in China & India

Key Players -

BASF SE
SABIC
Exxon Mobil Corporation
Lotte Chemical
LG Chem
Petro China Company Limited
Rongsheng Petrochemical Co., Ltd
Formosa Plastics Corporation
Japan Polypropylene Corporation
Braskem

Report coverage - Revenue forecast, company share, competitive landscape, growth factors, and trends
World's Most Profilic Intelligence Engine
Get Access To The World's Largest Market Research Database.
Sign Up Now
Polypropylene Market: Taxonomy
The global Polypropylene market is segmented in detail to cover every aspect of the market and present a complete market intelligence approach to the reader.
Product Type
Application
BOPP Film
Raffia/Thermoforming
Fibres & Filaments
Spun Bond Non-woven
Melt Blown Non-woven
Injection Molding
Blow Molding
Cast & Water Quenched Film
Pipe & Sheet
Transparent TPO
Region
North America
Latin America
Western Europe
Eastern Europe
Asia Pacific excluding Japan (APEJ)
Middle East & Africa
Japan
Need specific information?
Our Clients