Polypropylene Market Snapshot (2022-2030)
[250 Pages] According to Future Market Insights (FMI), the global polypropylene market registered a year-on-year (YoY) growth of 3.5% in 2021. Demand of polypropylene market is projected to grow at a value of 4.5% CAGR between 2022 and 2030. Future Market Insights (FMI) forecasts the market value to top US$ 86,995.4 Million in 2022.
| | |
| --- | --- |
| Attributes | Details |
| Polypropylene Market Value (2021A) | US$ 83,878.2 Million |
| Polypropylene Market Estimation (2022E) | US$ 86,995.4 Million |
| Polypropylene Market Forecast (2030F) | US$ 117,513.8 Million |
| Value CAGR (2022 to 2030) | 4.5% |
| Collective Value Share: Top 3 Countries (2021A) | 47.4% |
Rising demand from end-use industries, along with growing building & construction activities will continue pushing sales in the polypropylene market. Considering this, FMI has forecast the global polypropylene sales to reach a valuation of US$ 117,513.8 Million in 2030.
Don't pay for what you don't need
Customize your report by selecting specific countries or regions and save 30%!
How The Market Progressed Till June 2022?
| | |
| --- | --- |
| Market Statistics | Details |
| H1,2021 (A) | 3.4% |
| H1,2022 Projected (P) | 3.7% |
| H1,2022 Outlook (O) | 3.9% |
| BPS Change : H1,2022 (O) - H1,2022 (P) | (+) 20 ↑ |
| BPS Change : H1,2022 (O) - H1,2021 (A) | (+) 50 ↑ |
Global polypropylene outlook by sales outlook is increased by 3.4% in the first half of 2021. Rising demand from end-use industries combined with significant growth in building and construction sector, is anticipated to drive the sales of polypropylene.
This has resulted in a 50 BPS point increase in 2022 estimated growth outlook as compared to actual growth. However, the market's estimated growth projection to witness an uptick of 20 BPS points in the first half of 2022 as compare to the earlier projections.
Owing to change in market trends and demography, FMI has revisited a study for market growth outlook on half yearly basis. The analysis has been updated to better comprehend the industry's growth prospects in light of current market trends and the drivers influencing market growth.
Polypropylene is utilised in a variety of applications, including fibre and raffia, they are used as flexible fibres in carpet, carpet backing, and tapes. The growing need for moulding plastics in practically every end-use industry is boosting the demand for polypropylene.
Polypropylene is being used more frequently in packaging, cars, building and construction, healthcare, and electronics. The automotive industry is polypropylene's second-largest end-use industry. The increasing demand for electric and hybrid electric vehicles (EV/HEV) is the primary driving driver for polypropylene in the automotive industry.
Polypropylene demand will rise in the next years since there is an increasing need for the material in the packaging industry. However, owing to restrictions in plastic usage, demand prospects for polypropylene to get impacted.
2015-2021 Polypropylene Market Outlook Compared to 2022-2030 Forecast
Sales of polypropylene increased at a 2.3% CAGR, between 2015 and 2021, with countries such as the U.S., China, India, South Korea, Japan and Germany accounting for a substantial portion of the global market. Sales prospects in 2020 and 2021 were dampened due to the outbreak of COVID-19 pandemic, which reduced the demand for polypropylene from its applications areas such as fibres and filaments, spun bond non-woven, melt blown non-woven, injection moulding, and blow moulding. The pandemic crisis has impacted the overall growth of the polypropylene market during the past few years.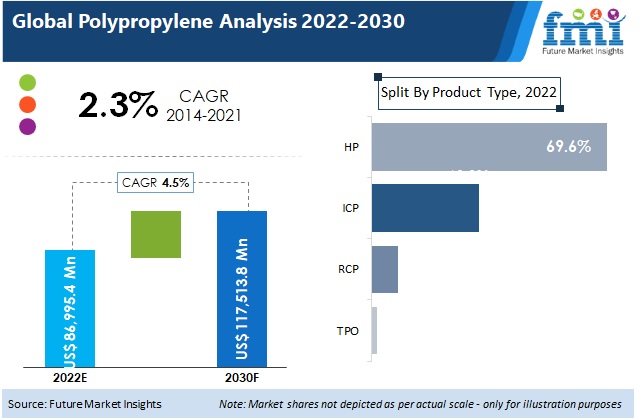 With advancements in technology and increased efforts by research centers, it can be inferred that, in the future, the roadmap of technology will change and lead to new cost-effective methods for the mass production of polymer composites. Increasing demand for plastic in various end use industries are expected to bolster the demand for polypropylene in the coming years. As a result, the polypropylene market is projected to grow by value, at a 4.5% CAGR during the forecast period of 2022 to 2030.
What are the Factors Driving the Sales of Polypropylene?
Growing demand from end-use industries such as packaging, automotive, building & construction, healthcare, and electrical & electronics is a prominent factor for driving the growth of the polypropylene market. Polypropylene is a low-cost material with excellent mechanical properties and moldability, owing to this factor, more than half of the plastic used in the automotive sector is polypropylene. Polypropylene is used in various automotive parts, such as bumpers, instrumental panels, and door trims.
The properties of polypropylene, such as low density, lightweight, high heat resistance, durability, and high clarity, make it a suitable material for packaging. Polypropylene is also used in building & construction and electrical & electronics for insulating building wraps and insulation of electronics goods. The Ministry of Industry and Information Technology of China forecast the country's electric car sales to double in the coming years. These factors will be responsible for boosting the growth of the global polypropylene market.
What was the Impact of COVID-19 Crisis on Polypropylene Market?
Impact of the COVID-19 pandemic on the chemicals and materials industry was significant. Several production facilities in several countries were entirely shut down because of the lockdown, which had a direct impact on sales of polypropylene. However, the pandemic led to the increase in demand for polypropylene for use in the medical industry.
The chemical is a cost-effective plastic material, which is available in medical grade and is used where ever steam-sterilized devices are necessary. They are utilised in autoclave sterilization and radiation stabilization processes. This use in the medical and healthcare industry saved the polypropylene market from a greater drop.
As numerous production facilities have reopened, the industry is progressively rebounding from losses, resulting in positive sales prospects in the polypropylene market. Increasing prospects of HP polypropylene are also expected to boost demand for the product in the forthcoming years.
Country-wise Insights
What Is the Consumption Outlook of Polypropylene in China?
As per FMI, China is projected to account for nearly 32.6% of the global market share, creating an incremental opportunity of above US$ 10,767.1 Mn in 2030.
China is expected to remain a key producer of polypropylene across the globe. This can be mainly attributed to rapid industrialization in the country. Growth in the production of automobiles in the country, will provide immense growth prospects to the polypropylene industry.
Furthermore, China is planning to increase polypropylene capacities by more than 15 Mn tons in the near future in order to satisfy domestic demand and to promote employment in downstream manufacturing end-use industries. This is expected to augment growth of the polypropylene market in China.
Why the Demand for Polypropylene Rising in the U.S.?
In 2022, the market is expected to grow by 3.5% year-on-year, reaching a valuation of US$ 9,359.9 Mn by the end of 2022 in the United States of America. High investments in research and development to bring in the market advanced technologies is augmenting the sales of polypropylene in the country. Key manufacturer of plastics in the country had bolstered the consumption of polypropylene.
USA ranks high in the annual global production of automobiles. Moreover, the presence of leading companies like Exxon Mobil Corporation, Eastman Chemical Company, LyondellBasell Industries N.V. and Westlake Chemical Corporation is expected to bolster the growth of these products in the country.
Why is India Considered a key Polypropylene Market?
India is projected to account for 6.8% of the global polypropylene market share in 2030. Increasing adoption of polypropylene for sterilization in the medical and healthcare industry, along with a rapid rise in building and construction owing to urbanization are expected to generate high demand for polypropylene over the forecast period in the country.
Significant increase in the demand for polypropylene in food packaging, manufacturing of bottles and containers, and many others are boosting the growth of the market in India. Alongside, profit bearing growth strategies and product innovations by many key players are expected to propel sales of polypropylene over the assessment period.
Get the data you need at a Fraction of the cost
Personalize your report by choosing insights you need
and save 40%!
Category-wise Insights
Why Sales of Homo-Polymers are witnessing a considerable growth?
Sales of homo-polymers are expected to grow at a significant value of 3.6% CAGR, over the forecast period of 2022 to 2030.
Propylene homo-polymer is the most widely used general-purpose type which has a high strength-to-weight ratio, and is stiffer and stronger as compared to copolymers. These properties, combined with good chemical resistance and weld-ability, make it a material of choice in many corrosion resistant structures. It is widely used in applications including packaging, textiles, healthcare, pipes, automotive, and electrical applications. Owing to these factors, sales of HP polypropylenes are projected to increase over the forecast period.
Why are Sales of Polypropylene for Application in Cast and Water Quenched Films Gaining Traction?
Amongst the various applications, cast and water quenched films application segment is projected to remain the key segment and create an absolute dollar opportunity of more than US$ 1,999.3 Mn during the period of 2022 to 2030, and account for 8.5% a share in the global polypropylene market.
Water quenched films offer advantages as higher & robust throughputs, high clarity, high gloss, soft touch and excellent mechanical properties. They can be used for various applications such as multi-layer plastic packing film for food, agricultural and side-line products, medical treatment, pesticide, in the chemical industry, and in daily use articles. This will continue providing tailwinds to polypropylene sales over the assessment period.
Competitive Landscape
Leading players operating in the polypropylene market are focusing on incorporation of CSR norms. Apart from this, players are focusing on strategic acquisitions and mergers, and innovative product launches to serve more end users in the domestic market, in order to gain a competitive edge. For instance:
On September 29, 2017, INEOS Upstream Limited acquired natural gas assets in the North Sea through its acquisition of the entire oil and gas business of DONG Energy A/S (the "DONG Acquisition").
In January 2019, Borealis AG implemented 80 kiloton capacity increase in polypropylene (PP) plant in Kallo that will benefit from the feedstock supply from the new PDH.
In January 2019, Borealis AG inaugurated its polypropylene (PP) compounding plant in North Carolina, USA, strengthens commitment to North American automotive industry.
Scope of Report
Attributes
Details
Forecast Period
2022 to 2030
Historical Data Available for
2015 to 2021
Market Analysis
USD Million for Value and Kilo Tons for Volume
Key Regions Covered
APEC, China, Europe, INS, Turkey, Vietnam, W-Africa, E-Africa, N-Africa, Bangladesh, CIS-R, N-AM, C-AM, EC-SAM and CS-SAM
Key Countries Covered
USA, Canada, Brazil, Mexico, Germany, Italy, UK, France, Spain, BENELUX, Russia, Japan, China, South Korea, India, ASEAN, Australia, New Zealand, GCC Countries, Turkey, Northern Africa, and South Africa
Key Segments Covered
Product Grade, Application, and Region
Key Companies Profiled

BASF SE
SABIC
Exxon Mobil Corporation
Eastman Chemical Company
Lotte Chemical
LG Chem
Petro China Company Limited
INEOS
Rongsheng Petrochemical Co., Ltd.
Borealis AG
Formosa Plastics Corporation
Advanced Petrochemical Company
Japan Polypropylene Corporation
Braskem
Westlake Chemical Corporation
LyondellBasell Industries N.V.
Reliance Industries Limited
China Petrochemical Corporation (Sinopec Ltd)

Report Coverage
Market Forecast, Brand Share Analysis, Competition Intelligence, DROT Analysis, Market Dynamics and Challenges, Strategic Growth Initiatives
Customization & Pricing
Available upon Request
Polypropylene Markey by Category
By Product Type:
By Application:
BOPP Film
Raffia/Thermoforming
Fibres & Filaments
Spun Bond Non-woven
Melt Blown Non-woven
Injection Moulding
Blow Moulding
Cast & Water Quenched Film
Pipe & Sheet
Transparent TPO
By Region:
APEC
China
Europe
INS
Turkey
Vietnam
W-Africa
E-Africa
N-Africa
Bangladesh
CIS-R
N-AM
C-AM
EC-SAM
CS-SAM
Frequently Asked Questions
The polypropylene market reached a valuation of US$ 83,878.2 Mn in 2021.
The polypropylene market experienced moderate growth, exhibiting a 2.3% CAGR between 2015 and 2021.
High demand from end-use sectors, long term supply chains, and rise in global CO2 emissions leading to shifting focus of manufacturers on incorporation of CSR norms are driving sales of polypropylene.
China polypropylene market is projected to grow at an impressive 4.2% CAGR during the forecast period.
Polypropylene market in North America is anticipated to hold a market share of 11.7% by the end of 2030.