Polypropylene Packaging Films Market - Key Research Findings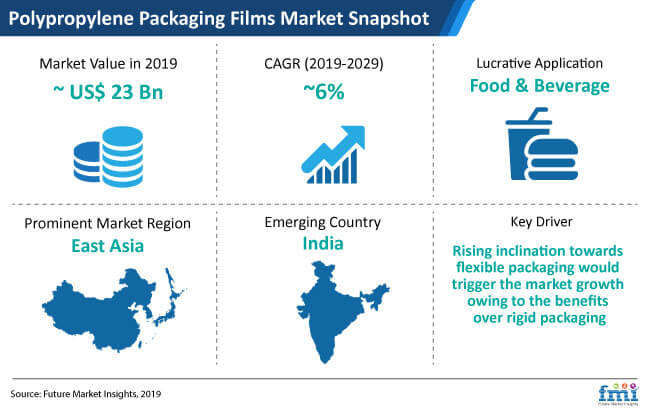 The global value of polypropylene the packaging films market is expected to grow at a CAGR of ~6% during the forecast period of 2019-2029.
Polypropylene packaging films provide superior optical clarity at low cost, which makes them an ideal choice for flexible packaging applications.
Conformability, moisture, and fatigue-resistance properties of polypropylene packaging films are key drivers for the market.
North America and Europe are the established regions in the polypropylene packaging film industry. East Asia is expected to hold a larger market share by the end of 2029.
The food and beverages industry is expected to remain a prominent area to invest in for polypropylene packaging film market players.

The food and beverages industry has witnessed significant growth over the last few years due to the inclination of consumers towards on-the-go food products for convenience.
Noteworthy application potential of polypropylene packaging films has been identified in the tobacco packaging category.
Key Factors Shaping the Polypropylene Packaging Films Market
A Paradigm Shift to 'Polypropylene Packaging Films'
Polypropylene packaging films offer a wide range of benefits such as cost-effectiveness and recyclability. Growing awareness among people regarding environmental issues has led to manufacturers shifting to the production of polypropylene packaging films, owing to their recyclability. Key players have invested hefty amounts in increasing their production lines to meet the end-user requirements and maintain timely delivery.
In the future, it is anticipated that polypropylene packaging films would replace the conventionally-used aluminum foils and other such materials, which have a negative effect on living beings and the environment. Polypropylene packaging films provide good optical clarity, excellent flex crack resistance, and are optimized for high-speed printing. Printing helps in enhancing the aesthetic appeal of the product, which influences the purchase decisions of customers.
Increased Inclination towards Flexible Packaging Solutions
Flexible packaging domain of the packaging industry is growing at a fast pace as flexible packaging solutions increase the shelf-life and ensure food safety. One such segment of flexible packaging is polypropylene packaging films. Polypropylene packaging films are used due to their ease of conformance, which enables end-users to customize their product packaging in such a way that it attracts buyers.
Manufacturers and end users are inclined towards flexible packaging owing to its low manufacturing costs. When compared with the traditionally used rigid packaging materials, flexible packaging utilizes less energy and produces less packaging waste. Using polypropylene packaging films is a light-weight packaging solution, which significantly reduces the transportation cost.
Consumption by F&B Industry in Developing Regions Is Rising
In addition to the food & beverages industry growing in favor of polypropylene packaging film sales, the flourishing tobacco sector across South Asia and the Middle Eastern region is offering a strong impetus to the demand for polypropylene packaging films.
While low manufacturing costs prominently account for the growing popularity of polypropylene packaging films across developing regional markets, a consistent rise in the number of products packed in polypropylene bags and pouches, is more likely to contribute to the sales of polypropylene packaging films in the near future.
However, the vulnerability of polypropylene packaging films as compared to alternative PLA films may remain a pervasive stumbling block in the rapid progress of polypropylene packaging films market throughout the next decade.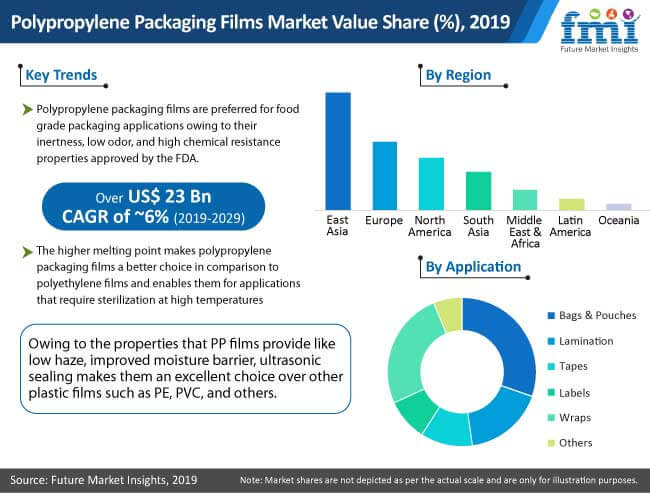 Polypropylene Packaging Films Market Structure Analysis
The global polypropylene packaging films market represents a competitive landscape, where majority of key players maintain a strategic focus on the development of good distribution partnerships and innovative product launches. This helps manufacturers to stay relevant in the market for a longer duration.
The polypropylene packaging films market has been increasing in size, which remains a key factor for its dynamic competitive nature.
Leading manufacturers of polypropylene packaging films are currently focusing more on R&D, and product launches to stay relevant in the booming market of polypropylene packaging films in India, MEA, and China.
Portfolio expansion is also identified to remain one of the key developmental strategies applied by manufacturers of polypropylene packaging films.
For a stronger presence in the target markets, polypropylene packaging film manufacturers would continue to rely mergers and acquisitions.
A deeper understanding of the market trends and shifts of end-use segments across various regions are likely to create an opportunity for prominent players, looking forward to entering untapped areas of the polypropylene packaging films market.
Polypropylene Packaging Films: Refashioning Reliable Packaging
Flexible packaging formats have seen steady demand over the past decade, primarily driven by drastic shifts in end user preferences and considerations. The swift penetration of flexible packaging across umpteen end use applications has been increasingly palpable, as multiple industry verticals continue to seek sustainable packaging solutions with improved functionalities. In addition, convenience and cost-effectiveness are also two of prime contributors to spurring adoption of flexible packaging formats over the years to come.
Polypropylene (PP) packaging films, one of the highly sought-after categories, have not only made their mark in traditional flexible packaging but have also gained prominence in non-packaging applications. Recyclability continues to be one among the key pain points of end users in the packaging landscape, and polypropylene packaging films, on account of being highly recyclable, are gaining their long-awaited due.
Growth in the polypropylene packaging films market will continue at an unabated rate in the decade ahead, but heavier pressures and disruptive changes are likely to have major impact on the manufacturing paradigms. Key players active in the polypropylene packaging films market will center their efforts on bespoke product innovations and agile business models to deal with the potential disruptions and sustain long-term growth.
Non-biodegradability Continues to Mask Functional Excellence
Conceptualization of flexible packaging brought along the debut of promising packaging formats well-aligned with requirements coming from diverse applications. Driven by their multiple beneficial characteristics, polypropylene packaging films reflect a long history of continual enhancements and improvements in the pre-existing forms, as well as introduction of new solutions with advanced usability.
The idea of polypropylene was put forth in the 1950s, and what followed is an overwhelming embracement of polypropylene packaging film formats in the spectrum of moisture-proof wrapping and medical packaging.
Functional properties of PP packaging films, such as excellent barrier properties, high resistance to heat, and unmatched stability are estimated to further underpin their adoption through 2029. However, manufacturers will continue to face the heat of increasing aversion to non-biodegradable packaging, which will also bring down the degree of marketability of their offerings.
F&B Industry Unlocks New Opportunities in East Asia
Booming economies of East Asia are witnessing incessant expansion of the food and beverage industry, primarily on account of the middle-class population and their needs growing at a breakneck pace. As food & beverage applications in East Asian countries are creating a plethora of opportunities for adoption of polypropylene packaging films, market players will need to go beyond 'one-size-fits-all' solutions.
'Ready-to-eat' and 'easy-to-carry' are some of the key trends brewing in the food & beverage sector that would contribute to the parallel build-up of East Asia PP packaging films market.
The Broader Perspective
PP packaging films have a substantial contribution towards 'aesthetic appeal' of the final packaged goods, which is a key aspect accounting for products' marketability. End users are relying on polypropylene packaging films to extend consumer journeys beyond the shop shelves, and weave rewarding customer experiences.
Polypropylene packaging films offer immense scope for accommodating laminations, prints, logos, and several other tools of branding. This, in turn, helps the end use industries build an emotional connect with their customers and, thereby, reap sizeable profits in the long-run.
To further boost their profit pools, manufacturers are centering their focus on tailor-made offerings, for that fact that 'personalization' is emerging as the new elixir to customer satisfaction. Market players are vying to bring customized designs harmonious with customer needs and requirements.
How Growth will Unfold?
Manufacturers active in the polypropylene packaging films market are aiming at getting accredited certifications warranting the 'eco-friendly' attributes of their offerings. Key players are broadening their portfolio with newer lines of multi-layered PP packaging films on account of growing transition from 'single-layered' to 'multi-layered' packaging films. In a bid to draw upon the shift from BOPET to BOPP films, manufacturers are making massive investments in R&D sessions to come up with advanced BOPP solutions with extended functionality.
Mergers and acquisitions will continue to remain a key strategic move of the market players to dissolve the barriers to growth and leverage combined expertise. The market players are paying attention to launch of newer products while fine-tuning their core competencies, which will give them an edge over their competitors.
Key Segment
By Product Type
By Film Format
Clear Films
Coated Films
Matte Films
White Films
Metallized Films
By Thickness
Up to 18 micron
18 to 50 micron
51 to 80 micron
Above 80 micron
By Application
Bags & Pouches
Lamination
Tapes
Labels
Wraps
Others
By End Use
Food & Beverages
Personal Care & Cosmetics
Electric & Electronics
Industrial
Pharmaceuticals & Medical
Tobacco
Others
By Region
North America
Latin America
Europe
South Asia
East Asia
Oceania
Middle East and Africa
Need specific information?