This Pvc Free Packaging market study offers a comprehensive analysis of the business models, key strategies, and respective market shares of some of the most prominent players in this landscape. Along with an in-depth commentary on the key influencing factors, market statistics in terms of revenues, segment-wise data, region-wise data, and country-wise data are offered in the full study. This study is one of the most comprehensive documentation that captures all the facets of the evolving Pvc Free Packaging market.
Going PVC-free: An overview
PVC as a material has had turbulent times in terms of market acceptance. The government in many countries have agreed to restrict or ban the use of PVC in packaging and other applications, owing to its negative impact on human health. A number of countries such as Canada, Spain, South Korea, and Czech Republic, among others have decided to ban or restrict PVC packaging. Several cities in the U.S., such as, Rahway, NJ and Glen Cove, New York have mandated that food packaging and utensils be PVC-free. The state of California has introduced the legislation to ban PVC, in 2009. A number of U.S. states have prohibited the use of certain metals packaging, which are specifically found in PVC packaging. As a result, many manufacturers have introduced PVC-free packaging formats to cater to the rising demand for such items. Give below are a list of PVC bans/restrictions implemented by key countries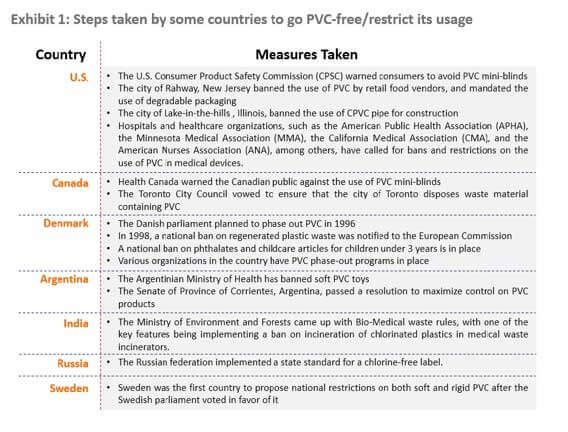 Identify Key Market Forces and their Long-Term Forecast
Sneak Peek into Key Forecast Factors and thier Impact
COVID -19 : Impact Analysis
Request the coronavirus impact analysis across industries and markets
Request Covid -19 Impact
Global PVC-free packaging market: Research methodology
A robust methodology was adopted to arrive at the market size for PVC-free packaging. Both supply-side and demand-side analysis were performed for the same.
Supply-side analysis
Revenues of key manufacturers of PVC-free packaging were tracked, along with the segmental revenue generated from the sales of PVC-free packaging. The sources cited for the same include the companies' annual reports and form-10Ks, along with paid databases.
Demand-side analysis
To arrive at the market size for PVC-free packaging, a number of primary interviews were conducted with industry experts, including C-level executives, sales & marketing heads, and independent consultants, to estimate the demand for PVC-free packaging, as well as the market scenario. The market size for PVC-free packaging was then validated through bottom-up analysis.
Global PVC-free packaging market: Key players
Some of the key players operating in the global PVC-free packaging market are –
Crown Holdings, Inc.
Amcor Limited
Sacmi Group
Tekni-Plex, Inc.
Constantia Flexibles Group GmbH
Selig Group
Technovinyl Polymers India Ltd.
World Bottling Cap, LLC
Danbury Plastics
Manufacture Générale de Joints SAS
Mexichem Specialty Compounds Inc.
PVC-free packaging: Significance
PVC has a high chlorine content which releases toxins, and makes its way up the food chain from animals' fat. PVC exposure causes exposure to phthalates, which is harmful for human health. As a result, many packaging manufacturers are stressing the production of PVC-free packaging formats.
PVC-free packaging: Key developments and trends
Demand for environment friendly packaging has generated more demand for packaging solutions which are PVC-free
In May 2017, Crown Holdings, Inc. launched a metal closure technology featuring a PVC-compound. The new metal closures are suitable for a wide range of pasteurized and sterilized products such as cooked vegetables. The closures are available with optional features such as spot gloss, gloss, metallic, matte, and embossed. These PVC-free closures are expected to be adopted by many food giants in the future, due to their sustainability.
In April 2017, Evonik Industries AG, which is a Germany-based specialty chemicals developer developed a new generation of heat seal binders for PVC-free packaging, with dairy as the main application area.
The road ahead
PVC-free packaging products are expected to gain prominence in the packaging industry, as government organizations in various countries implement stringent rules and regulations against the use of PVC in packaging materials, as well as in other industries. The global push for a PVC-free future is expected to further strengthen sales and generate demand for PVC-free packaging solutions.
The report is a compilation of first-hand information, qualitative and quantitative assessment by industry analysts, inputs from industry experts and industry participants across the value chain. The report provides in-depth analysis of parent market trends, macroeconomic indicators and governing factors along with market attractiveness as per segments. The report also maps the qualitative impact of various market factors on market segments and geographies.
Unique Requirements? Customize this Report
Customize by Region, Country, Application, Product, & other segments
Integrate our Insights with your Existing Data
Determine the scope of the study to suit your requirements
Gain Insights on Key Pvc Free Packaging Market Impacting Forces
Know the Winning Strategies of Market Leaders
Get Deep-Dive Analysis on Each Segment
Identify the Sources that will Drive Top-Line Revenue
Global PVC-free packaging market: Segmentation
Globally, the PVC-free packaging market has been segmented as –
On the basis of product type, the global PVC-free packaging market is segmented as -
PVC-free Blisters
PVC-free closures
PVC-free Liners
Others
*The pricing has been calculated on the basis of product type, wherein, the weighted average prices for product variants was calculated
On the basis of end use industry, the global PVC-free packaging market is segmented as -
Food & Beverages
Cooked vegetables
Pasteurized products
Others
Pharmaceutical
Cosmetics & Personal Care
Homecare
Chemical & Fertilizers
Others
Report Highlights:
A detailed overview of parent market
Changing market dynamics in the industry
In-depth market segmentation
Historical, current, and projected market size regarding volume and value
Recent industry trends and developments
Competitive landscape
Strategies for key players and products offered
Potential and niche segments, geographical regions exhibiting promising growth
A neutral perspective on market performance
Must-have information for market players to sustain and enhance their market footprint
Frequently Asked Questions
---
Why choose FMI?
With a global presence and a trusted partner to several Fortune 500 firms, FMI covers 1 billion+ data points to build a diversified portfolio for market benchmarking
Market Reports researched and peer reviewed by industry experts from across the globe
We follow a multi-dimensional method of analysis monitoring a three-layer data validation process
In addition to demand-side market assessment, our data triangulation methodology involves supply-side research
Primary research includes mandatory field interviews with stakeholders involved
Customizing reports according to client specification is also our forte
What will you discover from Pvc Free Packaging Market report?
The current and future market size, covering each aspect and nuanced trends across key national and geographic markets
An overview of the market report, providing an imperative visual of the varied market subdivisions and overall forecast statistics in terms of value and volume
Extensive database and key dynamics elevating the market with varied verticals associated
Underlying Pvc Free Packaging Market forces that are compelling consumers or businesses to purchase the product
How novel technologies and consumer-centric innovations will create new value-adding opportunities for companies active in the Pvc Free Packaging Market
What will be environment and regulatory impacts on the market over the next decade
Which framework has been used to develop the Pvc Free Packaging Market report?
Investment Feasibility Matrix - It shows returns on investment, level of competition, success rate of investment, and potential risks associated with the market. The analysis shows that the competition is high in the established market, while the returns for short-term investment are also taken into consideration
Relative Maturity Mapping – The relative maturity is measured according to three growth phases (growth, maturity, decline)
Relative PLC (Product Life Cycle) – Analysis of the emergence of prominent players and competitive test prices which are driving factors behind every market. (expected market behavior, observed market behavior, expected market performance, observed market performance)
Harish Tiwari
Global Head - Business Development
Akshay Godge
Client Partner - Global Business Development