KEY FACTORS SHAPING RADIATION TOXICITY TREATMENT MARKET
Radiotherapy for Cancer Treatment Increasing Risk of Radiation Toxicity
Cancer is among the leading causes of deaths worldwide. According to WHO, one in 5 men and one in 6 women worldwide develop cancer during their lifetime, and one in 8 men and one in 11 women die from cancer annually. Prevalence of cancer is increasing rapidly across the globe boosting the demand for radiotherapy as a treatment approach. Radiation toxicity is caused by being exposed to radiations during radiotherapy.
Approximately, 50% of patient suffering from liver cancer, colon cancer, pancreatic cancer, and prostate cancer were treated with radiotherapy as per trend in last decade. Radiotherapy damages tumor cells, along with that it also hampers normal and healthy cells around the tumor. This is the key reason of radiation toxicity among 60% of patients treated with radiotherapy. Therefore, rising prevalence of cancer will also upsurge the cases of radiation toxicity throughout the globe.
Increasing Focus on Orphan Drug Designation
Various orphan drug laws and regulations incentivize life science companies for developing drugs for radiation toxicity treatment. As a result, there has been a remarkable increase in orphan drug designations applied by drug manufacturers and granted by various regulatory authorities for radiation toxicity treatment. In 2018, U.S. FDA approved the use of Leukine (sargramostim) to increase survival in adult and pediatric patients acutely exposed to myelosuppressive doses of radiation (Hematopoietic Syndrome of Acute Radiation Syndrome, or H-ARS).
Also, in 2018, U.S. FDA approved Mylan and Biocon's Fulphila (pegfilgrastim-jmdb), first biosimilar to Neulasta. The launch of Fulphila may help patients with non-myeloid cancers reduce the risk of infection following myelosuppressive chemotherapy.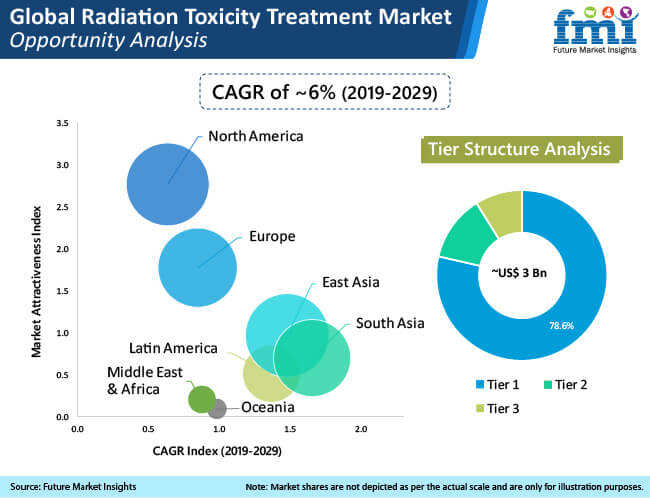 Radiopharmaceuticals as Therapeutic Approach Creating Lucrative Opportunities for Market Growth
Radiopharmaceuticals are currently used for the diagnostic purpose rather than therapeutic purpose. Currently, only 12.9% revenue of global radiopharmaceutical market is from therapeutic nuclear medicine, but it is expected that the therapeutic nuclear medicine will gain around 60-65% revenue by 2030. Increasing use of therapeutic radiopharmaceutical may increase the risk of radiation toxicity among patients. Also, therapeutic radiopharmaceutical may also lead to chronic radiation syndrome among patient and shows its consequences of radiation toxicity after few years of treatment.
RADIATION TOXICITY TREATMENT MARKET STRUCTURE ANALYSIS
The global radiation toxicity treatment market is highly consolidated. The global radiation toxicity treatment market is completely dominated by Amgen Inc. by accounting more than 75% market share.
Leading players of the radiation toxicity treatment market are also emphasizing on collaboration with distributor or local manufacturer to enhance their distribution channel in emerging economies.
For instance, in 2018, Partner Therapeutics signed distribution agreement with Tanner Pharma Group for the distribution of Leukine in the areas outside the U.S. and Canada.
In 2017, Jubilant Life Sciences Limited signed a long-term contract with distribution networks in the US for supply of products used for diagnostic and therapeutic products with Montreal Canada (JDI).
Ionizing Radiation Accounts for 90% Market Share
Representing a whopping 90% share in global market, ionizing radiation remains the highly preferred radiation toxicity treatment, particularly in developed countries. On the other side, it also continues to witness growing traction within developing regional markets. Under ionizing radiation, gamma radiation method accounts for over 50% share, while alpha and beta radiation methods are observing significant adoption. Adoption of non-ionizing radiation technique is increasing at a promising rate.
Maximum Adoption Prevails in U.S.
North America continues to offer worthwhile opportunities to market players, primarily attributing to increasing usage of single-photon emission computed tomography (SPECT) and positron emission tomography (PET) scanning machines at diagnostic facilities. Favorable healthcare reimbursements remain pivotal in shaping this regional market. Lucrative growth prospects of the U.S. market for radiation toxicity treatment will generate revenues of over US$ 1.5 Bn towards the end of 2029.
While Europe is also identified as a lucrative market, stakeholders are particularly eying the profits in East and South Asia. These regional markets are turning attractive with the increasing per capita healthcare expenditure and multiple government programs for integrated healthcare systems.
Paradigm Shift towards Orphan Drug Development
Rapid regulatory approvals and growing preference for orphan drugs will significantly shape the market for radiation toxicity treatment. Research studies prompt existence of nearly 7,000 rare diseases, most of which still stand unaddressed without any specific treatment measures.
While this indicates a lucrative white space, key market players are focusing their strategies on development of orphan drugs for rare diseases. The U.S. and Europe governments have been particularly granting approvals to various orphan drugs, as well as offering incentives to drug development companies.
How Growth will Unfold
Hospitals will remain the prominent end user of radiation toxicity treatment, where rapid growth in revenues is capturing attention of market players. Revenue generation in the radiation toxicity treatment market through hospitals will reach around US$ 5 Bn by 2029 end, which would continue to attract investments from leading market players. Adoption of radiation toxicity treatment at private hospitals accounts for nearly 4/5th shares, whereas that at the research & academic institutes would continue to see a sluggish outlook during the period of forecast.
World's Most Profilic Intelligence Engine
Get Access To The World's Largest Market Research Database. Ngage with a revolutionary intelligence engine that scale and pricing that flexes as per your needs
Sign Up Now
RADIATION TOXICITY TREATMENT MARKET TAXONOMY
The global radiation toxicity treatment market is segmented in detail to cover every aspect of the market and present a complete market intelligence approach to the reader.
Product
Colony Stimulating Factors
Potassium Iodide
Prussian Blue
Diethylenetriamine Pentaacetic Acid
Others
Indication
Acute Radiation Syndrome

Bone Marrow Syndrome (Hematopoietic)
Gastrointestinal Syndrome (GI)
Cardiovascular (CV)
Central Nervous System (CNS) Syndrome

Chronic Radiation Syndrome
Radiation
Ionizing Radiation

Alpha Radiation
Beta Radiation
Gamma Radiation

Non-Ionizing Radiation
End User
Hospitals

Government Hospitals
Private Hospitals

Research & Academic Institutes

Government Research and Academic Institutes
Private Research and Academic Institutes
Region
North America
Latin America
Europe
East Asia
South Asia
Oceania
Middle East and Africa (MEA)
Need specific information?