VEGF-A Antagonist Prescription for Treatment of Neovascular Age-Related Macular Degeneration to Drive Retinal Biologics Market Growth
Many retinal biologics have been approved by the Food and Drug Administration (FDA), the European Medicine Agency (EMA) and the China Food and Drug Administration (CFDA) for the treatment of retinal diseases. Advancements in technologies and new mechanism of action for different biologics to treat retinal diseases are anticipated to boost the retinal biologics market.
VEGF-A antagonist has been the prime focus area for many manufacturers as it prevents angiogenesis. For example, Eylea, manufactured by Regeneron, and Lucentis, manufactured by Roche, with anti-VEGF inhibitor, are available in the market for the treatment of neovascular age-related macular degeneration.
Rising Burden of Retinal Diseases and Increasing Diabetic Patient Population to Push Retinal Biologics Market Growth
Diabetic retinopathy has been a rising concern as the disease leads to vision loss among Type I and Type II adult diabetic patients. Diabetic macular edema also results from the consequences of diabetic retinopathy, which leads to the swelling of macula. According to Prevent Blindness statistics, the prevalence of diabetic retinopathy in the U.S. is estimated to be 5.3%.
VEGF-A antagonist is largely prescribed for the diabetic retinopathy treatment and also for treatment of diabetic macular edema. These factors are expected to propel the growth of the retinal biologics market. Moreover, the increasing burden of other retinal diseases such as uveitis and orbital inflammation is another factor surging the demand for retinal drugs and biologics.
First FDA Approved Gene Therapy Likely to Drive Market Growth
Retinal gene therapy is a therapeutic approach wherein the inherited defective genes are replaced by treatment with DNA or RNA. Gene therapy is considered to be a significant approach as there occurs less contamination, and the viral vector can easily accommodate within the eyes.
In December 2017, Spark Therapeutics' first ever gene therapy developed from adeno associated virus, known as Luxturna, received approval from the FDA in the treatment of patients with mutation associated retinal dystrophy. Many ophthalmic physicians are now inclined towards the use of gene therapy, which is expected to drive the growth of the global retinal biologics market.
Licensing and Collaboration Agreements among Major Players to Expand Product Footprint
Multiple companies are entering into licensing and collaboration agreements to expand their products into various countries worldwide in order to cater to the unmet demand. For example, in January 2018, Spark Therapeutics and Novartis Pharma AG received marketing authorization from the European Commission for Luxturna in the treatment of mutation associated with retinal dystrophy.
In order to improve the pipeline portfolio in research and development, many companies have entered into collaboration agreements with various other companies and universities, which in turn is expected to drive the market for retinal biologics during the forecast period.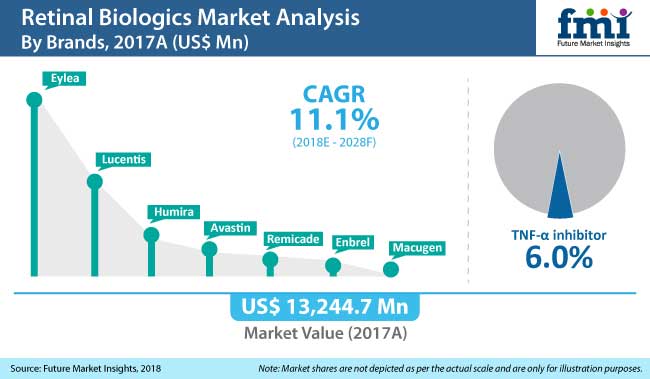 Competitive Landscape of Global Retinal Biologics Market
The competition section of the retinal biologics market provides detailed information about key players competing in the retinal biologics market based on their market shares, market strategies, product offerings, marketing approach and company dashboard. Some of the key players featured in this retinal biologics market report include Spark Therapeutics, Inc., F. Hoffmann-La Roche Ltd, Regeneron Pharmaceuticals, Inc., AbbVie Inc., Johnson & Johnson Services, Inc. and Amgen Inc.
Definition
Retinal biologics are bioengineered molecules that are implanted inside the eyes to heal chronic retinal diseases. Biologics are generally produced from living organisms such as microorganisms, or animal or plant cells. Some of the retinal biologics used in retinal diseases are Eylea, Lucentis, Humira, Macugen and others.
About the Report
The company has conducted a research study on the retinal biologics market for the forecast period 2018 to 2028, which provides a thorough assessment of opportunities in the retinal biologics market along with an understanding of the populations at risk, pipeline assessment analysis and epidemiology analysis about retinal biologics and competition in the retinal biologics market. Further, the report provides thorough information regarding the macroeconomic factors impelling the dynamics in the retinal biologics market.
Additional Questions Answered
Some of the additional questions answered in this report on retinal biologics market are:
What is the revenue potential of the retinal biologics market across North America and Europe?
Who are the key players and what are their product portfolios in the retinal biologics market?
What are the major challenges impacting the growth of the retinal biologics market?
What are the reimbursement guidelines for retinal biologics prescriptions?
Research Methodology
The retinal biologics market has been studied from a supply-demand side approach. Further, qualitative factors impacting the retinal biologics market, such as awareness regarding retinal biologics and treatments available, cost of treatment, reimbursement scenario and others, have also been discussed in the market report.
The calculated data has been further validated through primary research, including telephonic interviews, surveys, in-person interactions and viewpoints of experienced analysts. Secondary research resources, such as databases, trade journals and verified paid sources, were used to arrive at the observations drawn. The research study on the retinal biologics market also includes prominent trends and macro as well as microeconomic factors influencing the retinal biologics market.
Key Segment
Based on drug class
VEGF-A antagonist
TNF-α inhibitor
Based on indication
macular degeneration
diabetic macular edema
diabetic retinopathy
uveitis
others
Based on distributional channel
institutional sales

retail pharmacies
mail order pharmacies

retail sales
Need specific information?
Talk Show:
The Rise of Intelligent Packaging
Personalized, Connected and Sustainable
November 18, 2021
11:00-11:45 AM PST (USA & Canada)
This is a LIVE session