Rigid Industrial Packaging Market - Key Research Findings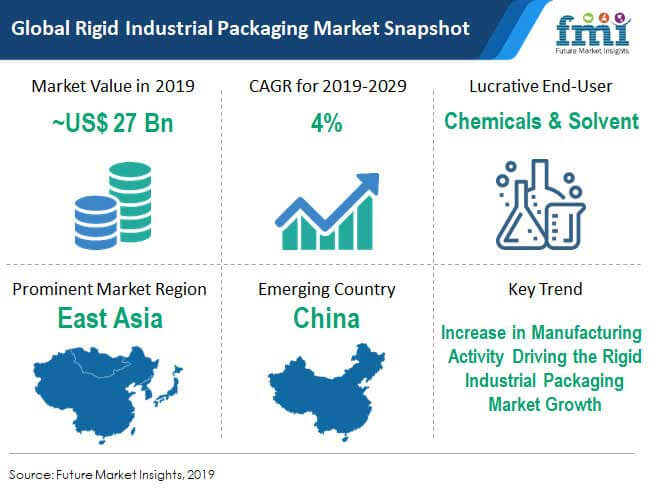 The global rigid industrial packaging market size estimated for 2019 is ~US$ 27 Bn.
The rigid industrial packaging market is expected to grow at a CAGR of 4% during the forecast period 2019-2029.
Growth of the chemical industry is expected to boost the demand for rigid industrial packaging.
Collectively, East Asia and Europe are expected to account for 65% of the revenue share in the rigid industrial packaging industry, by the end of 2029.

East Asia, due to its strong intercontinental trade, will continue to be a prominent regional market for rigid industrial packaging manufacturers.

The drums segment is expected to remain a prominent product type to invest in for rigid industrial packaging market players.

The food & beverages industry has witnessed significant growth over the last few years, and the increase in consumption of food additives, preservatives, and other ingredients in the packaged food industry to influence the demand during the forecast period.
Products such as pulp, flavoring agents, and other such ingredients in the beverages industry are stored in rigid industrial packaging solutions.
Key Factors Shaping the Rigid Industrial Packaging Market
Rigid Industrial Packaging to Gain Market Share during the Forecast Period
Growing industrialization is anticipated to boost the growth of the rigid industrial packaging market. The demand for chemicals and pharmaceuticals is increasing at a good pace and positively influencing the growth of the rigid industrial packaging market. Rigid industrial container manufacturers can capitalize on intercontinental trade for petrochemical, oil, and gas industries.
The traditional containers market has undergone a paradigm shift and advanced containers such as rigid IBCs, composite drums, etc., are increasingly being used, which is creating more demand for various rigid industrial products in other end-use industries for the storage of bulk products. Plastic drums are the most preferred containers for the storage of industrial goods and are expected to capture maximum market share.
Increase in Manufacturing Activity a Major Driver for the Market Growth
Over the years, the manufacturing sector has been contributing high percentage share to the global GDP. The growth of end-use industries is the major driver for rigid industrial packaging, where an increase in number of applications will create high demand for industrial containers. The suppliers of industrial goods are storing high volume of goods to create a market need and warehousing it for future use, so it requires industrial containers for long-term storage.
Growing Usage of Rigid Industrial Packaging in the Food and Beverages Industry to Drive Market Growth
The increasing demand for food and beverages such as alcoholic and non-alcoholic beverages, is driving the growth of the rigid industrial packaging market. For the storage and shipment of such beverages, safe and contamination-proof packaging is required, which is provided by rigid industrial packaging.
As the food and beverages industry is witnessing a boom in developing countries such as India and China, the demand for liquefied and powered items is also expected to increase in the industry. This increase in demand for preservatives and other food additives is expected to fuel the global rigid industrial packaging market growth during the forecast period.
Increasing Demand from Chemical Industry
Gaining from the rebounded performance of the chemicals sector, which is a key end buyer of bulk industrial containers, rigid industrial packaging manufacturers are leveraging their in-house research and development capabilities to innovate products that suit specific requirements. The global industrial packaging market is reflecting customized standardization trend, where manufacturers are developing products that meet end-user specific requirements.
Advantages also include lightweight and cost-competitiveness against conventional products available in the market such as steel drums, in addition to upheld material enhancements, corrosion and impact resistance, and non-reactive characteristics with packaged substances.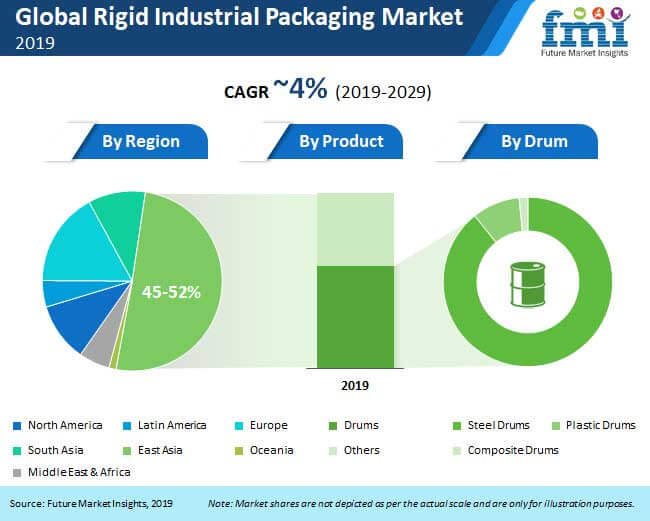 Rigid Industrial Packaging Market Structure Analysis
The global rigid industrial packaging market represents a fairly consolidated competition landscape, where majority of the key players maintain their strategic focus on the development of partnerships and acquisitions, targeting a global footprint.
Mauser Group B.V and Greif, Inc and Time Technoplast Ltd are the market leaders and are expected to maintain its dominance for the next 2 to 3 years. Regional and local players need to modify their product offerings and at the same time remain economical to pose challenges for market leaders
The rigid industrial packaging market has been relatively moderate in size, which remains a key factor for its dynamic competitive nature.
Leading manufacturers of rigid industrial packaging are currently prioritizing R&D and new product launches to resonate with the booming consumption by local vendors and new entrants in Europe, North America, and East Asia.
Product portfolio expansion to remain one of the key developmental strategies adopted by manufacturers of rigid industrial packaging.
For a stronger foothold in target markets, rigid industrial packaging manufacturers will continue to rely on inorganic strategies, such as mergers and acquisitions.
Rigid Industrial Packaging - Packed to Perfection
Consumers today enjoy products from a wide variety of locations across the globe which are delivered through an economically optimized and integrated logistics. Such system would be hardly possible without efficient and highly specialized packaging systems. Owing to rigorous packaging designs, the shipment of hazardous material no longer remains hazardous, and products ranging from chemicals to sensitive medicines can be safely stored and easily shipped.
With rapid industrialization and advances in manufacturing, the packaging landscape continues to undergo significant transformation, and sturdy and effective packaging solutions designed for storage and transport of products continue to gather momentum.
The pressure of minimizing the environmental impact and intensify the focus on sustainability have been felt across the industry. Manufacturers are thus investing in novel technologies to lower their impact on the environment and add value to varied products. Future Market Insights, in its new study, turns the spotlight on 'Rigid Industrial Packaging Market' and offers projections on future trends, and how machines and materials used by manufacturers will help them stay ahead of the pack in the foreseeable future.
Demand Driven by Robust Developments across Industries
Rigid industrial packaging has garnered significant traction as a viable system to protect manufactured products, which demand extended storage. Worldwide urban shift of population, rising globalization, and international trade that support the growth of commercial industries have been largely contributing to the expansion of rigid industrial packaging market.
Manufactures are hard pressed to innovate their products, as several new trends such as environmental performance, automated handling, the capacity to deliver smart monitoring across the logistics sector, and integration with Industry 4.0 are now influencing the use and choice of industrial packaging formats.
Rigid industrial packaging is critical for the storage of products that are hazardous to handle, such as chemicals, oils & lubricants, and pharmaceuticals; considering regulations and guidelines set for storage and shipment of these products is likely to open a wide window of opportunity for the stakeholders. Considering severing environmental concerns, key vendors in the market are focusing on R&D activities for biodegradable industrial containers.
A focus on material reduction or down gauging and maximizing the repeat use, especially for metal containers, further remains the key for manufacturers, to achieving sustainability goals.
East Asia Takes the Center Stage in Rigid Industrial Packaging Market
Amid the fast globalization, various industrial packaging formats have been essential for optimizing the logistics of worldwide product distribution. To keep up with evolving industrial trends, manufacturers are constantly leveraging new technologies to improve their product capacities and cater to varied sectors. Rigid industrial packaging market in East Asia continues to offer greater opportunities, owing to the increasing number of OEMs, rapid expansion of construction industry, and quicker adoption of advanced technologies.
Recognizing the widening scope of expansion in the region, stakeholders are focusing on reducing the cost per package and provide sustainable products as a key strategy to gain competitive advantage over the local vendors.
What Does it Mean for Manufacturers?
Rigid industrial packaging has gained a lot of importance in recent past, as it protects a wide range of sensitive products from unfavorable external factors while preventing any unwanted leakage or spillage of these products into the environment. The market expansion remains driven by new innovations in packaging materials, increased R&D investments, and rising trend of contract packaging.
As the demand for lighter, safer, and more recyclable packages is on the rise, manufacturers will need to reform their strategies so as to help prolong the lifecycle of finite resources and enhance the recycling process of their products.
Advances in technologies are introducing new opportunities for innovations in the rigid industrial packaging industry. Market stakeholders are now offering trackable containers that facilitate the ability to monitor the in-transit goods. Innovations for the shape of containers or other packages to optimize cargo space without compromising protection of the products will also remain a key focus area of the manufacturers.
Rigid Industrial Packaging Market – Gearing up for the Future
Steady economic performance of several nations has significantly contributed to industrial expansion and increased manufacturing output, which are working to the advantage of the market stakeholders. As plastic continues to be a convenient material for rigid industrial packaging, manufacturers are increasingly using technologies of polymer processing, including blow molding, injection molding, and extrusion to manufacture various products that meet end users' needs.
Sensing an exponential growth in end-use industries, especially in developing economies, manufacturers are inclining towards customized standardization trends to ease supply chain procedure of the end users. Moreover, manufacturers investing in cutting-edge technologies to ensure enhanced strength and capabilities of their products while making efficient use of resource and minimizing waste, are likely to deliver rewarding benefits in the long run.
World's Most Profilic Intelligence Engine
Get Access To The World's Largest Market Research Database. Ngage with a revolutionary intelligence engine that scale and pricing that flexes as per your needs
Sign Up Now
Key Segment
By Product Type
Drums

Steel Drums
Plastic Drums
Composite Drums

Rigid IBCs
Pails
Bulk Boxes
Others
Material Type
Plastic
Metal
Paper & Wood
Fibre
End Use
Chemicals & Solvents
Oil & Lubricants
Agriculture & Horticulture
Automotive
Building & Construction
Food & Beverages
Pharmaceuticals & Medical Devices
Others
Region
North America
Latin America
Europe
East Asia
South Asia
Oceania
Middle East & Africa
Need specific information?