Luxury Rigid Boxes Outlook & Key Findings
Luxury rigid boxes market is projected to reach over US$ 5.4 Bn by 2030, with two-piece luxury rigid boxes at the growth forefront
Consumer goods and consumer electronics packaging to remain the leading end users with nearly 60% market share in the global luxury rigid boxes market by 2030
As per material, paper and paperboard-based boxes to remain prominent in the global market, witnessing an incremental opportunity of US$ 572 Mn in the next five years
Luxury rigid boxes with inserts are expected to hold prominent market share in 2020-2030 and expected to expand 1.5x of current market value in the next decade
Luxury goods penetration in the consumer market is the fueling factor for growth of luxury rigid boxes market
Ready-to-Display and Zero Deformation Packaging Trends to Create Demand for Luxury Rigid Boxes
Gifting has played an important role in carving a niche for luxury rigid boxes that lend an unparalleled aesthetic value to the product. In recent years, emerging trend of gifting for various kinds of reasons has fueled the market for luxury rigid boxes. Using luxury rigid boxes for premiumization has been a strengthening trend amongst a score of established gifting companies and startups.
Windowed luxury rigid boxes, usually two piece, that allow a peek into perfectly crafted products inside it yet another compelling reason for their soaring sales. Sophisticated presentation and safe packaging of precious and delicate items with luxury rigid boxes has been winning the vendors in the market a steady clientele across various sectors.
Addition of Celebratory Days to Calendar Creates Stronger Demand for Gifting, Fueling Market Growth
The trend of marking days to celebrate awareness raising or specific occasions has been gaining wind. These days to commemorate and celebrate achievements and dedicate a day of gratitude around it have given the gifting companies across the globe to cater to the demands.
From chocolates packed in luxury boxes to expensive, luxury items, the demand for luxury rigid boxes has definitely spiked in recent years. While days such as Mother's Day, Father's Day, and Valentine's Day were commonly seen as occasions to gift, the emerging pet industry is also seen indulging in designing and commercializing gifts for International Cat Day and Dog Day.
Demand for luxury rigid boxes is expected to be driven consumerism that is specifically driven by occasions to gift in additional to conventional ones, predicts FMI.
Lightweight and Aesthetic Appeal Makes a Strong Case for Luxury Rigid Boxes
Packaging industry is adopting luxury rigid boxes due to its properties such as light in weight and superior aesthetics. These boxes help in protecting luxury high-end products, while adding to their appeal.
The wide range of presentation possibilities offered by these boxes has made a sea change in branding processes as well. The high quality rotogravure print or flexo print designs to provide aesthetic, elegant, and attractive appearance in order to attract buyers has fuelled impulse purchasing remarkably over the past few years.
Versatility and high customizable properties of luxury rigid boxes packaging is expected to further drive its adoption in the near future.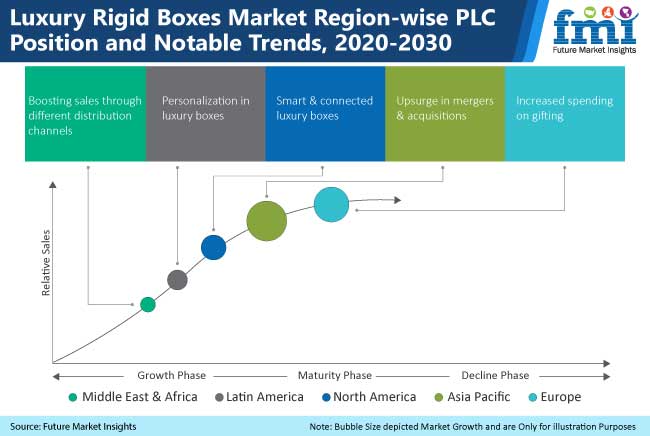 Luxury rigid boxes are anticipated to gain significant traction in next decade as consumers are more likely to spend on personalized luxury gifts and cosmetics. These boxes represent brand image of the company, which will push companies to expand their budgets to invest in good quality boxes.
Sale of personal care items, cosmetics, jewelry, apparel, and other consumer goods are expected to directly impact the sale of luxury rigid boxes. As the trend is all-pervasive, this market will see prominent growth across all the regions.
In North America, consumers have a stronger preference for smart and connected luxury boxes. This includes boxes equipped with Near Field Communication Technology enabled (NFC) and RFID to prevent loss of product or counterfeiting.
Asia Pacific is the most lucrative market in terms of market share and incremental revenue opportunity. The key players are planning to expand their business in Asia Pacific as wedding planners across are expected offer lucrative opportunities. Furthermore, rise of gourmet baking and artisanal packaging of confectionery items is also projected to bode well for the market.
Europe is at the maturity stage of the market. However, with the increasing disposable income and expansion of tourism business, Europe market growth trend is expected to increase gradually till 2030.
Latin America and the Middle East & Africa are expected to present luxury rigid boxes market a positive outlook. This market is expected grow further owing to more sales through distribution networks such as online shops and retail stores. Personalization of luxury boxes has emerged as a key trend in Latin America, as attractive and elegant gifts are gaining attention.
Increasing Spending on Luxury Goods Boosts Demand for Luxury Packaging
Launch of new stores across developed and developing countries fuelling the consumption trends around luxury market are expected to complement market growth. Growing number of Millennials and Generation Z with high disposable incomes, reaching their spending peaks are setting trends with regards to shopping for luxury items.
From watches to clothes, bags and shoes, the demand for luxury items and suitable packaging is expected to create myriad opportunities in the market. Additionally, the growing sentiment of responsible shopping has shifted focus on eco-friendly packaging materials. Vendors, standalone startups, and individual artists are looking at recycled packaging materials used as ephemera art form, to lend an aesthetic value for developing luxury rigid boxes.
Today, luxury rigid boxes are being designed as individual art pieces in their own right to cater and create awareness amongst buyers about handmade artefacts.
Personalized Luxury Boxes for Confectionery Packaging Gains Special Attention
Confectioners and bakers have been opting for luxury boxes for artisanal packaging of products to establish brand value and maintain transparency about ingredients. Chocolate gifting luxury boxes with custom messages are a sustained trend in the market. Many confectionery shops and delivery services provide the option of printing personalized images or photos on luxury boxes to delight their customers.
The use of materials such as paper and paperboard, fiber, and metals more than plastic and wood have made this line of packaging in line with eco-friendly sentiment. Efforts to reduce the pressure off landfills and to make packaging a more responsible effort has also brought in fresh perspective in the made luxury rigid boxes market that are specifically used for confectionery items.
COVID-19 Impact on Luxury Rigid Boxes Market
The luxury rigid boxes market has also witnessed nearly 20% to 25% contraction at the global level in the year 2020 so far due to COVID-19. Prior to pandemic, the luxury rigid boxes market was expected to register peak Y-o-Y of 5.8% in 2020. However, due to this pandemic, the market is estimated to register only 3% Y-o-Y growth in 2020. Demand for luxury goods has dropped significantly as consumers are only spending on necessities.
Key players are facing numerous challenges as the supply chain is completely disrupted. Scarcity of raw material and unavailability of workforce are the major problems faced by the manufacturers. With no end in sight, some of the manufacturers switched to life essential products manufacturing such as mask and PPE kits.
Today, in China, India, and the United States the manufacturers are slowly resuming manufacturing activities with all precautions. In spite of this declining phase, e-commerce is anticipated to boost luxury rigid boxes market growth in 2021.
Luxury Rigid Boxes Market: Regional Analysis
Asia Pacific market is anticipated to hold more than 2/5th of the market share during the forecast period. However, with the expansion of food & beverage and consumer goods packaging industries, the Asia Pacific luxury rigid boxes market is expected to expand 1.6 times of current market value till 2030. Therefore, many key players are planning to expand their business in India, China, and Malaysia.
In Europe, the production of luxury rigid boxes is slightly reduced due to COVID-19. Therefore, in 2020-2021, the Europe market growth is expected to slow down compare to past year. However, post COVID 19 pandemic, expansion of travels and tourism business is expected to create significant revenue opportunities for luxury rigid boxes market in next decade.
In North America, beauty & personal care market drives the luxury boxes market. But, production activities of this region is also experiencing a declining phase due to corona pandemic. As per FMI, North America market is estimated to hold nearly 18% market share in 2020. The market is expected to decline by 70bps of current market share till 2030 end.
Latin America and Middle East and Africa are expected to grow with moderate CAGR during 2020–2030. Strong distribution network and increasing disposable income of the consumers is likely to expand the regional luxury rigid boxes market in near future.
Luxury Rigid Boxes Market: Competition Landscape
The luxury rigid boxes market is a fragmented and the top players account for 10% to 12% of the global production. Key players are emphasizing on expansion of business in the untapped regions to increase their global reach. Besides this, these players are also focused on expansion of product portfolio through innovations and product developments.
For instance,
In February 2020, Madovar Packaging Inc. has created custom apparel gift boxes for 'Antoniella Apparel', which is a luxury apparel brand, specializing in beautifully designed pocket squares and scarves
In 2019, McLaren Packaging Ltd acquired Port Glasgow-based Moelle Interlok Packaging, a producer of solid board divisions and layer pads for the drinks, glasses, and electronics industries
In 2019, Autajon, a Europe-based company, expanded its arm to the U.S. market for confectionary product packaging. With this, the compay had developed a partnership with Lindt & Sprüngli USA to mark their footprint in the U.S.
As per FMI analysis, following are the leading players of luxury rigid boxes market.
Robinson Plc
McLaren Packaging Ltd
DS Smith Packaging Limited
PakFactory
Madovar Packaging Inc.
Burt Rigid Box, Inc.
Holmen AB ADR (Iggesund Paperboard)
Elegant Packaging
Elite Marking Systems
Design Packaging, Inc.
Bigso Box Of Sweden
ACG | Ecopack (Finn Industries, Inc.)
JohnsByrne
Sunrise Packaging, Inc.
Asia Korea Printing Inc.
Bell Printers
Prime Line Packaging
Autajon
Npack ltd.
Taylor Box Company
*The list is not exhaustive, and only for representational purposes. Full competitive intelligence with SWOT analysis available in the report
Luxury Rigid Boxes: The Way Forward
The luxury rigid boxes market is projected to register a peak Y-o-Y of 4% in 2025. The market is likely to have an upward trend in the next decade. Packaging industries such as consumer electronics, perfumes, food, and fashion accessories are using luxury boxes for grabbing more attention of the consumers and increase point-of-sale. Therefore, these industries are anticipated to create exponential growth opportunities for this market.
Furthermore, increasing number of e-commerce platforms, supermarkets, and retail shops are directly influencing sales of luxury boxes in many countries.
Key Segment
By Packaging Type
Hinge Lid Box
Collapsible Box
Rigid Sleeve Box
Shoulder Neck Box
Two Piece Box
Telescopic Box
Others
By Closure Type
Magnetic Closure
Ribbon Tie
Mechanical Lock
Frictional Seal
By Insert Type
With Insert

Foam Insert
Paper or Paperboard Insert
Plastic Insert

Without insert
By Material
Fabrics
Metals
Plastics
Paper & Paper Board
Wood
By End Use
Fashion Accessories & Apparels

Watches
Jewelry
Sunglasses
Ties
Shoes
Apparels
Others

Food & Beverages

Cookies & Biscuits
Chocolates
Sweets
Alcoholic Beverages
Others

Consumer Goods

Flowers
Ceramics
Glass Craft
Metal Craft
Others

Perfumes
Consumer Electronics
By Region
North America
Latin America
Europe
Asia Pacific
MEA
Need specific information?