Key Growth Influencers - Women's Luxury Footwear Market
Brand Endorsements Evoking Consumer Interest
Consumers' purchase behaviour of women's footwear, to some extent, depends upon what their desired stars and athletes are wearing. Footwear providers appoint popular celebrities as brand ambassadors of their products. For example, Roger Federer is a brand endorser of Nike, and Kylie Jenner has recently become the brand endorser of Adidas products. Brand endorsement has a psychological impact on consumers, as the sight or memory of their celebrity idol reminds them of brands that they endorse.
Expansion of Affluent Consumer Class
Major brands of footwear are targeting high end customers or women, and strengthening their women footwear business through special advertisements and branding. The number of working women is rapidly increasing, and women are running new business that provide them self-sufficiency and financial independence, across the globe.
These women are counted among high-net-worth individuals, and the global wealth share by women is expected to increase by 30% in 2020. All these factors are expected to fuel the demand for women's luxury footwear during the forecast period.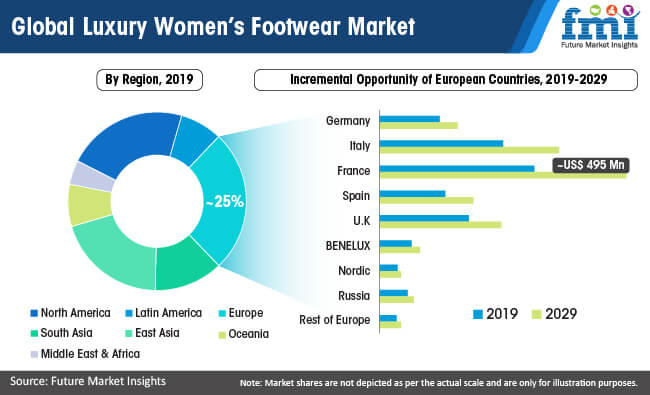 Increasing Preference for High-End Products
The recent past has witnessed a widespread distribution of women's luxury footwear by attracting consumers of all age groups. The younger generation is considered as the key driver for the women's luxury footwear market growth. In coming years, Gen Y and Gen Z are likely to contribute a significant share in the market owing to their high purchasing power and their influence in purchasing products through online sales channel.
In the global luxury market, these two generation consumers are expected to hold around 55% of the value by 2025. The luxury goods market, which also includes luxury footwear, is expected to have a significant market share during the forecast period. In the personal luxury products market, the number of millennial consumers is predicted to increase from 33% to 50% in 2025.
Introduction of Eco-friendly Luxury Footwear
Consumers around the world are conscious about the usage of eco-friendly or green products. Manufacturers of footwear are also observing the trend and have now come up with some great options such as sustainable footwear or sneakers from recycled and renewable materials such as Adidas x Parley, Tread by Everlane, Converse Renew, etc.
In women's luxury footwear category, manufacturers have an opportunity to produce sustainable or eco-friendly women's luxury footwear. A very few companies are now producing sustainable footwear, which create opportunities for other players to enter sustainable footwear manufacturing.
Growing consumers' awareness about sustainable or eco-friendly products are projected to support consumers' buying behaviour. The market has an opportunity to grow in developed countries where consumer's awareness level is high.
Women's Luxury Footwear Market: Structure Analysis
The global women's luxury footwear market represents a fairly consolidated competition landscape, where majority of key players maintain their strategic focus on quality and product variety.
Leading producers of women's luxury footwear are currently prioritizing R&D and new product launches to resonate with the growing demand from countries or regions such as USA, China, Japan, and European countries such as France, Italy, U.K., etc.
Mergers and acquisitions are also identified as key developmental strategies adopted by manufacturers of women's luxury footwear. Caleres acquired Vionic in October 2018, to expand its access to the growing contemporary comfort footwear category.
Increasing number of counterfeit products and lack of quality retail spaces are likely to create a bottleneck for prominent players.
Women's Luxury Footwear Market – Stepping into a Bigger Future
In the age of fast changing trends, the luxury industry is keeping an eye on a new consumer class – millennial and Gen Z – that is rising and set to become increasingly relevant in the future. While men's lines of luxury footwear are growing on a pace with men placing a greater emphasis on their appearance, womenswear still accounts for the biggest share. Sales of women's luxury footwear are expected to expand at a CAGR of 6% over the forecast period (2019-2029).
Future Market Insights, in its new study, discusses key trends shaping this market and analyzes how modern technology and use of social media are influencing consumers' buying decisions in this fast growing sphere.
Sandals & Flats Stay in Demand, Sneakers Gaining Significant Traction
In 2018, women's luxury sandals & flats worth of around US$ 4.4 Bn were sold worldwide, contributing a major share to manufacturers' bottom lines. In recent years, streetwear 'athleisure' trends have strongly influenced premium fashion choices, propelled by modern affluent consumers' desire to balance comfort and style.
The result is projected to lead to increased sales of women's casual, sneakers, and sport shoes over the next decade. With celebrities transforming the perception of active wear to a hit fashion statement, sneakers and sports shoes which were once focused on performance and functionality are given a designer reinterpretation.
East Asian Women's Appetite for Luxury Footwear Remains Unrivaled
The U.S. leads the adoption of women's luxury footwear with a wide range of players focusing on diversifying their product portfolio to maintain a competitive advantage. However, significant lucrative opportunities are expected in East Asia, especially in China, owing to expansion of affluent consumer class and subsequently changing purchasing decisions.
In 2019, sales of women's luxury footwear in China will witness 10% increase over 2018. A gradual move away from disposability in favor of occasionally worn, highly priced editions of footwear are set to lure more Chinese consumers in years ahead.
Market Players Pivot their Strategy to Sell Online
Store-based retailing still remains preferred, as it allows customers to check their products physically and enjoy brand experience. Earlier, high-end items were reserved for offline sales and E-commerce was considered a channel for selling low- to mid-range women's luxury footwear. However, realizing that luxury purchases these days are majorly influenced by online experience, companies are focusing on strengthening their online retail channels.
In recent past, E-commerce expansion has been significantly influencing luxury industry, further compelling manufacturers to adopt an omni-channel strategy. In 2019, over a fifth of women's luxury footwear sales will take place online.
How Growth Will Unfold
While rubber and leather continue to be materials of choice for women's luxury footwear, the trends of transparency and sustainability are expected to alter the exiting scenario. As today's consumers value transparent communication about the entire production process and prefer to wear shoes that has not harmed the environment, human, or animal rights, manufacturers will need to redefine their product innovation strategies.
Prioritizing the use of alternative materials including plant-based rubber, bio-printed leather, and natural textile will further remain key to gaining distinct competitive edge.
Key Segment
Product
Boots
Heels & Pumps
Sandals & Flats
Casual, Sneakers & Sports Shoes
Material
Rubber
Leather
Polyester
Velvet
Canvas
Textiles
Others
Price Range (US$)
300-499
500-699
700-999
1000-1299
1300-1599
1600 & Above
Sales Channel
Offline Sales

Department Stores
Specialty Stores
Monobrand Stores
Off-price Stores
Others

Online Sales
Region
North America
Latin America
Europe
South Asia
East Asia
Oceania
Middle East & Africa
Need specific information?
Talk Show:
The Rise of Intelligent Packaging
Personalized, Connected and Sustainable
November 18, 2021
11:00-11:45 AM PST (USA & Canada)
This is a LIVE session