Collapsible Rigid Containers Market By Product Type (Crates, Pallet Boxes, Folding IBCs), Material (Metal, Plastic, Others), End-Use (Automobile, Pharmaceuticals, Chemicals, Agriculture, Food & Beverages), Sales (Indirect, Direct) & Region - Forecast 2018–2028
Collapsible Rigid Containers Market - Analysis, Outlook, Growth, Trends, Forecasts
February 2019

REP-GB-8967

184 pages
Increased Intercontinental Trade Activities and Improved Cost-benefit Solutions Offered by Collapsible Rigid Containers to Proliferate Market Growth
The global collapsible rigid containers market was valued at US$ 1.36 Billion in 2018 and is projected to expand at a CAGR of 4.9%, during the forecast period.
Collapsible rigid containers, also referred to as foldable containers, have emerged as an effective solution to cut surplus overhead costs and reduce the storage problem. Collapsible rigid containers can be folded or collapsed into number of a fractions leading to increased load capacity and stability. Furthermore, shipping and storage managers are constantly looking for a product that can enhance their storage capacity.
This demand is fulfilled by collapsible rigid containers. Collapsible rigid containers are high on demand for safe and convenient shipping of products in various end-use industries such as automobile, chemical, food and beverages, etc. Off late, the Asia Pacific has been witnessing a tepid demand for collapsible rigid containers from food and chemical industries. Collapsible rigid containers have generated a great level of productivity for the shipping industry and helped it achieve subtle profitability.
Growing Demand for Plastic Crates & Pallet Boxes as a Bulk Packaging Option for Agricultural Applications
Growing automobile & chemical industries to give a fillip to the collapsible rigid containers market. The use of collapsible rigid containers as a bulk packaging option for several fresh produce & agricultural applications is rapidly growing across the globe. Due to the availability of plastic collapsible rigid containers in different capacities, consumers can pack their agricultural produce as per their usage.
Furthermore, collapsible rigid containers such as crates, being lighter and compatible as compared to traditional crates, have more demand in agricultural applications. Collapsible rigid containers are better for handling due to their smooth surface as compared to other packaging tools. Thus, escalating the global collapsible rigid containers market.
Large Investments and the Availability of Alternative Transportation Solutions to Affect Growth
However, collapsible rigid containers require a large investment as compared to its alternatives, which can affect growth. Although various features such as extended shelf life and reliability, provided by collapsible containers can far offset the primary investment. The surplus cost absorbed in purchasing quality products like collapsible rigid containers easily returns in the form of durability, reusability, and safety.
Moreover, the availability of alternative transportation solutions can affect the growth of the collapsible rigid containers market. This is proving to be a game-changing opportunity for manufacturers offering bulk containers, but also simultaneously causing a decline in the preference for collapsible rigid containers.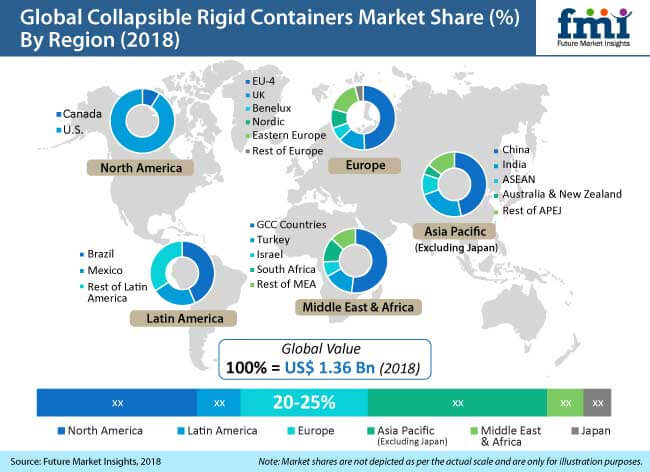 Vendor Landscape Remains Highly Splintered in the Global Collapsible Rigid Containers Market
The key manufacturers in the collapsible rigid containers market profiled in this report include:-
Brambles Limited, Supreme Industries Limited, Schoeller Allibert Services B.V., DS Smith Plastics Ltd., SSI Schäfer AG, ORBIS Corporation, Dynawest Limited, Ac Buckhorn LLC, Myers Industries, Inc., Time Technoplast Ltd., Rehrig Pacific Company, Inc., Bulk Handling Australia Group Pty Ltd., A. R. Arena Products Inc., Dalian CIMC Logistics Equipment Co., Ltd., and TPS Rental Systems Ltd. Many local and unrecognized players are expected to contribute to the global collapsible rigid containers market during 2019-27.
Recent Developments in the Collapsible Rigid Containers Market
Schoeller Arca System (SAS) is following a strategy of mergers and acquisitions. Recently, the company merged with Time Technoplast Ltd., (TTL), a leading technology-driven polymer manufacturer of India, and collaborated on a new company named "Schoeller Arca Time Materials Handling Solutions."
In 2012, Tosca Services, LLC acquired Georgia Pacific's RPC business unit and expanded its manufacturing capabilities in the collapsible rigid containers segment.
Cherry's Industrial Equipment is expanding by innovating its existing product portfolio by offering a new variety of containers named wire mesh collapsible rigid containers.
World's Most Profilic Intelligence Engine
Get Access To The World's Largest Market Research Database.
Sign Up Now
Key Segments Covered in the Collapsible Rigid Containers Market
By Product Type
Crates
Pallet Boxes
Folding IBCs
By Material
Metal
Plastic
Others (wood, etc.)
By Sales
By End Use
Automobile
Pharmaceuticals
Chemicals
Agriculture
Food & Beverages
Shipping & Logistics
Other Manufacturing (Apparel & Textile, etc.)
Need specific information?
Our Clients