An Incisive, In-depth Analysis on the Plastic Rigid Ibc Market
This study offers a comprehensive, 360 degree analysis on the Plastic Rigid Ibc market, bringing to fore insights that can help stakeholders identify the opportunities as well as challenges. It tracks the global Plastic Rigid Ibc market across key regions, and offers in-depth commentary and accurate quantitative insights. The study also includes incisive competitive landscape analysis, and provides key recommendations to market players on winning imperatives and successful strategies.
Intermediate Bulk Containers or IBCs are the most preferred product type all over the globe. They are industrial containers which are reusable and are specifically intended for storage and transportation of granulated substance and bulk liquids such as solvents, food ingredients, pharmaceuticals, chemicals and many more bulk products. Plastic rigid IBCs have various advantages such as reusability and cost effectiveness. In rigid bulk packaging, plastic material is the largely used and has a higher share owing to various performance benefits. Among plastics, PP and HDPE are the largely preferred material owing to their extensive flexibility and cost effectiveness. The plastic rigid IBCs are used in numerous end use industries such as food and beverages industry, industrial chemical industry, pharmaceutical industry, paints, inks & dyes industry, and petroleum and lubricants industry.
Future Market Insights has come up with an analytical fact based research report on global plastic rigid IBC market while carrying out research on the packaging industry and intermediate packaging containers. This acumen rich research report covers all key geographies along with numerous aspects within the plastic rigid IBC market impacting the usage of these IBCs for example, capacity types, materials used, different trends, developments and innovations, growth drivers and restraints as well as opportunities for key players in the market in the coming years. With an in-depth market segmentation, future projections are carried out for five years from 2017 to 2022. The insights on forecasts for five years can support the reader in chalking key strategic moves with a view to achieve stability and pave the way for future expansion.
According to the all-encompassing research report on global plastic rigid IBC market, the global market is expected to reach a significant market valuation by the end of the forecasted year. The global market for plastic rigid IBCs is estimated to reach a market value of about US$ 3.9 Bn by 2022 end, growing at a robust CAGR duringthe period of forecast, 2017-2022.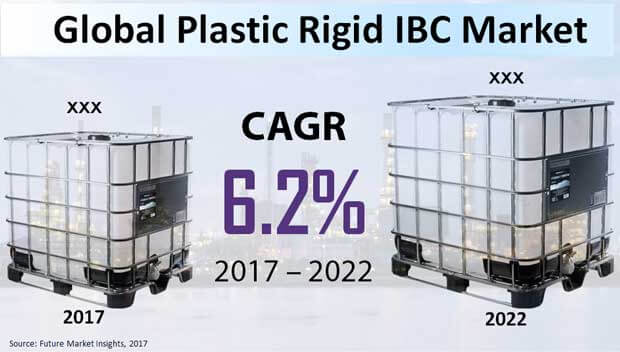 500-1000 Litres Seems to be a Highly Preferred Capacity
500-1000 litres segment by capacity type has gained high popularity since past couple of years. This segment is expected to grow at a high rate duringthe period of forecast to reach a market estimation of more than US$ 1.5 Bn by the end of 2022. This significant growth in pace and increase in market value has supported the dominance of the 50-1000 capacity litres segment since 2016 and this trend is highly likely to continue over the forecast period. In 2017, this category portrayed the highest market share owing to its high demand.
The 500 litre capacity segment is also projected to grow at a similar pace like the 500-1000 litres capacity segment. However, this segment lacks behind in valuation as its use is limited from an application stand point. Several end use industries prefer high capacity containers for storage and transportation in order to reduce the cost of transportation and at the same time store bulk products. On the other hand, the 1000-1500 litres segment is poised to grow at the highest growth rate during the forecast period and also reflect a high market valuation by the end of the forecasted year. This segment presents high opportunities in the future. It is also expected to gain the highest BPS by the end of 2022 and stands second in terms of value share, after 500-1000 litres capacity segment.
Food and Beverage Industry to Show High Demand for Plastic Rigid IBCs
Plastic rigid IBCs are used in the food and beverage end use sector to store and transport bulk food products and various beverages across long distances from the manufacturing units. This end use category has seen a rise in demand for plastic rigid IBCs in the recent years. The food and beverage end use segment is expected to show a high pace with respect to use plastic rigid IBCs in the coming years and projected to register a high healthy CAGR of 6.5% duringthe forecast period.
Competitive Scenario in the Plastic Rigid IBCs Market
The global research report on plastic rigid IBC market includes analysis on different companies involved in this market. Key players such as Greif, Inc., Schutz Container Systems Inc., Mauser Group B.V, Time Technoplast Limited, Hoover Ferguson Group, Inc., Snyder Industries, Inc., Bulk Handling Australia Pty Ltd, and Maschiopack GmbH are profiled.
Unique Market Research Methodology
Supported by a unique research methodology, the fact based plastic rigid IBC market research study is skilfully crafted that covers various aspects such as market shares, volume analysis, revenues, channel distribution analysis, end user and competitive analysis, different strategic facts, forecasts, etc. The research process is aimed at enhancing the accuracy of the data collected. The statistical analysis goes through numerous validation and examination funnels at every stage of the research process post which data point is obtained pertaining to each segment, sub segment, region and sub region with the help of triangulation method. The adoption of such a unique research methodology adds to the credibility of the research report as it reduces errors giving a realistic value of the global market scenario.
Actionable intelligence is essential, especially when global perspective is involved
It is easy to identify and note down the numbers in an excel sheet, however, there is no use of these figures if they do not reflect a pulse in a particular market segment or in a particular region. But with an unbiased view, research experts can give opinions based on the calculations and observations. These actionable insights can be used to make informed decisions. A holistic view of the global plastic rigid IBC market is put forth by Future Market Insights in its new publication titled "Plastic Rigid IBC Market: Global Industry Analysis (2012-2016) and Opportunity Assessment (2017-2022)". This research publication unveils several trends, developments, drivers, restraints and opportunities in the plastic rigid IBC market which have an influence over its growth. These aspects vary from region to region and hence this research report also includes acumen pertaining to important regions across the globe covering the market for plastic rigid IBCs.
Market Segmentation
The research report on global plastic rigid IBC market is segmented by capacity type, material type, end use and region.
| Region | Capacity Type | Material Type | End Use |
| --- | --- | --- | --- |
| | | High Density Polyethylene (HDPE) | |
| | | Low density polyethylene (LDPE) | |
| | | Linear Low Density Polyethylene (LLDPE) | |
| | | | |
| | | | |
| | | | |
Competitive Scenario- Opportunity Hunt
Competitive intelligence is required to identify essential factors which can be used to enter into a region or establish presence in a region. The market research report on plastic rigid IBC market educates about the various key players or competitors in different regions of North America, Europe, Asia Pacific excluding Japan, Latin America, Japan and other Middle East and African countries. The analysis includes small as well as big players in the market in different sub regions such as Italy, Canada, United States, Mexico, Germany, France, Spain, China, India, Japan, United Kingdom etc. Various aspects such as marketing and promotion activities, pricing strategies, growth strategies such as mergers and acquisitions, distribution channel analysis, etc., are covered in this section. This realistic scenario of the market enables the company to find conventional and unconventional ways to ensure steady growth rate along with strategies to identify and reach the prospects.
To give an inkling of the plastic rigid IBC market research report, it starts with basic market research definition followed by overview and ends with key recommendations of the domain experts in the market. The weighted segmentation covers all aspects present within the market, which provide key insights that are used to solve any challenge that the reader might face. To conclude, the global rigid IBC market research report provides sufficient fuel by exploring and covering all angles of the market, thus supplying analysed data and statistics with higher accuracy, weighted analysis, along with key recommendations, in-depth analysis and future projections five years down the line.
COVID -19 : Impact Analysis
Request the coronavirus impact analysis across industries and markets
Request Covid -19 Impact
CASE STUDIES
See how our work makes an impact.
At FMI, we design strategies that are adaptive, impactful, and implementable.