Introduction
Intermediate Bulk Containers or IBCs are the most preferred product type all over the globe. They are industrial containers which are reusable and are specifically intended for storage and transportation of granulated substance and bulk liquids such as solvents, food ingredients, pharmaceuticals, chemicals and many more bulk products. Plastic rigid IBCs have various advantages such as reusability and cost effectiveness.
In rigid bulk packaging, plastic material is the largely used and has a higher share owing to various performance benefits. Among plastics, PP and HDPE are the largely preferred material owing to their extensive flexibility and cost effectiveness. The plastic rigid IBCs are used in numerous end use industries such as food and beverages industry, industrial chemical industry, pharmaceutical industry, paints, inks & dyes industry, and petroleum and lubricants industry.
Future Market Insights has come up with an analytical fact based research report on global plastic rigid IBC market while carrying out research on the packaging industry and intermediate packaging containers. This acumen rich research report covers all key geographies along with numerous aspects within the plastic rigid IBC market impacting the usage of these IBCs for example, capacity types, materials used, different trends, developments and innovations, growth drivers and restraints as well as opportunities for key players in the market in the coming years.
With an in-depth market segmentation, future projections are carried out for five years from 2017 to 2022. The insights on forecasts for five years can support the reader in chalking key strategic moves with a view to achieve stability and pave the way for future expansion.
According to the all-encompassing research report on global plastic rigid IBC market, the global market is expected to reach a significant market valuation by the end of the forecasted year. The global market for plastic rigid IBCs is estimated to reach a market value of about US$ 3.9 Bn by 2022 end, growing at a robust CAGR duringthe period of forecast, 2017-2022.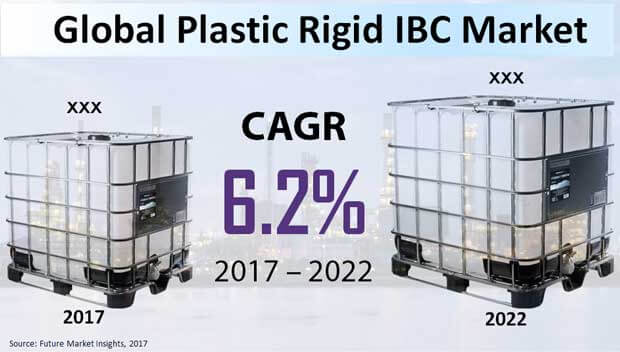 500-1000 Litres Seems to be a Highly Preferred Capacity
500-1000 litres segment by capacity type has gained high popularity since past couple of years. This segment is expected to grow at a high rate duringthe period of forecast to reach a market estimation of more than US$ 1.5 Bn by the end of 2022. This significant growth in pace and increase in market value has supported the dominance of the 50-1000 capacity litres segment since 2016 and this trend is highly likely to continue over the forecast period. In 2017, this category portrayed the highest market share owing to its high demand.
The 500 litre capacity segment is also projected to grow at a similar pace like the 500-1000 litres capacity segment. However, this segment lacks behind in valuation as its use is limited from an application stand point. Several end use industries prefer high capacity containers for storage and transportation in order to reduce the cost of transportation and at the same time store bulk products.
On the other hand, the 1000-1500 litres segment is poised to grow at the highest growth rate during the forecast period and also reflect a high market valuation by the end of the forecasted year. This segment presents high opportunities in the future. It is also expected to gain the highest BPS by the end of 2022 and stands second in terms of value share, after 500-1000 litres capacity segment.
Food and Beverage Industry to Show High Demand for Plastic Rigid IBCs
Plastic rigid IBCs are used in the food and beverage end use sector to store and transport bulk food products and various beverages across long distances from the manufacturing units. This end use category has seen a rise in demand for plastic rigid IBCs in the recent years. The food and beverage end use segment is expected to show a high pace with respect to use plastic rigid IBCs in the coming years and projected to register a high healthy CAGR of 6.5% duringthe forecast period.
Competitive Scenario in the Plastic Rigid IBCs Market
The global research report on plastic rigid IBC market includes analysis on different companies involved in this market. Key players such as Greif, Inc., Schutz Container Systems Inc., Mauser Group B.V, Time Technoplast Limited, Hoover Ferguson Group, Inc., Snyder Industries, Inc., Bulk Handling Australia Pty Ltd, and Maschiopack GmbH are profiled.
Market Segmentation
The research report on global plastic rigid IBC market is segmented by capacity type, material type, end use and region.
Region
North America
Latin America
Europe
Japan
APEJ
MEA
Capacity Type
Up to 500 liters
500-1000 liters
1000-1500 liters
1500-2000 liters
Above 2000 liters
Material Type
High Density Polyethylene (HDPE)
Low density polyethylene (LDPE)
Linear Low Density Polyethylene (LLDPE)
Polyvinyl Chloride (PVC)
Others
End Use
Industrial Chemicals
Petroleum & Lubricants
Food & Beverages
Paints, Inks & Dyes
Pharmaceuticals
Other End Users
Need specific information?