Plastic Pails Market By Product Type (Open Top/Head, Close Top/Head), Material Type (PE, PP, PET, PVC), Capacity (Up to 3 Litres, 3 to 5 Litres, 5 to 10 Litres), End Use (Paints & Coatings, Inks, Dyes & Pigments) & Region - Forecast 2020 - 2030
Plastic Pails Market - Analysis, Outlook, Growth, Trends, Forecasts
June 2020

REP-GB-11717

208 pages
Plastic Pails Outlook & Key Findings
Plastic pails market is projected to reach over US$ 656 Mn by 2030, with open top/head plastic pails at the growth forefront
Inks, dyes, and pigments end use segment to witness a growth of 1.6x due to non-corrosion and tamper-proofing
Plastic pails market is projected to expand at CAGR of 4.4% during the forecast period (2020-2030).
North America and East Asia together are to dominate with a market value share of 56% in the global plastic pails market
Lightweight, recyclability and wide applicability win plastic pails vendors score of opportunities
Plastic Pails Market Analysis: Increased Manufacturing Activities to Boost Sales of Plastic Pails
One of the significant factor bolstering the demand for plastic pails is the growth of the manufacturing sector and industrial output. Global economic performance has stabilized across the globe rising demand for industrial products with enhanced infrastructure and standard of living.
The demand for plastic pails in the food & beverage industry will soar in the coming decade as these pails offer a convenient solution to storage. Closed lids ensure safe storage and transported due to airtight sealabilty. The economical nature of plastic pails is working to market's advantage as vendors are opting for plastic over conventional metal pails, tins, and steel drums.
Future Market Insights predicts that rust-proof attribute of plastic pails will make them a preferred packaging solution amongst food ingredient manufacturers with growing focus on food safety.
The global market also stands to benefit from the booming agricultural sector that is projected to create a high demand for chemical fertilizers. Liquid fertilizers can be easily transported and stored in plastic pails as they are non-corrosive and easy to handle.
The paints and coatings industry is also projected to be a notable contributor to the global plastic pails market. Rise in construction and infrastructure activities, growing expenditure on refurbishing of homes, and property preservation will demand paints across the automotive, marine, aerospace, and machinery manufacturing sectors. Thus, this specific demand will boost the sale of plastic pails that are required for transporting paints across national and international borders.
Recyclable Plastics Anticipated to Augment the Growth of Plastic Pails
Plastic pollution has been the biggest challenge of the 20th century threatening the delicate balance of life on land, water, and air. Overflowing landfills has been a heated debate in recent years, as non-degradable plastic has led to some dire consequences.
This challenge has provided enormous opportunities for use of recycled plastic in production of plastic pails. Government support and stringent regulations have played a major role in recycling plastics. Brand owners and manufacturers from various industries are also focusing on reusing plastic to reduce their carbon footprint and to make the product environment-friendly.
Thus, plastic pails made with recycled material are expected to gain momentum as they are expected to reduce CO2 emissions and eliminate the dependency of fossil fuels for production of new plastic. Crude oil is used in two ways in the production of plastic pails-petroleum refining as raw material and as an energy source for manufacturing. Manufacturing of plastic pails from recycled materials will reduce the dependency on the price of raw material, allowing manufacturers to offer low-cost plastic pails to end-user industries.
For instance, Mauser Group N.V. uses recycled-material-incorporating Twinshot technology to manufacture 100% recyclable plastic pails. In spite of the favorable conditions, recycling efficiency remains fragmented and limited, which lowers profitability and benefits to be derived. Thus, increasing consumer awareness about overall benefits of plastic recycling is expected to complement the market by creating more opportunities for the plastic pails market.
COVID-19 Impact on Plastic Pails Market
COVID-19 has disrupted in the supply chain of all business all across the world, gravely impacting the packaging industry as well. Discontinuation of production in multiple regions such as the United States, which accounts for significant consumption of plastic pails, has affected the market severely.
Problems such as shortage of raw materials and hurdles in sourcing material for manufacturing plastic pails such as polyethylene, polypropylene, polyvinyl chloride and others have a significant impact on the manufacturing of plastic pails. Furthermore, a decrease in demand from end-user industries of plastic pails would lead to slow growth of the market.
However, the market is likely to recover steadily as nations lift lockdowns as the demand for food and beverages, petroleum products, chemicals and other essential industrial supplies is likely to continue. This, in turn, will increase demand improved packaging for marketing and logistics.
Stringent Environmental Regulations against Use of Plastics
According to cleanwater.org, food containers and packaging are the largest component of solid waste stream. Marine plastic pollution has impacted at least 267 species worldwide. Plastic pollution has become a major concern for various governments across the world. Some countries like Peru and Australia, have severely restricted single-use plastics. In addition, European Parliament has voted to ban single-use plastics which is likely to come into force by 2021 in all European Union member states.
As governments across the globe are imposing stringent rules and regulations on the use of plastic, manufacturers will have to rethink their strategies. The demand for synthetic plastic, which is harmful to the environment as it is non-biodegradable, has become a matter of concern for national and international governments. This is likely to limit the market growth of plastic pails market and make companies rethink their production strategies.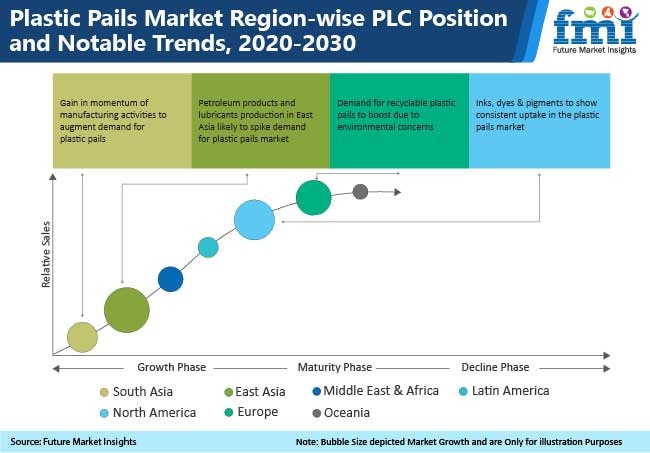 North America is anticipated to have significant market share 19.6% due to its matured markets and is likely to be in the maturity phase of the PLC cycle. Meanwhile, Latin America, which holds a market share of 4.9% will move from growth to maturity phase.
Future Market Insights analysts indicate that Europe has a prominent market share of 18.8% and thus has a matured market with stagnant demand. South Asia is likely to have a high growth rate as the market has lucrative opportunity to grow with rapid industrialization.
East Asia is the largest market accounting for more than 36% of the plastic pails market due to availability of raw materials, growing production and packaging industries. Oceania has less market share 2.9% owing to the limited presence of the manufacturers in the region. Middle East & Africa has a low market share 4.8% but is likely to grow in the forecasted period owing to the growth in industries in the years to come.
Plastic Pails Market: Regional Analysis
Main concerns of the industry come from the workforce, which needs to isolate due to illness during the pandemic. Many countries rely on the manufacturing facilities of East Asia for industrial supplies. COVID-19 has caused disruptions and has led to deglobalization of supply chains. Demand for plastic pails depends on the end-use industries, with a slowdown in paints & coatings industries, and other industrial activities, it is quite evident that the demand for plastic pails might witness sluggish growth.
North America is severely affected with COVID -19, which has drastically hampered the consumption of plastic pails. Dependency for chemicals and solvents from countries in East Asia such as China is anticipated to slow down the growth rate for plastic pails in the region.
East Asia, South Asia and Europe are expected to return to supply chain normalcy due to availability and production of raw materials in the region. On the other hand, countries affected adversely due to COVID-19 are set to experience sluggish growth until the situation gets in control due to disturbances in the logistics and transportation network.
Acquisition Strategy to Optimize Brand Value of the Plastic Pails Manufacturers
Plastic pails market is a fragmented in nature where there are many unorganized players in the market. To sustain a market share and to have a wide presence across regions the plastic pails manufacturers have been following the acquisition strategy to grow their business.
Acquisition strategy is expected to help businesses to add-on to the scale of the business and enhance their core competencies. Inorganic growth through acquisition is a faster and less risky method than organic growth. Due to the business's saturation in a geographical region, the acquisition of another company can create a pool of opportunities for the untapped market by the manufacturer.
The recent developments in the same have been, acquisition of RPC Group PLC, Clopay Plastic Products Company, Inc., and Laddawn, Inc by Berry Global Group, Inc., acquisition of Caraustar Industries by Grief Inc. and acquisition of Bahrain-based Gulf Powerbeat WLL (GPW) by Time Technoplast and another few leading players in the plastic pails market which follow the same trends.
Acquisition eliminates the entry barriers in potential markets. Therefore, it enhances the brand value of the players in the market and is likely to boost the growth of plastic pails market as it enables to provide better quality products to the customers.
The plastic pails market is a fragmented market the top three players accounting for 10-15% of the global production. The key players operating in the market are focusing on expanding their reach globally, diversifying their product portfolio, collaboration and innovation to gain a competitive edge.
Some of the key players in the Plastic Pails market are-
Time Technoplast Ltd
Greif Inc.
Mauser Group N.V.
NCI Packaging
FDL Packaging Group
Great Western Containers Inc.
Berry Global, Inc.
Rieke Corporation
M&M Industries, Inc.
Balmer Lawrie & Co. Ltd.
*The list is not exhaustive, and only for representational purposes. Full competitive intelligence with SWOT analysis available in the report
Plastic Pails: The Way Forward
The growth trend of the continuous inkjet inks market is likely to be upward. Though Y-o-Y growth is steady, the market is projected to record 4.2% growth from 2022. Industries such as food and beverages, pharmaceuticals, agrochemicals, lubricants paints & coatings rely on production of solvents and chemicals supply for manufacturing activities.
Reduced oil prices globally have led to a significant decrease in the value of plastics, making companies question the feasibility of recycling plastic. This means many businesses are struggling to meet commitments of adopting sustainable practices and replace all or parts of their products with recycled plastic.
This has resulted in companies returning to produce new plastic – which adds on unsustainable levels of plastic production and disorganized waste management system. However, with government regulations, this is likely to have a short term effect and calls for responsible actions by the companies across the globe.
The focus of businesses is likely to be creating responsible value chains for the future which does not only consider economic but social and environmental aspects. There are plenty of opportunities in the plastic pails market which include technological advancements, polymer recycling, printing on the plastic pails for marketing campaigns and use of bio-based plastics
World's Most Profilic Intelligence Engine
Get Access To The World's Largest Market Research Database.
Sign Up Now
Market Taxonomy
The global plastic pails market is segmented in detail to cover every aspect of the market and present complete market intelligence to readers.
By Product Type
Open Top/Head
Close Top/Head
By Material Type
By Capacity
Up to 3 Litres
3 to 5 Litres
5 to 10 Litres
10 to 20 Litres
Above 20 Litres
By End Use
Paints & Coatings
Inks, Dyes & Pigments
Petroleum & Lubricants
Agrochemicals & Fertilizers
Food & Beverage Ingredients
Other Industrial
By Region
North America
Latin America
Europe
MEA
East Asia
South Asia
Oceania
Need specific information?
Our Clients