This Senior Friendly Packaging market study offers a comprehensive analysis of the business models, key strategies, and respective market shares of some of the most prominent players in this landscape. Along with an in-depth commentary on the key influencing factors, market statistics in terms of revenues, segment-wise data, region-wise data, and country-wise data are offered in the full study. This study is one of the most comprehensive documentation that captures all the facets of the evolving Senior Friendly Packaging market.
Global Senior Friendly Packaging Market - Overview:
Nowadays packaging manufacturers are focusing on providing better child resistant as well as senior friendly packaging solutions. Mostly senior friendly packaging is done for pharmaceutical applications which are being used by senior citizen on a large scale. According German Federal Association of Senior Citizens Organizations, more than 90 % of senior citizens struggle to open consumer packaging which has been considered as a challenge for packaging manufacturers to developed senior friendly packaging products. Senior friendly packaging can be easily used by senior citizens without much efforts but are difficult to be opened by infants or toddlers. Senior friendly packaging can be seen in several packaging formats such as blisters, bottles, tubes, cans, jars, bags, pouches, etc. Senior friendly packaging are mainly used for several applications such as medicinal pills & tablets, body care products, hair care products, shampoos & conditioners, dental care, etc. In addition, senior friendly packaging are used for providing ease for opening consumer packaging application for senior citizens.
Identify Key Market Forces and their Long-Term Forecast
Sneak Peek into Key Forecast Factors and thier Impact
COVID -19 : Impact Analysis
Request the coronavirus impact analysis across industries and markets
Request Covid -19 Impact
Global Senior Friendly Packaging Market – Research Methodology:
Research methodology for senior friendly packaging market:
Exhibit 1 – Research Methodology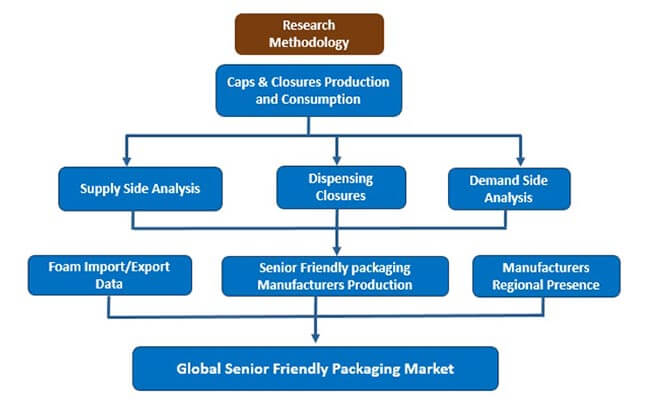 Medicinal pills & tablets are the most extensively used application for senior friendly packaging because of its widespread usage by senior citizens. Senior friendly packaging are mainly used for various end uses such as hair care, skin care, dental care, and several other cosmetic solutions.
Global Senior Friendly Packaging Market – Key players:
Key players for senior friendly packaging market can be segmented based on Tier 1, Tier2 and Tier 3 based categories.
Tier 1 players: Amcor Ltd, Berry Global, Inc., WestRock Company, Owens-Illinois Inc, Silgan Plastics Corporation, Stora Enso Oyj, AptarGroup, Inc, etc.
Amcor Ltd. manufactures newly developed senior friendly blister packaging solutions which are puncture resistant with specialized peelable cover which can be easily peeled by senior citizens.
Berry Global, Inc develops and manufacturers more than 100 types of senior friendly caps and closures for the convenience of senior citizens. The company develops one – piece or two – piece product designs ranging from 18 mm to 110 mm in diameter.
WestRock Company through its subsidiary MeadWestvaco Healthcare Packaging LLC manufactures 4 different names types of senior friendly / child resistant products by brand name Dosepak, PerfPak, Shellpak and Surepak.
AptarGroup, Inc manufactures nasal spray pumps which are senior friendly and have special closure for child resistance.
Tier 2 players: Sanner of America, Inc., Rieke Corporation, Polytop Corporation, Pierson Industries Inc., Keystone Folding Box Company, Sonic Packaging Industries, Inc, etc.
Tier 3 players: Guala Dispensing S.p.A., Cobra Plastics Inc, Mold-Rite Plastics, LLC, Kaufman Container, Sun Grown Packaging, O.Berk Company, LLC, Körber Medipak Systems GmbH, MJS Packaging Inc, etc.
The research report presents a comprehensive assessment of the market and contains thoughtful insights, facts, historical data, and statistically supported and industry-validated market data. It also contains projections using a suitable set of assumptions and methodologies. The research report provides analysis and information according to market segments such as geographies, application, and industry.
The report covers exhaust analysis on:
Market Segments
Market Dynamics
Market Size
Supply & Demand
Current Trends/Issues/Challenges
Competition & Companies involved
Technology
Value Chain
Regional analysis includes:
North America (U.S., Canada)
Latin America (Mexico. Brazil)
Western Europe (Germany, Italy, France, U.K, Spain)
Eastern Europe (Poland, Russia)
Asia Pacific (China, India, ASEAN, Australia & New Zealand)
Japan
Middle East and Africa (GCC Countries, S. Africa, Northern Africa)
The report is a compilation of first-hand information, qualitative and quantitative assessment by industry analysts, inputs from industry experts and industry participants across the value chain. The report provides in-depth analysis of parent market trends, macro-economic indicators and governing factors along with market attractiveness as per segments. The report also maps the qualitative impact of various market factors on market segments and geographies.
Unique Requirements? Customize this Report
Customize by Region, Country, Application, Product, & other segments
Integrate our Insights with your Existing Data
Determine the scope of the study to suit your requirements
Gain Insights on Key Senior Friendly Packaging Market Impacting Forces
Know the Winning Strategies of Market Leaders
Get Deep-Dive Analysis on Each Segment
Identify the Sources that will Drive Top-Line Revenue
Global Senior Friendly Packaging Market - Segmentation:
The global senior friendly packaging market can be segmented by material type, product type, packaging type, and by application. Pricing has being done based on material type segment in US$ million and the volume is considered in units.
On the basis of material type, the global senior friendly packaging market is segmented into -
Polyethylene (PE)
Polyethylene Terephthalate (PET)
Polyvinyl Chloride (PVC)
Polypropylene (PP)
Metal
Glass
Others
On the basis of packaging type, the global senior friendly packaging market is segmented into -
Blisters
Bottles
Tubes
Cans
Jars
Bags
Pouches
Others
On the basis of application, the global senior friendly packaging market is segmented into -
Medicinal Pills & Tablets
Body Care Products
Hair Care Products
Shampoos & Conditioners
Dental Care
Others
Report Highlights:
Detailed overview of parent market
Changing market dynamics in the industry
In-depth market segmentation
Historical, current, and projected market size in terms of volume and value
Recent industry trends and developments
Competitive landscape
Strategies of key players and products offered
Potential and niche segments, geographical regions exhibiting promising growth
A neutral perspective on market performance
Must-have information for market players to sustain and enhance their market footprint
Frequently Asked Questions
---
Why choose FMI?
With a global presence and a trusted partner to several Fortune 500 firms, FMI covers 1 billion+ data points to build a diversified portfolio for market benchmarking
Market Reports researched and peer reviewed by industry experts from across the globe
We follow a multi-dimensional method of analysis monitoring a three-layer data validation process
In addition to demand-side market assessment, our data triangulation methodology involves supply-side research
Primary research includes mandatory field interviews with stakeholders involved
Customizing reports according to client specification is also our forte
What will you discover from Senior Friendly Packaging Market report?
The current and future market size, covering each aspect and nuanced trends across key national and geographic markets
An overview of the market report, providing an imperative visual of the varied market subdivisions and overall forecast statistics in terms of value and volume
Extensive database and key dynamics elevating the market with varied verticals associated
Underlying Senior Friendly Packaging Market forces that are compelling consumers or businesses to purchase the product
How novel technologies and consumer-centric innovations will create new value-adding opportunities for companies active in the Senior Friendly Packaging Market
What will be environment and regulatory impacts on the market over the next decade
Which framework has been used to develop the Senior Friendly Packaging Market report?
Investment Feasibility Matrix - It shows returns on investment, level of competition, success rate of investment, and potential risks associated with the market. The analysis shows that the competition is high in the established market, while the returns for short-term investment are also taken into consideration
Relative Maturity Mapping – The relative maturity is measured according to three growth phases (growth, maturity, decline)
Relative PLC (Product Life Cycle) – Analysis of the emergence of prominent players and competitive test prices which are driving factors behind every market. (expected market behavior, observed market behavior, expected market performance, observed market performance)