Sinus Therapeutic Drugs Market Outlook and Key Findings
The global sinus therapeutics drugs market is expected to witness a CAGR of over 6.3% between 2020 and 2030
North America and Europe collectively account for more than 50% of market share and this scenario is expected to persist in the forecast period as well.
Asia-Pacific is expected to grow at the fastest pace by 2030
Oral route of administration remains the preferred course of treatment.
Market Snapshot
Majority of sinus infections are reported to be caused by common cold and viral infections. These infections are classified as chronic and acute based on severity.
The chronic ones are those lasting for more than 3 months. Acute sinusitis get cured within 30 days.
At preliminary stage, sinus infections get diagnosed by physically inspecting characteristics of nasal mucosa, nasal septum's structure, and presence of polyps.
At times, even imaging procedures like MRI (Magnetic Resonance Imaging), ultrasound, and CT (computed tomography) could be used to gauge the severity.
The commonly prescribed sinus therapeutic drugs include painkillers, corticosteroids, sulfonamides, antibiotics, and antihistamines.
The antibiotics used for treating bacterial infections herein include cephalospotin's, penicillin, and macrolides.
Prednisone, triamcinolone, fluticasone, and mometastone are amongst the corticosteroids used to treat sinus infections. Sulfa drugs are inclusive of trimethoprim and sulfamethoxazole.
Antibiotics are expected to witness exponentiation in the forecast period. This could be attributed to diagnostic technologies being developed post introducing rapid microbial tests.
Besides, market players are looking for expansion in the markets of Asia-Pacific like Indonesia, Philippines, China, and India. This trend is expected to boost the market during the forecast period.
The other treatment options include bacterial lysates, capsaicin, anti-IL5, anti-IgE, and antifungals
Innovations & Regulatory Approvals to be a Key Growth Factor
The sinus therapeutic drugs market players are treading the innovative path followed by approvals to table their superiority. These measures are bound to give impetus to the market during the forecast period.
For instance –
In Aug 2020, Xolair (omalizumab) from Novartis obtained approval from the European Commission in the form of an add-on therapy along with corticosteroids for treating chronic rhinosinusitis with the nasal polyps.
In Aug 2020, Satsuma Pharmaceuticals, Inc. announced initiation on the part of enrolment of patients in ASCEND trial – a multi-centre, 12-month, open-label study for evaluating tolerability and safety of STS101 (dihydroergotamine (DHE) nasal powder) in the form of acute treatment with respect to migraine.
In Aug 2020, Bryn Pharma reported to have raised US$ 11 Mn to enable advancement in Bi-Dose Epinephrine nasal spray to cure Anaphylaxis
In May 2020, Ondine Biomedical Inc. announced reception of CE mark with respect to its broad-spectrum non-antibiotic nasal decolonization therapy
In Jan 2020, Valtoco (diazepam nasal spray) was approved by the US FDA for treating cluster seizures. This type of medicine is generally referred to as "rescue therapy"
In Jan 2020, Lyra Therapeutics, Inc. announced that the US FDA had cleared its IND (Investigational New Drug) application regarding LYR-210 for treating CRS (chronic rhinosinusitis)
In Jan 2020, Lannett Company, Inc. announced approval by the US FDA to market "Numbrino", one of the topical solutions for mucus membranes in nasal cavities.
Covid-19 Impact
The ongoing pandemic has compelled the sinus therapeutic drugs market players to speed up the production of drugs to address it, as it is a known fact that disorders in respiratory track can increase the risk of contraction.
For instance –
In Aug 2020, Atossa Therapeutics obtained approval from the US FDA for starting with AT-301 nasal spray's clinical study. This nasal spray is being developed to combat Covid-19.
In Jul 2020, CEBINA GmBh announced positive results regarding Covid-19 drug repurposing project by identifying commonly used drugs that have been approved before against SARS-CoV-2 infection in the in-vitro assays. Azelastine is one such nasal spray.
Since the last few months, Aviptaadil Covid-19 therapeutic has been treating critical Covid-19.
Sinus Therapeutic Drugs Market: Region-Wise Analysis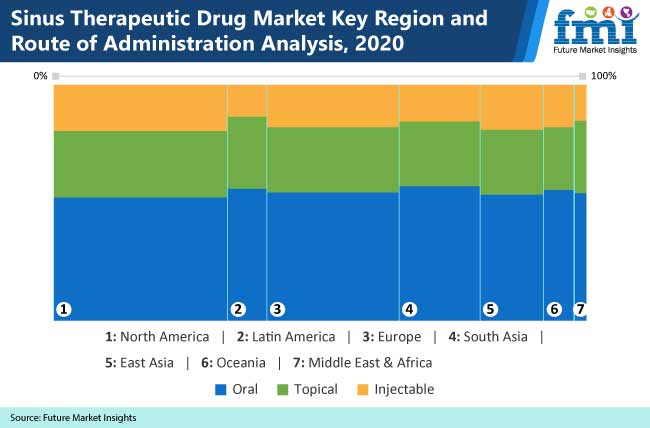 Traditionally, the US and Western European countries have remained the most lucrative markets for sinus therapeutic drug manufacturers. The scenario is likely to witness significant change during the forecast period, as many countries in Asia Pacific are offering lucrative opportunities.
The Asia Pacific sinus therapeutics drugs market is likely to grow at the fastest pace in the forecast period, as the players are expanding in this region, and some of them are also reported to shift their base over here.
Moreover, many countries in Asia Pacific have world's worst air quality, and respiratory disorders have witnessed a rapid spike, with rise in industrialization.
Sinus Therapeutic Drugs Market Players
The market players are launching new products to stand out as differentiators. This strategy is being emphasized on, and has kept the users guessing, regarding novelty.
For instance –
Recently, Janssen submitted Esketamine Nasal Spray novel drug application to the US FDA to restore connections between neural cells in those suffering from depression.
In Feb 2019, Fresenius Kabi introduced Methocarbamol injection to be available all across the US to address musculoskeletal pain resulting out of respiratory disorders.
In Jan 2019, Dr. Reddy's Laboratories Ltd., along with Promius Pharma LLC announced approval of TOSYMRA to treat acute migraine.
The major players in the sinus therapeutic drug market include:
Sun Pharmaceutical Industries, Inc.
Reddy's Laboratories, Inc.
Novartis AG
Tea Pharmaceutical Industries Ltd.
Pfizer Inc.
Fresenius Kabi USA
Janssen Pharmaceuticals, Inc.
Sinus Therapeutic Drugs Market: The Way Forward
The global sinus therapeutic drugs market is expected to witness a substantial CAGR of over 6.3% between 2020 and 2030. The onslaught of Covid-19 has resulted in increase in production of these drugs as it is directly related to disorders in the nasal tract.
The market players, though vying for innovation, should also think more from the inorganic growth perspective. As such, they should be looking forward to go for mergers, acquisitions, partnerships, joint ventures to be able to reach out to a broader audience.
Key Segment
Route of Administration
Distribution Channel
Hospital Pharmacies
Retail Pharmacies
Online Pharmacies
Disease Type
Acute Sinusitis
Sub-acute Sinusitis
Chronic Sinusitis
Geography
North America
Latin America
Europe
East Asia
South Asia
Oceania
Middle East and Africa
Need specific information?