Sponge and Scouring pads Market Outlook & Key Findings
Despite COVID-19 outbreak, sponge and scouring pads sales to rise sustainably in the household sector
Growth was stunted in the first half of 2020, as quick service restaurants and food service chains remain shuttered amid lockdown orders
Exclusive brand campaigns by key players will enable growth in the market
Polymer-based scouring pads to witness high demand due to the comparatively cheaper price of the raw material
Fiber-based scouring however is likely be more popular among female consumers since they are more gentle to naked hands and offer enough functionality for cleaning household appliances
Rising Demand for Home Cleaning Products Bolsters Growth Prospects for Sponge and Scouring Pads Market
Sponge or scouring pads are abrasive products made from polymer or steel. These are among essential household items and have more to do with functionality than design. Future Market Insights (FMI) suggests that the market for sponge and scouring pads has impressive growth potential. It is expected to gain momentum at an accelerated pace in the near future.
Scouring pads or sponges are improvement over metal sponges, steel wool, scrappers, and similar more abrasive products. They also offer better efficiency, without causing any damage to utensils while rinsing. Most companies are expected to leverage these attributes to gain edge in the market.
Due to the lack of scope for product differentiation, FMI observes a higher focus on marketing and advertisement in the market. Brands seldom keep any stone unturned to spread awareness regarding the availability of their products. The overall impact of these factors are expected to have a positive impact on the overall market.
Consumers are Primarily Driven by Brand Loyalty
Leading studies suggest that consumers in the sponge and scouring pads market are primarily driven by brand loyalty. Contrary to the popular notion that brand loyalty is a withering concept, it continues to determine success for players in the sponge and scouring pads market.
This puts some of the established players at advantage. FMI observes ample investment in marketing and advertisement campaigns among leading brands. Some of them have even roped in celebrities to lure consumers.
Even start-ups are focusing on promotional strategies to strengthen their footprint in the market. Limited scope for product differentiation is has compelled market players to increasingly focus on marketing campaigns.
Advertisement of cleaning products such as scouring pads in television, social media, and print media is not only a popular strategy among market players, it is expected to give impetus to the market.
Regional Demand Landscape is in Sync with Consumer's Purchasing Power
Sales of sponge and scouring pads from regional spectrum is segregated with respect to consumer's spending patterns, as well as the number of food service establishments in the region.
North America will remain a lucrative market for sponge and scouring pads. The presence of a high number of dining restaurants for instance has resulted in higher demand from countries such as the U.S. and Canada.
Consumers in both countries exhibit high level consciousness about hygiene and cleanliness. Naturally, they are more willing to spend on sponge and scouring pads on a regular basis. In the coming years however studies suggest growth witnessed in Asia Pacific to surpass developed markets.
Increasing demand from high potential markets such as India, Bangladesh, China, and Pakistan will aid expansion of the market in East and South Asia. The expansion of working class population will aid growth of the market in both regions.
The chart below indicates South Asia Pacific will exhibit consistency in demand for sponge and scouring pads. One factor attributable for this could be the expansion of the hotels and restaurant sector. This, coupled with lesser barrier to the entry of new players, will make both South Asia Pacific and East Asia lucrative markets for sponge and scouring pad in the near future.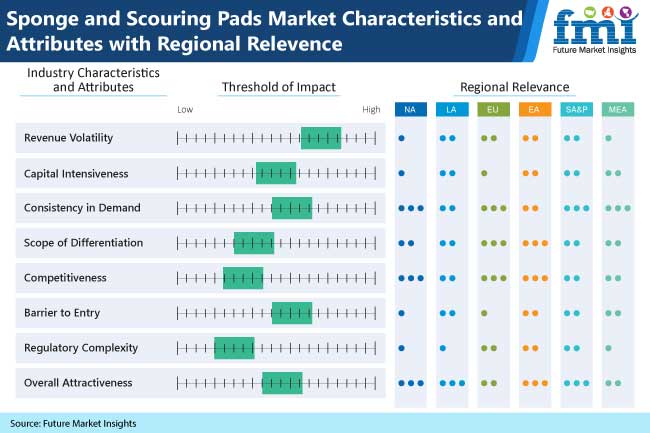 Innovation of Antimicrobial Sponge and Scouring Pads will Help Market Gain Momentum
Sustainability has emerged as a key factor determining the purchase decisions of consumers. Once dumped these sponges can end up in landfill adding to the global carbon footprint. Better awareness among consumers is creating demand for scouring pads made from biodegradable ingredients.
The launch of antimicrobial scouring pads is also attributable to the aforementioned trend. Some of the leading companies have launched quick drying sponges to reduce the risk of bacterial contamination.
Scouring pads and sponges made using patented silver-infused foam can inhibit the growth of bacteria, mildew, and mold. Besides this, some of them are launching scouring pads with patterns to help remind consumers when it is time for replacement.
These patterns disappear in a couple of weeks to let consumers know exactly when they must be discarded. Steps taken by companies to offer safer and eco-friendlier products will bode well for the market, enabling it to gain momentum in the coming years.
COVID-19 Outbreak to Hit Restaurants and Hotels, Stunting Demand from Commercial Segment
The home care and cleaning market has been witnessing inconsistent growth, thanks to the outbreak of the novel coronavirus, also dubbed as COVID-19. The pandemic crisis has stunted sales of several discretionary items. For instance, decorative fixtures and bedding products are unlikely to witness impressive demand unless coronavirus passes.
While scouring pads belong to the category of essential commodity, limited scope of sales among dominant end users is hampering business. Studies suggest that commercial segment accounts for lion's share of the sponge and scouring pads market. The rising demand from hotels and restaurants, hospitals, and other public brands is a key growth enabler in the market.
Hotels and restaurants have been worst hit due to the ongoing pandemic. The frequency of dining out has plummeted beyond expectation. Evidently, the sponge and scouring pads market is adversely impacted.
COVID-19 outbreak also had a direct impact on popular sales channels of the market. As stay-at-home orders sweep across countries more stores are likely to remain shuttered. Even as governments ease lockdown orders, an increasing number of consumers will continue practicing social-distancing.
However, sales of essential commodities are expected to continue via ecommerce channels. Evidently an increasing number of market players are expected to focus on strengthening their online presence to cater to the changing consumers' preferences.
Investing in Marketing Campaigns Remain a Key Strategy Adopted by Players in a Highly Fragmented Market
The presence of several local and established brands has rendered the global sponge and scouring pads market fragmented. In order to better position themselves, these companies are primarily focusing on innovations and various promotion strategies. Leading market players are also exploring opportunities across ecommerce space to reach a wider demography.
While expansion of online presence will enable growth, competition might get fiercer as an increasing number of consumers opt for dishwashers. Some of the leading market players such as The Clorox Co., Reckitt Benckiser Group Plc, The Procter & Gamble Co., The Libman Co., and Unilever Group are focusing on expansion in high potential markets to gain competitive edge.
Leading Suppliers in the Sponge and Scouring Pads Market
Future Market Insights profiles some of the leading companies operating in the sponge and scouring pads market. According to the report, manufacturers are likely to offer attractive deals to lure consumers. Besides this frequent launches will remain a key strategy among the market players to gain competitive edge.
For instance, 3M has recently launched a range of cleaning liquids suitable for use on diverse surfaces. It has also launched a variety of scouring pads to complement with these cleaning liquids.
FMI's study offers an executive-level blueprint of the market. For the purpose of the study it profiles some of the leading market players. These include:
Unilever; Scrub-It
3M
O-Cedar
The Crown Choice
Weiman Products, LLC.
Sun 'n' Shine Industries
Amway
Bio90 Manufacturing Canada Inc.
H. M. INDUSTRIES
Kiwi-Scourers
Global Sponge and Scouring Market: The Way Forward
According to FMI, the rising demand for efficient methods for cleaning kitchen utensils will remain a key growth enabler for the market. Impelled by this, brands are likely to come up with diverse sponges and scouring pads suitable particularly for utensils made from fiber, glass, iron, steel, and other materials.
Despite limited scope of differentiation, manufacturers are expected to research on making their sponges and scouring pads more sustainable. Also, experimenting with materials will allow them to offer best possible solutions to consumers.
Each of the various materials used for making scouring pads has distinct reaction to dirt and soaps. Cookware made from iron and steel, for instance, will require intense cleaning and scrubbing hence consumers will favor heavy duty pad for the purpose.
Innovations witnessed in the market will be driven by evolving behavior among consumers. For instance the increasing sale of heavy duty kitchen appliances such as microwaves, chimneys, and dishwashers will invariably fuel the demand for complementing cleaning solutions.
More brands are expected to capitalize on changing consumer preference to strengthen their foothold in the market. Also, they are expected to introduce different grades of sponge and scouring pads depending on end users.
Restaurants and hotels are likely to look for scouring pads depending on the type of sync and slabs they have in-built. Contrary to this, consumers are likely to opt for more delicate yet stealthy scrubs for cleaning their modular kitchens.
Key Segment
Product Type
Sponges
Sponge Scrubbers
Hand Pads
Material Type
Application
Price Range
Economy
Mid-Range
Premium
Sales Channel
Wholesalers/ Distributors
Modern Trade
Convenience Stores
Departmental Stores
Specialty Stores
Online Retailers
Others
Region
North America
Europe
Middle East and Africa
East Asia
South Asia
Oceania
Latin America
Need specific information?