About the Report
Stretch hood films are advanced palletizing films which are used in combination with stretch hood machines. Stretch hooding method of packaging provides a multitude benefits such as reduced cost, high operating speed, and convenience for transportation, warehousing and management of palletized loads.
In its latest edition of the study, ESOMAR-certified market research and consulting firm Future Market Insights (FMI) offers insights about key factors driving demand for stretch hood films. The report tracks the global sales of stretch hood films in 20+ high-growth markets, along with analyzing the impact COVID-19 has had on the stretch hood films market.
How Historical and Future Outlook of Stretch Hood Films Market Match Up?
?Stretch hooding is an efficient way to palletize goods with multiple advantages such as distribution chain performance, sustainability, reliability and speed. Labor is one of the critical elements in the logistics and transportation industry and has always faced the tradeoff between service and costs. However, with automation the companies are able to provide better services while saving money. Stretch hood systems enable packaging of pallets and products that are loaded automatically. Furthermore, stretch hood films allows fast and reliable packaging of goods as the thin film covers the entire pallet in optimum time.
Most of the new entrants in the logistics sector are focusing on capitalizing on new technology to enter into the industry. Customers are looking for economical, green, and fast supply chains which is anticipated to fuel demand for solutions such as stretch hood systems. This has a direct impact on the demand of stretch hood films. According to FMI's analysis, stretch hood films sales have grown at 4.7% CAGR between 2016 and 2020.
Stretch hood films are increasingly getting popular owing to rapid technological shift. Shift in population from rural to urban areas has created the demand for new technologies. This has created customer expectation where the customers demand goods faster at no or low delivery costs. Manufacturing has become more customized and customer oriented which has drastically increased the volume of quantity demanded.
Rapid expansion of industries such as food & beverage, automobile, construction, chemical among others is anticipated to drive the growth of stretch hood films. Stretch hood films are an apt solution which can be used in combination with technology and has the most important attributes required to keep the goods safe during the transit. Stretch hood films provide high strength, stiffness and tightness to the package which holds the package with different displacements and bumps during transport.
Growth of e-commerce is another factor driving the stretch hood films market. E-commerce boosts the demand for freight companies which play an important role in the supply chain. Further, printing on stretch hood films make it suitable for branding. These factors present a positive outlook for growth. FMI expects global stretch hood films market to grow at 6.6% CAGR through 2031.
How Does the Elasticity of Stretch Hood Films Augment its Market Growth?
Stretch hood films enable convenient managing, warehousing or transporting pallets of different sizes. Since, the pallets can be wrapped with a single sized stretch hood film. It is basically due to the elastic nature of the stretch hood films. Stretch hood films are flexible to be stretched twice of its original dimension to fit around the pallet. This provides considerable savings to the manufacturers as there is no need to change film regularly for different size of pallets which results in consumable and energy savings.
For example, a film of a particular size which is used to stabilize pallet load of size 60*80 cm, can also easily handle load palletization of size 120*160 cm. Hence, it saves time. Manufacturers therefore opt for stretch hood films rather than other palletizing methods.
Another reason behind the increasing popularity of stretch hood films is their distinguished properties and advantages over the conventional palletizing methods. Stretch hood films take the form of a pallet and then narrowly follows the form of pallet, whether the palletized load is irregular or regular.
Gusseted loads can be stabilized completely using stretch hood films even if the loads are irregular. Moreover, its high folding force keeps the load balanced. Single layered film is sufficient to cover the pallet due to good elasticity. These properties are highly efficient while handling irregular pallets.
Does Printing on Stretch Hood Films Enhance Brand Visibility?
Transparent properties of stretch hood films make it easy to see the content of the pallet. Moreover, use of single layer for packaging eliminates creases and wrinkles which enhances the aesthetics of the packaging. This transparency enables to identify errors or damage and eases the code scanning process for supply chain management systems.
Stretch hood films can be used for brand messaging. Brand logos and brand information can be printed directly on to the film, enhancing product recognition without removing the film.
Custom made stretch hood films display the brand everywhere the shipment goes which increases the potential of reaching prospective customers before the shipment reaches its final destination.
How Does Recyclability of Stretch Hood Films Create Lucrative Opportunity?
One of the major concerns associated with the use of stretch hood films is that its raw material is plastic. Plastic being a non-environment friendly material can cause harm to the environment if not disposed in the right manner. To tackle this concern, many manufacturers have emphasized on the launch of recyclable stretch hood films which either recycled or recyclable plastic is used.
Manufactures of stretch hood films are coming up with innovation where the film gets converted into into biogas which is collected at most landfills and turned back into energy. Furthermore, they are offering plastomer material solutions for stretch hood packaging in replacement of traditional EVA based structures. These stretch hood films offer improved holding force and puncture resistance.
For instance, stretch hood manufacturer, Trioworld offers stretch hood that container 30% recyclable material which reduces the carbon footprint by 19% without hampering the performance of the stretch hood. The stretch hood is 100% recyclable. This provide stretch hood film manufacturers an opportunity to develop films which constitute of recycled plastic.
Country-wise Insights
What is Driving Stretch Hood Films Sales in GCC Countries?
Polymer production in the GCC countries has increased drastically in recent years owing to availability of abundant resources such as oil and petroleum, which are used as a raw material for the plastics industries. Further there has been a constant effort within the region to develop new downstream industries, to reduce dependency on the oil industry. As per GPCA organization, the largest application for polyethylene produced is in packaging applications which uses a combination of LDPE, LLDPE and HDPE.
Furthermore, polyethylene films is by far one of the largest production process in the region. Thus, continuous growth in crucial sectors such as manufacturing, infrastructure, construction, and food & beverages will fuel the use of plastic resins and their products, which is anticipated to have a positive impact on the stretch hood films market.
Japan's Major Export Industries Exhibiting High Demand for Stretch Hood Films
Japan's major export industries such as automobiles, automobile parts and consumer electronics. Export requires transportation of goods from one geographical region to another, which places strong emphasis on protection of packages of goods such as electrical gadgets. Appliances such as monitors, televisions, kitchen appliances and digital tablets require protection from moisture and dirt to avoid damages till it reaches the final destination.
Furthermore, technology enabled stretch hood machines in the country enable faster packaging with less efforts, thereby, hiking the demand for stretch hood films.
India Growing Manufacturing Sector to Augment Demand for Stretch Hood Films
The reason behind growth of India's manufacturing sector is huge domestic market with continuously rising population. Government initiatives such as 'Make in India' and 'Production Incentive Scheme (PLI)' will further promote a healthy environment for growth of manufacturing sector. Advancements in construction, manufacturing, automobiles and other end use industries are expected to boost the overall demand for the stretch hood films in these industries.
Infrastructure development in the country has led to rise in construction activities which will increase the demand for stretch hood films. Manufacturers are inclined towards automation technology and are focusing on organized ways of manufacturing and delivery. Stretch hood provides integrated way to package and protect goods which is anticipated to boost its growth in the years to come.
Germany's Machinery Industry to Create Lucrative Opportunity for Stretch Hood Films
According to Germany Trade & Invest, the machine and equipment sector is the most innovative industry in Germany. It drives the nation's growth as a high tech nation. Innovation along with automation would lead to the growth of stretch hood films as stretch hood machines enable cost efficient and safe alternative to conventional stretch wrapper.
Companies such as MSK Verpackungs-Systeme GmbH, provide flexible automated hood packaging system which allows to secure loads according to their specific properties. Further the system saves material and ensures that the logos create an ideal impact for advertising. Further, the company's stretch hood machines are energy efficient which have the ability to save energy up to 30% compared to conventional machines.
Logistics & Transportation Industry in United States to Increase Demand for Stretch Hood Films
The logistics and transportation industry is highly fragmented in the United States owing to highly integrated supply chain network connected via multimodal transport system. The outsourcing of inventory, distribution and 3PL fulfillment have further accelerated the growth of logistics industry in the United States. Air & express delivery, freight rail, maritime and trucking is anticipated to boost the demand for stretch hood films to enhance load stability and protect packages from falling out of the pallets.
Category Wise Analysis
Polyethylene Emerges as Preferred Material for Stretch Hood Films
The most commonly preferred material for manufacturing stretch hood films is polyethylene. Polyethylene stretch hood films have high strength and puncture resistance. Moreover, the attributes such as excellent endurance and cost efficiency of polyethylene have made the material the most preferred among the manufacturers. Multiple options such as plain or printed stretch hood films make it ideal for a variety of applications.
Recycling systems have augmented the growth of polyethylene as it has enable to overcome the challenge polyethylene possessed as a material. High potential stretch performance and exceptional sealing are additional attributes which drive the demand for polyethylene stretch hood films.
50-100 Microns Stretch Hood Films Ideal for Multiple End-use Industries
50-100 microns stretch hood films are thicker and have better puncture resistance which make them ideal to be wrapped around heavier products with sharp edges. The thickness is versatile and preferable to handle a variety of applications. Each thickness is suitable for a different capacity or load. 50-100 microns fits in the most commonly used category.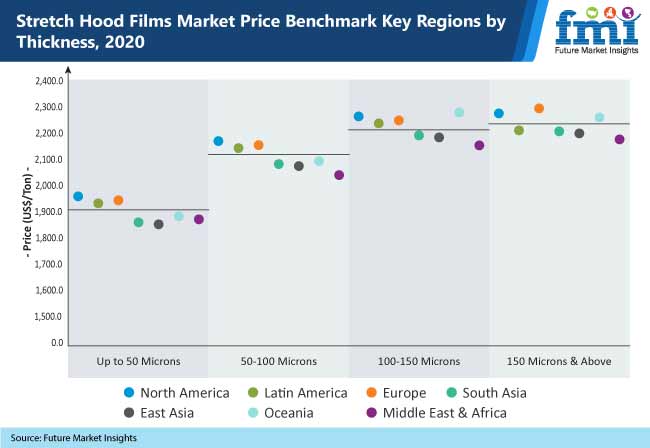 Automated Stretch Hood Film Systems for the Construction Industry
Sharp edged goods can be packaged securely and can be safely stored outdoors with the help of stretch hood films. High resistance to tearing and puncturing make stretch hood films an ideal solution for packaging goods which have sharp edges and heavy weight. Automatic stretch hood systems enable packaging of products with or without pallet making it an apt solution for construction industry. Building materials such as bricks, cement and breeze blocks can be conveniently packaged using stretch hood films. Stretch hood films are economical and technically adequate for application in the construction industry.
Competitive Landscape
Companies operating in the stretch hood films market are aiming at growing their businesses by introducing new products in the market to cater to the ever changing demand of customers. They are continuously focusing on launching new products and investing in research and development activities. Developing new materials to manufacture stretch hood films is accelerating the growth of players in the stretch hood films market. The manufacturers are using advanced technology and leveraging automation to provide maximum output. This has further enabled manufacturers to save on time, cost and material.
Some of the leading companies operating in the market are:
Coveris Holdings S.A.
Novolex Holdings, Inc.
AEP Industries Inc.
Trioplast Industrier AB
Muller Load Containment Solution
RKW Group
Muraplast d.o.o.
Thrace Synthetic Packaging Limited
Rosenflex(UK) Limited
Manuli Stretch S.p.A
Shields Bag and Printing Co.
UAB Umaras
Gebr Duerrbeck Kunststoffe Gmbh Limited
Aalmir Plastic Industries
NPF Polyfilms Pvt Ltd
*The list is not exhaustive, and only for representational purposes. Full competitive intelligence with SWOT analysis available in the report.
Scope of the Report
Attribute

Details

Forecast Period

2021-2031

Historical Data Available for

2016-2020

Market Analysis

USD Million for value and '000 Tonnes for Volume

Key Regions Covered

North America, Latin America, Europe, East Asia, South Asia, Oceania, Middle East & Africa

Key Countries Covered

US, Canada, Germany, U.K., France, Italy, Spain, Poland, Russia, China, Japan, South Korea, India, Thailand, Malaysia, Vietnam, Indonesia, Australia, New Zealand, GCC Countries, Turkey, Northern Africa, South Africa

Key Segments Covered

Material, Thickness, End Use, and Region

Key Companies Profiled

Sigma Plastics Group
Coveris Holdings S.A.
Novolex Holdings, Inc.
AEP Industries Inc.
Integrated Packaging Group Pty Ltd
Trioplast Industrier AB
Muller Load Containment Solution
RKW Group
Muraplast d.o.o.
Thrace Synthetic Packaging Limited
Rosenflex(UK) Limited
Manuli Stretch S.p.A
Shields Bag and Printing Co.
UAB Umaras
Gebr Duerrbeck Kunststoffe Gmbh Limited
Aalmir Plastic Industries
NPF Polyfilms Pvt Ltd

Report Coverage

Market Forecast, Brand share analysis, Competition intelligence, DROT analysis, Market Dynamics and Challenges, Strategic Growth Initiatives

Customization & Pricing
Key Questions Answered in the Report
Which is the Most Prominent End Use of Stretch Hood Films?

Construction segment currently accounts for the largest share in the global market for stretch hood films. The segment is anticipated to account for over 35% of total demand throughout the forecast period.

Which Material is Preferred for Stretch Hood Films?

Polyethylene is the most preferred material to manufacture stretch hood films in the market. The demand for polyethylene is expected to rise owing its elasticity.

Which is the Most Preferred Thickness for the Stretch Hood Films?

50-100 microns thickness of stretch hood films is highly preferred by the end users. This segment holds over 55% market share.

Who Are Some of the Leading Companies Offering Stretch Hood Films?

Some of the leading companies offering stretch hood films are Sigma Plastics Group, Coveris Holdings S.A., Novolex Holdings, Inc., and AEP Industries Inc. among others.

Which Region Exhibits the Highest Sales of Stretch Hood Films?

As per FMI Analysis, Europe contributes towards the major share in the stretch hood films market.
Stretch Hood Films Market by Category
Material
Polyethylene
Ethylene Vinyl Acetate
Plastomers, Elastomers & others
Thickness
Up to 50 microns
50-100 microns
100-150 microns
150 microns & above
End Use
Construction
Food & Beverages
Pharmaceuticals
Consumer Product
Paper
Textile
Chemical & Fertilizers
Region
North America
Latin America
Europe
East Asia
South Asia
Oceania
Middle East and Africa (MEA)
Need specific information?