Stretch Hood Films Market - Key Research Findings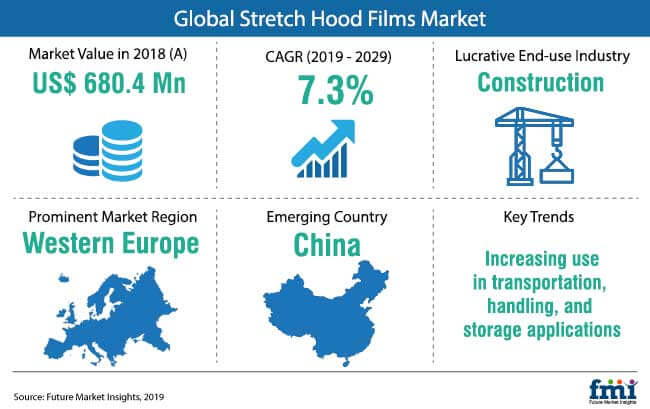 Stretch Hood Films Market - Key Research Findings
The global stretch hood films market size in 2018 – Nearly US$ 680 Mn.
The global stretch hood films market is expected to witness a CAGR of more than 7% during 2019-2029.
High convenience of usage and economic stability –

Stretch hood films are very efficient to use as different sizes of pallets can be wrapped with a single sized stretch hood film due to its elasticity.
Stretch hood films are elastic enough that they can be stretched twice their original dimension.
Stretch hood films provide economic stability to the employers, as the need to change films regularly for different sized pallets is eliminated.

The Asia Pacific Excluding Japan (APEJ) region is expected to generate significant demand for stretch hood films in forthcoming years.

The APEJ region has some of the world's fastest-growing economies such as India and China. The growth in the manufacturing sector is increasing at a rapid rate over the last decade. Advancements in manufacturing, construction, automobiles, and various other end-use industries are expected to boost the overall demand for stretch hood films in these industries.
Construction in countries such as China & India is rapidly expanding, which is expected to drive the demand for stretch hood films due to their cutting edge properties over other palletizing films. Manufacturers are moving towards automation and search for organized ways of manufacturing and delivery. Stretch hood films provide a well-structured way to palletize load.
Moreover, lower crude prices translate to lower feedstock costs for plastics coupled with higher demand in industries for palletizing drive the demand of stretch hood films during the forecast period.
Top 3 Factors Shaping the Stretch Hood Films Market
Sustained demand for stretch hood films as they offer excellent protection against dust and moisture

Shrink films and stretch wraps do not cover the pallet from all sides, whereas stretch hood films provide all-sided protection to the load to be unitized. No dust or moisture enters the load from any side. For food products or any such product, which needs to be kept away from water and dust, stretch hood films are the optimum choice.

The automatic operation of stretch hood films helps in covering the whole pallet load with unified packaging. This technology has proven useful for many applications such as construction, pharmaceuticals, consumer goods, and many other industrial applications.

Across the globe, such technologies have evolved through which plastic products such as stretch hood films, and other products are produced from recovered plastics. This practice is environmentally-friendly as compared to using virgin polymers, which is expected to offer a positive outlook for the global stretch hood films market during the forecast period.

Stretch hood films enable faster packaging and better production output

Being a fully automatic system, stretch hoods films facilitate faster packaging, which in turn, increases productivity. Stretch hood films give manufacturers a chance to be very fast. Shrink hoods provide maximum packaging speed of 50-70 pallets/hour, whereas stretch hoods yield a packaging speed of almost 100-150 pallets/hour, which is nearly twice as that of shrink hoods. With increasing demand for goods, the demand for stretch hood films is likely to increase in the coming years.

High cost and non-portable nature of stretch hood machines may slow down growth of stretch hood films market

Cost of the equipment used for the hood is very high and needs greater investment. Being an automatic technology, stretch hood machines do not require human intervention in the processing. However, it is possible that the machine may not work properly and some problem occurs. Handling equipment is needed for stretch hood films due to the large size and weight of the film rolls.

Film rolls for stretch wrapping are smaller and lighter and can be handled with ease without equipment. Also, a stretch hood machine is not portable as compared to some stretch wrap machines. This means that there are costs associated with moving the machine, should this become necessary in the plant. These factors might hamper the growth of the stretch hood films market during the forecast period.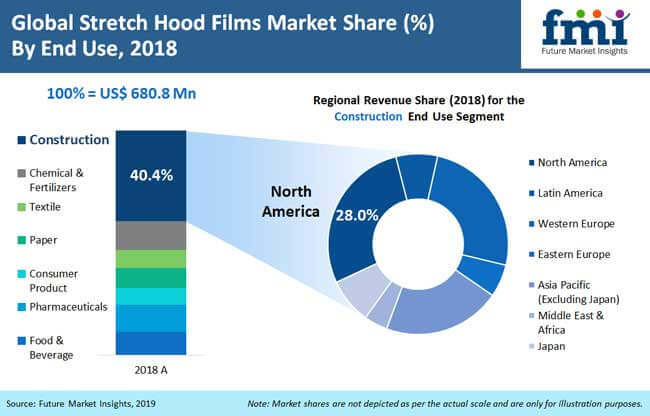 Stretch Hood Films Market Structure Analysis
The global stretch hood films market is classified into three tiers, where tier-1 companies hold a prominent position in the market owing to the strong presence across the globe.
Several companies operating in the stretch hood films market maintain a strategic focus on Asia Pacific excluding Japan (APEJ) and Latin American regions as these are the high-penetration markets, looking at the rapid rate of expansion of end-use industries and the presence of high-growth economies.
Stretch Hood Films – A New Perspective of Improved Packaging
Stretch hood films are making their way into multiple end use applications, as pallet packaging emerges as a viable proposition for improved packaging quality. Pallets packed with stretch hood films stay resistant to damage of any sort, which makes handling and transportation of these pallets immensely easy and hassle-free.
Excellent performance characteristics remain at the top of end user's preferences, thereby pushing adoption of stretch hood films for packaging of heavy loads and safeguarding them from damage or deformation.
Sales Revenue Set to Grow 2.12X by 2029
Multipronged advantages, ranging from operating costs, speed, and reliability, are a key reason for growing adoption of stretch hood films over other pallet packaging methods. Manufacturers of stretch hood films are emphasizing on reduced thickness and superior elasticity, for rolling out advanced products best-suited to varying needs of end users.
Opportunities Abound as Demand for Pallet Packaging Grows in Western Europe
Western Europe is likely to emerge as a leading market for stretch hood films, which reflects the accelerating adoption of stretch hood films across key European countries. Rising demand for pallet packaging formats with exceptional physical and mechanical properties across multiple end user units, such as e-commerce, is fuelling investments in the regional market.
The Broader Perspective
Manufacturers in the stretch hood films market are striving to fine-tune stiffness and robustness, transparency and gloss, stretchability & durability, and other key attributes of their offerings. This, in turn, plays a crucial role in unmatched product positioning and would help manufacturers gain advantages over their competitors in the market space.
How Growth will Unfold
Considering the growth potential of stretch hood films market, manufacturing companies are constantly working on offering next-gen adapting to the ever-evolving end user requirements. Consequently, end use industries, including construction, pharmaceuticals, and chemicals & fertilizers, and investing in advanced stretch hood films to breathe life into their packaging prospects. This, in turn, is likely to set a buoyant tone for the global stretch hood films market.
STRETCH HOOD FILMS MARKET TAXONOMY
The global stretch hood films is segmented in detail to cover every aspect of the market and present complete market intelligence to the reader.
By Material
Polyethylene
LLDPE
LDPE
HDPE
Ethylene Vinyl Acetate
Plastomers, Elastomers & others
By Thickness
Up to 50 microns
50-100 microns
100-150 microns
150 microns & above
By End Use
Construction
Food & Beverages
Pharmaceuticals
Consumer Product
Paper
Textile
Chemical & Fertilizers
Region
North America
Latin America
Western Europe
Eastern Europe
APEJ
Japan
Middle East & Africa
Need specific information?