Introduction
TDS meter market is expected to witness a healthy CAGR of 5.9% during the forecast period 2019-2027, attributed to the wide-ranging applications of TDS meters.
Rising adoption of TDS meter in hydroponics for the determination of nutrient concentration of the respective hydroponic solutions has been cited as a strong factor emerging as a potential driver associated with TDS meter market growth.
High demand for TDS meter to be witnessed for potable water testing
TDS meters help determine the adequate level of the concentration of total dissolved solids in tap water, which has been set at 500 ppm by EPA (the Environmental Protection Agency). TDS levels higher than 1000 ppm are considered dangerous for human beings, as a high TDS level indicates that the water is not potable and is associated with serious potential health concerns.
The demand for TDS meter is increasing for applications related to tap water testing, attributed to the considerable presence of several pesticides, hazardous chemicals, traces of heavy metals, dissolved minerals, and salts in tap water due to land run-off, sewage, and industrial activities.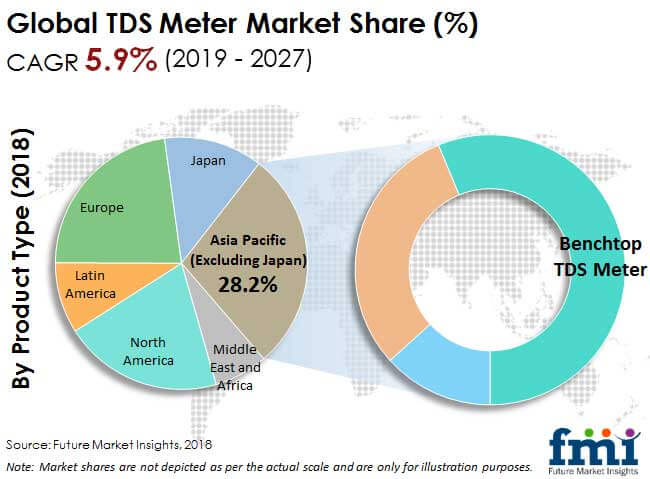 Growing demand for on-site water testing to favor pen type TDS meter sales
The pen type TDS meters have been witnessing promising demand since the recent past owing to their on-site testing flexibility. Pen type TDS meters are commonly used to determine the total hardness of water, as the TDS (total dissolved solids) level in hard water is high, which results in the scale buildup within valves and pipes. In addition, pen type TDS meters are lightweight and handheld, and are considered to be ideal for quick testing of water on site.
Growing availability of advanced handheld TDS meters to boost the market growth
Manufacturers of TDS meters are focusing on launching advanced and modified TDS meters for superior results. Most of the manufactures of TDS meters are introducing handheld or portable TDS meter models that facilitate tap or filtered water testing.
In 2018, Hanna Instruments., one of the prominent US-based manufacturers of TDS meters, launched a Portable TDS Meter - HI8734, with three ranges that allow flexibility of switching as and when needed (0.0 to 199.9 mg/L, 0 to 1999 mg/L, and 0.00 to 19.99 g/L.) along with the TDS temperature compensation from 0 to 50°C. The product also has an extended battery life of 9V that enables approximately 100 hours of continuous usage.
Rapid developments in APEJ are creating opportunities for TDS meter manufacturers
Asia Pacific excluding Japan (APEJ) is expected to capture a significant share of the global TDS meter market due to the high adoption of water quality testing machines, such as TDS meters, in the region. Moreover, the region focuses on wastewater treatment. Governments are undertaking initiatives to reinforce policies regarding the quality of water and its applications in the countries within APEJ. This according to the study is expected to drive the TDS meter market during the forecast period.
On February 14, 2019, the Water Quality Association provided support to the US EPA for taking the appropriate steps for the setting of PFAS, a safety threshold for highly toxic drinking water contaminants.
Product upgrade & innovations and acquisitions remain key strategies among manufacturers of TDS meters
Increasing number of inventions and upgradation in the features of TDS meters is expected to fuel the demand for the same among the end-use industries. Furthermore, the increasing number of acquisitions by the manufacturers of TDS meters is predicted to contribute to the growth of the TDS meter market during the forecast period. Prominent players are focusing on expanding their businesses through collaborations, acquisitions, and mergers to increase their regional footprint in the market.
In 2018, Geotech Environmental Equipment Inc., one of the US based prominent manufacturer of TDS meter, announced Geotech Environmental Equipment Acquires Hi-Tec Plastics Inc., the execution of a definitive merger agreement under which Geotech acquired all assets of Hi-Tec Plastics of Denver, Colorado.
Key Segment
On the basis of product type
pen type TDS meter
portable TDS meter
benchtop TDS meter
On the basis of test range
auto range
low range (<2000ppm)
high range (>2000ppm)
On the basis of end use
governmental (municipal bodies)
agriculture
industrial
environmental sciences
aquariums
others
Need specific information?