Thermoplastic Tape Market – Key Research Findings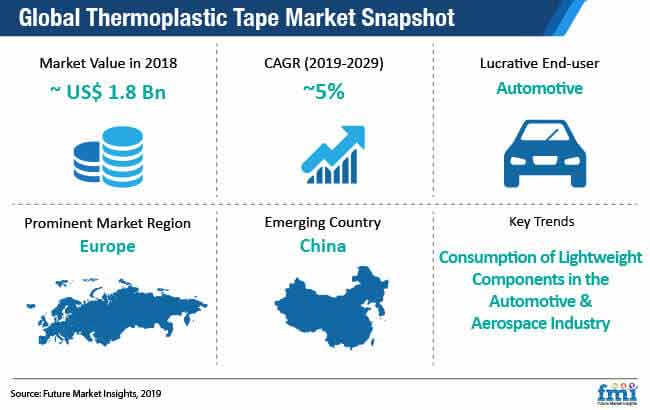 The global thermoplastic tape market size in 2018 was valued at ~US$ 1.8 Bn.
The thermoplastic tape market is projected to grow at a CAGR of ~ 5% during the next ten years.
The consumption of lightweight products is increasing to enhance fuel efficiency of automobiles. Moreover, usage of lightweight material instead of metals eliminates chances of corrosion and reduces the weight composition of the product, thereby potentially raising the demand for thermoplastic tapes which are used to manufacture lightweight composites.
Thermoplastic composite matrix of the material depends upon the manufacturers' choice, which has infinite combinations and can be used according to applications and requirement of the consumer.
Europe and Asia Pacific are expected to remain prominent regions, cumulatively accounting for half of the global thermoplastic tape market value.
Key Factors Shaping the Global Thermoplastic Tape Market
Lightweight Composites Material to Attract Component Manufacturers
Increasing consumption of the composite materials due to cost reduction and convenient manufacturing is anticipated to create significant demand for thermoplastic tape. Thermoplastic composite materials are 50-70% lighter than steel and 25-30% lighter than aluminum. This material get soften when heated above a specific range of temperature, which helps in recycling after usage.
Although thermoplastic composite materials are manufactured in different forms such as panels, laminates, sheets, and profiles, thermoplastic tape remains a convenient choice for component producers. Manufacturers in the industry are looking forward to invest in different combinations and matrices of composites, considering the increasing demand for thermoplastic tape across several end-use sectors.
According to the U.S. Department of Commerce, the automotive industry is one of the largest markets for composite materials. In recent years, thermoplastic tape has been garnering significant traction as a viable composite material, which offers convenience to manufacture complex parts and components, and enhance properties of final product, in addition to its high recyclability.
Thermoplastic tape also provides designers with plenty of choices to manufacture composite matrices, which is likely to work to the advantage of the market players. Further, some manufacturers are engaged in manufacturing tapes as well as different types of polymer for composites, which reduces their raw material costs and increase profit margin.
Strategy & Trends: Enhanced Performance Envelope & Capacity Expansion
Change in the consumption pattern of composite materials over metal is expected to create significant demand for thermoplastic tape during the next five years. Key market players are creating a different matrix, providing product choices, and increasing production capacity in their manufacturing units. Consumption of thermoplastic tape is expected to increase in various end-use industries such as automotive, aerospace, and oil & gas.
PlastiComp Inc., a subsidiary of PolyOne Corporation, expanded its thermoplastic tapes business by increasing the quality of fiber thermoplastic composites with the use of unidirectional tape inserts
Covestro AG, one of the top players in the chemicals market, started a commercial production of composites in 2018
In June 2019, Teijin Ltd. started construction of new carbon-fiber production facility in South Carolina
Cost-efficiency and high strength provided by thermoplastic tape is anticipated to complement its sales growth, and improve the quality of the final product. Considering the limitations associated with thermoset composites, leading manufacturers are currently investing in thermoplastic composites. Further, investment in advanced thermoplastic composites that offer ease of application will remain key to gaining distinct competitive edge.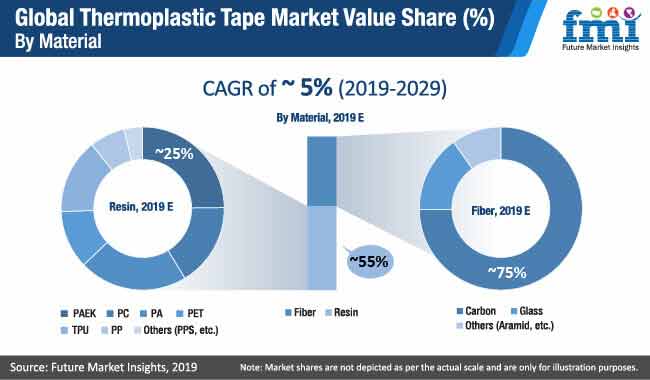 Thermoplastic Tape Market Structure Analysis
Manufacturers in the market maintain their strategic focus on providing thermoplastic tape with better fiber and resin content ratio. Various companies are installing new carbon fiber plants in order to expand their business operations at global level. Also, they are focusing on expanding their business through collaboration and joint ventures.

Hexcel partnered with Arkema in manufacturing thermoplastic composite solutions for aerospace application.

Key tier 1 players in the thermoplastic tape market include Toray Industries Inc. and Sabic Corporation.
New entrants in the thermoplastic tape market can invest their business in emerging countries such as China, Argentina, and GCC.
The thermoplastic tape market is considered as consolidated with some of the leading manufacturers. They provide thermoplastic tapes with different compositions, thickness, and material content.
It All Boils Down to 'Carbon Footprint'
Thermoplastic tapes are garnering significant traction in product manufacturing processes on the account of lightweight properties, being ~50-70% lighter than steel, and ~25-30% lighter than aluminum. The lightweight feature of thermoplastic tapes is highly suitable for the launch vehicle as well as the payload in demanding satellite applications. Low coefficient of thermal expansion of the material ensures dimensional stability while the satellite is experiencing thermal cycling.
With government regulations across the globe issuing a clarion call for the reduction of carbon footprint in tandem with boosting the production of electric vehicles (EV), automobile manufacturers are honing in on thermoplastic unidirectional (UD) tapes in lieu of heavier metal alternatives.
An amalgamation of carbon fibers, and PEEK (Polyether ether ketone), the resultant thermoplastic matrix delivers high fuel efficiency, which further equates decreased fuel expenses. Furthermore, high strength-to-weight ratio of thermoplastic tapes are gaining popularity in lighter aircrafts that burn lesser fuel.
Exceptional Mechanical Properties to Assist Diverse Applications
Cohesive bonding and form-locking of continuous fiber-reinforced thermoplastic tapes enhance stiffness, and durability of automotive interiors, and exteriors. Strong linking of UD carbon fibers with high-performance thermoplastic polyamide offers excellent sturdiness to the structural components in the automotive vertical. In addition, medical professionals are leveraging thermoplastic tapes in light of chemically inertness towards body fluids, as well as in vivo degradation, such as damage caused by lipid exposure.
The chemical resistance of thermoplastic tapes is making its way to the onshore oil and gas applications, such as pumping acidic crude oil. Thermoplastic tapes are highly capable of handling demanding pressures and temperatures of subsea environments - both from external and internal conditions, created by the liquids flowing via them.
Furthermore, low coefficient of friction of thermoplastic tapes enable greater flow-rates. However, thermoplastic tapes containing carbon fiber are capital sensitive, yet the advantages outweigh the downsides.
Developed Regional Markets Remain Frontrunners Despite Moderate Progress
Although North America and Europe tend to lead the global thermoplastic tapes market, accelerating growth in East and South Asia is garnering significant traction of market players, primarily attributed to increasing production of lightweight automobiles, and aircrafts. Legal intervention in countries, including China, and the US, are compelling carmakers to undergo complete electrification of vehicles, thereby surging the demand for lightweight automotive components.
Upswing in air traffic in developing Asia such as, India, are encouraging manufacturers to drive the production of aircraft fleet with impact-resistant and weigh-cutting components - aspects grabbing the eye-balls of thermoplastic tapes market players. Furthermore, increasing intra-country and inter-country onshore pipeline projects in the US, Canada, and China to satiate the growing demand for oil and gas are capturing the attention of oil and gas fittings manufacturers.
'Application-Centric' Material Innovation – Key Tenet to Define Stakeholders' Tactics
Thermoplastic polymers – PEEK - undergo considerable dimensional alterations (shrinkage) during crystallization, resulting in warping and failed prints. As such, players, including, Arkema Group, are launching PEKK (Polyether ketone ketone) material in the US for FFF (Fused Filament Fabrication) or LS processes owing to increased printing ability. Furthermore, manufacturers are synthesizing PVDF (polyvinylidene fluoride) thermoplastic tapes for implant technology following radiopaque properties.
Leading market forces are employing synthetic fiber spinning technology to develop an innovative fiber adsorbent for purifying blood that selectively gets rid of bio-targets for instance, cells and proteins, by manipulating the surface structure and chemical arrangement of composite fiber. Citing the need for high thermal resistance, manufacturers are synthesizing carbon fiber prepregs pre-imbued with bismaleimide matrix resin that offers high resistance against heat and impact – ideal for aerospace vertical.
How Growth Will Unfold
Companies are banking on rigid plastics for packaging pharmaceuticals, and food & beverages. Thermoplastic tapes made with carbon fiber-reinforced polymers (CFRP) are anticipated to witness heavy demand from the aerospace industry following greater strength-to-weight ratio as compared to their glass, and aramid counterparts. Despite lower strength than CRPF, thermoplastic tapes incorporating glass-reinforced fiber are set to garner huge traction in construction activities.
The everlasting demand for lightweight components in automotive and aerospace brackets to enhance fuel efficacy is the gold mine of growth of thermoplastic tapes market. The carbon emissions cusp for new automobiles in the European Union is expected to drop from 130 grams to 95 grams per kilometer by next year, compelling carmakers to design lighter vehicles by replacing metal with composites, including thermoplastic tapes.
Furthermore, CRPF thermoplastic tapes tend to be cost prohibitive – a factor driving the prominence of 3D printing technology in producing composite thermoplastic tapes owing to potential cost reductions, and functional integration.
Key Segment
By Thickness
<0.20 mm
0.21 mm-0.40 mm
> 0.40 mm
By Material
Fiber

Carbon
Glass
Others (Aramid etc.)

Resin
Others (PPS, etc.)
By End-use Industry
Aerospace
Automotive
Building & Construction
Industrial Goods
Oil & Gas
By Region
North America
Latin America
Europe
South Asia
East Asia
Oceania
MEA
Need specific information?
Talk Show:
The Rise of Intelligent Packaging
Personalized, Connected and Sustainable
November 18, 2021
11:00-11:45 AM PST (USA & Canada)
This is a LIVE session